Neutrogena is one of those extreme brands that I have ever come across. On one side there are people who keep praising them for being their skin savior and on the other side, there are those who curse them for ruining their skin. In my skincare journey and experience of using various Neutrogena Products during my early acne-fighting period, I vouch for this brand. Most of their products are non-comedogenic, which means they have formulated without any acne trigging ingredients and made to work on treating acne. By now, you might have guessed that I have a good opinion about the brand as a whole. But still, let me take you through a quick review of each product.
This post is published as a part of the Brand Focus Series wherein I review a set of products from a particular brand. Don't forget to check out reviews from other great and not-so-great brands.
Neutrogena Products Review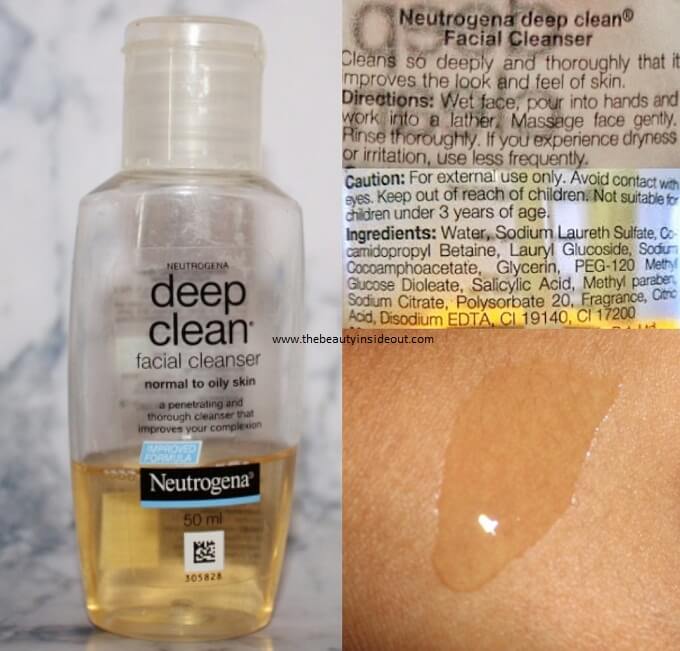 Product type: It's a deep cleansing facial cleanser to remove dead skin cells for a fresher and healthier look.
Suitable For: Normal to Oily Skin.
Fragrance: Mild cosmetic scent.
Additional Info: Oil-Free, Alcohol-Free Formula. Contains small amounts of Salicylic Acid.
My Experience: The Neutrogena Deep Clean Facial Cleanser is a gel-based face wash that has a slightly runny consistency. It does not lather much, although it effectively removes impurities from the skin without causing excessive dryness. This will suit most skin types and gives a refreshed feel each time. It gives an instant brightening effect which lasts for a couple of hours after cleansing. But it most definitely doesn't improve complexion. It does what a cleanser is supposed to do, that is, cleaning the skin off the dirt. I liked using this cleanser and I would recommend trying this face wash once. The presence of Salicylic Acid is a bonus. Those with mild acne will benefit from using this cleanser as it helps to keep breakouts at bay to a great extent.
Rating: 3.5/5
Where to buy it? Amazon.com | Amazon.in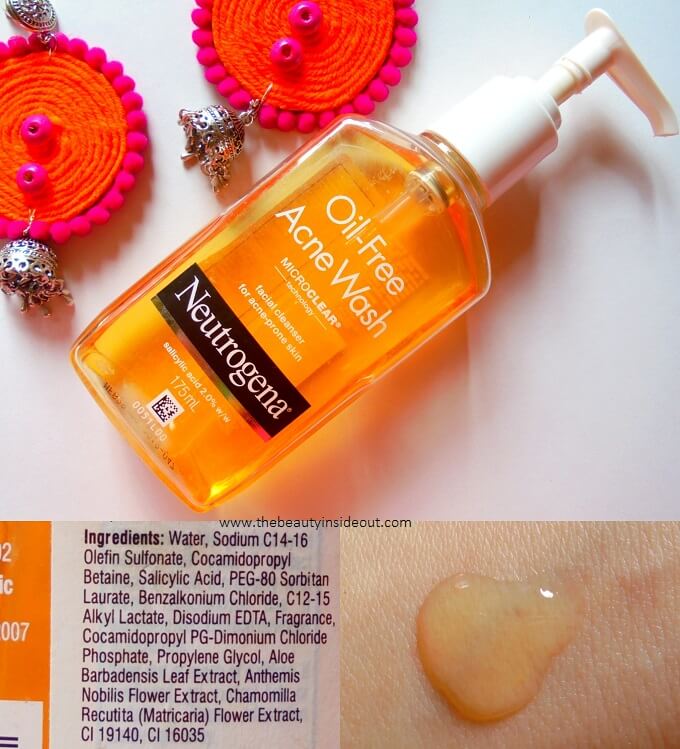 Product type: It's a powerful acne treatment and cleanser in one formula to treat and help prevent breakouts in one simple step
Suitable For: Acne-Prone Skin
Fragrance: Faint floral fragrance that's soothing.
Additional Info: Contains 2% Salicylic Acid. If you are new to actives, incorporate them slowly into your routine.
My Experience: I've used multiple bottles of this cleanser for more than a year. This face wash is thicker in consistency and is a bit more drying than a deep clean facial cleanser. However, it's much more efficient in dealing with acne and pimples. It cleared up all clogged pores from my face and faded even those deeply pigmented pimple marks. It also helped in clearing the stubborn blackheads and made my skin look bright. It's one of the best face wash for oily acne-prone skin that I've tried. It's great for those who want to introduce Salicylic Acid in their routine but are skeptical about using leave-on salicylic products initially for fear of purging or side effects.
Rating: 5/5
Where to buy it? Amazon.com | Amazon.in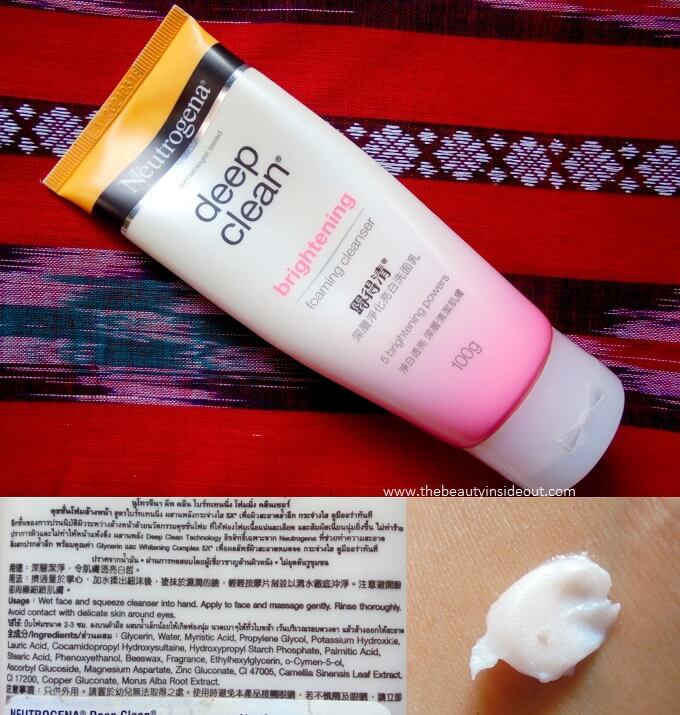 Product type: It is a rich foam-based cleanser with a moisture-balancing formula that removes 100% dirt and impurities. It provides 5X brightening powers with mulberry extract and whitening vitamin complex while beeswax and glycerine keep up skin's moisture level.
Suitable For: Extremely Oily Skin to Oily Skin.
Fragrance: Mild Citrus Fragrance.
Additional Info: Sulphate & Paraben Free.
My Experience: This is a basic foaming cleanser with a thick and creamy texture. This cleanser left my skin feeling dry and flaky. So I gave it to my brother. He has very oily skin and gets dull-looking skin after just a few hours of washing the face due to excess sebum. This face wash suited him really well. It kept the skin looking fresh for 4-5 hours while giving a temporary brightening effect. It did not clog pores or caused pimple issues. The results are similar to regular Pond's Face Washes which are priced lesser than this. Plus, the overall feel of this is more or less the same as the original Deep Clean Foaming Cleanser from the same brand; just the fragrances are different. So, you may try or skip this one. You will not miss much if you decide to skip this.
Rating: 3/5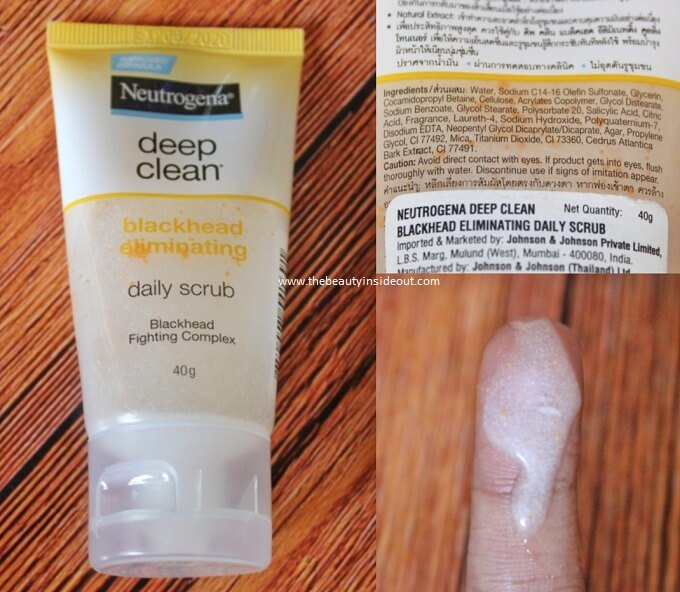 Product type: It's a blackhead removal scrub that claims to deeply penetrate the pores to unclog pores and eliminate blackheads.
Suitable For: All Skin Types, Clogged Pores, and Blackhead Prone Skin.
Fragrance: It has a citrusy, sweet refreshing fragrance which I like.
Additional Info: Contains Salicylic Acid. Free of parabens, silicones & sulfates.
My Experience: It's a very mild scrub that has tiny, soft granules, unlike apricot & walnut granules in most scrubs. It's gentle on the skin and is mildly foaming giving a nice clean-up effect. It is able to deeply cleanse my pores and reduce whiteheads and blackheads by 50%. When scrubbed after steaming the face, it gives, even more, better results of getting rid of blackheads. The scrub has a mild slipperiness while rinsing hence it is even hydrating on the skin and not at all drying or stretchy on the skin. My skin feels softer, smoother, and cleaner every time I use this scrub. It is a gentle scrub that will suit all skin types and works on eliminating blackheads with regular use. But it does not prevent re-appearance as claimed.
Rating: 4.2/5
Where to buy it? Amazon.com | Amazon.in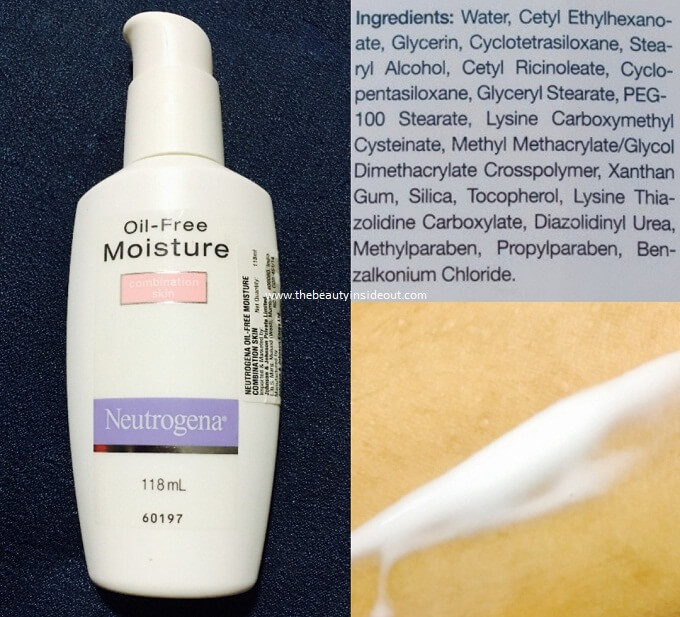 Product type: It's a lightweight moisturizer to moisturize dry areas and control shine in oily areas.
Suitable For: Combination Skin Types. Not for Oily Skin Types.
Fragrance: It's fragrance-free.
Additional Info: Oil-Free, Alcohol-Free, Non-Comedogenic Formula.
My Experience: This is one of the most raved Neutrogena Products. I normally have oily skin which turns combination during the winters, so I gave this a try at that time. It's a lightweight moisturizer with a fast-absorbing gel-cream texture. It instantly hydrates the skin and moisturizes the dry patches. Once applied, it leaves the skin a bit dewy, hence very oily skin types shouldn't be using this, especially during the summers as this might be heavy on the skin. This moisturizer keeps the skin nourished with moisture for long, so re-application isn't really necessary. The packaging is also user-friendly with a lock mechanism dispenser. This version doesn't come with an SPF and has never broken me out. The SPF version is known to cause breakouts as that formula is not non-comedogenic. I have seen some people detesting this moisturizer, but I believe that it's because it's not meant for their skin type. I loved it and I would strictly recommend it only for combination skin types, for those with dry cheeks and oily T zones.
Rating: 4/5
Where to buy it? Amazon.com | Amazon.in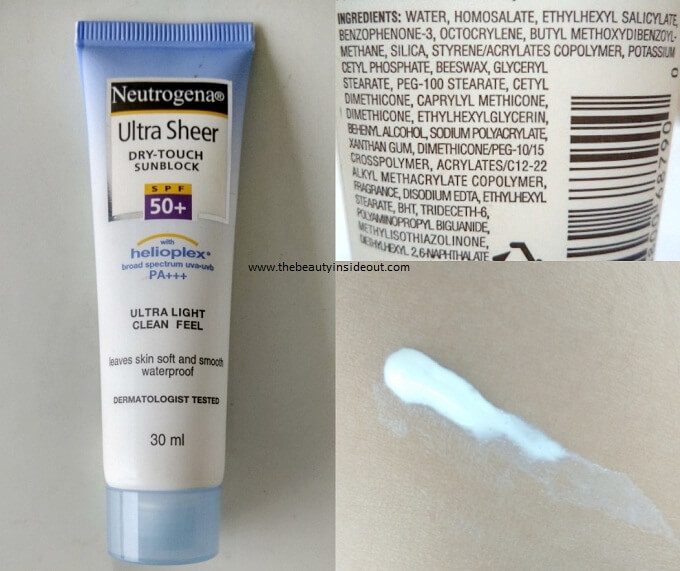 Product type: Neutrogena Ultra Sheer Dry-Touch Sunblock provides superior balanced broad-spectrum protection skin-aging UVA and burning UVB rays. It's Oil-Free, PABA Free, Sweat Proof & Water Proof.
Suitable For: Normal & Combination. Oily skin types can use this with compact powder & Dry skin Types with a heavy moisturizer underneath.
Fragrance: Cosmetic scent that's mild and non- lingering.
Additional Info: Sunscreen Filters – Homosalate (UVB), Benzophenone-3 (UVB & UVA), Ethylhexyl Salicylate (UVB), Octocrylene (UVB & UVA II), Butyl Methoxydibenzoylmethane (UVA)
My Experience: This is a sunscreen recommended by dermatologists in India for acne-prone skin. This works amazingly well in protecting the skin from burning and tanning. I have used this during various occasions where I found this really effective. Had I not used this, I would have severely tanned. The product scores high as a sunscreen with SPF 50 PA+++ and Broad Spectrum Coverage(both UVA and UVB). It also protected my skin even while I sweat a lot or were exposed to water. So I surely agree with its sweatproof and waterproof claim. The major thing I did not like about this sunscreen – its not a very lightweight sunscreen. It is a milky white semi-thick cream. For the amount that I use, I usually need a good massage. It also shows a white cast initially (which later settles down) and the finish is not Dry Touch. It is slightly dewy and so I usually top up with a layer of loose or compact powder to mattify my skin. This sunscreen hasn't broken me out. Although this sunscreen doesn't have the best formula, this is the best when it comes to sun protection. This has got some solid filters that you can trust for beach vacations.
Rating: 4.5/5
Where to buy it? Amazon.com | Amazon.in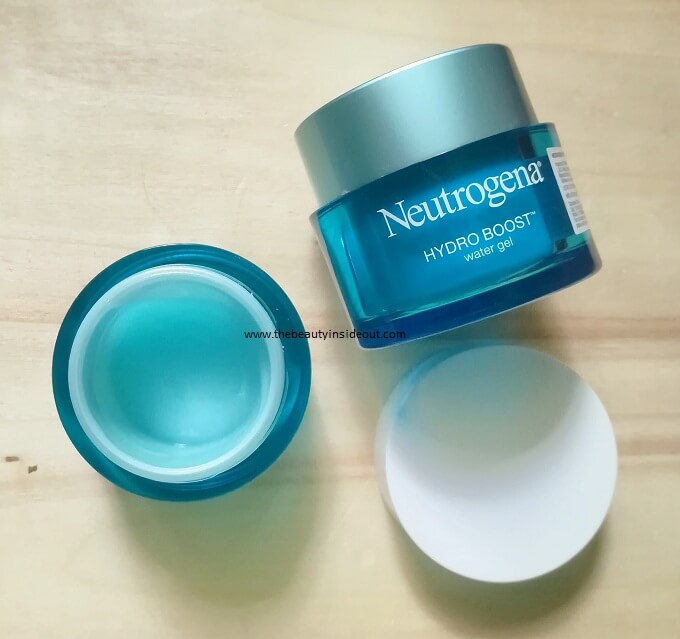 Product type: Neutrogena Hydro Boost Water Gel is an oil-free gel moisturizer that instantly quenches dehydrated skin with instant hydration and keeps it smooth and, supple throughout the day & night.
Suitable For: All Skin Types.
Ingredients: Water, Dimethicone, Glycerin, Dimethicone/Vinyl Dimethicone Crosspolymer, Phenoxyethanol, Polyacrylamide, Cetearyl Olivate, Sorbitan Olivate, Dimethiconol, C13-14 Isoparaffin, Dimethicone Crosspolymer, Chlorphenesin, Carbomer, Laureth-7, Sodium Hyaluronate, Ethylhexylglycerin, Fragrance, C12-14 Pareth -12, Sodium Hydroxide, Blue 1
Fragrance: Fresh aquatic fragrance that might be overpowering for sensitive noses. I like its unique scent.
My Experience: This is one of the award-winning & best-selling Neutrogena Products. You might have guessed with the two jars in the picture. I love this product. It's got a light watery gel texture that can be related to the Ponds Super Light Gel. It absorbs so quickly and leaves the skin incredibly soft and smooth with a satin-matte finish. I use this in both my day and nighttime routine. It is lightweight yet hydrating on the skin. It never pills and goes well under makeup and other skincare products without any hindrance. It hasn't broken me out as well. My cousin is also an avid user of this gel and has been loving this on her dry skin.
The only drawback is the fragrance. Those having an aversion to the fragrance can try out the gel-cream version which is completely fragrance-free and is much liked by sensitive skin people. The Neutrogena Hydro Boost Water Gel is one of the best lightweight moisturizers that's great for the humid weather to keep skin hydrated for long hours without being greasy.
Rating: 4.9/5
Where to buy it? Amazon.com | Amazon.in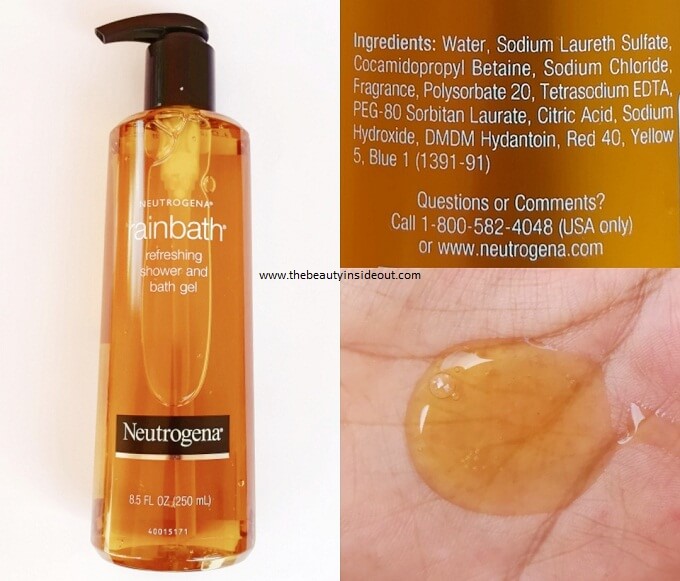 Product type: It's a refreshing shower gel with an exotic fragrance that cleans, softens, and conditions your skin.
Suitable For: Both Men and Women of all Skin Types.
Fragrance: Smells like a blend of herbs, spices, and fruits.
Additional Info: Contains Sulphates.
My Experience: This is truly a refreshing bath gel. It smells so good. It's not at all overwhelming, rather it's comforting and calming. I love this scent a lot. If you like this scent, I'm sure you are going to restock this product multiple times. The bath gel is a honey-like gel with a medium consistency. One or two pumps is enough as it foams up really well. Sometimes I don't even require a loofah with this bath gel. It lathers that well with even a little amount. I do have the need to rinse thoroughly with quite a lot of water. Otherwise, I sense some mild slippery residue. Post-shower, I don't have any uncomfortable feeling as the shower gel doesn't leave my skin dry, itchy, or stretchy. It is mildly hydrating and I don't have to run for my body lotion immediately. This would make a great body wash for all seasons. Whenever I use this shower gel, this gives a luxurious and calming bathing session. I would recommend giving this a try for all those who love nicely scented shower gels. But if you are into the SLS Free Zone, then you may not like this.
Rating: 4.2/5
Where to buy it? Amazon.com | Amazon.in
9. Neutrogena Norwegian Lip Moisturizer SPF 15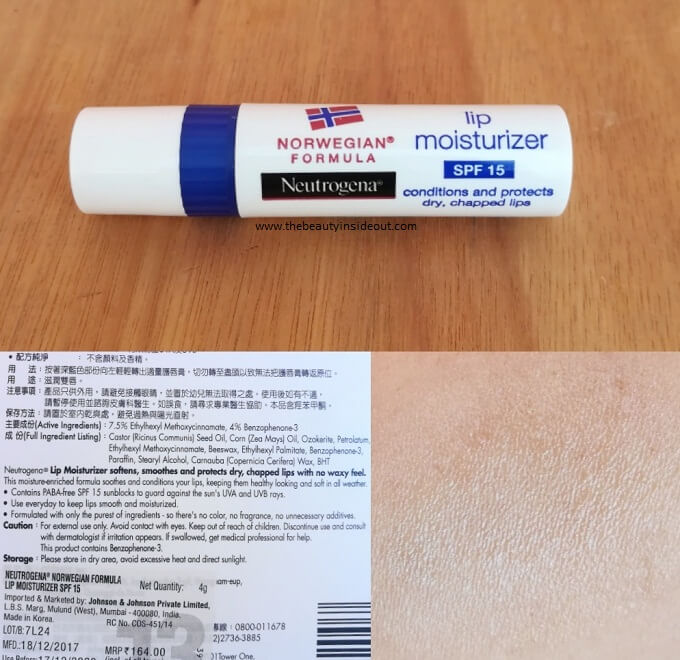 Product Type: It's a moisture enriched lip balm who SPF 15 that not keeps your lips moisturizer but also protects from sun damage.
Suitable For: Both Men and Women.
Fragrance: No scent. It's fragrance-free.
Additional Info: Free of PABA, Color, and additives.
My Experience: This is from their Norwegian Range, which is catered towards people of the cold weather. I mean, dry skin people. So I thought this lip balm would be extremely moisturizing and heal my cracked lips. Also not at all Lip balms come with an SPF. But this one has an SPF of 15 which I think is great. This is a clear lip balm with no color, fragrance, or taste. The Lip balm is Wax-based but it is not very heavy and waxy on the lips. It sits comfortably on my lips and I could also easily wear my lipsticks above it. The lip balm instantly nourishes my lips and keeps them soft and supple for around 3 or 4 hours. After that, I have to re-apply like every other lip balm. This lip balm alone doesn't help much with cracked lips. Overall, it's a decent lip balm that keeps lips moisturized while protecting from sun rays.
Rating: 3/5
Where to buy?Amazon.com | Amazon.in
Final Thoughts on Neutrogena Products
Most Neutrogena Products have worked for me, summarizing my thoughts on them.
Why I love them?
I haven't had any issue with their fragrance or texture.
Packaging is pretty good.
Most of their formulas are non-comedogenic.
They never irritated my skin, would suit most skin types.
Affordable drugstore brand
So that is all I have to say about Neutrogena Products. I hope this post was helpful. Let us know your favorite products and experience with them in the comments section below.