Neutrogena is a leading cosmetics brand that manufactures skincare, haircare, and makeup. It is a drugstore brand that's widely loved by everyone. Neutrogena has launched its much-raved Bright Boost Range. Targeted for skin brightening, three products have been launched at the moment. The ever-so-popular Bright Boost Gel Cream, an illuminating serum, and the micro polish. The Neutrogena Bright Boost Gel Cream had got some rave reviews among consumers. Read on to know my take on this gel cream.
Product Description:
Neutrogena Bright Boost Gel Cream is a lightweight, ultra-nourishing gel-cream that brightens the skin within one week of usage. Packed with rich antioxidants, brightening Neoglucasamine, and chemical exfoliators such as AHA, PHA, and Mandelic Acid, it gives you the smoothest skin one could desire for. Its mild soothing fragrance is perfect to kick-start your lazy day.
Benefits:
Accelerates skin renewal for radiant looking skin.
Prevent hyperpigmentation, boost surface skin cell turnover and improve skin tone.
Thorough exfoliation to produce instantly brighter and smoother skin at the very 1st use.
Clinically proven to work on all skin tones.
Dermatologist preferred technology.
Oil-free, Alcohol-free, Non-comedogenic.
Neutrogena Bright Boost Gel Cream Ingredients: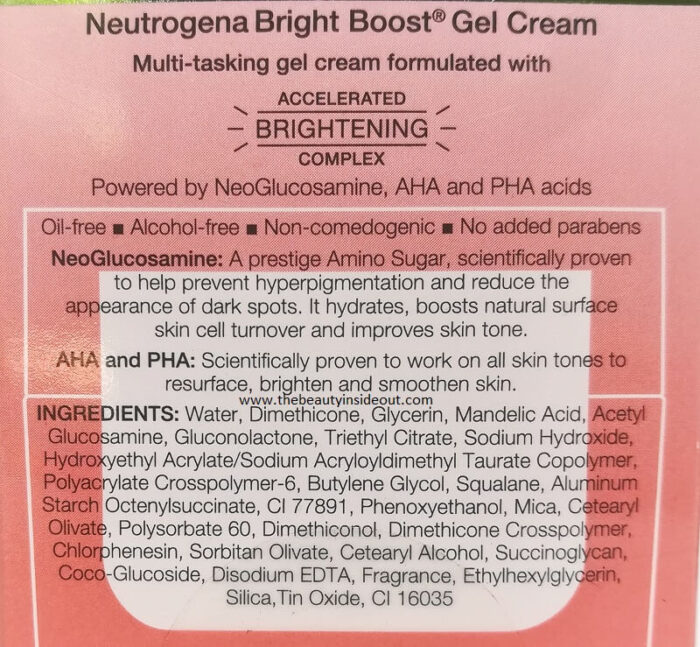 Neutrogena Bright Boost Gel Cream Review
Packaging: The Neutrogena Bright Boost Gel Cream comes housed in a classy peachy pink tub with white screw lid. The tub looks like it's made of glass but it isn't. The tub came with an outer carton which has all the details about the gel cream furnished on it. Although I wish they come in a tube form for ease of use, the glass like jar is what gives the product a luxurious look.
The product comes in two sizes – 15g and 50 gm, which is a good thing. You can always get the mini version to see if it works for your skin before investing on the full size.
Color & Texture: It is a pale pink gel cream with a medium consistency. It's neither thick nor runny. You'll need a small amount for the entire face.
The cream has golden micro-shimmers that probably gives the glowing effect.
Fragrance: It has a strong artificial fragrance. Generally I don't mind synthetic fragrances, but the scent of this gel cream is a bit too strong for my liking. Thankfully, it does subside after application.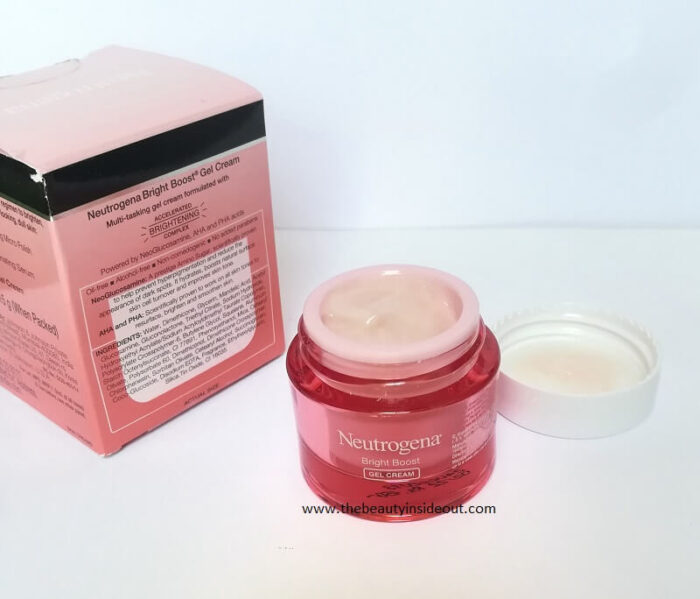 My Experience:
Targeted for skin brightening, the Neutrogena Bright Boost Gel Cream has some scientifically proven ingredients such as Neoglucasamine, AHA and PHA to reduce dark spots, pigmentation and reduce dullness. The gel cream is also oil free, alcohol free, Paraben free and Non-Comedogenic. While everything looks good on paper, the product by itself is not!
The major bummer is – the cream contains shimmery particles which is totally unnecessary for a skincare product (Why would one want a moisturizer with shimmers, it's not a makeup product). The shimmers aren't very visible indoors, but when you are in natural light or under any light source, it makes your skin sparkle to give that glowing effect. Personally I am not a fan of a moisturizer with glitters. If need be, I would go for a highlighter.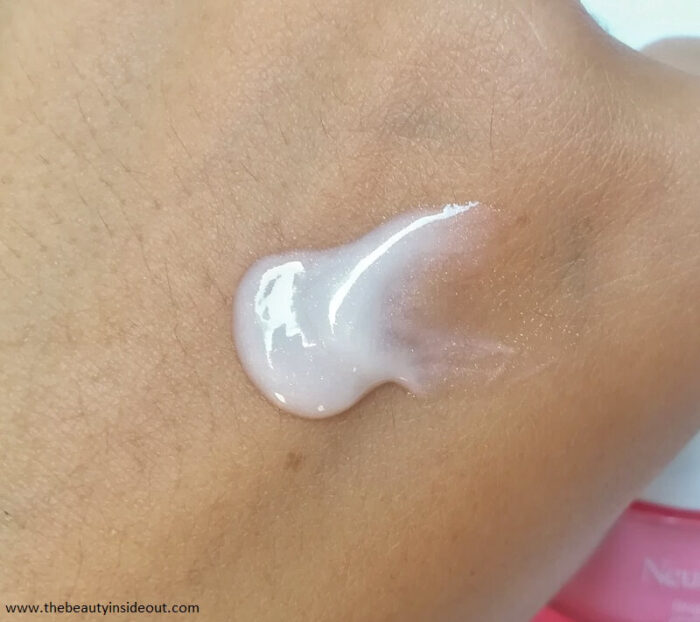 The other let down – the packaging clearly gives a warning that the product contains AHA which increases skin sensitivity to sun and can cause sun burn. Yet the usage directions mentions to use twice day, which is contradicting.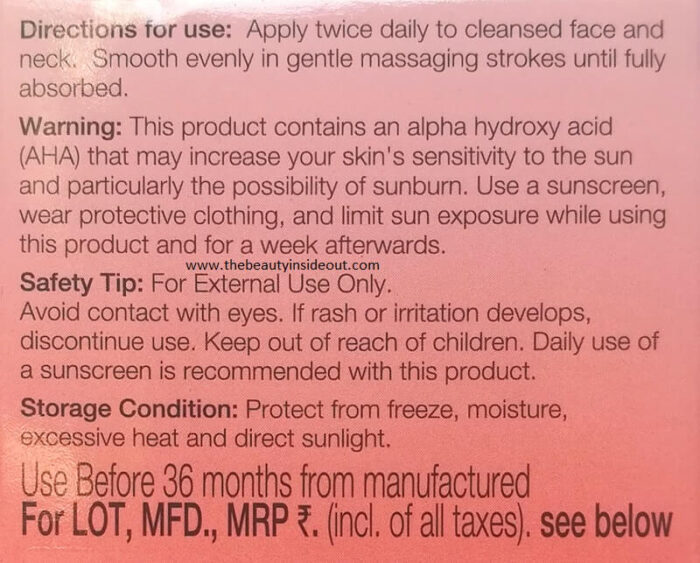 Ideally if I use it in my PM routine considering it has exfoliating ingredients, why would I need the glittery fake glow when I sleep.
Anyways, the gel cream has a smooth texture that spreads and blends easily. It has an initial sticky feel with a silicone soft touch to it. On my dry skin days, it settles down beautifully to a non greasy finish after a couple of minutes. However if the climate is hot and humid, it tends to make my skin oily and dull. If you have dry and combination skin, you might like this. Oily skin types might find it heavy in summers.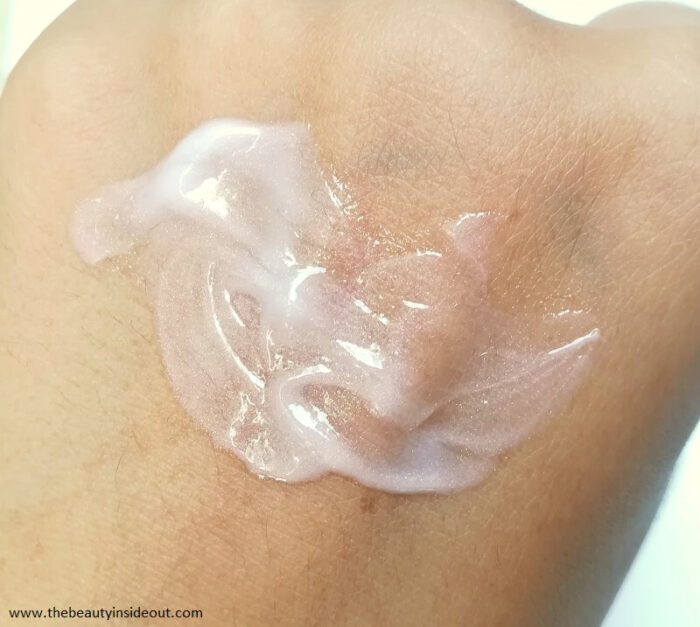 As for it claims of bright skin in 1 week, I don't think it brightened my skin. The cream did keep my skin moisturized. But no other major difference was noticed.
This would make a nice moisturizer to use it under makeup to give you that glow from within look. Also, the creams's film forming trait (due to presence of silicones) makes it a great base product for makeup.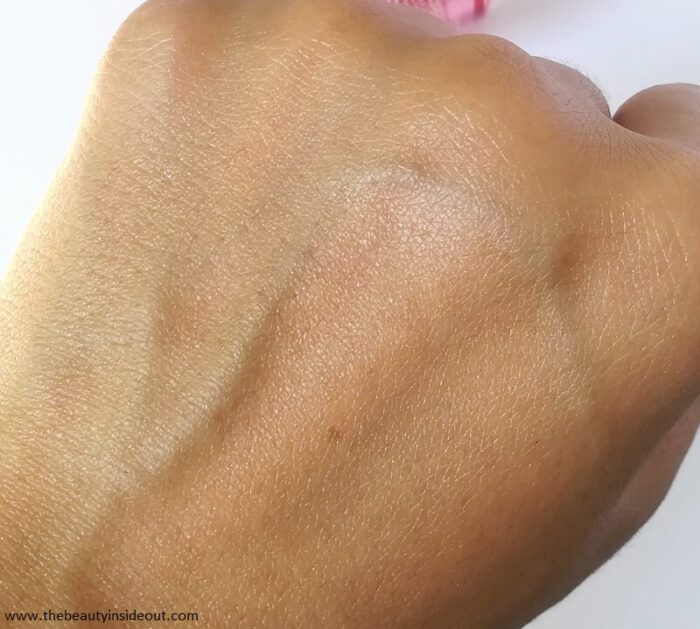 In short, I was totally disappointed with the Neutrogena Bright Boost Gel Cream. I would anyday recommend getting the Neutrogena Hydo Boost Gel Cream if you are looking for a lightweight moisturizer.
Pros:
Oil Free, Alcohol Free, Non-Comedogenic.
Spreads and Blends easily.
Silicone based moisturizer works well under makeup.
Contains AHA and PHA that exfoliates the skin.
Cons:
Golden glittery shimmers that don't serve any purpose.
Strong fragrance.
Not ideal for day time use.
Not for oily skin.
Rating: 2.5/5
Would I recommend it? No. I would not recommend it. It's better to get the Hydro Boost Gel Cream than this sparkly cream
What do you think of the Neutrogena Bright Boost Gel Cream? Have you tried it? Share your thoughts.