Love Beauty And Planet is a low-key brand from the manufacturers of Hindustan Unilever. The brand predominantly sells body care (washes and lotions) and hair care products (shampoos and conditioners). I've always found their packaging and design colorful and appealing. Each range is said to have a distinct fragrance. In this post, I am going to share my experience with one of the Love Beauty And Planet Shampoo. Love And Beauty Planet have a wide range of Sulphate Free Shampoos, the one I'm reviewing is not. I've completely finished this bottle of Tea Tree & Vetiver Variant Shampoo. Read on to know more about it.
Product Description:
This variant of Love Beauty And Planet Shampoo is infused with Tea Tree Oil from Australian Plantations to gently cleanse, detoxify and volumize your hair. Suitable for Oilyand Greasy Scalp, this radical refresher is a clarifying and purifying shampoo.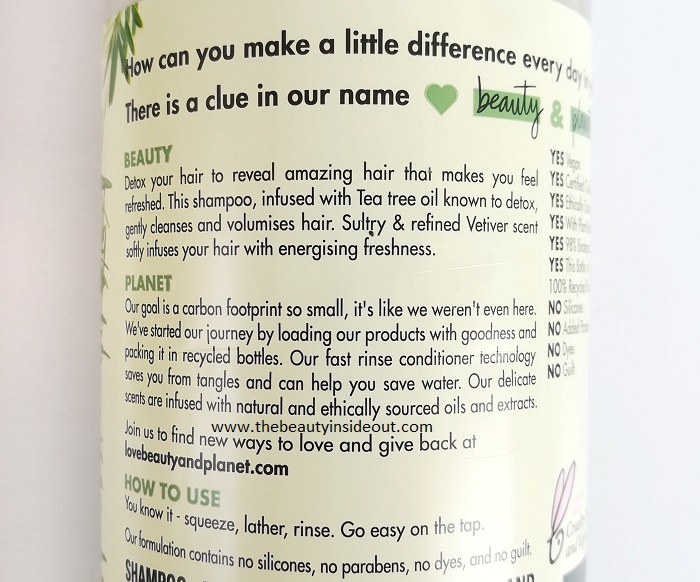 Variants:
Coconut Water and Mimosa Flower Shampoo For Volume & Bounce.
Murmuru Butter and Rose Aroma Shampoo For Color Treated Hair.
Natural Argan Oil and Lavender For Smooth & Serene Anti Frizz Hair.
Tea Tree and Vetiver Shampoo For Scalp Refresh.
Onion, Blackseed Oil & Patchouli Shampoo For Hairfall Control.
Apple Cider Vinegar & Jasmine Shampoo For Shine & Smoothness.
All the Love Beauty And Shampoos have been reformulated to be Sulphate Free.
Love Beauty And Planet Shampoo Ingredients: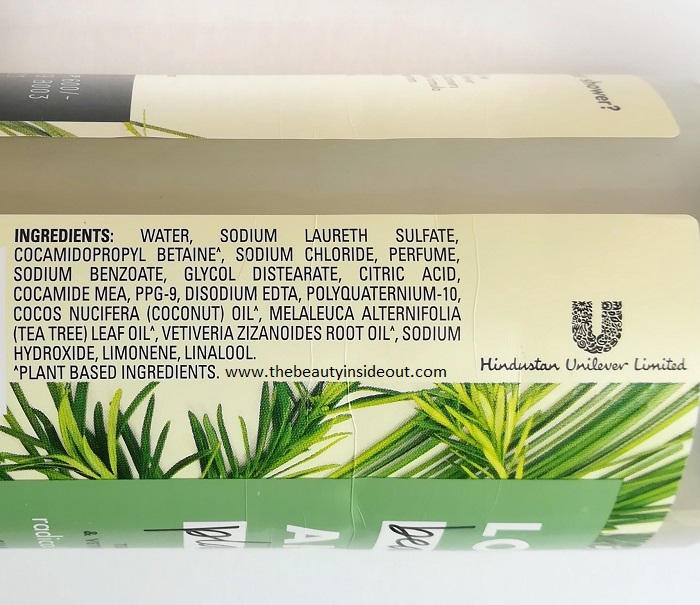 The ingredient list of my shampoo is
Water, Sodium Laureth Sulfate, Cocamidopropyl Betaine, Sodium Chloride, Fragrance, Sodium Benzoate, Glycol Distearate, Citric Acid, Cocamide MEA, PPG-9, Disodium EDTA, Polyquaternium-10, Pimenta Acris (Bay) Leaf Oil, Vetiveria zizanoides Root Oil, Sodium Hydroxide, Limonene, Linalool
The reformulated version is Sulphate Free and here is the ingredient list of it.
Water, Cocamidopropyl Betaine, Sodium Methyl Cocoyl Taurate, Sodium Chloride, Vetiveria zizanoides Root Oil, Melaleuca Alternifolia (Tea Tree) Leaf Oil, Cocos Nucifera (Coconut) Oil, Citric Acid, Fragrance, Sodium Benzoate, Polyquaternium-10, Stearamidopropyl Dimethylamine, Disodium EDTA, PPG-9, Limonene, Linalool.
As you can see, this is a shampoo with minimal ingredients. It is Paraben-free, Alcohol-Free, and Silicone Free as well. The one I have didn't have added fragrance and as per claims uses naturally derived fragrances. The Sulphate Free version has added perfume.
Price: Rs. 350 for 200 ml. I bought it at discount during one of the sales for the same price but a 400 ml bottle.
Love Beauty And Planet Shampoo Review
Packaging: The Love Beauty And Planet Shampoo come in a see-through plastic bottle. The cap is screw-type but has a flip open on the top. It's convenient to use. The label at the back has all details regarding the product including the ingredient list, how to use it, etc. The huge 400 ml bottle is definitely not travel-friendly. But this is more environmentally friendly as you don't need to buy smaller bottles frequently. This one bottle lasted me around 6 to 7 months easily. Their bottles are supposedly made from 100% recycled plastic waste and can be further recycled too.
Color & Texture: The shampoo is pale green, almost whitish in color. It has a pearly sheen to it like most Unilever Shampoos. It is a gel-based shampoo with a medium consistency, that runs towards the thinner side.
Fragrance: This variant has a fresh tea tree fragrance. It's an awakening and refreshing scent. It lingers for a while but is not very long-lasting.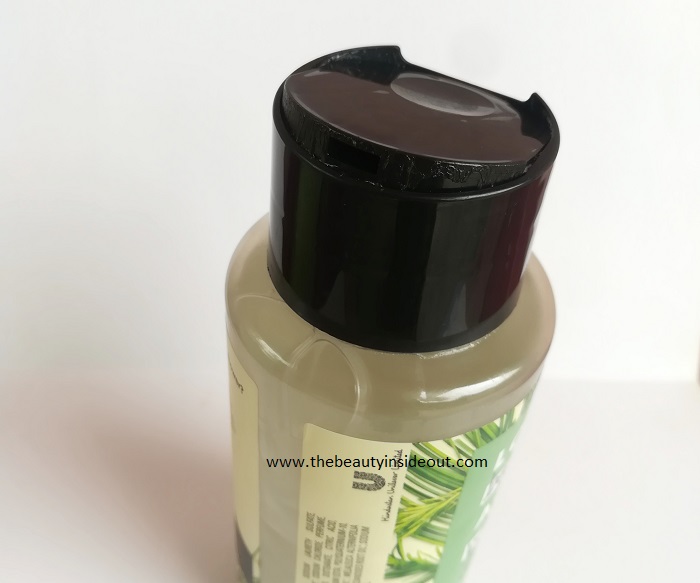 My Experience:
This variant of Love and Beauty Planet Shampoo is a clarifying shampoo. Clarifying shampoos are not regular shampoos that you use every day. They are meant to be purifying and can be used once a week maximum. I've used this alternative with mild shampoos in my routine. But in summers when my scalp was very sweaty and oily, I did use this shampoo alone regularly.
My experience with this shampoo has been pretty good. Using this shampoo is very easy. I needed just a little of the product for each wash. It lathers very well and gives a great cleansing action. It cleans the scalp thoroughly and removes all sorts of impurities in one go. As said, it's very good for oily scalp. But at the same time, it's not too drying or stripping on the scalp. It removes sweat and bad odor imparting a fresh fragrance to my mane. The shampoo leaves the hair moderately soft even without a conditioner. I'd still recommend using a conditioner if you have thick or curly hair. I have straight fine hair, so I could do without one.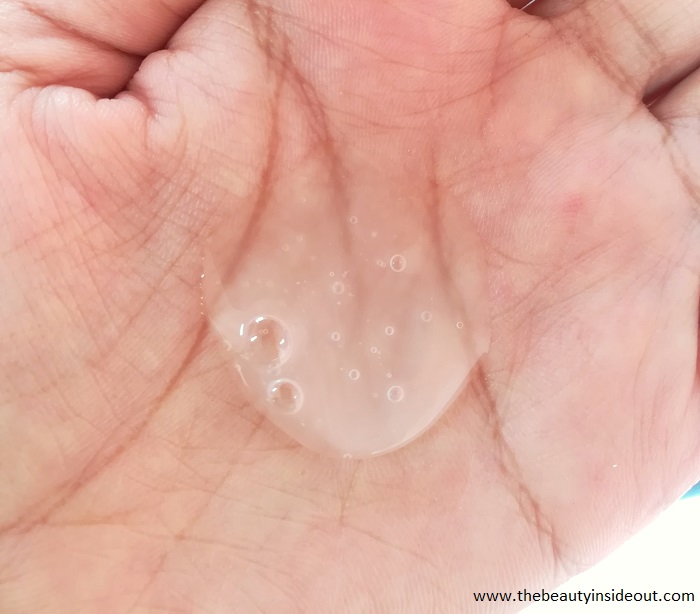 This Love Beauty and Planet Shampoo is fortified with Tea Tree Oil which is beneficial in treating Dandruff. I noticed that it helped with my mild dandruff flakes. It's a pretty good clarifying shampoo, overall. It's often available at discounts and one bottle lasts really long.
Pros:
Made with ethically sourced natural ingredients.
Uses Plant Based Cleansers.
Fresh fragrance.
Lathers and Washes easily
Cleans the scalp thoroughly.
Great for greasy and oily scalp.
Free of parabens, silicones, alcohols and dyes.
Vegan and Cruelty Free.
Cons:
Rating: 4.5/5
Would I recommend it? Yes, it's a good shampoo that does its job of cleaning very well. I am eyeing the other variants to try next.
What do you think of this Love and Beauty Planet Shampoo? Have you tried this? Share your thoughts in the comments section below.