The Derma Co is an Indian Beauty, Cosmetic & Personal Care Brand launched in 2020. It claims to provide science-backed solutions for your skin concerns for both men and women. The Derma Co is supposedly a sister brand of the infamous brand Mamaearth. With over 50 specialized products in its portfolio, it quickly gained the attention of skincare consumers. The Derma Co Products focus on providing professional solutions with active-based ingredients.
Just like any other skincare enthusiast, I was intrigued with the brand but was skeptical about its products. So I choose to get their samples on Smytten App. I picked three products that were deluxe-sized. These were enough to give me an idea about them. Read on to know my experience with The Derma Co.
The Derma Co Products Review
1. The Derma Co Creamy Face Cleanser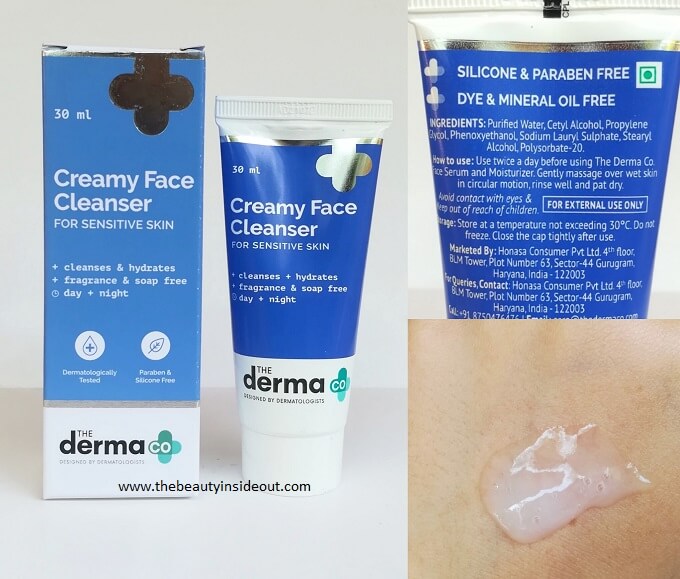 Product Type: It's a soap-free, creamy cleanser that helps to remove the accumulation of dirt, oil & impurities while leaving the skin hydrated.
Ideal For: Sensitive, Dry, Dehydrated Skin.
Texture: Glassy, lotion-like texture. Very much similar to the Cetaphil cleanser and CleanseMe cleanser.
Fragrance: It is fragrance-free and doesn't have any smell to it.
My Experience: Gel-based face washes are stripping for my combination skin. So I use such creamy non-foaming cleansers on a daily basis. They are not new to me. The Derma Co Cleanser pretty much works like the Cetaphil cleanser. It does not foam up and goes on like a lotion. I use a coin size amount for the face and neck. It washes off easily and doesn't leave any film behind. My skin feels fresh and clean after using this cleanser. It doesn't dry out the skin and leaves my skin mildly hydrated. Overall, It's a good, non-foaming, non-drying cleanser that does its job perfectly. It's definitely a great cleanser with minimal ingredients.
But I cannot stop myself from comparing it to my favorite CleanseMe Cleanser. I find the CleanseMe to be better for my skin as it's a tad bit more hydrating. The Derma Co is free of silicones and parabens but contains SLS. While CleanseMe doesn't contain any of those, but additionally contains skin-soothing Oat Kernal Flour & Allantoin to boost its effectiveness. Above all, it's also a bit cheaper than the Derma Co Cleanser. Personally, I like the CleanseMe more.
Rating: 4/5
Where to buy it? Amazon.in
2. The Derma Co 10% Niacinamide Serum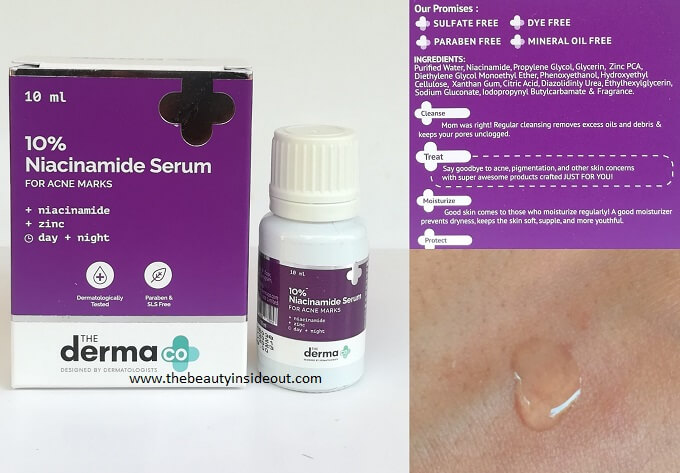 Product Type: It's a Niacinamide Serum that helps to fight acne, reduce acne marks, and control oil production.
Ideal For: Acne & Blemish Prone Skin.
Texture: It's a clear, water-like serum that gets absorbed quickly.
Fragrance: It has added fragrance. It's very mildly scented and hasn't bothered me at all.
My Experience: Its lightweight, non-sticky, watery texture is what makes it stand out. It's as clear as water. The serum is thinner than the Minimalist Niacinamide Serum making it an ideal choice for oily to very oily skin types. The serum vanishes into the skin super quickly. I've used this for about two weeks in my PM routine. I felt that it helped a little in fading my acne marks. However, what I loved the most is it made my skin softer and kept my pores clear noticeably giving an even skin tone. I didn't experience any purging. But then I was using a 4% Niacinamide Moisturizer prior to this. So my skin is used Niacinamide, in general. Overall I did enjoy using this product.
However, I wouldn't repurchase it. Not everyone needs a 10% Niacinamide Serum. Niacinamide works well even at 4-5%. As someone is who trying to minimize my skincare routine, I wouldn't invest in an exclusive Niacinamide Serum unless I have a major acne problem & excess oil production which isn't the case for my combination skin. Most products tend to have Niacinamide as one of their ingredients.
Rating: 4/5
Where to buy it? Amazon.in
3. The Derma Co Ceramide + HA Intense Face Moisturizer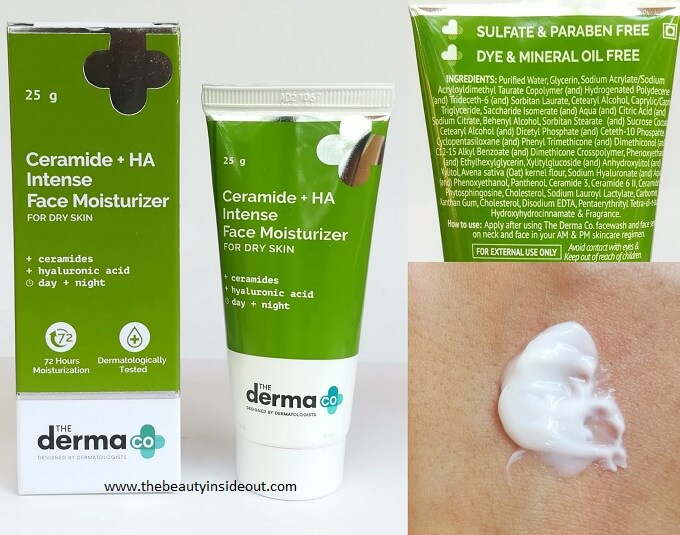 Product Type: Supercharged with Ceramides & HA, it is a face moisturizer that claims to lock in moisture for upto 72 hours.
Ideal For: Normal & Combination Skin Types.
Texture: It has a rich gel-cream texture. It's quite thick in consistency.
Fragrance: It has fragrance added to it. It is on the last ingredient list, so it must be in a small percentage. Nonetheless, it has a barely noticeable fragrance. It could easily pass off as an unscented product.
My Experience: This moisturizer is marketed for dry skin types. In my experience, I feel it might be less nourishing for dry skin types. On another side, it might be heavy for oily skin types. I have combination skin with dry cheeks and oily T zone and I felt that it wasn't moisturizing enough for my cheeks. However, it worked better with a hydrating toner underneath. It locked in the moisture and my skin felt nicely hydrated. I just needed a pea size for my face and neck. It blends and gets absorbed very quickly. It has a mattifying effect on the skin and is absolutely non-sticky. I loved how lightweight it was on my skin.
The moisturizer has 3 types of ceramides and cholesterol, all of which are great for soothing and strengthening the skin barrier. However, it should be noted that they are in very small percentages, occupying the last part of the ingredient list, coming after phenoxyethanol. Phenoxyethanol is a preservative that's used at 1%. In fact, all the good ingredients such as Hyaluronic acid, oat flour, panthenol, come after the preservative.
The Derma Co Moisturizer is often compared with the Re'equil Ceramide & Hyaluronic Acid Moisturizer which comes at half the price of this. Overall, it's a pretty decent moisturizer for combination to dry skin during summer & monsoon.
Rating: 3.8/5
Where to buy it? Amazon.in
Overall Thoughts on The Derma Co
I'm amazed by the number of products they have in their portfolio and the frequent launches of new products now and then. I was skeptical about the brand, in the beginning, surprisingly I had a good experience with it. However, I do feel that their products are replaceable. The Indian market is saturated with so many active based products and this brand just falls under that category. The pricing is decent, not very highly-priced, and is often available at discounts. Some products have the potential to become one's HG (Holy Grail).
Check out the full list of products.
The Derma Co Products List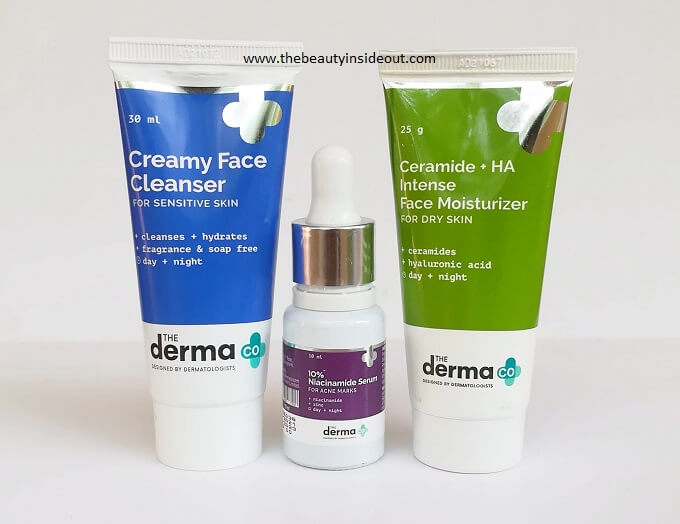 1.

Face Washes
1% Salicylic Acid Ge Face Wash: with Witch Hazel Deeply cleanses & exfoliates, Controls oil production and Helps reduce new acne.
3% Niacinamide Foaming Face Wash: Reduces acne marks, dark spots and evens skin tone & texture.
3% AHA BHA Foaming Face Wash: Exfoliates for brighter skin, Fades blemishes and Control acne.
Creamy Face Cleanser: Soap free, fragrance free, gentle cleanser for sensitive skin.
2. Toners
5% Niacinamide Face Toner: Unclogs & tightens pores, corrects uneven skin tone and regulates sebum production.
7% Glycolic Acid Toner: Gently exfoliates, Brightens & Refines skin texture, Soothes & Hydrates skin.
3. Face Treatment Creams
2% Kojic Acid Cream: For pigmentation, discolorations, dark spots & uneven skin tone.
10% Lactic Acid Cream: Gentle Exfoliator, dimishes dullness and pigmentation.
Fruit AHA Skin Revitalizer: Contain natural AHA to treat Acne and Pimple marks.
4. Moisturizers
Squalane & Zinc Oil-Free Moisturizer: For Normal & Oily Skin. Fights dryness and controls excess sebum.
1% Salicylic Acid Oil Free Moisturizer: With Oat Extract. Lightweight formula, fights active acne and deeply moisturizes skin.
Ceramide & HA Intense Moisturizer: Locks in moisture & calms irritated skin.
3% Vitamin E Face Moisturizer: With Lactic Acid. Quick absorbing, makes skin soft & supple, nurtures and calms dry damaged skin.
5% Niacinamide Face Cream SPF 20: Reduce blemishes & acne marks, provides healthy glow & protects against UV rays.
25% Vitamin C Matte Face Moisturizer SPF 20: With Feluric Acid. Fights dark spots, promotes radiant skin, reduce radical damage and discolorations
5. Sunscreens
Ultra Matte Sunscreen Gel: SPF 60 PA+++: Hybrid sunscreen with an Oil free, lightweight matte formula.
1% Hyaluronic Sunscreen Aqua Gel: SPF 50 PA++++: Hybrid sunscreen with a non greasy hydrating formula.
Pure Zinc Matte Sunscreen Gel: SPF 30 PA+++: Mineral based sunscreen suitable for sensitive skin.
6. Face Serums
10% Niacinamide Serum: with Cica Water & Zinc, to reduce acne marks & calm redness.
15% Niacinamide Serum: with Zinc, to fight acne and fade acne marks.
2% Hyaluronic Acid Face Serum: For Skin Hydratiin and Barrier Repair.
5% Hyaluronic Acid Serum: For Intense Hydration and Reduce Appearance of Fine Lines.
10% Vitamin C Serum with 5% Niacinamide & Hyaluronic Acid: Ethyl Ascorbic Acid Based. Brigthens, smoothens and firms skin.
20% Vitamin C Serum: Ethyl Ascorbic Acid based. To fight hyperpigmentation, brighten & even out skin tone.
2% Salicylic Acid Serum: Unclog pores, treat acne & acne marks and remove blackheads & whiteheads
10% Azelaic Acid Serum: For uneven skin tone and reduce dark spots.
2% Alpha Arbutin Face Serum: Reduce dark spots & blemishes, control melanin production and prevent premature aging.
2% Glutathione Face Serum: with Traxaenamic Acid. To brighten skin tone and improve overall complexion.
2% Kojic Acid Face Serum: with 1% Alpha Arbutin & Niacinamide. To fade dark spots, fight pigmentation and improve skin discoloration.
10% PHA Face Serum: with Gluconolactone & Hyaluronic Acid. For dull and uneven skin tone, to genlty exoliate, minimize pores and brighten skin.
2% Granactive Retinoid Seum: For Fine Lines and Wrinkles, Improves Uneven skin texture.
0.3%Retinol Serum: For Anti Aging, Gentle Exfoliation and Spotless Skin.
0.1% Retinol Serum: with stabilized Vitamin C for anti aging and treating hyperpigmentation.
3% Collagen + Peptide Face Serum: with Collagen & Copper Tripeptides. To reduce signs of aging and boost skin radiance.
4% Vitamin E Face Serum: with Olive Extract. Non greasy feather light formula to reduce dryness and flaky skin.
100% Squalane Serum: To lock in moisture, for Deep Hydration & improve elasticity & firmness.
5% Caffeine Under Eye Serum: To correct dark circles & puffiness, minimize signs of stress & aging.
7. Face Masks
2% Salicylic Acid Face Mask: Clay based face mask to treat acne and reduce inflammation.
5% Niacinamide Clay Face Mask: Clay mask to treat acne marks, control excess sebum and improve skin tone.
8. Serum Sheet Masks
All are fragrance-free.
1% Kojic Acid & Arbutin Sheet Mask: For dark spots & pigmentation.
1.5%AHA +BHA Sheet Mask: Exfoliating sheet mask with Glycolic Acid & Willow Bark for Oily Acne Prone Skin.
1% Salicylic Acid Sheet Mask: With Allantoin to treat active acne.
1% Collagen + Peptide Sheet Mask: Hydrating sheet mask for plump and tight skin.
5% Niacinamide Serum Sheet Mask: With Allantoin to face marks for oily skin.
9.

Peeling Solution
10-minute weekly exfoliation to boost collagen, refine texture & restore radiance.
15% AHA+1% BHA Beginner Face Peeling Solution: 5% Glycolic Acid, 5% Lactic Acid, 5% Mandelic Acid and 1% Salicylic Acid.
30% AHA + 2% BHA Peeling Solution: 10% Glycolic Acid, 10% Lactic Acid, 10% Mandelic Acid and 2% Salicylic Acid.
10. Haircare
Anti-Dandruff Shampoo: With Climbazole to treat dandruff, relieve itchy scalp & restore scalp pH.
1% Climabzole Gel Cream: Treats dandruff, controls itch and scalp irritation.
Anti Dandruff Hair Oil: Treats dandruff, reduce itch, nourishes and hydrates scalp.
Multi Peptide Hair Serum: To treat hair loss and promote hair growth.
11. Sugar Free Effervescent Tablets
500 mg Glutathione Effervescent Tablets with Hyaluronic Acid & Vitamin C: For skin illumination. Pineapple flavour.
1000 mg Vitamin C Effervescent Tablets: For Skin Radiance. Orange flavour.
250 mg Curcumin Effervescent Tablets With Curcumin & Black Pepper: For glowing skin and general well being. Mango flavour.
250 mg Collagen Effervescent Tablet: Delays signs of aging and improve overall skin health. Strawberry favour.
The above was the consolidated list of The Derma Co Products available. Have you tried these?
Share your favourites and experience with them in the comments section below.