This is one of the cult favourite skincare products loved by sensitive skin types. Cetaphil Gentle Skin Cleanser is a Dermatologist-Recommended cleanser for dry and eczema-prone skin types. I got this during the winter months when my skin was more on the combination & drier side. Read on to know my thoughts on this much-raved cleanser.
Product Description:
Cetaphil Gentle Skin Cleanser is a mild, non-irritating formulation that soothes skin as it cleans. In fact, it's gentle enough for a baby's delicate skin. Designed specifically to work for all skin types, it is a simple, yet highly effective way to care for your skin.
Cetaphil Gentle Skin Cleanser
Ingredients: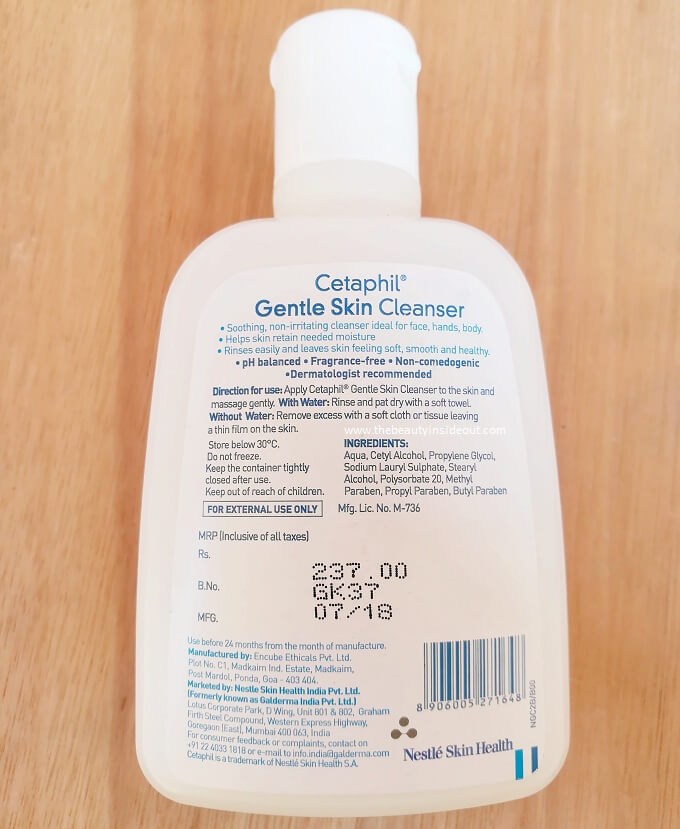 As you can see, this has Sodium Lauryl Sulphate (SLS), a foaming ingredient that is known to irritate and striping on the skin. But this cleanser barely foams up, it is neither dry on the skin due to its formulation. SLS forms the 3rd ingredient and before that, we have fatty alcohols – Cetyl Alcohol which is an emollient that provides moisture to the skin, and Propylene Glycol which is a humectant that retains moisture. It also has Stearyl Alcohol which is yet another emollient fatty alcohol. (P.S: Fatty Alcohols are much different than Drying Alcohols in skincare and are not as bad as one might think). Apart from that, the cleanser has two controversial paraben preservatives.
Overall analysing the ingredients, it doesn't really have "to-die-for" skin-beneficial ingredients. But the cleanser has more moisturizing ingredients than cleansing agents. That's the reason why the cleanser is very gentle despite containing SLS.
What is the pH of Cetaphil Face Wash?
Cetaphil Gentle Skin Cleanser has a pH of 5.5 which is the optimal skin pH.
How to use Cetaphil Gentle Skin Cleanser?
Ideally, take a doll up of the cleanser and gently massage on the face for 30 seconds, rinse with water and pat dry.
You can also use the Cetaphil Gentle Skin Cleanser without water to remove light makeup. After massaging the cleanser on the skin, swipe a cotton pad across your face to gently remove impurities.
Cetaphil Gentle Skin Cleanser Review
Packaging: Cetaphil Gentle Skin Cleanser come in a simple white plastic bottle packaging. I have the one with a flip-top cap while bigger sizes do come with a pump dispenser. The bottle is spill-proof and is very compact & travel-friendly. The bottle has got the necessary information about the product on its backside.
Color & Texture: Cetaphil Gentle Skin Cleanser is a translucent white lotion-like product with a medium consistency. It's neither runny nor thick.
Fragrance: The cleanser doesn't have added fragrance and it is Fragrance-Free. I don't smell anything at all.
My Experience:
This is definitely a very gentle cleanser. It doesn't foam at all, and barely produces one or two bubbles. Unless I see the ingredient list, I wouldn't have believed it contained SLS. The cleanser feels very rich and emollient while massaging that it doesn't feel like a cleanser at all. If you are new to non-foaming cleansers, it is going to take some time for you to get a hang of it. The cleanser rinses off easily and doesn't leave any slippery residue.
The cleanser is able to remove dirt & impurities very well. It leaves the skin clean, hydrated, smooth and soft to touch. There is no stretchy feeling and I can easily wait for a while to finish off the rest of my skincare routine. The cleanser leaves the skin comfortable and calm. This can be used both day and night by all skin types, even oily skin. This would make a perfect cleanser for the colder days. I love that this doubles up as a body cleanser. Someone with eczema and dry skin will be benefited a lot from this cleanser.
Overall, I liked using this. Although I don't like the fact that it contains sulphates & parabens, I am very much satisfied with the performance of this cleanser. It's a very gentle non-foaming cleanser which leaves the skin balanced, smoother, softer and comfortable.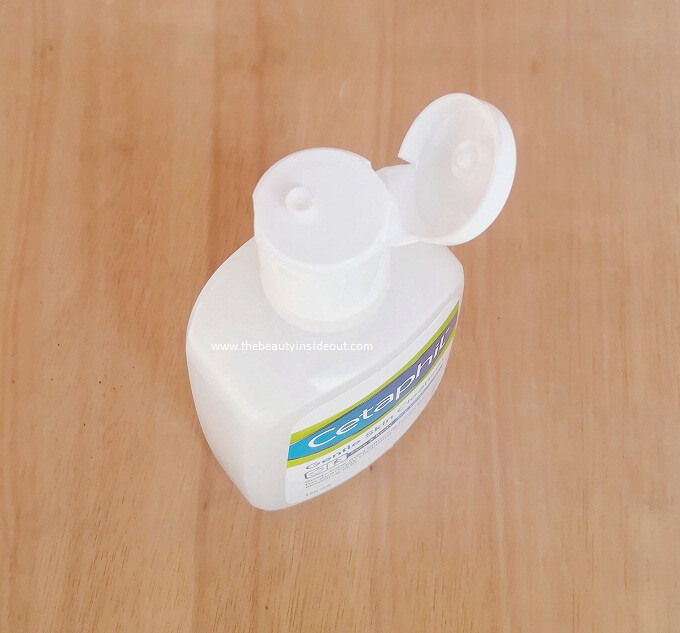 Is Cetaphil Gentle Skin Cleanser good for acne?
The cleanser alone won't do much for acne. It doesn't really have any acne-treating ingredients too.
But this definitely helps with dryness caused to due acne medications like Accutane, Tretinoin, Benzoyl Peroxide, and AHA's. So if you have been using strong actives to treat your acne, this will be a great cleanser to not aggravate your skin condition further.
The packaging says it's non-comedogenic, but according to CosDNA, SLS and fatty alcohols are supposed to be acne-triggering ingredients. But then, not everybody breaks out from them. Just use the CosDNA database as a pinch of salt and nothing more. The cleanser has got a very minimal ingredient list, do check if you are allergic to any of these, if not it should be fine using this on acne-prone skin. I have acne-prone skin and the cleanser hasn't broken me out.
Pros:
Available in various sizes.
Fuss-free packaging.
Good pricing.
Gentle non-irritating formula.
Suitable for all skin types.
Doesn't dry out the skin.
Leaves the skin hydrated, soft & smooth.
pH is balanced and fragrance-free.
Can be used on the face and body.
Cons:
Contains sulphates & parabens.
It doesn't foam up, so people who are used to foaming cleansers will have to get used to using it.
Rating: 4.5/5
Would I recommend it? Yes, it's a good cleanser that doesn't strip off the skin from its natural oils. But then it contains SLS and Parabens. If you are looking for an alternative cleanser which is very similar to the Cetaphil Gentle Skin Cleanser, being gentle & hydrating but without sulphates & parabens and with slightly better ingredients, I'll recommend getting the La Roche Posay Tolerine Gentle Hydrating Cleanser. This has Niacinamide, Panthenol and Glycerin which makes it more better than Cetaphil Gentle Skin Cleanser.
Update as of 08-07-2022: I wonder if Cetaphil heard me, that they have reformulated the cleanser. Yes, the Cetaphil Gentle Skin Cleanser has been reformulated to contain the star ingredients that I mentioned above i.e, it now contains Niacinamide, Panthenol and Glycerin.
Full Ingredients of the Reformulated Cetaphil Gentle Skin Cleanser
Aqua, Glycerin, Cetearyl Alcohol, Panthenol, Niacinamide, Pantolactone, Xanthum Gum, Sodium Cocoyl Isethionate, Sodium Benzoate, Citric Acid, FIL, 1747 V00.
Cetaphil Gentle Skin Cleanser is now Sulphate Free and Paraben Free.
Have you tried this Cetaphil Gentle Skin Cleanser? Is it your favourite? Do you want us to try out the reformulated version?
Let us know in the comments section below.