We have a very hyped skincare product for today's review. Supposedly this is the No.1 & Best Selling Face Serum in the US market. Well, I'm talking about the L'Oreal Paris Revitalift 1.5% Pure Hyaluronic Acid Serum. It claims to be everything that one would look for in a skincare product – fragrance-free, alcohol-free, lightweight, non-sticky, etc etc. Curious to know how it actually performs. Read on to know my experience with this L'Oreal Hyaluronic Acid Serum.
L'Oreal Paris Revitalift Hyaluronic Acid Serum Benefits:

L'Oreal Paris Revitalift Hyaluronic Acid Serum has the highest concentration of Hyaluronic Acid to deeply hydrate skin layers for plump and youthful skin.
Known to retain up to 1000x its weight in water, the L'Oreal Hyaluronic Acid serum hydrates and enhances the skin's natural radiance.
It's powered by 2 types of Hyaluronic Acid. MICRO – so small that it goes deeper into the skin epidermis to plump skin from within.MACRO – bigger to hydrate, protect, and smooth skin surface.
L'Oreal Hyaluronic Acid Serum gives immediate results by giving supple and smoother skin.
Within a week of usage, it makes your skin look more bouncy and youthful.
L'Oreal Paris Revitalift Hyaluronic Acid Serum Ingredients: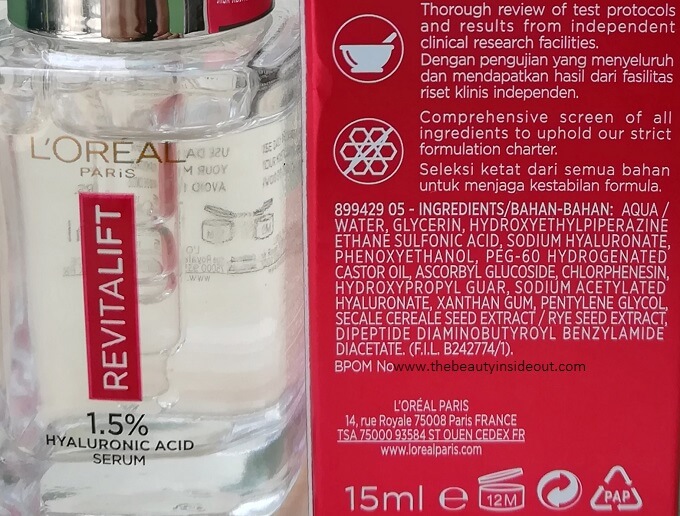 Aqua/​Water, Glycerin, Hydroxyethylpiperazine Ethane Sulfonic Acid, Sodium Hyaluronate, Phenoxyethanol, PEG-60 Hydrogenated Castor Oil, Ascorbyl Glucoside, Chlorphenesin, Hydroxypropyl Guar, Sodium Acetylated Hyaluronate, Xanthum Gum, Pentylene Glycol, Secale Cereale Seed Extract /​ Rye Seed Extract, Dipeptide Diaminobutyroyl Benzylamide Diacetate.
Notable Ingredients:
It has got Glycerin, a very good humectant which is great for dry skin.
Two types of Hyaluronic Acid – Sodium Hyaluronate & Sodium Acetylated Hyaluronate (a super hyaluronic acid that is said to have better moisture retention ability than normal Hyaluronic Acid)
Ascorbyl Glucoside – antioxidant that has brightening properties.
Hydroxyethylpiperazine Ethane Sulfonic Acid – It is said to generate free radical damage which is not a good thing for the skin.
PEG 60 Hydrogenated Castor Oil – which is fungal acne triggered. So if you have fungal acne, watch out!
And a couple of buffering agents and preservatives.
L'Oreal Paris Revitalift Hyaluronic Acid Serum Price:
15 ml – 499 INR
30ml – 999 INR
L'Oreal Paris Revitalift Hyaluronic Acid Serum Review
Packaging: It's clean and classy. The glass dropper bottle looks elegant with a striking red print on it. The product comes housed in a red carton box with all relevant details of the product.
Color, Texture & Fragrance: It's a colorless, odorless, clear liquid that has a slightly viscous consistency.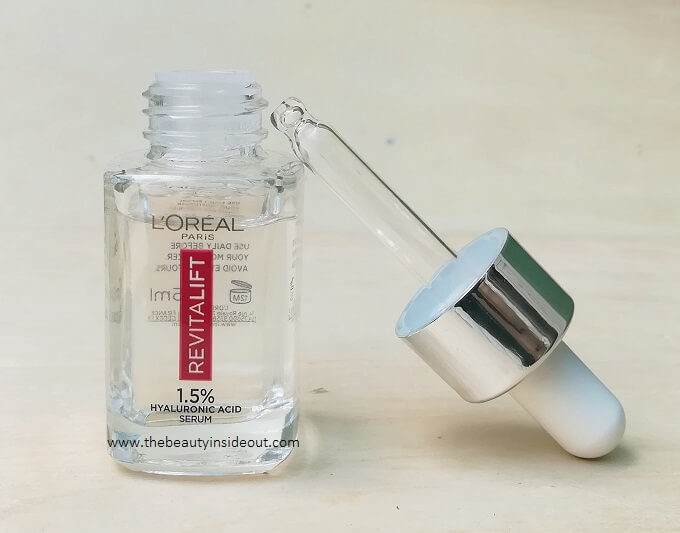 My Experience:
I started using this after a long gap of following a proper skincare routine. So my skin wasn't at its best. Blame the covid times, I lacked the inspiration to take care of my skin. I have combination skin and it was fairly rough and lacked glow. I started using this serum in my PM routine. Right after cleansing on damp skin, I take 3 drops of the serum on my palm and gently apply it all over the face. Though I've heard people saying that the serum is non-sticky & lightweight, on my skin, it definitely felt a bit sticky and tacky while applying. In a couple of seconds, it settles down to a drying finish, if not followed with another product. So I quickly apply a moisturizer to lock in the serum. The serum alone does not have a comfortable feel on the skin. But with layering products, it's all good. I haven't used concentrated hyaluronic acid serums like this before, but as far as I've researched I believe it's a common trait of hyaluronic acid to have a viscous sticky texture. It took me a bit of time to get used to its skin feel. It's a bit heavy on my skin for daytime use. Note that I live in a hot & humid place.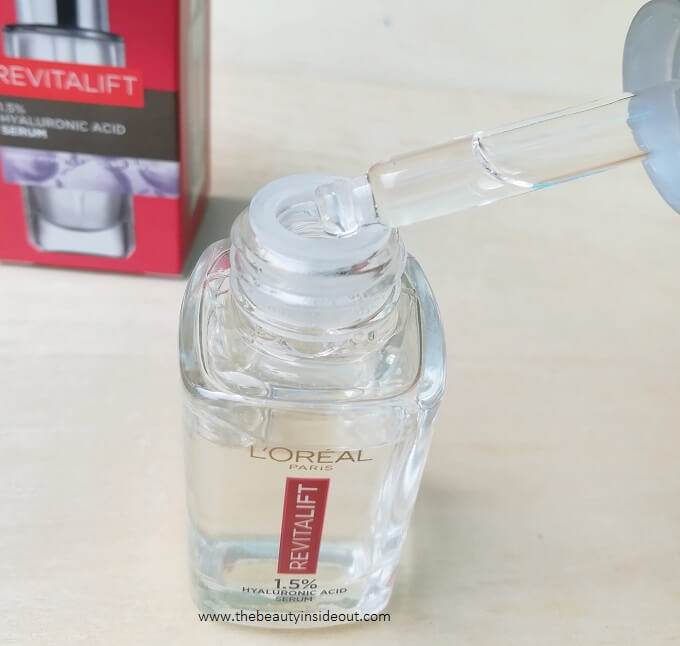 Anyways, the serum does what it claims to do. It replenishes and hydrates the skin. When I wake up, my skin definitely has a plumped-up effect. Within two days, it tackled my skin's roughness and it was all smooth and bouncy. It supposed to be good for anti-aging and yes, it plumps up and gives healthy-looking skin.
However, unless you have dehydrated or rough skin, I don't think you'll see a major difference with this product. If you already have a pretty solid skincare routine and good skin, you won't benefit from this serum much.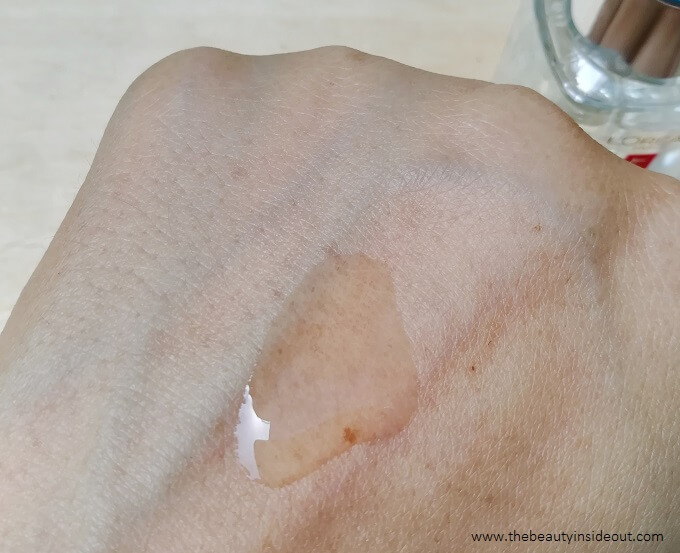 L'Oreal Paris Revitalift Hyaluronic Acid Serum Side Effects:
One good thing about this serum, it never broke me out or caused irritations. Unless you are sensitive to hyaluronic acid and prone to fungal acne, it can be used by all skin types including sensitive skin types.
Personally, I don't think it's an ultra-lightweight product. I've used much lighter products. Sometimes I felt the serum doesn't let my skin breathe and sit on top of the skin. So I didn't really like its skin feel on me, though the results were good. I would any day go for my Klairs Toner for instant hydration and a lightweight feel.
The L'Oreal Serum is also a bit heavily priced for the quantity offered. There are many affordable hyaluronic acid serums in the market that has better ingredients and known to be better performers.
Pros:
Contains 1.5% Pure Hyaluronic Acid.
Free of fragrance, color, parabens, and alcohol
Hydrates and plumps up the skin.
Reduces roughness and smoothens skin.
Classy packaging.
Cons:
Expensive for a hyaluronic acid serum.
It's not ultra-lightweight as I thought it to be.
Rating: 3.5/5
Would I recommend it? No. There are better options in the market with better pricing in the market.
Have you tried this product? Let us know in the comments section below.