[Updated on 21, December 2018] VLCC is a big name in the beauty and wellness line. Founded in the late 1980's, it's now widely recognized for its comprehensive portfolio. Not only did it gain a lot of attention for its weight loss and slimming services, they swept the beauty world with its affordable range of beauty products. They have a wide variety of products starting from face washes to sunscreens to hair washes. What makes them different, they were one of the earliest brands to bring in products like Facial Kits, Bleaches into the market. These products enabled the consumers to do facials at the comfort of their homes rather than going to a salon/parlour to get them done. I've had my hands on their products since a long while. And today I would be sharing my experience with few VLCC Products that I tried in the past couple of months. Let's get started.
1.VLCC Neem Face Wash with Chamomile & Tea Tree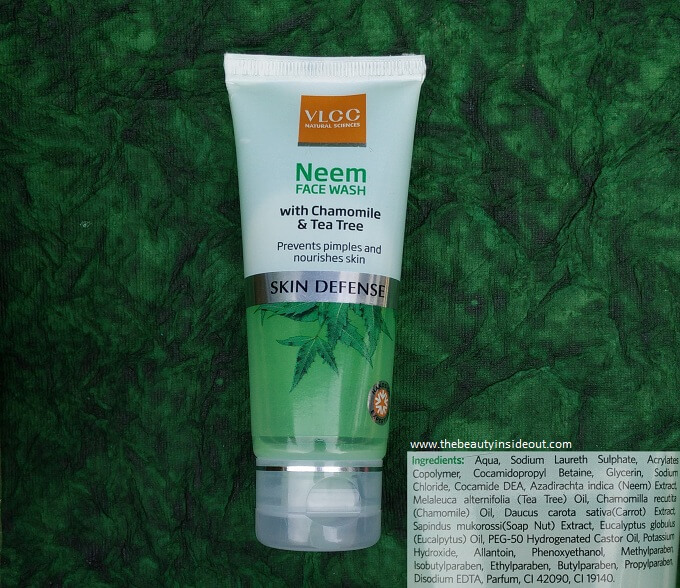 There is no secret that Neem Face washes are mainly targeted towards pimple prone skin. And so is this face wash. Along with Pure Neem Extract, it contains Chamomile and Tea Tree Oil which again are effective ingredients for acne. The face wash is gel based with the usual green hue all Neem Face Washes have. It has a fake neem fragrance. I neither liked it nor disliked it. Anyways it does not stay and you would get a sniff of it till you rinse it off. A dollup of the face wash and a dollup of water is enough to bring it to lather. Duh! It contains SLS as its second ingredient!! It gives a mild cooling effect upon washing. However it kind of leave a slippery feel that I keep on splashing water to get rid of it. Once the rinsing part is over, I gently pat my skin dry. The end result; my skin looks really really clean and brighter. The face wash removes ever bits of impurities and sebum from my face. It does feel a bit drying thereafter. So I just immediately follow up with a toner and moisturizer. This is a face wash that it best suited for oily and acne prone skin. It calms down active acne to a certain extent. But does not really prevent new acne breakouts. Finally, though I liked the after effect of this face wash(cleaner and brighter skin), I would give this a miss as I hate face washes that leave slippery residue.
Rating: 2.5/5
Price & Availability:

Also Read : VLCC Ayurveda Face Wash
2. VLCC Rose Water Toner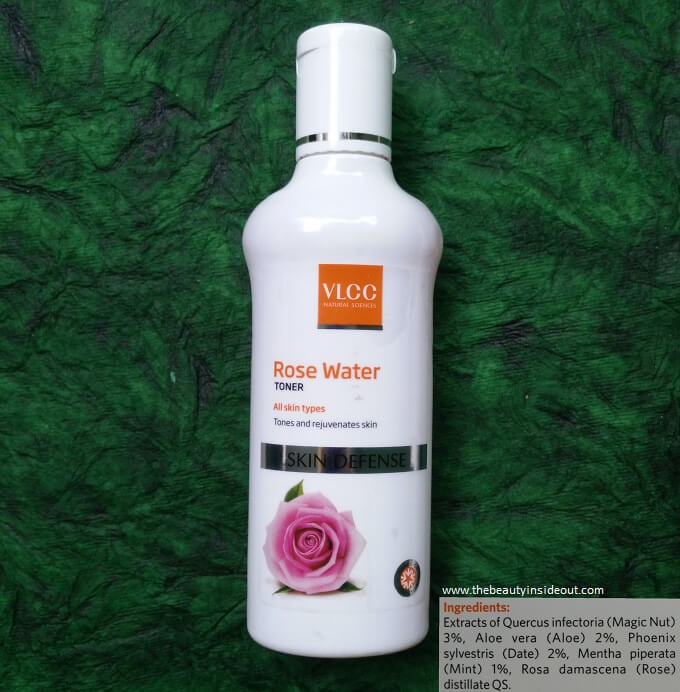 This is not a rose water only toner. Along with Rose Water Distillate, this toner has extracts of Oak Spices, Aloe, Mint and Dates. Quite interesting right! The first thing that caught my senses is its fragrance. It is not mild and kind of smells like Rose Milk Essence to me. Not a bad trait. Just that it doesn't have the scent of organic rose waters. The toner is baby pink in color inside the bottle and comes out as a colorless liquid. I just take a cotton ball, pour a few drops of the rose toner and swipe all over my facial skin. It gives a mild cooling sensation and soothes my skin. The toner is not very hydrating, but gives a firmness to my skin by closing the pores. It leaves my skin mattified with no stickiness. Just a soft, soothed skin ready to be moisturized.
I like that the brand doesn't make tall claims. It claims to act as a cooling and refreshing agent and to tone, nourish and balance the skin; which it does. I also used this rose toner with DIY face packs and it enhanced the performance of the pack. It gives a tranquilizing face masking session due to its added cooling effect. Overall, a nice toner that tones and tightens the skin yet this is not one of my bests. Yes because rose waters from Zofla and Kama Ayurveda have set their standards high that this rose water fails to go into my HG list.
Rating: 4/5
Price & Availability:
Also Read : 10 Organic Rose Waters in India
3.VLCC Insta Fair & Glow Fairness Cream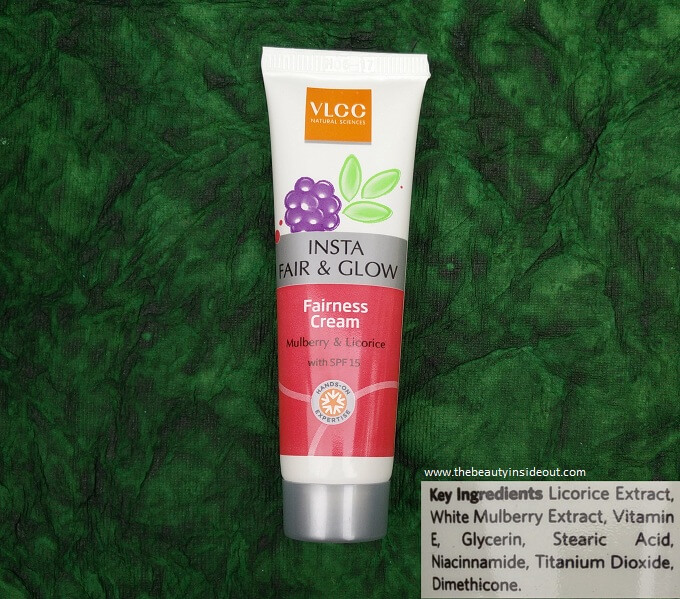 Let me first tell you I'm in no way endorsing fairness or fair skin. Also, it's one's own choice to use whitening/fairness cream. So read this review if you are into fairness or day creams. Others may skip to the next product.
VLCC Fairness Day Cream is the usual white colored cream with a Dove Soap like fragrance. You would have surely smelt such a fragrance before. It is soft yet can be irritating for some. The texture is very rich, creamy and mousse like, due to which it takes a bit of time to blend into the skin completely. I suggest dotting it section wise and quickly blending it. Apply it on semi damp skin. I just spritz some rose water before applying this cream so that it blends easily. The fairness cream adds a not so prominent 'whiteness' to the skin, as if you've applied light makeup. It can be perceived as a brightening effect on medium to fair skin tones. But would look too ashy or made up on dark skin tone. This may also be due to the SPF in it. On my skin, it does not look that bad and I can easily wear this without getting some weird onlookers. The formula is a bit drying on the skin, hence would be suitable for very oily to oily skin types. It does not make my skin sweat like most day creams which is a plus. Though it has Mulberry Extracts and Licorice Extracts both of which are skin lightening ingredients, it does not lighten skin tone as such. It just gives a temporary whitening effect. At the end of the day, once I wash my face, I'm back to my normal skin.
Overall, VLCC Fairness Cream is an above average day cream that does not make me oily or sweaty. The sun protection it offers is decent for the winters but don't expect it to prevent tanning. Finally, I liked it's formula compared to it's competitor creams.
Rating: 3.8/5
Price &Availability:
Also Read: O3 + White Day Cream , Citra Pearl Fair Face Cream
4.VLCC Sandal Cleansing Milk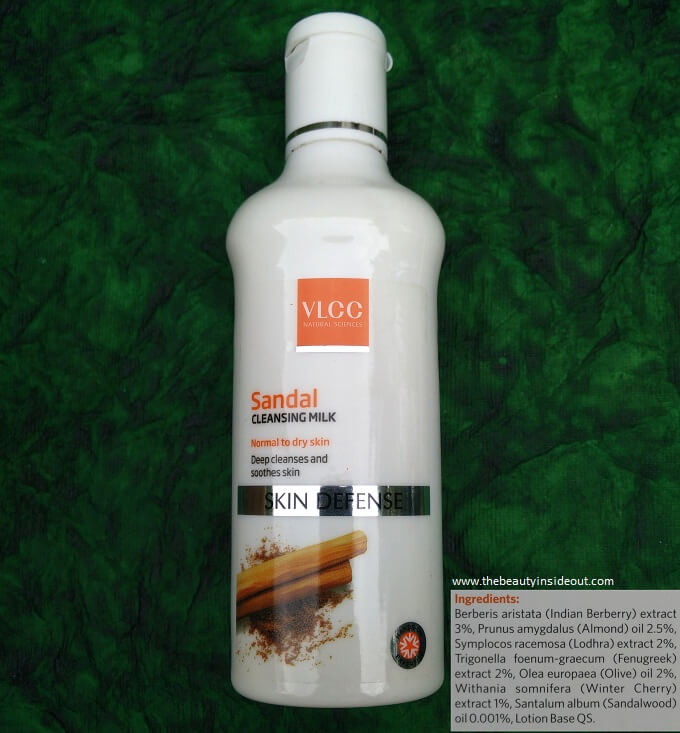 This is a product that I didn't expect to perform so well. Cleansing milks are mostly suited for normal to dry skin types and this one particularly mentions it's for dry skin. But, it worked really well on my combination oily skin. The cleansing milk is enriched with Indian Berry, Almond and Sandalwood Oil. It has the usual cleansing milk traits, a milky white lotion like consistency, a milky fragrance but with a hint sandalwood oil. It is not very strong and is not at all bothering. This cleansing milk is specifically good for removing makeup. As it says, I take a little amount of the product, massage it on my skin and wipe it with a cotton ball. And then rinse my skin with water. The cleansing milk successfully removes all sorts of makeup and impurities. Just be cautious while removing eye makeup as it stings a bit. And due to the presence of oils in it, the cleansing milk does not dry out the skin and adequately nourishes it. My skin feels soft, smooth and comfortable with no sticky feel or oily residue left behind. VLCC Sandal Cleansing Milk deeply cleanses the pores while healing dryness. If most face washes dry out your skin, you can very well use this as a daily cleanser.
Rating: 4.5/5
Price & Availabilty:

5. VLCC Clear Tan Fruit Face Pack
This is a tan removal face pack with fruit extracts of pineapple, mulberry and cucumber. Despite having such nice ingredients, it fails to remove severe tan. The face pack is mud based and has a thick texture. There is no way that this pack can be used without diluting. I either use plain water or rose water to thin it down and then apply a layer of the face pack on cleansed toned skin. There is no tingling sensation or anything of that sorts. The pack dries quickly in 10-15 minutes. I use a wet sponge to remove the pack as its easier that way. The face pack leaves my skin soft and glowy. Unlike many face packs that dries out the skin, this one is a bit hydrating and leaves the skin supple.
As for its effects on tan, it removes moderate, fresh tan in a couple of uses. But doesn't really work on severe tan. This product is good as a normal face pack, giving a clean and refreshed skin. However, I would not really recommend this if you are particularly looking to get rid of tan.
Rating: 3/5
Price & Availability:

Also Read: The Natures Co Fuller's Earth Face Pack
6. VLCC Hair Strengthening Oil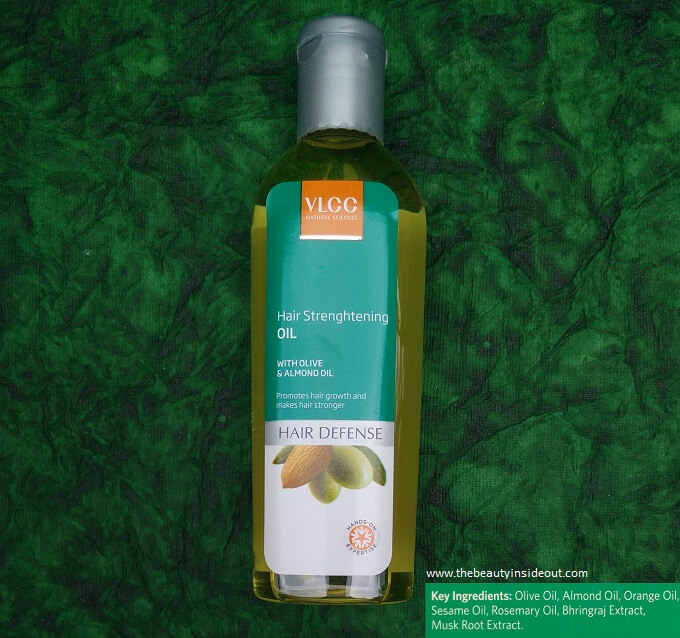 This is a perfect hair oil with a blend of nourishing oils including Olive Oil, Almond Oil and Rosemary Oil. The oil has a nice fragrance. It has a strong scent of Rosemary and Orange Oil. Despite being strong, it does not induce headache. I like the scent actually. The hair oil is a beautiful golden yellow colored oil. The consistency is medium. It is not too thick or sticky like Castor Oil and spreads easily on the scalp. I usually oil my hair a day before hair wash. The oil is extremely nourishing and soothing to my scalp. Post washing, this leaves my hair soft and smooth.
After using this for over a period of 2 months, I'm happy with its results. As claimed, it did strength my hair roots. I saw noticeably less hairfall than before. I also saw an increase in my hair length. Having said that, my normal hair growth rate is pretty good actually. Whatever oil I may use, my lengths keep getting longer, just that the density gets lesser due to dandruff and other scalp problems. And this hair oil solved that problem for me. This is a really nice hair oil to promote hair growth. BUT, the only reason why I wouldn't be buying this again is because of the lack of complete ingredient list!!!
Rating: 4.5/5
Price & Availability:

Also Read: Iraya NeelBhringadi Hair oil, Soulflower Pure Natural Bhringraj Oil,
7. VLCC Insta Glow Diamond Bleach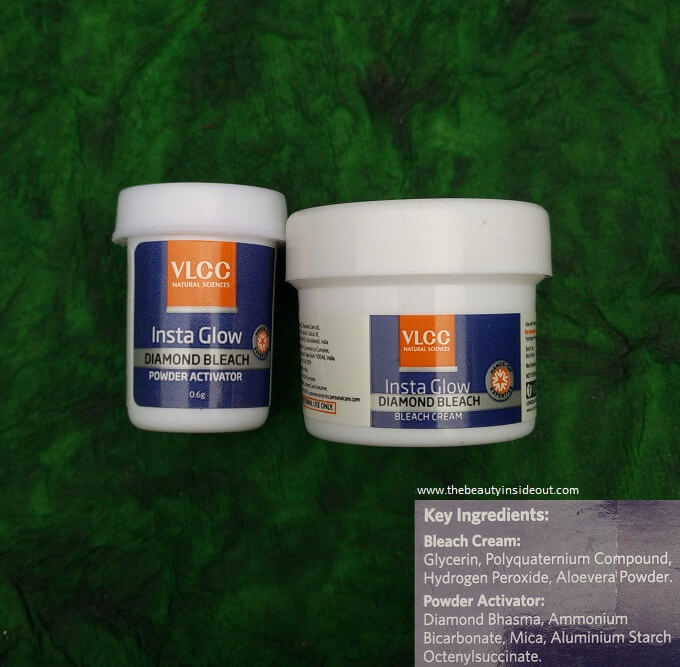 Bleach creams are usually used in Parlours. I will have to appreciate VLCC to bring out such products that can be easily be used at home. You don't have to go just to get that bleached skin right. Bleaches are generally used to provide quick results which includes skin lightening, tan removal, facial hair bleaching and to get a radiant skin. But due to the presence of harsh chemicals, it is suggested to use only once in a while. And not to forget, you should always do a patch test before applying it on your face.
The product comes in two tubs. One has the bleach cream and the other has the powder activator. Both of them has to be mixed together before using it. A small spatula is also provided for mixing. The bleach cream has a mild non-bothering scent and the activator has a pungent smell. That's how bleaches smell commonly.
After cleansing my face, I applied this mixed cream with the help of the spatula covering my face and neck, avoiding my under eye and brow area. Immediately upon application I felt a tingling sensation which lasted for about 2 to 3 minutes. I kept the bleach for 10-12 minutes and then rinsed it off. And Tada! All I could see was a visibly brightened and lightened skin. I follow it up with plain aloe vera and made sure I'm away from sunlight the next two days. Note that the bleach shouldn't be left on your skin for more than 15 minutes and you are not to use any soaps after bleaching.
Overall, the product did its job of bleaching really well. It gives much lesser burning sensation than what other bleaches give. So yes, if like to try a bleach at home, get this product. It is cheap and one of the best VLCC Products. But please don't use this on a regular basis and go for it only when you have any special occasion coming up.
Rating: 4.9/5
Price & Availability:

8. VLCC Matte Look Depigmentation Sun Gel Creme SPF 30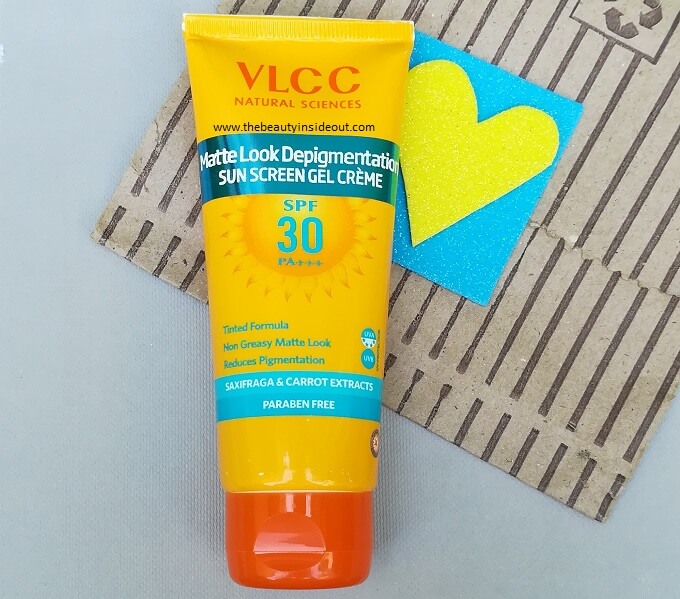 This sunscreen was from the newly introduced paraben free gel crème range, launched along with 4 other sunscreens. The formula is only paraben free and is not a completely chemical free sunscreen. In fact, this is chemical sunscreen with the controversial Oxybenzone as its key sun protecting ingredient. Nevertheless, the performance of this is impressive. The sunscreen has the usual creamy texture (no gel cream) with a nice consistency & spreadability. Since the sunscreen is tinted beige, there is no obvious white cast. The sunscreen is mildly hydrating and not very greasy. The formula would best suit combination and normal skin types. Oily skin types might find it oily after a couple of hours and Dry skin types might find it drying. As for the depigmentation claim, although the sunscreen lighten marks, it does help in reducing my acne spot getting more darker (if I don't apply sunscreen, my acne marks get more darker due to sun exposure). The SPF 30 and PA+++ is decent enough for indoor & moderate sun exposure. Overall, I would recommend this for combination skin types, whose skin is not sensitive and acne prone.
Rating: 4/5
Price & Availability:
Also read:
My Final Thoughts
In this era of #NoChemicals, VLCC fails to mention the complete ingredient list of majority of their products. But from their face washes, it is clearly seen that they use sulphates and parabens. So it is highly possible that other VLCC Products may contain them as well. If not, why would they not mention its free of such chemicals!!
Anyways, VLCC is an Ayurvedic brand, which supposedly uses extracts of plants, fruits and herbs as actives and contains other chemicals or preservatives as inactives.
They claim not to test their products on animals. They have a bunny symbol on their products. But there has been speculations that they test on animals. So I'm unsure of this claim.
The best thing about VLCC Products is the ease of availability. They are widely available everywhere both offline and online. The price range is also on the affordable side, so beginners and college goers love this brand. Some of their products are on par with high end brands. So if you can ignore the cons mentioned, you'll love this brand.
My best picks from the vast range of  VLCC Products would be their Facial Kits and Bleaches. They have so many facial kits. VLCC Papaya Fruit Facial Kit, VLCC Diamond Facial Kit and VLCC Ayurveda Facial Kit are some of my favourites among them. I did not put them up here as I have done separate posts on the blog. You can check them out anytime.
So that's a wrap for today. Let us know which VLCC Products worked for you and which didn't work for you. We would love to know them.