After a long time, I'm back with my reviews on the Brand Focus Series. Today's brand in focus is Garnier. Garnier is a very popular, mass produced cosmetics brand, easily available everywhere. Garnier Products are manufactured and sold in many countries across the world. Their products are targeted towards specific cultures. That's why you might have noticed Garnier Products having different product names in different countries but with similar looking packaging and similar formulations. Also, each country have labelling written in their own national language.
Garnier is from the house of the french cosmetics company L'Oreal. Garnier is Not a Cruelty-Free brand. They do conduct tests on animals wherever required.
In this post, I'm going to be reviewing the following Garnier Products.
Garnier Light Complete Face Wash
Garnier Light Complete Serum Cream
Garnier Micellar Cleansing Water
Garnier Sheet Masks
Garnier BB Cream
Garnier Fructis Long & Strong Shampoo
Garnier Oil in Cream
Let's get started with the reviews. Grab a cup of coffee as it's going to be a super detailed post as usual.
Garnier Products Review
1. Garnier Light Complete Face Wash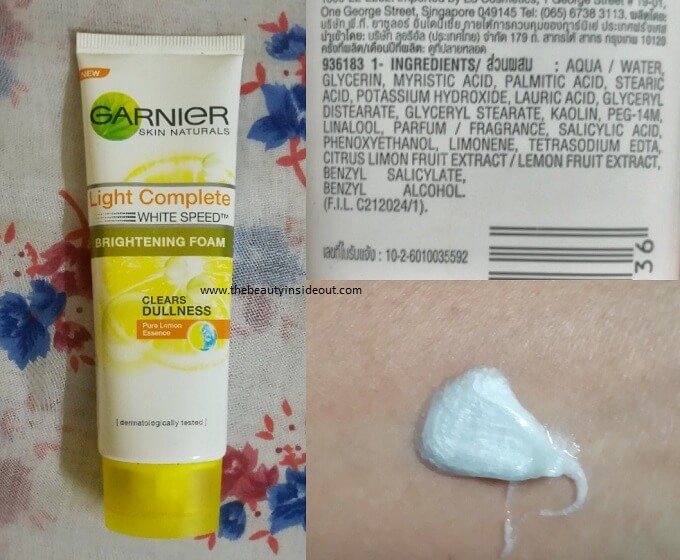 This product is either available as Garnier Light Complete Fairness Face Wash or Garnier Light Complete Brightening Foam, depending upon the country you buy the product from. In either case, the ingredient list is exactly the same. The product comes from the Light Complete Range (Color coded in Yellow) which is targeted towards lightening and brightening. The Garnier Light Complete Face Wash is a pearly white creamy face wash that looks like your typical Ponds Face Wash. It has got a mild citrus fragrance that's kind of refreshing and not overpowering. One requires just a pea sized quantity of the product since it forms a rich foam upon lathering. The face wash is able to remove impurities and oils thoroughly while leaving the skin squeaky clean, brightened and a bit dry. Well, it's an oil control face wash, so this is ideal only for oily skin types and dry skin types needs to stay away from this.
In short, Garnier Light Complete Face Wash is an affordable oil control face wash. It claims to remove dullness and it does that by instantly brightening up the skin. It also reduces tan to a certain extent.
Rating: 3.5/5
Where to buy? Amazon.in / Amazon.com
2. Garnier Light Complete Serum Cream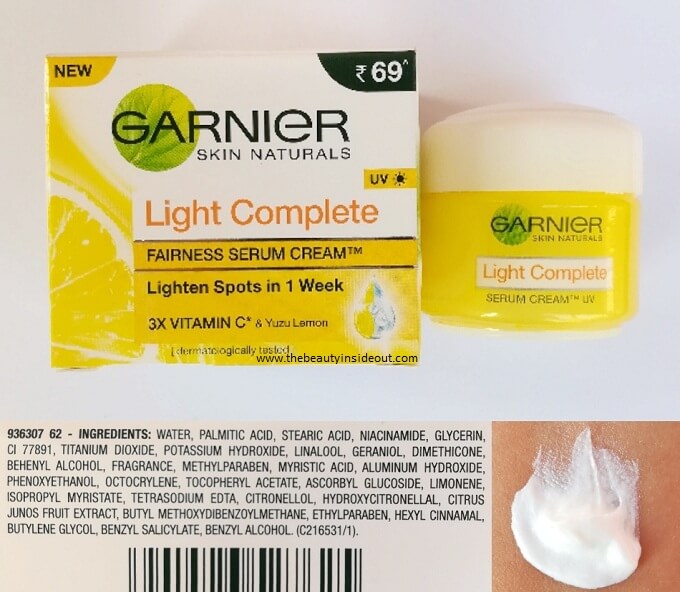 This is a new addition to the Light Complete Range. The brand makes a lot of claims which sounds a bit exaggerated. Let me quickly tell you what they say about the product.
Unique Serum Cream Formula.
Reduces 3 types of spots – Dark spots, UV spots, Pimple Spots.
Gives fairer skin in 1 week.
Instantly brightens skin and gives long lasting fairness.
Has UV filters to provide sun protection.
As you might have guessed, I didn't fall for their claims and just bought it since it was a new launch then with an inexpensive price tag.
The Garnier Light Complete Serum Cream is a pearly white thick cream that gets absorbed quickly. So you have to apply and blend it quickly, to avoid clinging onto dry patches. It has a mattifying formula, so I suggest prepping the skin well beforehand. I had combination skin whilst using this, so I used a hydrating toner and a layer of aloe gel before applying this cream. Very oily skin types can use this right after cleansing. The cream gives an instant brightening effect that looks pretty natural on my medium fair skin tone. Compared to other budget friendly day creams, I quite liked using this cream as it wasn't too drying or too greasy to make me uncomfortable. There is no SPF mentioned, but looking at the ingredient list, it has two UV filters. They could have been a bit more clear on that, so people needn't have to be confused about using a separate sunscreen or not.
Overall, compared to other budget friendly day creams, I quite liked this Garnier Light Complete Serum Cream more on my combination skin. However note that if you have severe acne prone skin, this might break you out.
Rating: 3.8/5
Where to buy? Amazon.in / Amazon.com
3. Garnier Micellar Cleansing Water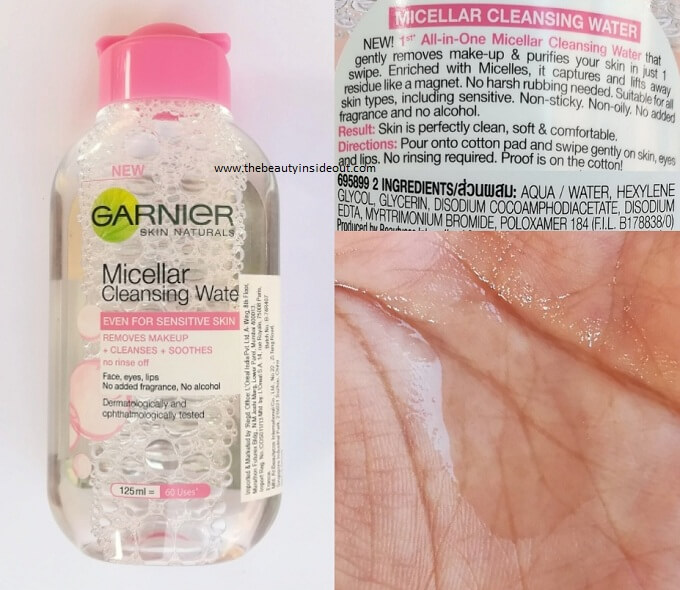 For those who don't know, Micellar waters are mild first cleansers made up of tiny cleansing oil molecules that have the capability to attract dirt and impurities without drying out the skin. These are used for light makeup removal and as a gentle morning cleanser. This Micellar Water from Garnier is the most affordable available in the market. This pink variant is for sensitive skin and mild cleansing. So don't expect it to remove heavy makeup. For heavy duty makeup removal you will have to pick up the Bi-Phase Oil Cleanser.
The Garnier Micellar Cleansing Water is a water like a clear runny liquid with a noticeable chemical scent. This doesn't contain alcohol or added perfume. I take a couple of drops of the product on a cotton pad and swipe across my face. It is able to pick up dirt and remove my sunscreen with one swipe. However it takes multiple swipes on multiple cotton pads to remove even light makeup. It does sting my eyes a bit if used for eye makeup removal. This is supposed to be a no rinse product. It does not leave the skin sticky or oily but still I suggest rinsing your face with water or follow up with a foam cleanser if you are double cleansing. The earlier version of the product contained PHMB, a potential carcinogen. But eventually the brand removed them. So it should be fine to use this. Personally I don't use this everyday. I have this handy for my lazy skincare days and also to remove the light makeup that I wear occasionally.
Overall, if have been looking to try out a Micellar Water, this product is a great start since it's affordable and does what it claims which is to cleanse gently.
Rating: 3.5/5
Where to buy? Amazon.in / Amazon.com
4. Garnier Sheet Masks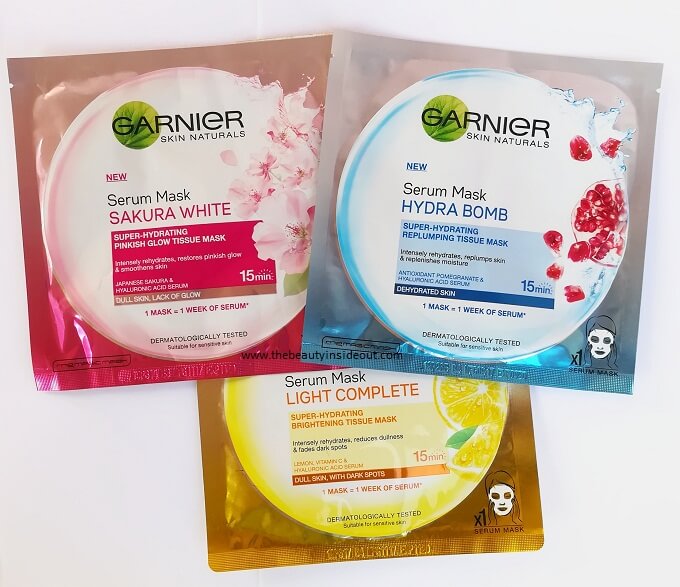 I'm sure these Garnier Sheet Masks would have probably attracted you with all the beautiful colored packaging. But looks like appearances are deceptive. Anyways, I tried three variants of Garnier Sheet Masks. These masks are super thick and made of cotton like fabric. Due to the thickness they do not adhere well and are heavy on the skin. Each mask is soaked in lots of thin, watery serum that has a slip to it. They have a synthetic fragrance like every other sheet masks. They are not too overwhelming and do not hinder the sheet masking session. I did a detailed review on these Garnier Sheet Masks a couple of months ago. Do check that out. I'll jot down an overview of my experience down below.
Hydra Bomb Serum Mask: (Rehydrates, Replumps and Replenishes)
This is a hydrating mask that gives a supple and glowing skin. The serum dries down fast, so this is an ideal mask for oily, normal and dehydrated skin. This mask contains alcohol.
Sakura White Sheet Mask: ( Rehydrates, Gives a Pinkish Glow, Smoothens Skin)
This was an average mask. I felt a little uncomfortable while this was on and it also left my skin a bit sticky post masking. It is a hydrating mask that will suit dry skin types. No pinkish glow though.
Light Complete Sheet Mask: (Rehydrates, Reduce Dullness and Fade Dark Spots)
This mask nicely hydrates without being too sticky. It also gave a brightening effect the next morning. Ideal for dull and dehydrated skin. It has a citrus scent and contains lemon extracts, vitamin c, so sensitive skin types should use this with caution.
Overall, I wasn't much impressed with these masks. I would prefer masks with better comfort (thickness & fit), better ingredients and better results. If you have dehydration prone skin, you can give these a try. As for me, I can achieve the same results (of hydrated skin) with multiple layers of my Klairs Toner.
Rating: 3/5
Where to buy? Amazon.in / Amazon.com
5. Garnier BB Cream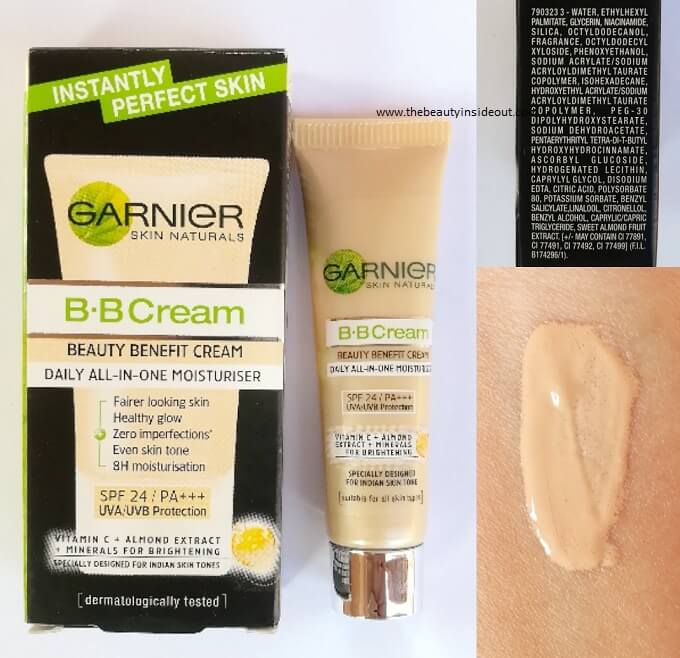 This is a very popular product from Garnier. When it comes to BB Creams, most of us would get either the Ponds BB Cream or this Garnier BB Cream.
Garnier BB Cream Miracle Skin Perfector is a daily all in one product that moisturizes, conceals mild imperfections and protects skin against sun rays. The BB Cream has a light, semi-runny consistency that's super easy to blend, just like your moisturizer. It does not cover spots and blemishes. But then it gives a glowy and healthy looking skin. It has a very lightweight formula hence it doesn't feel heavy like you have applied makeup. It comes with SPF 24 which is ideal for everyday use. The Garnier BB Cream comes in a single shade which is medium beige in color. Since its has sheer coverage, it should go well with a majority of skin tones. The BB Cream will suit all skin types, except very oily and very dry skin types. The product has a mild fragrance that goes away after a while. In comparison with the Ponds BB Cream, the Garnier one gives a more natural finish while Ponds has a bit more coverage with a matte finish. Someone with oily skin who needs more concealing can opt for Ponds, while others can enjoy this BB Cream.
Overall, Garnier BB Cream is a must have in every skincare beginners kitty. It's a pocket friendly tinted moisturizer with SPF that gives you a natural glow.
Rating: 4.5/5
Where to buy? Amazon.in / Amazon.com
6. Garnier Fructis Long & Strong Shampoo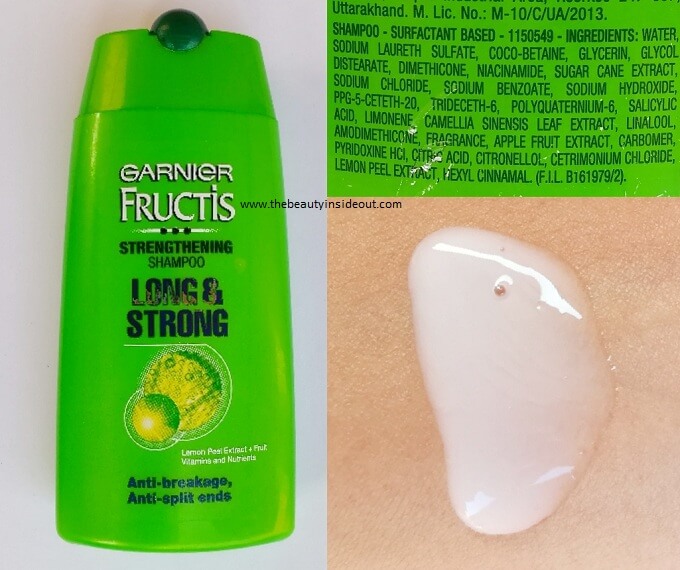 Garnier Fructis Long & Strong Shampoo is one of the oldest products in their Fructis Range. They also have Sleek & Shine and Hair Masks in this range. The shampoo is supposedly meant for long hair ladies to protect their mane from root to tip.
The shampoo is very much similar to any other shampoo in appearance, with its white pearly texture. It has got a strong sweet fragrance to it that lingers for two days after wash. Personally I'm not a fan of this scent. It's too over the top. The shampoo lathers quite generously and rinses off easily. It clears out dirt and oils really well. However it does not reduce frizz and dries out the ends causing tangles, ultimately failing to prove its claim.
Overall, I didn't like this shampoo at all. It dries out my hair and the sweet fragrance totally puts me off.
Rating: 2/5
Where to buy? Amazon.in / Amazon.com
7. Garnier Ultra Blends 5 Precious Herbs Oil in Cream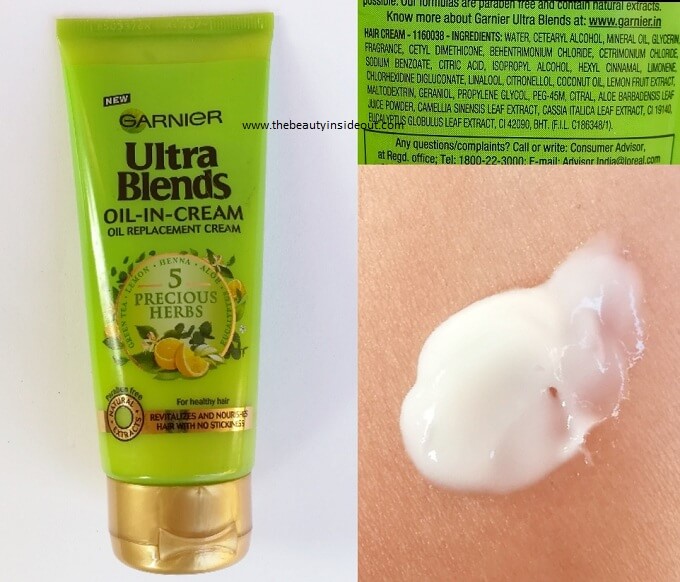 There was a time when these Oil in Cream products were making its presence felt everywhere. I guess these are no more available in the market (except one from Pantene). Don't worry, you didn't miss out on anything by not trying out this product.
These were formulated to replace your oil. The brand suggests using this as a hair mask from roots to tip and leave on overnight, as a leave on after hair wash and also as a hair conditioner before hair wash. Loaded with too many chemicals I never dared to use this on my roots for the fear of hair loss. I mostly used this as a conditioner after hair wash. I didn't like using this as a leave on as it makes my fine hair look limp. This oil in cream is not very nourishing and can leave your hair dry and frizzy overtime. This will definitely not replace your oil, it's just a hair cream/conditioner that gives a temporary smoothness.
Rating: 1/5
That was some of the Garnier Products that I have tried. As a brand, I don't generally prefer them. Their packaging sure attracted me, but then the performance were always average. I don't intend to repurchase any of them mentioned above as I haven't fallen in love in any of them so far. I buy them mostly because they are affordable and easily available. Whats your take on Garnier Products? Do you love their products? Do share your thoughts in the comments section below.
Related Brand Reviews: