Hyaluronic Acid is one of the safest and fastest active ingredients that actually shows some effect on our skin. It's a versatile ingredient that can make your skin look plump and healthy within a few minutes of application. That's why I like using it every day. They don't usually cause any adverse side effects in most people. Hyaluronic Acid is present in many of the skincare products that are available in the market. Even the ones that don't explicitly market it to be a hyaluronic acid product, oftentimes, contain sodium hyaluronate, which is nothing but hyaluronic acid. But adding a dedicated hyaluronic acid serum to your skincare routine definitely makes a difference to your skin's appearance. Today I'm here with my thoughts on the newly launched Ponds Hyaluronic Acid Serum.
This product is from a new range called "Hydra Light". Pond's launched a gel face wash, hyaluronic serum, and a hydrating night gel in this Hydra Light Range. The widely popular Ponds Hyaluronic Moisturizer falls under the "Super Light" Range.
Overview:
Ponds Hydra Light Hyaluronic Acid Serum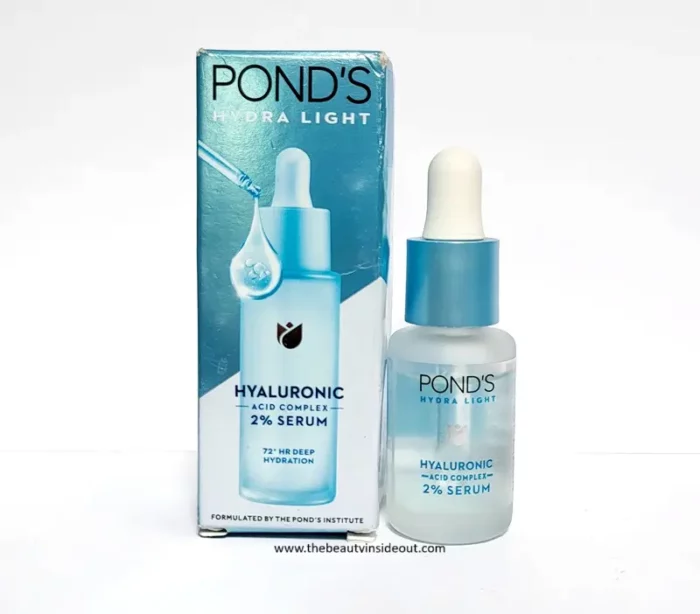 The quick-absorbing lightweight texture and non-sticky feel of this serum make it an ideal choice for oily and acne-prone skin types. It plumps and hydrates the skin quite well. However, the scent is a major turn-off for me.
Let's see what this has in store.
Product Description:
Formulated with a 2% Hyaluronic Acid Complex, this super hydrating serum has micro Hyaluronic Acid which replenishes moisture in the skin for deep hydration that lasts 72 Hours. Clinically proven to improve skin elasticity and strengthen the skin barrier, it prevents moisture loss keeping skin soft, plump, and hydrated.
Ponds Hyaluronic Acid Serum Ingredients:
How to use it?
Step 1: Cleanse your face with a face wash. Pat dry gently.
Step 2: Spray a toning mist or apply a toner with your fingers or cotton pad.
Step 3: Whilst still damp, take 3 to 4 drops of the Ponds Hyaluronic Acid Serum onto your palm
Step 4: Gently apply it all over the face. Do not rub vigorously. Just slide it over your face.
Step 5: Before it dries completely, quickly apply a moisturizer to seal the moisture into the skin.
Step 6: Use it both in the day and night routine. Can be combined with other active products safely.
Price: 299 INR for 14 ml
Shelf Life: 36 months from the date of manufacture.
Ponds Hydra Light Hyaluronic Acid Serum Review
Packaging:
The product comes in the typical packaging that most serums come in – that is – a glass bottle with a glass dropper. It comes in two sizes, is quite handy, and doesn't occupy a lot of space. The light blue colored branding for this range is quite "eye candy" and nice to look at. The bottle came packed in a carton box with all the relevant details about the product – including the full ingredient list.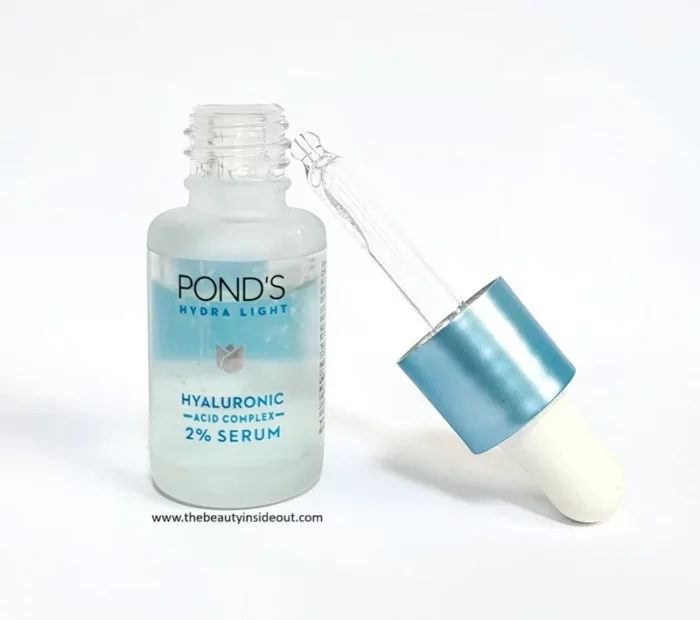 Color & Texture:
The serum is clear with no color to it. It has a lightweight texture – it's not very viscous, and at the same time it's not very runny. It's thinner than the L'Oreal Revitalift and Pilgrim Hyaluronic Acid Serum. Those two were much more viscous. I absolutely love the texture of the Ponds Serum. It vanishes into the skin within minutes and it's perfect for all skin types, even oily skin types.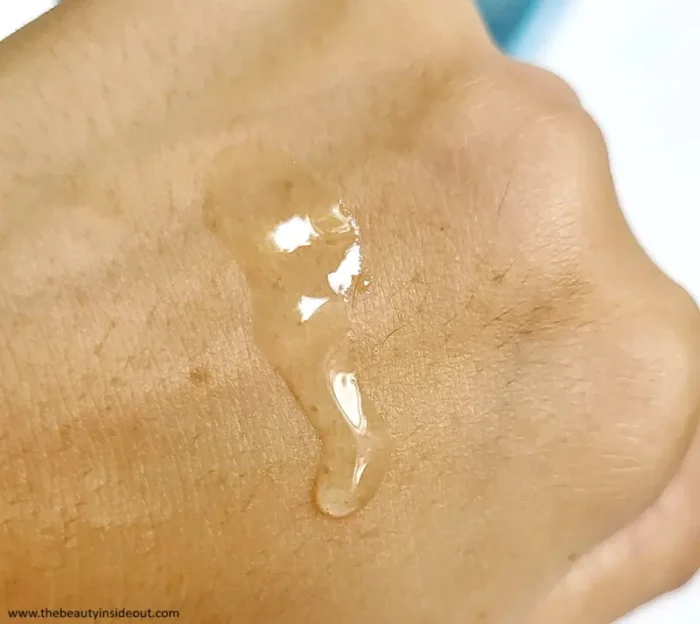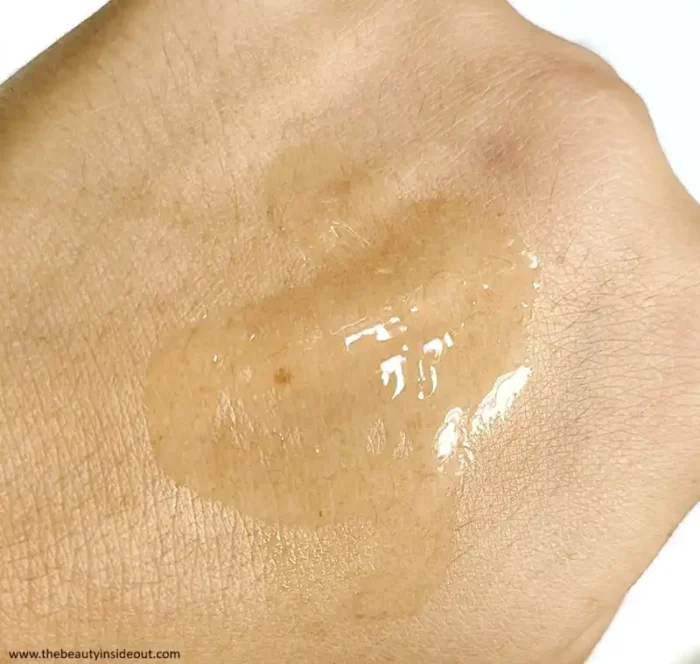 Fragrance:
This is the only thing I don't like about this product. Having a preference for fragrance-free products and most of the products in my routine being fragrance-free, I found the scent of this serum to be overwhelming. It comes off strong, although it subsides a few minutes after application. The scent is relatable to other Pond's products – with a synthetic perfumed smell to it. Some of their products like the Super Light Gel and Vitamin C Serum are great, but they are totally ruined by adding their strong synthetic fragrances – they are not even subtle.
My Experience:
About my skin:
I have combination skin with oily T zone and dry cheeks – prone to breakouts and closed comedones.
It's almost winter now, so the weather is a bit dry and cool in the place where I live. If you don't know, weather plays a role in the performance of Hyaluronic Acid – as it draws moisture from the environment, and in the case that there is no moisture due to low humidity, it can further make your skin dry and dehydrated. It's always best to follow it up with an emollient-rich moisturizer or vaseline or a facial oil.
Application and Usage:
Hyaluronic Acids are pretty easy on the skin. So I straight away started using it twice a day, in both the AM and PM routine. I use it right after cleansing my skin on damp skin. I don't do an elaborate routine. It's usually a 3 step routine with Cleanser, Toner or Serum, and Moisturizer or Sunscreen. I don't do both toner and serum in the same routine unless my skin is very dry which is rare.
Results:
This Ponds Serum worked absolutely well in making the skin plump and supple. When used with a good moisturizer, it locks in the moisture and keeps the skin hydrated for long hours. The serum helped with smoothening bumpy, rough skin texture to a great extent. I love how easy it is to use – it's light and non-sticky, unlike many hyaluronic acid serums that are sticky and heavy. Also, since this has Glycerin and Niacinamide high above Hyaluronic Acid, it's much more effective for keeping the skin's barrier healthy.
But the only reason why I won't repurchase this is its scent. Despite its amazing texture and skin feel – the abundant fragrance-free option makes me want to skip this product.
Similar Products:
Honestly, there are tons of hyaluronic acid serums on the market. I mean every brand has one.
Pilgrim Super Hydration Serum with 2% Hyaluronic Acid with Kiwi and Watermelon Extracts is a better option for dry, dehydrated, and acne-prone skin types. Especially if you like those Korean toners and essences with a good viscosity, this serum from Pilgrim is really good. It's fragrance-free too.
If you'd like to spend a bit more, get the L'Oreal Revitalift Hyaluronic Acid Serum with 1.5% Pure Hyaluronic Acid. It is widely loved by everyone. It's fragrance-free and does what it's supposed to do.
Summarising the pros and cons,
Pros:
Light and non-sticky hyaluronic acid serum.
Perfect for oily, dehydrated skin.
Contains Niacinamide and other great ingredients.
Instantly plumps the skin.
Doesn't cause breakouts.
Available in smaller sizes.
Reasonably priced and available at discounts.
Cons:
My rating: 3.5/5
What do you think of this Ponds Serum? Would you buy it? Share your thoughts on the product with us.