Frown lines, crow's feet, and forehead wrinkles are all tell-tale signs of aging skin. Aging is actually a lovely process. But do we always have to put up with its reminders? You, therefore, have two options: either you accept them as they are and live with that reality, or you gracefully reduce their appearance.
This article is for you if you chose the latter. We won't be talking about complex processes that would require you to go out of your way. Of course, we need retinoids and sunscreen for delaying aging signs. We'll keep things simple in this article. So a Hyaluronic acid serum is what you need to get that beautiful smooth, wrinkle-free skin. We are particularly going to focus on the usage of Hyaluronic Acid Serums for Microneedling.
If you make a purchase through the links on our site, as an amazon associate, we earn from qualifying purchases at no extra cost to you.
A quick overview on the Top 3 Hyaluronic Acid Serums that can be used before and after Microneedling.
Top 3 Hyaluronic Acid Serums
✔ 1.5% Pure Hyaluronic Acid.
✔ Instant plumping effect.
✔ Best Drugstore Find.
✔ Highly concentrated formula.
✔ Used by estheticians.
✔ Best Korean Find.
✔ Mineral-rich formula.
✔ Supports barrier skin function
✔ Best French Pharmacy Find.
What does Hyaluronic Acid do?
Remember that hyaluronic acid is a humectant, which means that it draws moisture from the air and epidermis to the dermis or the outer layer of the skin. When that occurs, skin seems unexpectedly lush and healthy.
In fact, topical application of hyaluronic acid is preferred since it is readily available when the production of hyaluronic acid in the body declines with age. The plumping effect can significantly diminish the visibility of fine wrinkles and sunken cheeks. As compared to using a Hyaluronic Acid Moisturizer, using a quality serum allows you to notice improvements much more quickly.
What could you expect with a HA serum?
Hyaluronic Acid Serum Benefits
Immediate Skin hydration
Wrinkle reduction
Lessening of frown lines
Fewer neck creases
Hydrated skin
Plump cheeks
Reduced appearance of forehead lines
Glowy skin
Diminished signs of aging
Side Effects
This one's pretty safe for fairly all skin types. It would be excellent for oily, acne-prone, sensitive, or even dry skin. Just make sure you're using it on damp skin. But, patch testing before going all in is always a good idea.
How to use Hyaluronic Acid Serums?
Cleansing is always the first step. And cleaning it very thoroughly is essential. After that, gently pat your face dry. But, because we're using a hyaluronic acid serum, we should maintain our skin just slightly damp to ensure that the hyaluronic acid has some moisture to hang onto rather than stealing it from the skin. Evenly spread the serum and wait for a min or so. After that, apply a cream or moisturizing product to seal the serum. Also, it's better to apply an occlusive-based cream to lock in all that moisture.
Hyaluronic Acid Serums For Microneedling
Hyaluronic Acid Serums are the most preferred type of Serum For Microneedling. Dermatologists and Skincare experts suggest using a Hyaluronic Acid Serum For Microneedling because of its gentle and hydrating nature, unlike other active-based serums.
Using a hyaluronic acid serum for micro-needling is essential because:
It helps the microneedle to glide better on the skin which prevents friction and irritations.
Microneedling allows better penetration of the product, so using a hyaluronic acid serum with it gives hydrated look from within.
It stimulates the skin, thereby promoting collagen and elastin production giving smoother, softer, younger-looking skin.
Visibly reduces the signs of aging and instantly plumps up the skin.
It is also ideal to use a hyaluronic acid serum after micro-needling to soothe and calm the skin.
For microneedling purposes, one should pick a product with pure hyaluronic serum with minimal ingredients and no other active ingredients.
Some of the nicest Microneedling Devices to go along with hyaluronic acid serums:
Dr. Pen Ultima M8 Professional Microneedling Pen
Dr. Pen Ultima A7 Microneedling Pen
Now let's take a look at some amazing Hyaluronic Acid Serums to up your Hydration game.
Best Hyaluronic Acid Serums For Microneedling
1. L'Oréal Paris Revitalift 1.5% Pure Hyaluronic Acid Serum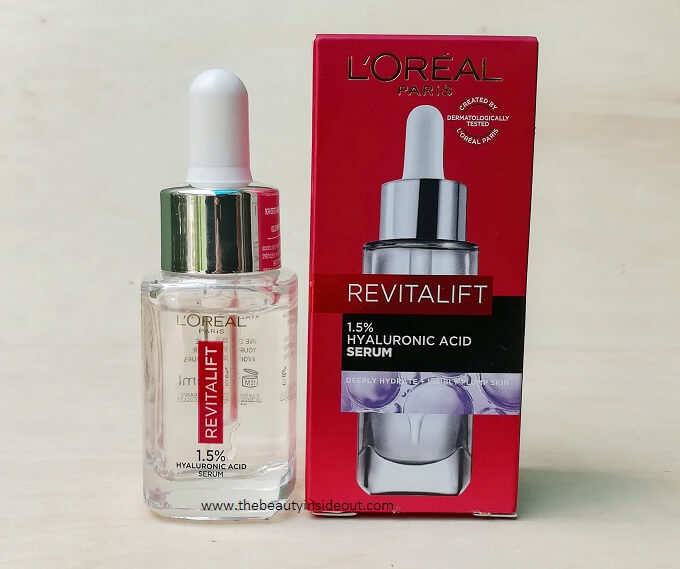 The only thing you require to achieve that plump skin is this lovely, smooth serum from L'Oreal. Made with 1.5% Pure Hyaluronic Acid, this serum can be used in either your day or night regime or both. The fragrance-free, mineral oil-free, and paraben-free formula suits all skin types and makes it an ideal hyaluronic acid serum for microneedling as well. It works best when applied to moist skin to give immediate lush-looking skin.
Why do we love this?
Enhances skin brightness
Excellent HA concentration
Instantaneous plumping effect
Sensitive skin friendly.
Where to buy? Amazon.com
2. Cos De BAHA Hyaluronic Acid Serum
If you have been looking for a pure hyaluronic acid serum for microneedling at home, the Cos De BAHA Hyaluronic Acid Serum is your best bet. It makes the skin look radiant and youthful by hydrating it and smoothing out wrinkles from within. The highly concentrated 1% Hyaluronic Acid Powder Formula is widely used and recommended by Estheticians For Microneedling. This is particularly good for aging skin with visible lines, and neck and forehead lines.
Why do we love this?
Made with pure hyaluronic acid.
Lessens pore visibility
Incredible at smoothing out wrinkles
Highly moisturizing
Where to buy? Amazon.com
3. Vichy Mineral 89 Hyaluronic Acid Serum
The Vichy Mineral 89 Hyaluronic Acid Serum promises to improve and maintain the skin barrier and bills itself as a minimalist serum. This is what makes it suitable for microneedling – the alcohol-free, fragrance-free, minimal ingredients in it. With the mineral-rich Vichy Volcanic Water, the serum further protects the skin from UV and pollution damage. Due to its powerful hydrating properties, it is even suited to serve as a standalone moisturizer.
Why do we love this?
Mineral-rich formulation
Enhances skin barriers
Adds deep hydration
Sensitive and dry skin friendly.
Where to buy? Amazon.com
4. La Roche-Posay Hyalu B5 Pure Hyaluronic Acid Serum
This hyaluronic acid serum from the dermatologists-recommended skincare brand provides immediate hydration; thanks to panthenol and two different types of hyaluronic acid in it. Also, the brand's exclusive thermal water makes sure to soothe and calm sensitive skin. It successfully minimizes crow's feet and somewhat evens out skin tone while providing all the nourishment the skin requires. The cherry on the cake – it is fortified with Madecassoside, an active component of Centella Asiatica that has immense soothing and antioxidant benefits.
Why do we love this?
Reduces wrinkle appearance
Smoothens inflamed skin
Adds glow.
Recommended by derms.
Where to buy? Amazon.com
5. The Ordinary Hyaluronic Acid 2% + B5
The Ordinary's exceptional serums are everything you need to create your ideal skincare routine. No wonder it's a universally loved brand all over the world. This particular Hyaluronic Acid Serum with Pantothenic Acid works as an emollient and humectant to hydrate and soften the skin. It contains low, medium, and high molecular weight hyaluronic acid for optimal results. What we love the most – is its water-based formula which makes it the best hyaluronic acid serum for oily skin.
Why do we love this?
Affordable price
Super smoothing effect
Aids in lowering skin irritability
Enhances the skin barrier
Where to buy? Amazon.com
6. Paula's Choice Hyaluronic Acid Booster
This splurge-worthy hyaluronic acid serum from Paula's Choice is loved for its revitalizing combination of ingredients. The Ceramides, Panthenol, and the potent Hyaluronic Acid included in this complex serum aid in minimizing irritations during microneedling. Ceramides strengthen the skin barrier, Hyaluronic Acid works to retain water bonded to the ceramides to keep the skin hydrated, and Panthenol locks in all this moisture to leave you with noticeably more lively and supple skin.
Why do we love this?
Beautiful formulation
Barrier repairing
Lightweight, ideal for all skin types.
Could work as a standalone serum
Where to buy? Amazon.com
7. ONE THING Hyaluronic Acid Complex
One Thing is a South Korean Skincare Brand that focuses on providing single-ingredient products, based on pure plant extracts. This simple hydrating toner like Essence is EWG green-rated, meaning it is made from secure and healthy raw materials, in this case, vegetables, without the use of synthetic additions. The simple 6 ingredient essence uses both low and high-molecular-weight hyaluronic acid to deeply hydrate the skin. This multipurpose essence comes at an attractive price range and can be easily blended with your creams or moisturizers to further streamline your skincare routine.
Why do we love this?
Minimal ingredients
Restores skin Moisture content
Versatile
Hydrates from within
Vegan Formula
Where to buy? Amazon.com
8. Cosmedica Pure Hyaluronic Acid Serum
If you want a little more moisture, this gel-like serum is terrific. The Cosmedica Pure Hyaluronic Acid Serum gently absorbs into the skin, leaving behind nourished skin that looks dewy. The ideal way to maintain that shine for longer is by locking it off with an emollient after microneedling.
Why do we love this?
Enhances hydration
Leaves you with radiating skin
Combats aging spots.
Paraben free
Where to buy? Amazon.com
9. COSRX Hydrium Triple Hyaluronic Moisture Ampoule
This thick, viscous serum from the popular Korean skincare brand, Cosrx, contains Hyaluronic Acid in all three molecular weights to ensure that skin is hydrated from the inside out. The simple minimal ingredient formula makes the skin become more elastic by retaining moisture for long hours. For those who want to improve skin elasticity, the COSRX serum is especially fantastic.
Why do we love this?
Smaller HA molecules for deeper penetration
Incredible for parched skin
Rich hydration
Alcohol-Free, Fragrance-Free.
Where to buy? Amazon.com
10. Cerave Hyaluronic Acid Serum
Reserving the best for the last. This lovely, lightweight gel-based hyaluronic acid serum smoothens the complexion for polished, glowy skin. Its beautiful gel-cream texture not only makes microneedling easier but also reduces the friction that comes with it. It even has ceramides, which are fantastic if you want to treat skin damage or if you have sensitive or irritated skin.
Why do we love this?
Soothes skin
Wonderful for sensitive skin
Enhances skin texture.
Recommended by doctors
Where to buy? Amazon.com
We have reached the end of this compilation; hopefully, you've found your perfect HA serum by now. Comment below and let us know about your ideal serum if it isn't listed here.
Until next time.