Sunscreens and sunblocks are probably the most skipped skincare products in our skincare regime. Well, it is already a hassle to shower and get ready and when you tell me I need to apply another layer on my face, well to hell with you! Mostly we apply sunscreen in hurry and skip it when we are in hurry. I believe this happens for two major reasons, first we have picked up a sunscreen that is too oily or we haven't realized how important it is to never skip on sunscreens. Some sunscreens have so much jargon written on their bottle that we end up so confused about whether to buy or not. Today in this post we are going to demystify this category of product and lay out all the meanings of the keywords you usually find on the labels. Then we will proceed with our Top 10 Sunscreens Recommended by Dermatologists.
Editor's Top Picks:
Silicone-based oil-free, matte sunscreen that's excellent for oily, acne-prone skin. No white cast, waterproof and sweatproof.
Has a beautiful lightweight texture that gives a comfortable matte finish. It's a physical sunscreen so suits all skin types.
Cosmetically elegant sunscreen with safe, new generation filters. Fragrance-Free, Non-Comedogenic, suitable for acne-prone, normal, combination & dry skin types.
Sunscreen Terms & Facts:
Some of the keywords that you may have come across must be SPF, PA+ to PA+++, Star Rating system, UVA, UVB, and Broad spectrum protection. We shall address them one by one.
1. SPF or Sun Protection Factor
measures the fraction of sunburn producing UV rays that reach the skin. For example, "SPF 15" means that 1/15th of the burning radiation reaches the skin through the recommended thickness of sunscreen. Hence, the higher the number lower the chance of you getting sunburned (mostly related to UVB). SPF is not the only thing you should go after in a sunscreen lotion because it only tells you about protection from UVB rays, it does not tell you about protection against UVA rays. Any sunscreen with SPF between 30 to 50 is enough for Indian summer, more than SPF 50 will not be of any help to you.
2. PA Rating
PA stands for The Protection Grade of UVA. This rating system is used by mostly Asian brands, but other brands have been known to use it as well. PA+ stands for UVA protection factor whose value lies between 2-4 and the higher the grade higher the UVA protection. Hence in sunscreen, you should look for both SPF and PA ratings for effective protection from both UVA and UVB. Sometimes you may find "Broad-spectrum Protection" labeled products, which essentially means that the sunscreen will provide protection from both UVA and UVB rays. For Indian summer PA++ to PA+++ is enough, don't spend more on the products which have higher ratings.
3. Star Rating System
You will find this rating system mostly in the UK or Irish products. Single star gives the lowest protection and 5 star gives the highest possible protection. The one advantage of this system is that you don't need to look for SPF and PA ratings both because this rating system tells you about the combined protection against both types of rays.
4. UVA UVB Radiation
These are a type of radiation from the spectrum of the sun's radiation. Though much of the ultraviolet rays are reflected by the ozone layer, some of them cross over and have far-reaching consequences for us. UVA or Ultra Violet A radiation is known to induce skin cancers and accelerates aging although a minute exposure is needed to synthesize Vitamin D in our body. UVB or ultraviolet B is known to cause damage at cellular levels, in fact to DNA which may lead to cancer. It is also known to break collagen fibers. One very important thing to note is that sunscreens have been proven extremely effective in blocking such rays and hence preventing these harmful effects.
We have made the post extremely long and yes there is information overload but the TBIO team wants you to be safe and healthy every summer and it is important to make an informed decision. So, after going through all of this let us start with TBIO's Top 10 Sunscreens Recommended by Dermatologists.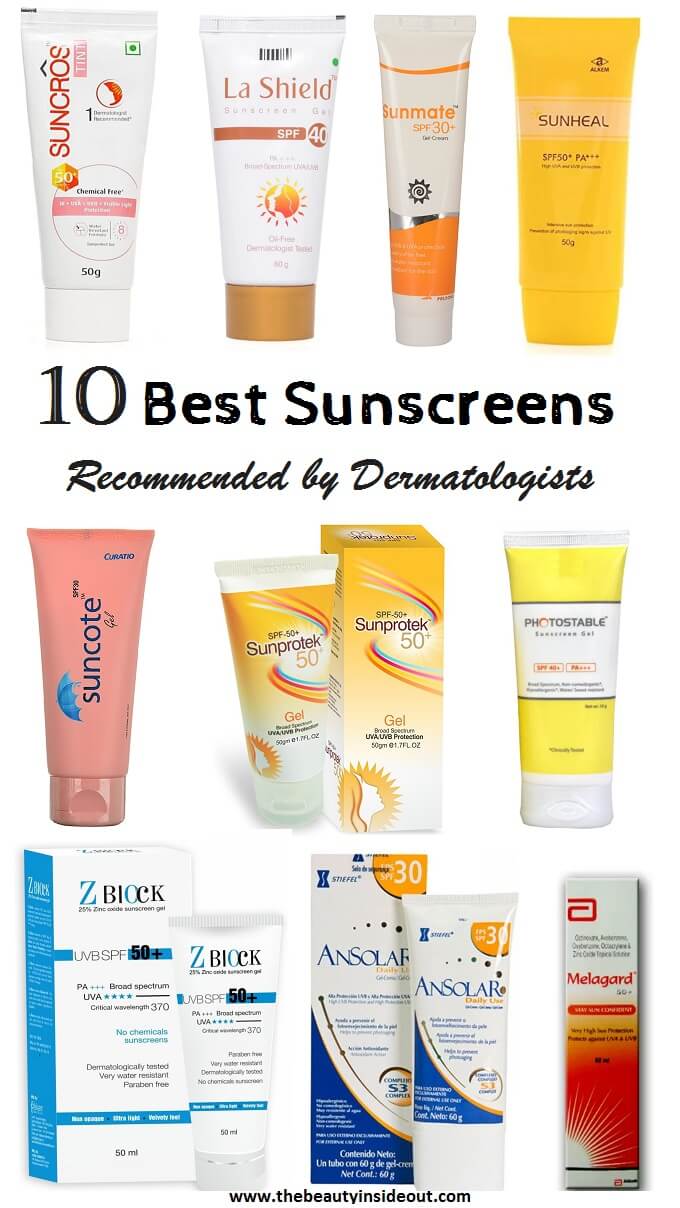 Best Sunscreens Recommended by Dermatologists
1. Suncros Matte Finish Soft Gel
Features:
Suncros Matte Finish Soft Gel is a physical sunscreen containing just micro ionized zinc oxide and is a water-resistant formula.
Offers Broad Spectrum Protection with its SPF 50+ PA+++.
Claims to provide protection for up to 8 hours, although it is best to reapply after every 3 hours.
Has thick creamy nourishing formula, so it is not precisely a matte finish.
Recommended for those with skin sensitivities.
Suitable for all ages above 6 months old.
Pregnancy Safe Sunscreen.
The soft gel has a heavy silicone base and works great as a primer before makeup.
Best for sensitive, oily, combination-normal skin types.
Cons:
Although the product is fragrance-free (no added synthetic fragrance), it does have a weird medicinal scent to it, which may not be liked by all.
Leaves a white cast that takes some time to settle down.
Double cleansing is a must if you use this sunscreen, otherwise, it may clog your pores.
Very oily skin types may find it heavy.
2. UV Doux Silicone Sunscreen Gel
Features:
Brinton Healthcare UV Doux Silicone sunscreen Gel is a hybrid sunscreen with physical and chemical filters.
Physical Filters: Zinc Oxide, Titanium Dioxide; Chemical Filters: Octyl Methoxycinnamate, Diethyhexyl Butamido Triazone, Diethylamino Hydroxybenzoyl Hexyl Benzoate, and Bemotrizinol.
Offer SPF 50 PA+++ protection.
Lightweight and Has a Matte Finish as claimed.
Non-comedogenic, Water Resistant, and Paraben Free.
The sunscreen is silicone-based but is not so heavy as the Sunscros.
It has a fluffy gel-cream texture, blends easily, and leaves little to no white cast.
Best suited for oily and acne-prone skin types.
Cons:
Not fragrance-free. Has a mild floral fragrance that disappears within 5 minutes of application.
3. IPCA Acne UV Gel

SPF 30 PA+++
Features:
IPCA Acne UV Gel Sunscreen is one of the best medical-grade sunscreens recommended by dermatologists.
Non-Irritant, Oil-Free, and Non-Comedogenic Formula specifically formulated For Acne Prone Skin Types.
Free of Parabens, Alcohols, Dyes, and Color Additives.
Hybrid Filters:- Chemical: De Ethylaminohydroxylbenzoyl hexyl Benzoate, Bis-Ethylhexyloxyphenol Methoxyphenyl Triazine, Octyl Methoxycinnamate, Diethylhexyl Butamido Triazone; Physical: Titanium Dioxide.
Lightweight on the skin and leaves no greasy feeling or white cast.
Totally sweat-proof and can be used in Summers with ease.
Comes in two variants SPF 30 PA+++ and SPF 50 PA+++.
Best suited for Rosacea, Acne Prone, Sensitive, Oily, and Combination Skin Types.
Cons:
Not a gel formula per se, it has a creamy mousse texture that absorbs quickly.
Although low in concentration, it has added fragrance. Has a clinical scent that is very faint and non-bothering.
Not for dry skin types.
4. Bella Photostable Sunscreen Emulgel
Features:
Bello Photostable Sunscreen Emulgel is a cosmetically elegant, chemical sunscreen with new generation chemical filters Tinosorb and Uvinul.
Sunscreen Filters: Ethylhexyl Methoxycinnamate, Methylene Bis-Benzotriazolyl tetramethyl butyl phenol, Ethylhexyltriazone Bis-Ethylhexyloxyphenol, Methoxyphenyl triazine, Diethylamino Hydroxybenzoyl Hexyl Benzoate.
Offers broad-spectrum coverage with SPF 40+ PA+++.
Enriched with Antioxidants such as Vitamin E.
Gel-based cream spreads and blends easily compared to other thick sunscreens.
Leaves negligible to no white cast.
Hypoallergenic and Non-Comedogenic.
Suitable for all skin types including acne-prone skin.
Alcohol, Essential Oil & Fragrance-Free.
Cons:
It can be slightly greasy for very oily skin types. There is also a matte version of this if you want to try.
It's not really sweatproof and waterproof as it says.
Not paraben-free.
5. La Shield Fisico Matte Sunscreen Gel

SPF 50+ PA+++
Features:
Glenmark's La Shield Fisico Matte Sunscreen Gel is one of the Safest Sunscreens Recommended by Dermatologists in India
It is a physical sunscreen that contains 25 % micronized zinc oxide.
Provides SPF 50+ PA+++ broad spectrum protection against UV rays.
Free from fragrance, irritants, and preservatives.
Fisico is a Pregnancy safe sunscreen due to its safe sunscreen filters.
Water-resistant and Non-comedogenic formula suits acne-prone skin types.
This has a silicone base with a velvety smooth feel and can give you a dewy finish.
Cons:
Just like most physical sunscreens, it has an initial white cast that settles down in 10 minutes if blended properly.
Unlike its name, it's not a gel product rather it has got a thick cream texture that takes a bit of effort to blend completely.
6. Regaliz Solasafe Silicone Sunscreen Gel
Features:
Regaliz Solasafe Silicone Sunscreen Gel is a hybrid sunscreen with modern chemical filters Tinosorb S, Iscotrizinol, and the good old physical filter Zinc oxide.
Provides photoprotection from UVA and UVB with its SPF 50+ PA+++, critical wavelength 374nm.
Enriched with stabilized Vitamin C and Vitamin E to promote skin brightening and prevent pre-mature aging.
Claims to decrease the depth of wrinkles with its age-defying antioxidant complex.
It is cosmetically elegant, non-comedogenic, non-oily, and non-sticky.
It's not too silicon-y, rather has the perfect texture that glides and blends smoothly.
Has an off-white cream with a yellow tint and leaves no white cast.
Suitable for oily-combination skin types.
Alcohol-Free.
Value for money
Cons:
Contains a mild fragrance.
7. Z Block 25 % Zinc Oxide Sunscreen Gel
Features:
Z Block is a 25 % zinc oxide-based physical sunscreen gel with a patented Match technology to give a non-opaque and non-white near-transparent finish
It contains Zinclear IM, which is the most transparent and effective zinc oxide approved as an organic cosmetic ingredient by Eco-Cert.
Provides UVB SPF 58, UVA PA+++ Broad Spectrum, Critical Wavelength 370.
It's an extremely lightweight, non-greasy sunscreen with a silky smooth, velvety soft finish.
Z Block is Non-Comedogenic, Paraben-free, Preservative Free, Cruelty-Free, and Water Resistant for up to 80 minutes.
Suitable for all skin types, particularly acne-prone skin.
Cons:
Contains Nano Zinc Oxide.
8. Alkem Sunheal Pure SPF

SPF 50+ PA+++
Features:
Sunheal Pure is an effective, 100% mineral sunscreen made with the active physical sunscreen ingredient Zinc Oxide (micro ionized).
It's a broad spectrum blocker with SPF 50+ PA+++ that protects from UVA & UVB rays.
The silicone base spreads easily on the skin and gives an ultra-matte finish.
Protects against sunburns, premature skin aging, and photodermatitis.
Sunheal Pure is water-resistant, Hypoallergenic, Non-Comedogenic and Dermatologically tested.
Cons:
Given that it's purely zinc oxide-based, it leaves a white cast that settles down after a while.
9. Cipla Rivela Ultralight Dry Sunscreen Gel
Features:
Cipla Rivela Ultralight Sunscreen Gel is a dermatologist-recommended mineral sunscreen with physical filters.
Physical Filters: Zinc Oxide and Titanium Dioxide.
Ultralightweight, non-greasy, dry-touch finish.
Broad-spectrum protection with SPF 50+ PA++++.
Vitamin E in it promotes skin healing.
Works perfectly under makeup as a primer.
Free of parabens, alcohols, fragrance, and essential oil.
Suitable for sensitive skin types.
Cons:
None.
10. Re'equil Oxybenzone & OMC Free Sunscreen
Features:
Re'equil Oxybenzone & OMC Free Sunscreen is a safe sunscreen with new generation advanced UVA UVB filters for low penetration.
Sunscreen Filters: Octocrylene Tinosorb A2B, Octisalate, Bemotrizinol
The Re'equil sunscreen is loaded with skin beneficial ingredients including Vitamin E, Aloe Vera Extract, and Glycerin.
Contains SPF 50 PA++++ and claims to provide 6 hours of long-lasting protection against UVB and UVA rays.
Its lightweight formulation does not clog pores or cause breakouts.
It is non-comedogenic and is best suited for oily, sensitive, and acne-prone skin types.
Free of paraben, oxybenzone and OMC.
Cons:
It is not fragrance-free, although it smells mild and not overpowering.
That end's the list of the Best Sunscreens Recommended by Dermatologists in India. Sunscreens are essential whether it is winter or summer. As we have mentioned the nitty-gritty behind sunscreens, we hope that this post helped you in selecting the best suitable sunscreen for you.
Other popular dermatologists recommended sunscreens you might like: