I am sure no one is unaware of the revolutionary skincare brand "The Ordinary". Under the parent company DECIEM, The Ordinary originated in Canada in 2013. The Ordinary quickly became one of the best beauty brands in the world with its minimalist approach and affordable price range that no other brand could come up with. But, as an Indian, it has always been difficult for us to source The Ordinary Products in India at an equivalent affordable price.
The Ordinary Brand Dupes in India
That might be the reason for a surge of Indian Skincare Brands that came up with products similar to The Ordinary. The Minimalist Products are a close dupe to The Ordinary Products. They even launched with similar packaging giving the vibe of The Ordinary Products. Brands like The Derma Co, Overdermis, and Deconstruct also came up with similar targeted products and are doing well in the market. In fact, even popular brands like Olay and ayurvedic brands like Just Herbs started to launch active-based ingredients in their formulations.
When will The Ordinary Launch in India?
Regular users of The Ordinary couldn't replace the original formulations. Most people bought directly from CultBeauty or the official Deciem website, where there are high chances of paying customs or buying them from Instagram Sellers at double the rates.
Finally, the time has come for the official launch of The Ordinary in India. Yes, the news is out and it's no surprise. The Ordianry launches on June 10th, 2022 exclusively on Nykaa.com. The launch was made possible after Estee Lauder Company acquired major ownership of The Ordinary. I believe this launch is a part of their global expansion.
What are the Best Products to buy from The Ordinary in India?
Well, the skincare experts are sure to have a list of products to grab from them. But someone who is new to skincare might be intrigued by this launch. The Ordinary Products focuses on ingredient-based products. So you need to pick products based on your target concern. The brand has given an enormous amount of details on it in its official website. If you are confused about what to get, this post will be helpful for you. What I love the most about the brand is the minimal ingredient list with no fillers. Most of their products are Alcohol-free, Oil-free, Silicone-free, Nut-free, Vegan, Gluten-free, and Cruelty-free.
Let's find out the details of the Best Ordinary Products that you need to try.
The Ordinary Products in India Review
1. The Ordinary Niacinamide 10% + Zinc 1% Serum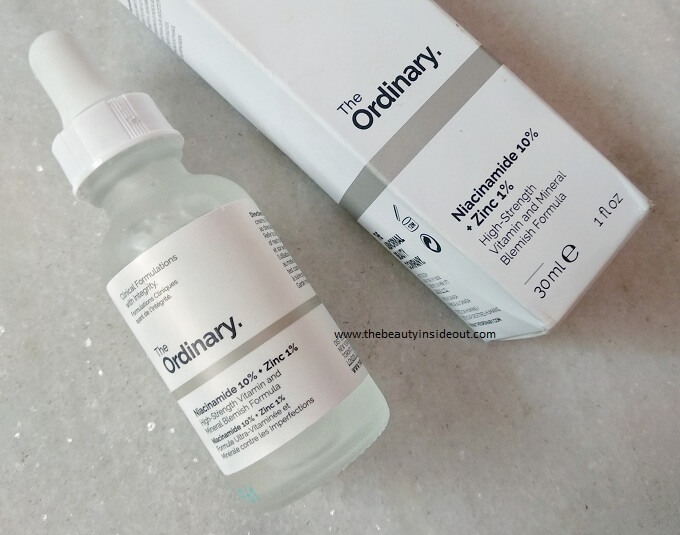 Active Ingredients: 10% Niacinamide, 1% Zinc
Targets: Acne, Acne Scar, Blemishes, Pigmentation, Sebum Control, and Enlarged Pores.
Skin Type: All Skin Types. Best For Oily, Acne-prone skin.
This is one of the best-selling products from The Ordinary. Widely raved for its high-performance vitamin and mineral-rich formula, it is an absolute delight to use. It is an oil-free, water-based formula with an ultra-lightweight skin feel. It is suitable for all skin types.
If you are new to Niacinamide and you feel 10% might be a lot, you could try one of the Beginner Friendly Niacinamide Serums that has 5%Niacinamide or any Moisturizer with Niacinamide that has even less than 5% Niacinamide in it.
The Ordinary 10% Niacinamide not only helps with the appearance of blemishes, and marks but also brightens the skin. The 1% Zinc salt in the serum regulates sebum, strengthens barrier, and improve overall skin texture. It has a skin-friendly pH of 5 to 6 so you can comfortably use this twice every day.
Similar Products : Minimalist Niacinamide 10% + Zinc 1% (Read our full review with before and after pictures)
2. The Ordinary Hyaluronic Acid 2% + B5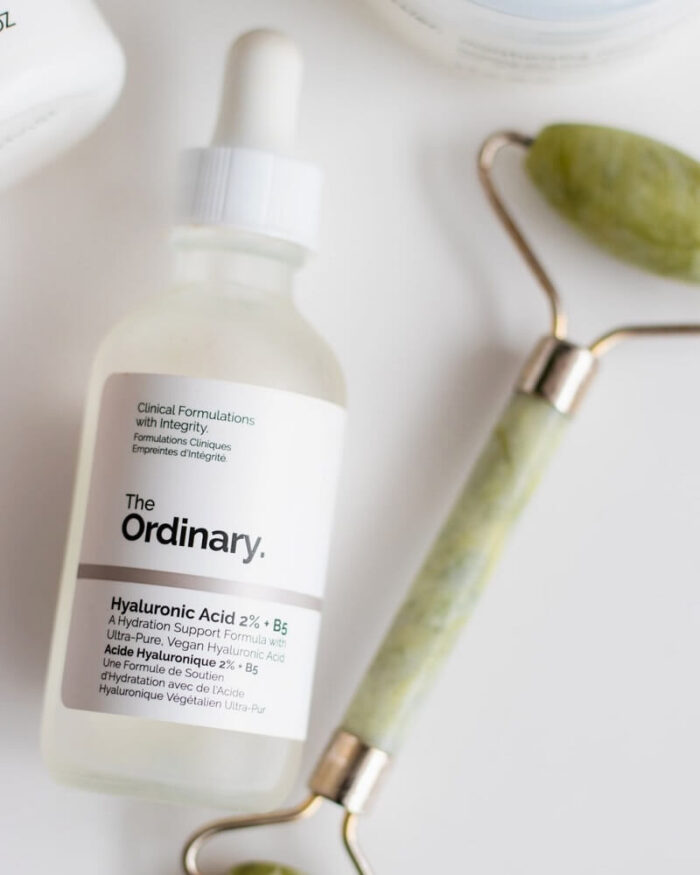 Active Ingredients: 2% Hyaluronic Acid 2%, Vitamin B5 (Panthenol).
Targets: Dehydration, Signs of Aging.
Skin Type: All Skin Types.
There are many moisturizers and creams with Hyaluronic Acid on the market. But for optimal results, the molecular weight of Hyaluronic Acid used in the product matters.(Larger molecules do not penetrate much).
The formulation of The Ordinary Hyaluronic Acid 2% + B5 is such that it has three types of HA – with low, medium & high molecular weight. It forms a combined concentration of 2% to offer multi-level deeper hydration. The Ordinary uses ultra-pure Vegan Hyaluronic Acid, so no doubt it's a vegetarian product.
What most people love – is its water-based gel texture that sinks in right away giving a visibly plump skin and a smoother base for makeup. There is no doubt, that it provides an instant boost of hydration to the skin. It also helps to combat the aging signs by giving a bouncy and softer skin.
Similar Products : L'Oreal Paris Revitalift 1.5% Pure Hyaluronic Acid Serum (Read our full review)
3. The Ordinary 100% Plant-Derived Squalane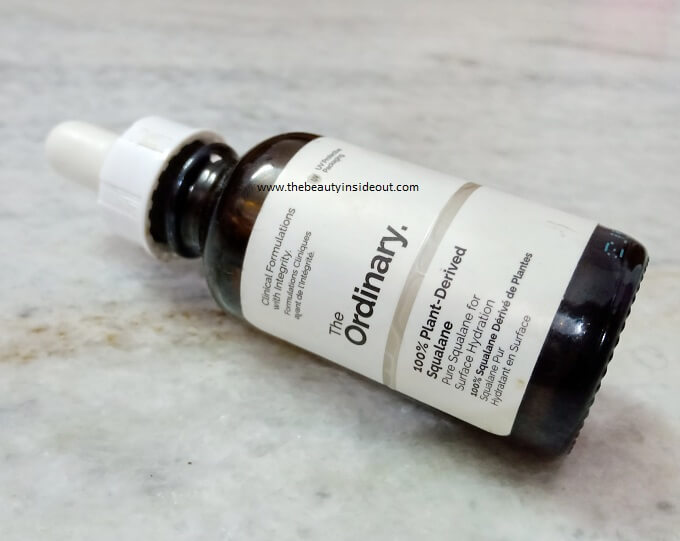 Active Ingredients: Squalane.
Targets: Hydration.
Skin Type: All, including oily skin.
If you have never used facial oil before, Squalane oil is a good oil to start with. It is Non-Comedogenic and safe enough for acne-prone skin types.
Squalane is a component that's naturally present in the skin and applying Squalane topically mimics the skin of its natural state.
The Ordinary Squalane is a single ingredient product. It contains just 100% Squalane that is derived from plants – which is ECOCERT approved and USDA Certified.
Ordinary Squalane is an oil, that's ultra-lightweight and fast-absorbing. It's colorless and scentless too. The quality is top-notch. It delivers the hydration that your skin needs without going overboard. Sometimes I use this alone as my moisturizer. On dry skin days, I use this after my toners and serums. This product goes well in either case.
The cherry on the cake – it's a multi-purpose product that can be used for your hair as well. It can be used as a hair serum to add shine, reduce breakage, and above all as a heat protectant. Is there any reason why you don't need this product? I guess not!
Similar Products : Minimalist Squalane (Read our full review)
4. The Ordinary Buffet Multi-Peptide Serum
Active Ingredients: Matrixyl™ 3000, Matrixyl™ synthe'6™, SYN™-AKE, ARGIRELOX™, Probiotics, 11 Amino Acids & Hyaluronic Acids.
Targets: Signs of Aging include fine lines, wrinkles, pigmentation & dark spots.
Skin type: All Skin Types.
If want to hold off using retinol serums (due to pregnancy or other personal reasons), you could try a peptide serum. Many moisturizer creams with peptides are also available on the market. Peptides are the new generation ingredients that are really helpful for anti-aging.
The Ordinary Buffet has an excellent combination of science-backed ingredients – that includes peptides, amino acids, probiotics, and Hyaluronic Acid – to improve overall skin health.
Regular use softens the aging signs, increases elasticity, and gives a youthful bounce to the skin. It's a clear gel serum that doesn't leave any residue behind. It layers well with other products, so you don't have to worry about pilling problems. It's an excellent product to include in one's winter skincare routine.
The only thing is that it shouldn't be used with Vitamin C, Retinols, or Chemical Exfoliators in the same routine. But then you won't need them if you are using the Buffet as it has all the skin benefits one would need.
5. The Ordinary Caffeine Solution 5% + EGCG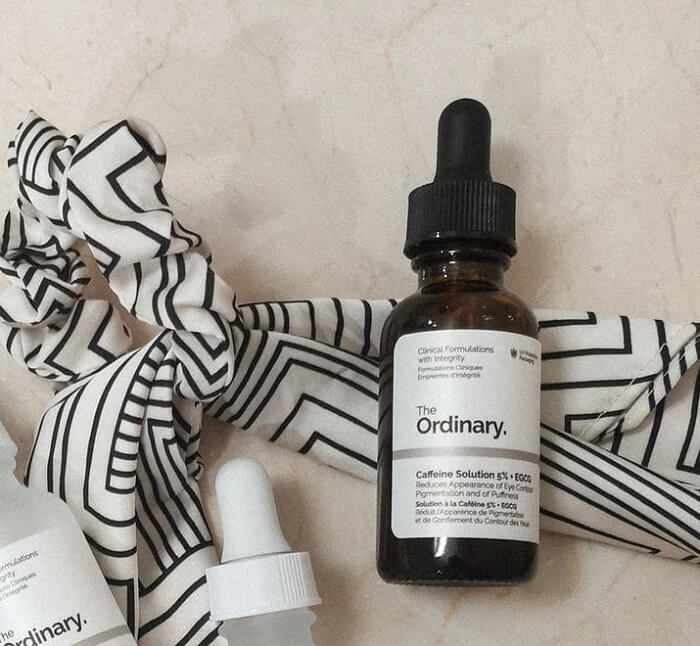 Active Ingredients: 5% Caffeine, EGCG (From Green Tea).
Targets: Eye contour pigmentation, puffiness, and dark circles.
Skin Type: Normal, Oily Under eye skin.
In my opinion, not everyone needs an under-eye cream. If you are not facing any under-eye issues, you could very well use your basic moisturizer under your eyes (provided it doesn't have actives or irritants). But, if you are dealing with dark circles, puffiness, and crow's feet, it's best to use one. And what works best than Caffeine for the under eyes.
This Caffeine Solution from The Ordinary is one of the best products for your under eyes. It's a water-based serum with a golden hue. Formulated with research-backed ingredients, this serum helps with puffiness to a great extent. And also makes it firmer and brighter.
It may not be the best in the hydration department, but then it works beautifully under makeup. If you are someone with an under-eye dullness that's not genetic, definitely give it a try.
Bonus – it comes in a UV-protected bottle as EGCG is sensitive to light.
The following products are going to be exfoliators. So do read the precautions before using it. (I mean use it sparingly in your PM routine and never miss your sunscreen during the day).
6. The Ordinary Lactic Acid 10% + HA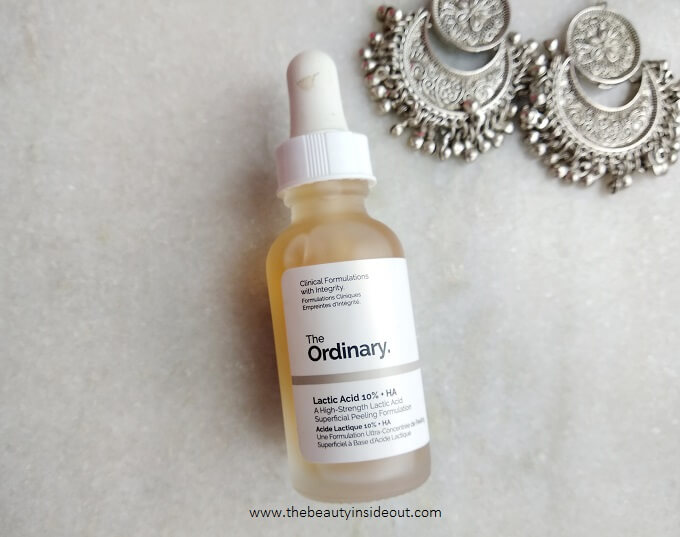 Active Ingredients: 10% Lactic Acid, Hyaluronic Acid, Tasmanian Pepperberry.
Targets: Uneven skin tone, dullness, and discolorations.
Skin Type: All Skin Types.
This powerful chemical exfoliator packs a punch to give you smooth glowing skin. Formulated with 10% Lactic Acid to gently yet effectively exfoliate the skin, this is a bomb product. It is enriched with Tasmanian Pepperberry – which soothes irritation and inflammations that are a part of exfoliating.
The Ordinary Lactic Acid definitely improves post-inflammatory hyperpigmentation with regular use. And it even outs the skin tone beautifully. If Glycolic Acids are strong for your skin, you'll love Lactic Acid. Lactic Acid is often recommended for dry skin types due to its hydrating nature.
While you can work it up to use this serum every day, I strongly recommend using it thrice a week maximum. (We do not want to damage our barrier right!). Pair it up with a good Ceramide Moisturizer to tackle the effects of exfoliation.
7. The Ordinary AHA 30% + BHA 2% Peeling Solution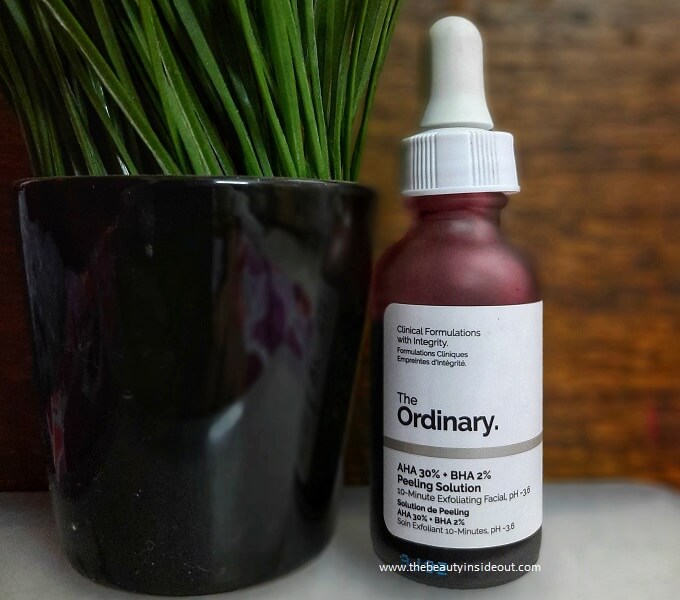 Active Ingredients: 30% AHA, 2% BHA, Hyaluronic Acid, Vitamin B5, Tasmanian Pepper Berry, and Black Carrot.
Targets: textural irregularities, lackluster skin tone, and blemishes.
Skin type: All skin types that are tolerant to acids. Not for sensitive, irritated, damaged skin.
It's time to ditch your monthly facials at the salon. Try this powerful peel for the super glow. This is a high strength chemical peel that's strictly for experienced users. DO NOT USE THIS IF YOU ARE A BEGINNER TO ACIDS.
Formulated with a powerful combination of Glycolic acid, Salicylic acid, Lactic Acid, Tartaric Acid, and Citric Acid, this is 10 minutes exfoliating, wash off mask. The results of this mask are instant. It dramatically brightens the skin and makes it super smooth and soft.
While it does smell like a chemical and can have a mild tingling sensation, its results are worthwhile. If you want to wake up to glowing skin for your party the next time, just use this and be done with it.
8. The Ordinary Glycolic Acid 7% Toning Solution
Active Ingredients: 7% Glycolic Acid, Ginseng Root Extract, Tasmanian Berry extract, Urea, Glycerin.
Targets: Uneven Skin Tone, Textured Skin, and Dullness.
Skin Type: All, except sensitive skin.
Highly compared with the much-raved Pixi Glow Tonic, this Ordinary Glycolic Acid Toner is one of the best-selling products from The Ordinary. It's formulated with 7% Glycolic Acid along with antioxidants and soothing ingredients.
Glycolic Acid is one of the strongest AHAs that helps shed off the rough dead skin to reveal softer skin. The Ordinary Glycolic Acid exfoliates the skin and helps in improving complexion and fading acne marks. It also significantly reduces whiteheads and blackheads. If Lactic Acid doesn't work for you, this is your best bet.
Some people use this toner daily, but I'd recommend thrice a week maximum. The huge bottle and affordable price make it an economical choice to be used as a body exfoliator.
9. The Ordinary Granactive Retinoid 2% Emulsion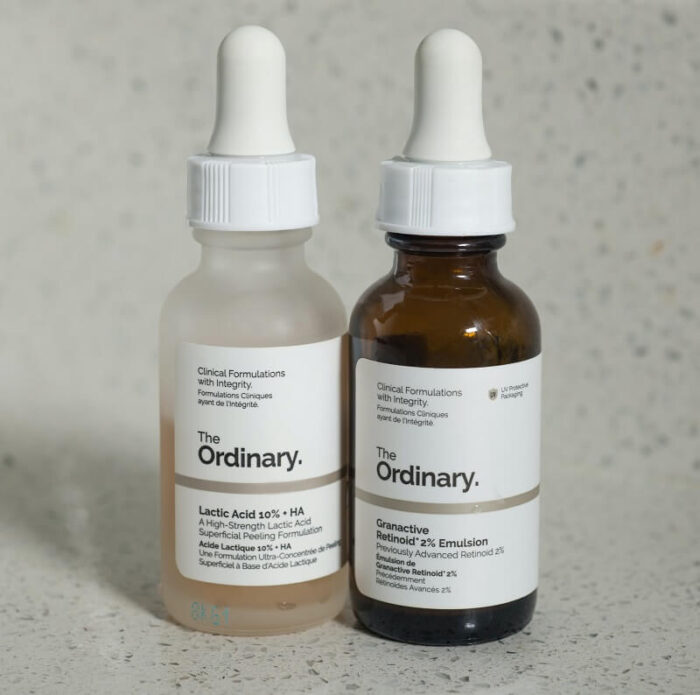 Active ingredients: Granactive Retinoid, Retinol, Rosemary Leaf Extract, Tasmanian Pepper Extract, Bisabolol.
Targets: Aging signs.
Skin Type: All Skin Types.
If you have been wanting to try a retinol cream, but have been having second thoughts about it causing irritations, this is for you. Granactive Retinoid is a new generation retinoid that's gentler than retinol and prescription retinoids. But at the same, it's effective in giving results.
Loved by beginners in retinol, The Ordinary Granactive Retinoid 2% Retinol is enriched with great emollients that leave the skin nourished. It's a creamy emulsion that's lightweight yet very moisturizing. Oily skin types can use this as a standalone moisturizer during summers. It's that nourishing.
It is a gentle formula so it doesn't irritate the skin. Most skin types can use this comfortably without any reactions or purging. The retinoid emulsion helps in delaying the signs of aging and makes the skin plump and youthful.
Similar Products : Minimalist Granactive Retinoid 2% Emulsion (Read our full review with before and after pictures)
These are some of the Best Ordinary Products in India that you need to check out.
Have you tried The Ordinary Products in India? Let us know your thoughts in the comments section below.