Minimalist is an Indian Brand that was launched in 2020. The brand offers no-nonsense, clean & transparent active-based products that do what they are expected to do. It's supposedly known to be the Indian Dupe of The Ordinary. Minimalist Products are affordable yet are highly effective in treating skin concerns. I tried three products from the brand and here are my thoughts on them.
Minimalist Brand Claims
Minimalist is committed to bringing Transparency in Beauty. Minimalist strives for 'Clean Beauty' products. Products that are free from well-researched toxins and do not sensitize your skin – irrespective of their natural or naturally derived tag.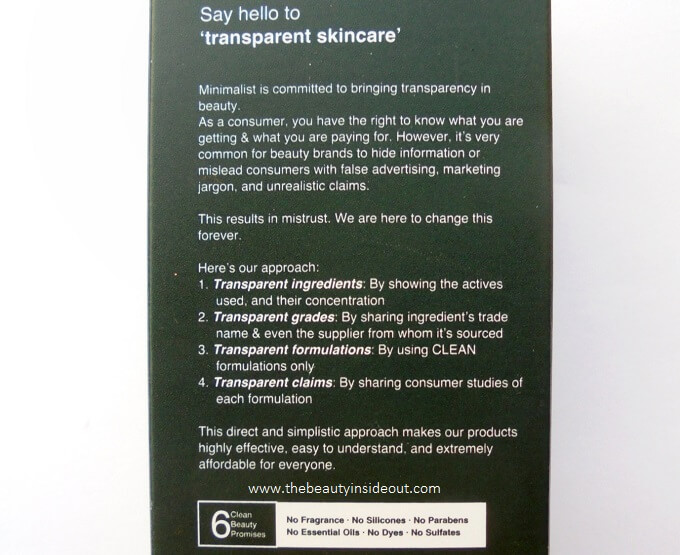 Minimalist Products Review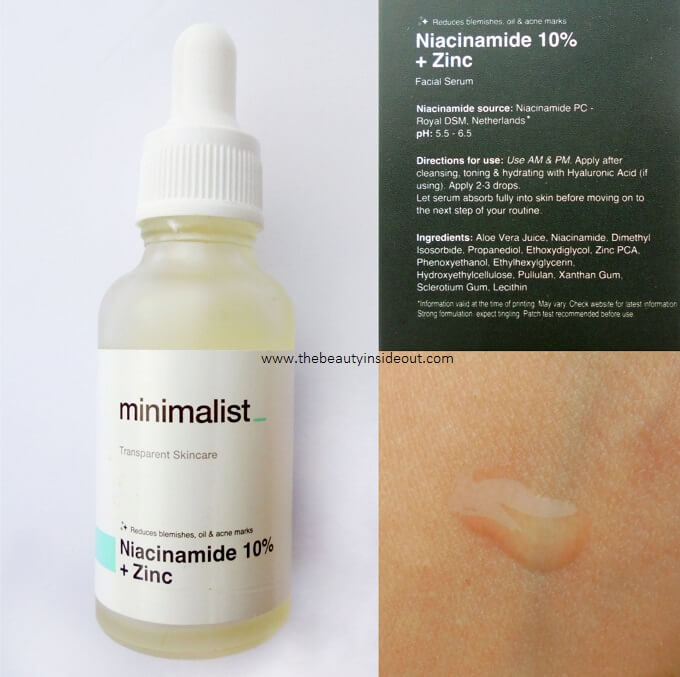 Product Type: Minimalist Niacinamide Serum is a lightweight aloe-based formula containing pure 10% Niacinamide and Zinc PCA to balance excess sebum production, improve skin complexion and keep your skin resilient & healthy.
Suitable For: Acne-Prone & Blemish Prone Skin to fade acne marks, smoothen skin texture
Additional Info: pH -5.5 – 6.5
My Experience: I have been using this serum for 6 weeks now. It has a slightly thicker than water consistency but gets absorbed within seconds without any sticky residue. For the first two weeks, my skin purged a little. I had sudden pimples here and there that took 2-3 days to heal. My pimples generally take at least 5-6 days to heal. For the 3-4th week, I used only a salicylic acid face wash and applied Minimalist Niacinamide Serum; no other active ingredients. From the 4th week, my skin looked a lot clearer and, pigmentation started fading. For the 5-6th week, I added one more active to my skincare routine. I now use niacinamide in the morning and retinoid at night. This niacinamide serum is definitely a bomb product. My skin used to look textured due to clogged pores. This serum has helped in clearing those. I still have pigmentation spots but they are less evident than before.
Price & Availability: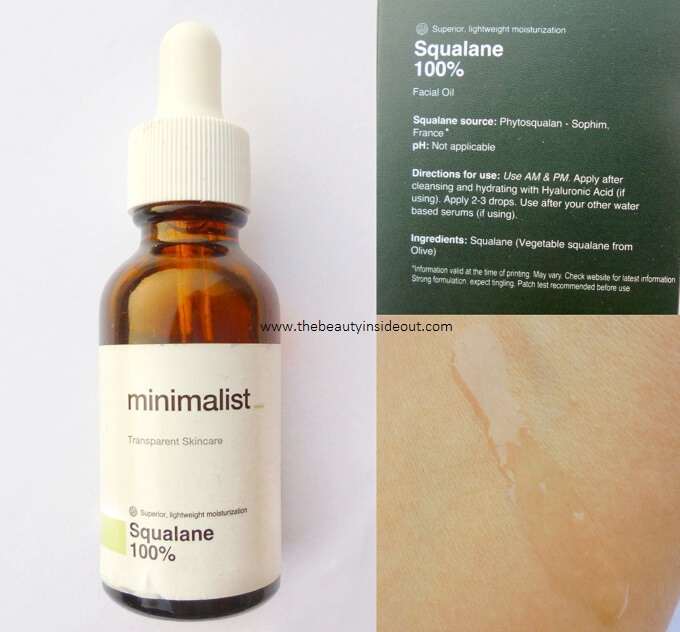 Product Type: This is basically a lightweight, vegan-friendly squalene oil that seals in moisture and prevents transepidermal water loss thereby improves elasticity & firmness of the skin.
Suitable For: All Skin Types. Great for Dehydrated Skin & Damaged Skin Barrier.
Additional Info: This product is Ecocert Approved.
My Experience: I have a combination of oily skin types. I use just two drops of the oil after cleansing in my PM routine. Initially, I thought this would cause acne breakouts, but it didn't. The Squalane Oil is extremely lightweight and provides an instant boost of moisturization. It makes my skin look and feels plump. It acts as a nice occlusive on top of my actives and does not reduce their efficacy. I have also tried this squalane as a prep-step of makeup application. It helps the base makeup to blend and also gives a nice dewy finish. Overall, it is one of the best Squalane oils in India that is not only of high quality but is also pocket-friendly.
Price & Availability: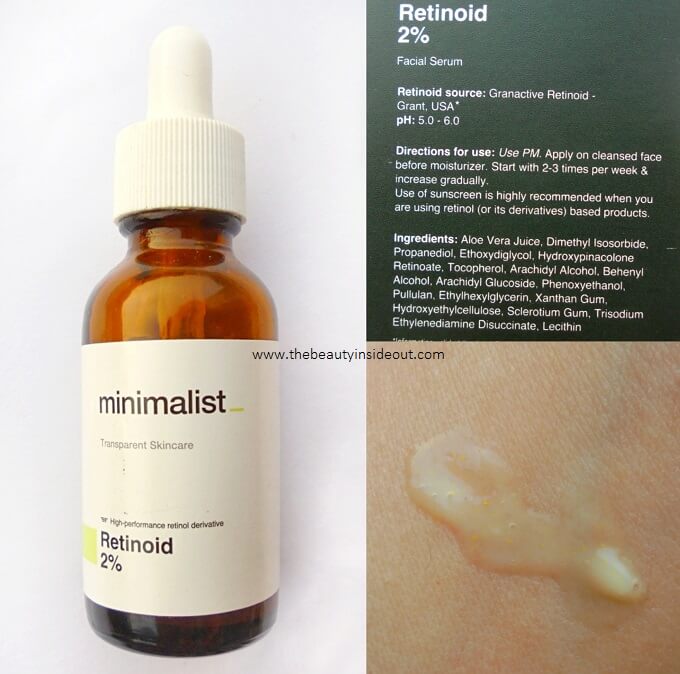 Product Type: This is an anti-aging serum containing a milder form of Retinoids to reduce all signs of aging resulting in youthful skin.
Suitable For: Blackheads, Dullness, Uneven Skin, Excess Oiliness, and premature aging issues.
Additional Info: Do not use any actives with this product.
My Experience: I have been using it in my PM routine for 7 weeks now. It has got a dense texture compared to usual serums. But then it gets absorbs in 20 to 30 minutes. I follow it up with the Squalane Oil. For the first two weeks, my skin was a little itchy and there was extreme skin peeling. There was a sudden pimple outbreak as well. I gave the product a break for a week. I slowly started to use it regularly twice a week from the 4th week onwards. After my skin got familiar with the product, it didn't give any sensation or redness after application. I didn't face any skin peeling or flakiness as well. The serum made my skin smooth, even-textured and controlled the appearance of the enlarged pore to a good extent. I wake up with fresh and glowing skin now. Overall, this is the best alternative for The Ordinary's in India right now. It's a highly effective and skin-friendly retinoid serum to cater dryness & dullness of maturing skin.
Price & Availability:
Those were some of the Minimalist Products that I tried. Have you tried these? Share your experience with them in the comments section below.