Today's review is of the Minimalist ALA & Glycolic Cleanser, also called the Minimalist Brightening Face Wash or Minimalist Glycolic Acid Face Wash. Let's get right into it because it will be a positive review!
What is it?
Minimalist Alpha Lipoic + Glycolic 07% Cleanser is a brightening face wash that promises to exfoliate our skin, stimulate skin turnover, and give us radiant skin.
I can't speak for the skin turnover, but if used daily, it works as a very gentle exfoliator and really helps get that glowing skin.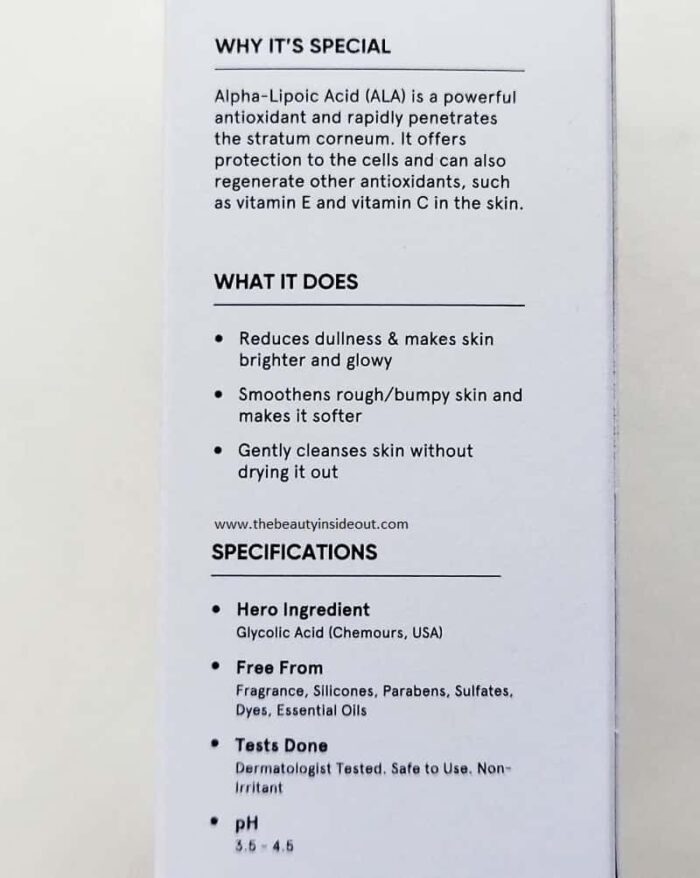 Minimalist Face Wash Ingredients:
It contains a number of intriguing ingredients, including Allantoin, Vitamin B5, and the acne-friendly chemical exfoliant Glycolic Acid, among others. But I'll just touch on ALA, or Alpha Lipoic Acid because this is the first time I've ever heard of it.
ALA serves a variety of purposes, but primarily it's an antioxidant. It promotes collagen production, as well as the reduction of dark spots, blackheads, and breakouts. It helps in reducing inflammation and might also aid in wrinkle reduction.
However, because it is a face wash, I believe it works as a lightening and exfoliating agent as it would have to remain on your skin longer as a serum or something to provide those other benefits.
Full Ingredient List:
Aqua, Glycerin, Cocamidopropyl Betaine, Propanediol, Glycolic Acid, Sodium Lauroyl Methyl Isethionate, Xylitylglucoside, Anhydroxylitol, Xylitol, PEG-150 Pentaerythrityl Tetrastearate, PEG-120 Methyl Glucose Dioleate, Thioctic Acid, Betaine, Pentylene Glycol, Panthenol, Allantoin, Sodium PCA, Coco-Glucoside, Glyceryl Oleate, Phenoxyethanol, Ethylhexylglycerin, Trisodium Ethylenediamine Disuccinate, Lactic Acid, Citric Acid, Sodium Citrate, Sodium Hydroxide.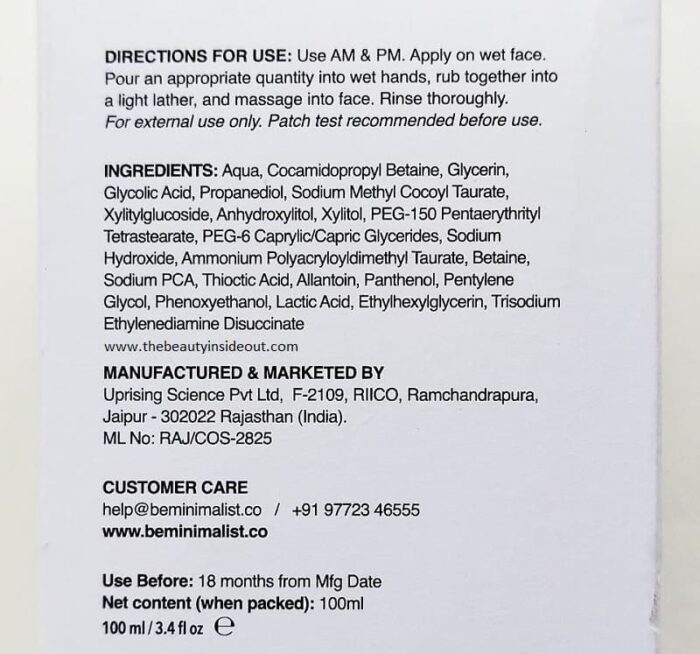 How to use it?
Rinse your face. Take a sufficient quantity of the cleanser on your palms, rub it together to bring it into a gentle lather, and massage it onto your face using gentle circular motions. Rinse thoroughly with normal water. Pat dry and apply a serum and/or moisturizer.
Minimalist Face Wash Review
Packaging:
So the packing delighted me. Not because the bottle is magical or anything, but because the cardboard box opened into another cardboard box with some very good quotes printed on it. Minimalist definitely did a great job with that.
Now the bottle is pretty study, and so is the cap. The product was previously packaged in a tube, but they switched to a bottle since the tube would always sort of spill out too much liquid, leaving you with far more than you needed. So far so good.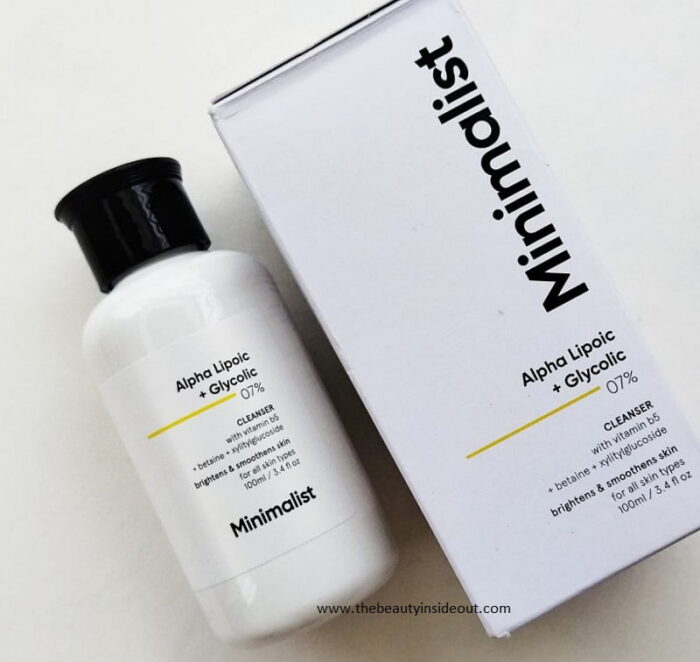 Texture:
The texture is very runny and completely transparent. You'll only need a coin size of the product. Rub it between your palms to make a very light amateur foam, then massage your face for 30 seconds and then it starts to feel like you're just massaging viscous water on your face. Which is strange, so I hope Minimalists does something about that.
My Experience
I didn't really give it much thought for the first week or so. It felt like using a typical cleanser. However, after the second week, I observed smoother skin texture, especially on my forehead. And I had some blackheads around my nose. I wasn't aware when it started to work, but all of a sudden I realized: "Oo, I don't have those little blackheads around the sides of my nose anymore".
I can confidently state that it exfoliated, but it did so extremely gently and gradually that you wouldn't notice instantly, So that is probably why it's for daily use. It contained glycolic acid, so I used it on alternate days initially, but later I added it into my regular bedtime routine cause it really is gentle. And it's been fun using this.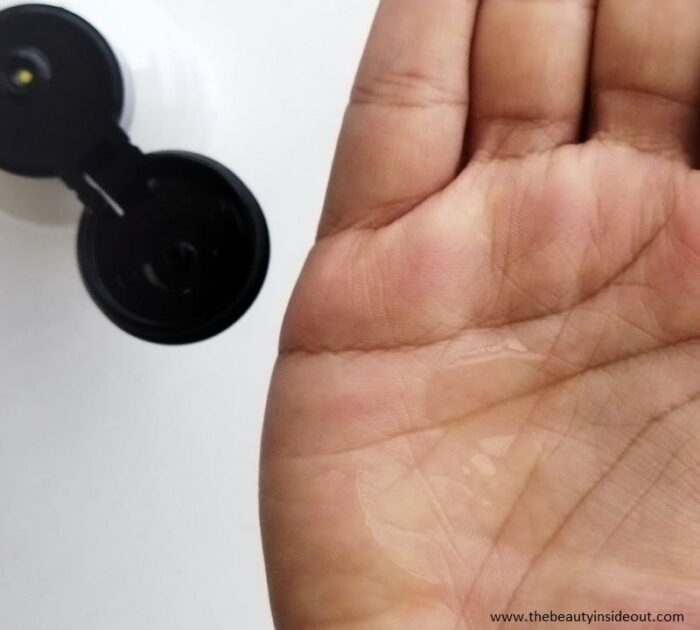 No doubt it is a great cleanser for oily skin, but it won't work as a double cleanser to remove sunscreen, so you might wanna pick something different for the task or better use a cleansing oil or cleansing balm as a first cleanse and follow it up with this Minimalist Face Wash as a second cleanser.
Irrespective of the above con, it's a wonderful face wash that gave me dramatic results.
The changes I experienced after using this for about three weeks:
Reduced texture
Instant brightening
No more blackheads around my nose
Helps with light mark fading
Cons
Doesn't remove sunscreen
Won't work as a second cleanser
The foam dissipates into the water after a min of cleansing
Bottom Line
The Minimalist Glycolic Acid Face Wash is a gentle exfoliating cleanser that helps with improving skin tone and texture. Definitely give it a try if you prefer something mild and exfoliating. I believe everyone can use it unless their skin is extremely sensitive or dry.
What do you think of this cleanser? Would you buy it?