Comparatively a new name to the skincare market, Minimalist is a skincare line that claims to bring transparency to the beauty industry. Being a skincare lover who loves to explore new launches, I decided to try my hands on the very much hyped product by Minimalist, its Vitamin C Serum, and if you're someone who's looking forward to buying this product, read on to know my experience with it so far!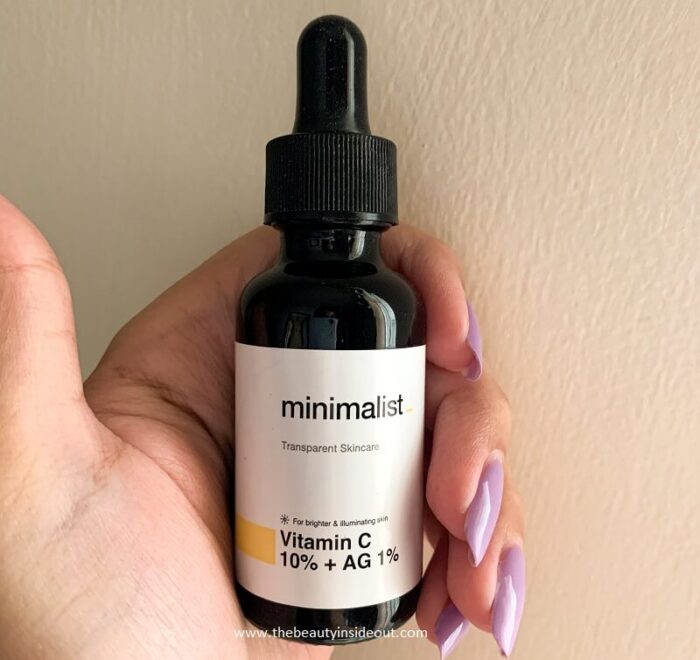 Product Description:
Formulated with Ethyl Ascorbic Acid (10%) + Acetyl Glucosamine (1%), Minimalist Vitamin C is a glow-boosting serum that provides your skin with an abundance of Vitamin C extracts that work wonders if your skin is suffering from sun damage, dullness, and dark spots; making the skin hydrated, moisturized, and retaining its natural glow.
Minimalist Vitamin C Serum Benefits:
It's free from parabens, sulphates, fragrances, and synthetic dyes.
Soothes and hydrates your skin for a plum radiant glow.
Suitable for all skin types.
Quite affordable when it comes to quality.
Gives good results in reducing blemishes & acne marks within a couple of weeks of usage.
Minimalist Vitamin C Serum Side Effects / Precautions:
Although Vitamin C doesn't have any side effects per se, it might irritate some people with susceptible and allergy-prone skin. Some of the other common side effects may include:
Itching
Redness
Slight burning sensation
In any of the above cases, please wash your skin immediately, or consult a dermatologist if it gets worse.
Also, if you're someone who uses retinol in your skincare regime, you may use the Vitamin C serum in the morning and retinol at night, because mixing the two has the potential to irritate the skin.
With that being said, the serum is harmless and doesn't cause any irreversible damage to the skin.
Personally, I loved using the Minimalist Vitamin C Serum and did not have any of the above-mentioned problems.
Minimalist Vitamin C Serum Ingredients: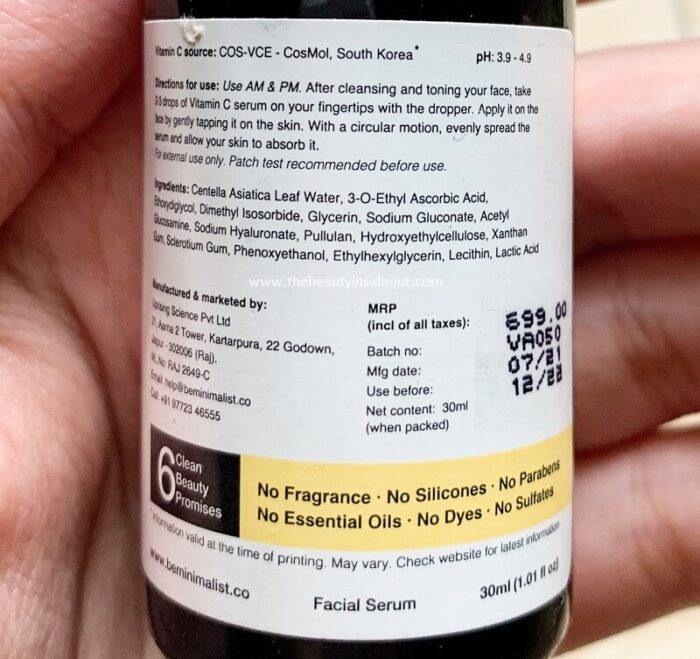 Key Ingredient Benefits
Ethyl Ascorbic Acid: Made with stabilized Vitamin C derivative "Ethyl Ascorbic Acid" that has 86% pure Vitamin C content, which is much higher than the 40-50% content present in other Vitamin C derivatives. At a pH of ~4.0, it is highly stable and effective.
Centella Water: It is formulated in Centella Water to soothe and heal skin in the most natural way.
Polyhydroxy Acid: Boosted with Polyhydroxy Acid (PHA) which are new age hydroxy acids, suitable even for sensitive skin. PHAs gently remove dead skin cells to give skin a glow. They also have antioxidant/chelation, barrier strengthening, and moisturizing effects
Hyaluronic Acid: Contains 1% Acetyl Glucosamine (AG), an amino-monosaccharide (simple sugar), and a precursor of hyaluronic acid, that provides skin moisturization, boosts natural Hyaluronic Acid synthesis and regulates natural exfoliation.
Lactic Acid: It eliminates dead skin cells and gives a smooth appearance with lesser lines and wrinkles.
Glycerin: Being a moisturizing agent, it helps for effective cleansing of the skin from makeup and other elements.
How to use it?
After cleansing your face, take about 2-3 drops of the Vitamin C serum with the dropper and apply it all over your face, especially the affected areas.
Gently pat the serum over your skin and massage it in a circular motion so that it gets absorbed quickly.
Top it up with some sunscreen and you're good to go.
You can use this twice a day, on a clean face.
Minimalist Vitamin C Serum Review
Packaging: Just like any other Vitamin C serum, this one also comes in a classic opaque bottle (to prevent the oxidation of Vit C), along with an easy-to-use dropper which makes the application process a lot easier. The serum bottle comes inside an outer carton that consists of all the relevant details about the product, including the price. I found the packaging quite convenient and user-friendly.
Colour & Texture: The Minimalist Vitamin C Serum is a transparent white fluid and has a watery texture, which blends well into the skin.
Fragrance: The serum has a pretty strong chemical-like scent, which I might say, is not very desirable, but it tones down in a few minutes after the application.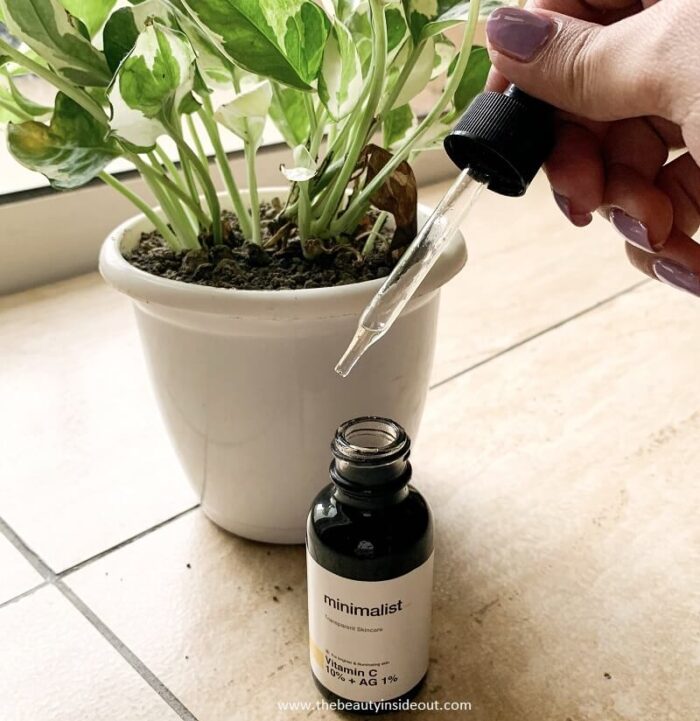 My Experience:
Vitamin C Serums are quite the talk of the town for a long time now, and we're always on the lookout to find the best one that would work for us.
I've been using this Minimalist Vitamin C serum for about three months now, and just like any other product, this too has its own pros and cons. Let's have a look:
So I started using this serum twice a day after cleansing and moisturizing my face, and I noticed that it felt really sticky on my skin and fingers once the application was done. Don't worry, the stickiness settles down in no time. In fact, it leaves your skin with a subtle dew.
After consistently using it for over a month, I could see an enhanced skin radiance. However, it took a little longer (almost two months) to work on my dark spots. So all in all, you need to be a bit patient with this product. It slowly reduces the hyperpigmentation as well and evens out the skin tone & texture.
You also might want to avoid using it on sensitive skin as it triggered some acne and rashes on the damaged area of my skin.
Overall, if you can bear its chemical-y smell, it's a great product to use in the longer run. Give it some time and it'll definitely pay you back. It's pocket-friendly, easy to use, and comes in one size, i.e. 30ml.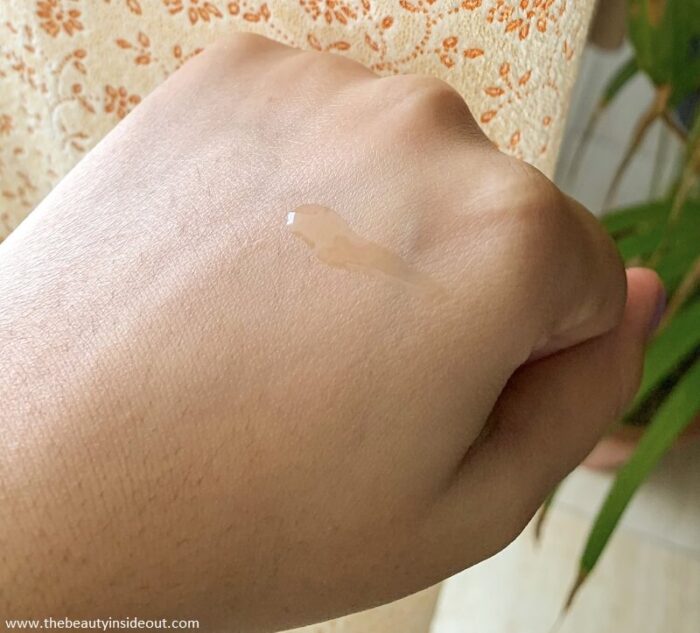 Pros:
Contains effective ingredients.
Reduces pigmentation & dark spots.
Comes in user-friendly packaging.
Gives a healthy glow and brightens the complexion.
Lasts for a good time.
Cost-effective when it comes to quality.
Cons:
Has a sulfur-y smell.
Slow when it comes to showing results.
Not suitable for damaged or ultra-sensitive skin.
Rating: 4/5
Where to buy? Amazon.in
Would I recommend it? Yes! If you're looking to commit to a good Vitamin C serum, you should go for this one. This Minimalist Vitamin C serum gives a good radiance and brightness to the skin, and slowly-steadily vanishes all the dark spots and pigmentation, not to mention that it lasts for a really long period of time. It absorbs into the skin like magic and makes it baby-soft.
What do you think of this product? Have you tried your hands on it, or would like to? Do let us know in the comments!
Written By Anushka Manik