Bioderma, the French Pharmacy brand is popular for formulating gentle and effective products. The brand is based on eco biology whose principle is to preserve and strengthen skin health. It's a dermatologist-recommended brand and its products are available worldwide. They have high-quality targeted skincare and haircare products that you might not want to miss out. If you are confused about what to get, this post will be helpful to you. This post features some of the Best Bioderma Products you'll need to try.
Most of the products reviewed are bought from Smytten Trials. Though they are sample size, they lasted well enough for me to form an opinion. Keep reading if you want to know more about Bioderma Products.
Bioderma has specific ranges that target specific skin types and concerns.
Sebium – Oily, Combination, Acne-Prone Skin.
Sensibio – Normal & Sensitive Skin.
Atoderm – Normal to Dry, Very Dry, Sensitive, Irritated & Atopic Skin.
Pigmentibio – For Hyperpigmented Skin.
Cicabio- For Damaged & Weakened skin.
Photoderm – For photoprotection.
Bioderma Review
1.Bioderma Sebium Gel Moussant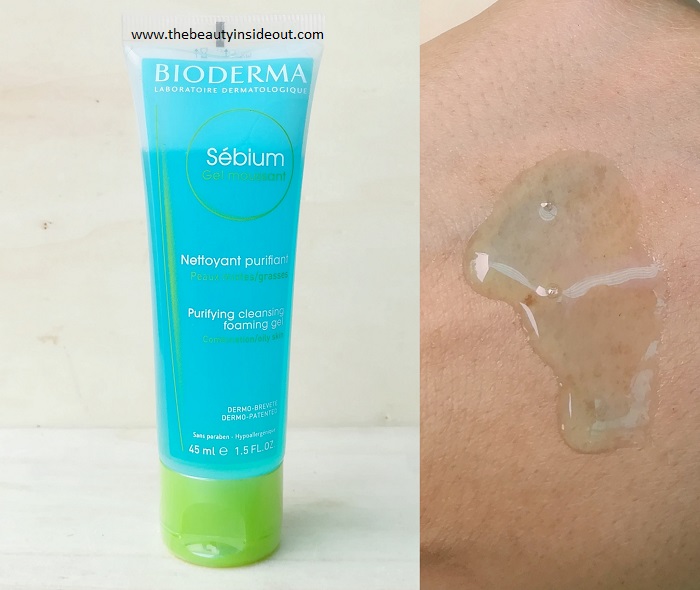 Product Type: It's a gel-based face wash to gently remove impurities from the skin.
Ideal For: Combination & Oily Skin Types.
Ingredients: Aqua, Sodium Cocoamphoacetate, Sodium Laureth Sulfate, Methylpropanediol, Disodium Edta, Mannitol, Xylitol, Rhamnose, Fructooligosaccharides, Zinc Sulfate, Copper Sulfate, Ginkgo Biloba Leaf Extract, Peg-90 Glyceryl Isostearate, Lactic Acid, Laureth-2, Potassium Sorbate, Sodium Chloride, Propylene Glycol, Sodium Hydroxide, Fragrance.
Texture: A bright blue color, moderately thin gel wash.
Fragrance: Strong aquatic fragrance that resembles men's grooming products.
My Experience: I certainly liked using this face wash. It's a refreshing, evening face wash that cleans the skin well. It's non-drying on my combination skin and I love how instantly it makes my skin soft and fresh. The face wash produces a mild lather, yet just a pea-sized amount was enough to clean my face. It washes off easily and doesn't leave behind any slippery residue. The Gel Moussant is said to be Non-comedogenic, Paraben Free and Hypoallergenic. It contains SLES, I don't mind it though. Overall, it's a pretty great face wash that serves its purpose perfectly.
Rating: 4/5
2. Bioderma Atoderm Gel Moussant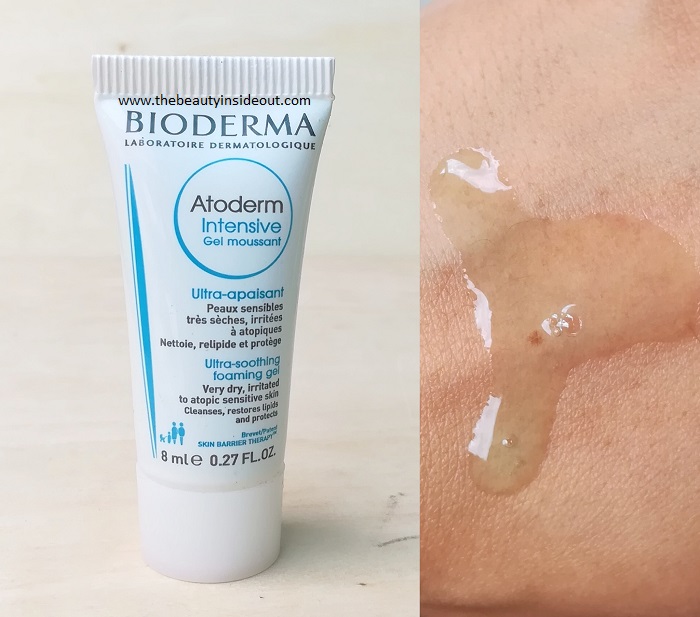 Product Type: It's an ultra foaming, soothing gel cleanser that relieves skin issues caused by dryness while purifying it for a fresh morning.
Ideal For: Dry, Irritated, Sensitive, Atopic Skin.
Ingredients: Aqua, Sodium Laureth Sulfate, Lauryl, Glucoside, Peg-200 Hydrogenated Glyceryl Palmate, Disodium Edta, Peg-7 Glyceryl Cocoate, Caprylyl Glycol, Zinc Sulfate, Sodium Chloride, Copper Sulfate, Sodium Hydroxide, Citric Acid, Polysorbate 20, Niacinamide, Fructooligosaccharides, Mannitol, Xylitol, Rhamnose.
Texture: It's a runny cleansing gel. The Atoderm Gel Moussant contains Copper Sulphate like the Sebium variant as well, giving the gel a beautiful sea blue color.
Fragrance: It's a fragrance-free product.
My Experience: It's very gentle, non-stripping, and soothing on the skin. It foams up nicely with just a tiny drop of the gel. The gel is very runny hence you need to be careful while squeezing the tube. Otherwise, you end up with more product which isn't needed. Performance wise, it was pretty much similar to the Sebium Gel Moussant. It cleans well, washes off easily, and leaves the skin soft to touch. The Atoderm variant is fragrance-free, paraben-free, and additionally contains Niacinamide to strengthen skin barrier function. The Sebium variant can be a tad bit more purifying than this. As suggested by the brand, I would say pick the Sebium variant if you have oily-combination skin and the Atoderm variant if you have dry sensitive skin. Both are worth giving a try. I'm also curious about the Sensibio Gel Moussant which is supposed to be in between both. If possible I'll try it out and update it here.
Rating: 4.5/5
3. Bioderma Sensibio H20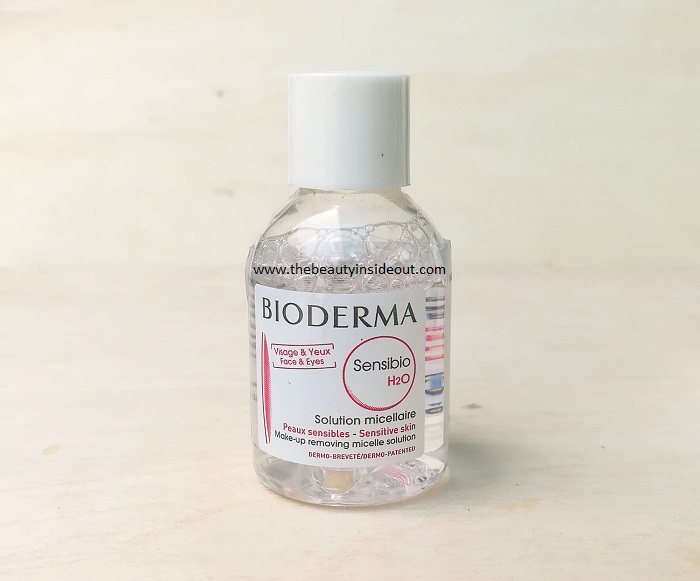 Product Type: Sensibio H20 is a fragrance-free, alcohol-free water-based micellar water. It is formulated with soothing micelles, DAF patented complex, and cucumber extracts.
Ideal For: All skin types including sensitive skin.
Ingredients: Aqua, Peg-6 Caprylic/Capric Glycerides, Fructooligosaccharides, Mannitol, Xylitol, Rhamnose, Cucumis Sativus (Cucumber) Fruit Extract, Propylene Glycol, Cetrimonium Bromide, Disodium Edta.
Texture: It's just like water. Clear and Runny.
Fragrance: The product is formulated without added fragrance. It has a barely detectable chemical scent.
My Experience: This is the most popular of all Bioderma Products. In fact, most of them associate the brand with this Micellar Water. It's a water-like clear solution that's highly effective in removing all sorts of makeup, sunscreen, and skin impurities. It's a heavy-duty cleanser but is extremely gentle on the skin. I just soak a cotton pad with the micellar water and gently wipe it on my facial skin. It never irritated or tingled on my skin. It can remove waterproof makeup as well, provided you let the micellar water work for a second or two. Unlike others, this doesn't dry out the skin and is perfect as a morning cleanse as well. No doubt, this is definitely one of the Best Micellar Waters out there that can be used as a part of Double Cleansing. I'd highly recommend it.
Rating: 5/5
4. Bioderma Sebium H20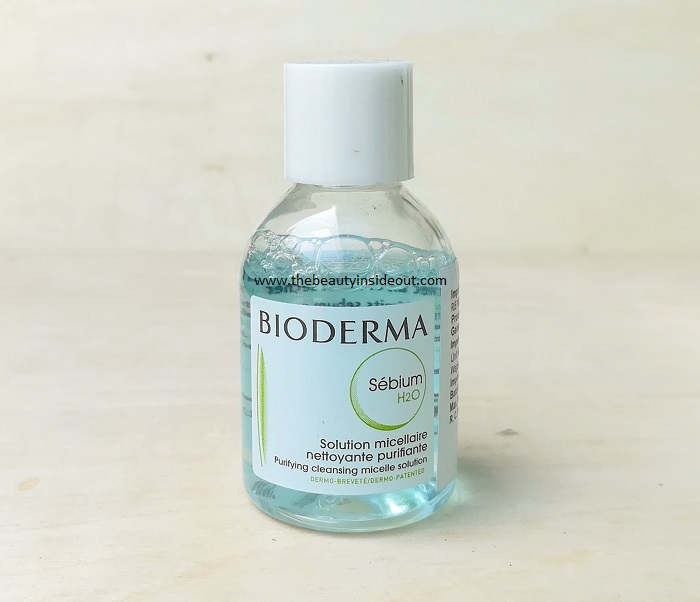 Product Type: Sebium H2O is a micellar water designed to purify the skin and eliminate excess sebum.
Ideal For: Oily, Combination & Acne Prone Skin.
Ingredients: Aqua, Peg-6 Caprylic/Capric Glycerides, Sodium Citrate, Zinc Gluconate, Copper Sulfate, Ginkgo Biloba Leaf Extract, Mannitol, Xylitol, Rhamnose, Fructooligo saccharides, Propylene Glycol, Citric Acid, Disodium EDTA, Cetrimonium Bromide, Fragrance.
Texture: Water-like runny liquid. It has a pale blue hue to it, due to the Copper Sulphate in it.
Fragrance: It has a fresh cucumber-like fragrance. Nothing overwhelming sorts.
My Experience: It works similar to the Sensibio H20. It's great at removing makeup and cleanse the skin as well. The main differences are this has fragrance (a nice one though), color (due to copper sulfate), and Zinc Gluconate which is an anti-inflammatory and antibacterial that is great for oily and acne-prone skin. This micellar water helps to keep your pores clean and leaves your skin fresh and matte. I liked both. Sensibio is a bit more gentle than this. Pick one which suits your skin type. Both are equally good.
Rating: 4.8/5
5. Bioderma Atoderm Intensive Creme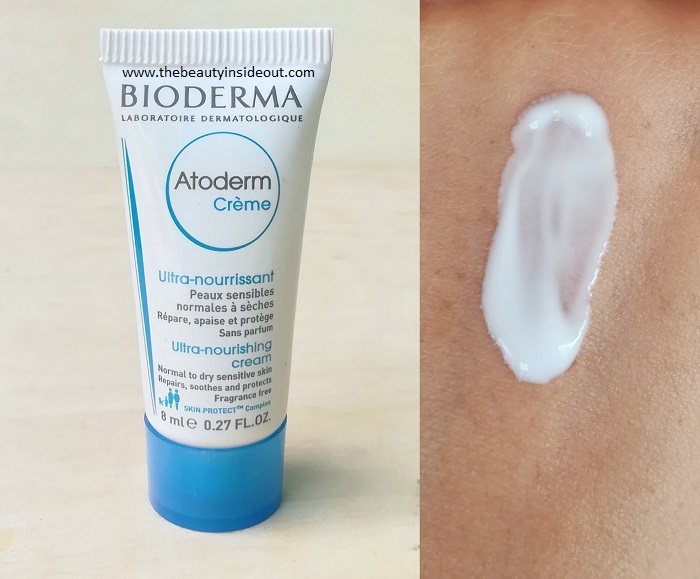 Product Type: It's an ultra-nourishing face and body cream to soothe and repair sensitive skin.
Ideal For: Normal, Dry, Dehydrated & Sensitive Skin.
Ingredients: Aqua, Paraffinum Liquidum, Glycerin, Cetearyl Isononanoate, Glyceryl Stearate, Peg-100 Stearate, Myreth-3 Myristate, Steareth-21, Cyclopentasiloxane, Pentylene Glycol, Cyclohexasiloxane, Acrylates/C10-30 Alkyl Acrylate Crosspolymer, Caprylyl Glycol, Cetyl Alcohol, Disodium Edta, Palmitic Acid, Stearic Acid, Xylitol, Mannitol, Rhamnose, Sodium Hydroxide, Sodium Dehydroacetate, Xylitylglucoside, Anhydroxylitol, Niacinamide, Glucose, Fructooligosaccharides, Caprylic/Capric Triglyceride, Laminaria Ochroleuca Extract.
Texture: A white cream with medium thickness. Spreads and blends into the skin easily.
Fragrance: It's a fragrance-free product and doesn't smell anything in particular.
My Experience: This is a really good dry skin moisturizer. It instantly tackles roughness and dryness and leaves the skin intensely nourished. I like to use this on my dry skin days in my PM routine. It helped me wake up with soft supple skin. The cream has both occlusive and hydrating properties. It locks in moisture and prevents Transepidermal Water Loss. The cream is very emollient and has an inital tacky feel on the skin. But that subsides in a few seconds. I love that this is both a face and body cream and can be used by anyone – babies, children, and adults. The formula is Paraben-Free, Fragrance-Free, Non-Comedogenic, and Hypoallergenic. Its pricing is also much better than other new Indie skincare brands. If you plan to use this solely as a face cream, it's going to last you for a year as just a pea-size is enough for each use. I'd definitely recommend this no-fuss moisturizer for dry skin types.
Rating: 4/5
6. Bioderma Sebium Hydra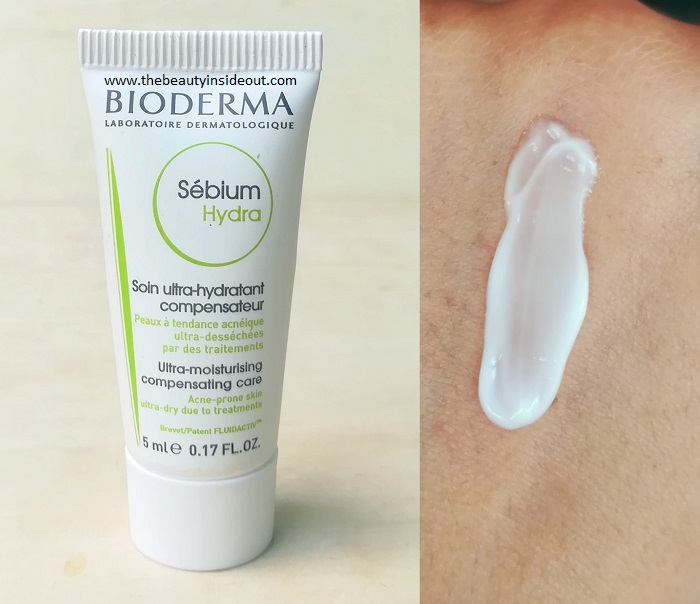 Product Type: Sebium Hydra is a soothing and moisturizing cream for skin that is weakened by dermatological treatments.
Ideal For: Acne-Prone Skin, undergoing acne treatments like Retinoids, Tretinoin, Benzyl Peroxide, etc.
Ingredients: Aqua, Glycerin, Paraffinum Liquidum, Ethylhexyl Palmitate, Dipropylene Glycol, Xylitol, Bis-peg/Ppg-16/ 16 Peg/Ppg-16/16 Dimethicone, Sodium Acrylate/Sodium Acryloyldimethyl Taurate Copolymer, Isohexadecane, Caprylic/Capric Triglyceride, Glycyrrhetinic Acid, Tocopheryl Acetate, Polysorbate 80, Disodium Edta, Allantoin, Fructooligosaccharides, Mannitol, Propylene Glycol, Cetrimonium Bromide, Ceramide 3, Rhamnose, Ginkgo Biloba Leaf Extract, Dodecyl Gallate, Laminaria Ochroleuca Extract, Fragrance (Parfum).
Texture: A white, thick creamy gel-cream formula. The silicone base is quite prominent.
Fragrance: It claims to contain added fragrance. There is a barely detectable scent. It could easily pass off as a fragrance-free product.
My Experience: This is yet another popular cream from Bioderma. Its texture is much lighter than the Atoderm Crème. While the cream had the nourishing skin feel, the Sebium Hydra has a notable silicone feel to it which gives the skin a soft-to-touch finish. It gets absorbed quickly and doesn't have a sticky finish. The finish is comfortable and perfect for daytime use on dry skin. This is not for oily skin types as it would be heavy and greasy for them. The Sebium Hydra has soothing Ceramides, Allantoin and Vitamin E. It is targeted for acne-prone skin that's dry and irritated from harsh acne treatments. Personally, I am not using any such treatments. But I felt that this was less nourishing and I doubt if it'll soothe the skin compared to the crème. At the end of the day, both had similar moisturizing abilities. The price of the Sebium Hydra is crazy expensive for the function it performs. It's a nice cream overall, but it's not worth the price. You could easily get the Atoderm Baume if you need something with Ceramides.
Rating: 3.8/5
7. Bioderma Node Fluid Shampoo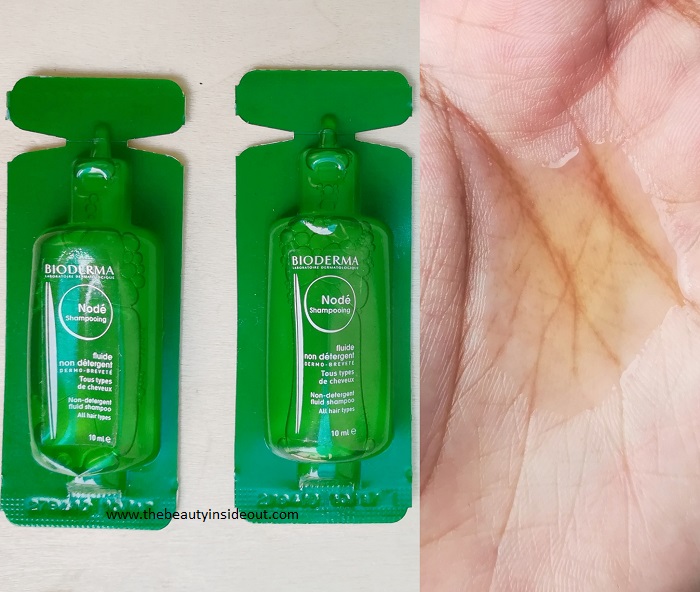 Product Type: It's a gentle everyday cleanser that respects the hair and scalp balance to bring back shine and suppleness.
Ideal For: All Hair Types for everyday rinse.
Ingredients: Aqua, Caprylyl/capryl glucoside, Peg-150 Distearate, Peg-6 Caprylic/capric glycerides, Peg-15 Cocopolyamine, Sodium lauroyl oat amino acids, Lactic acid, Sodium citrate, Caprylyl glycol, Quaternium-80, Propylene glycol, Mannitol, Xylitol, Rhamnose, Phenoxyethanol, Tetrasodium EDTA, Ethylhexylglycerin, Fructooligosaccharides, Sodium hydroxide, Fragrance.
Texture: It's a honey-colored runny liquid. It gives you the notion to use more product but then you don't need to. I had six 10ml packs. So I could easily use one pack for one wash for my mid length hair.
Fragrance: It has a unique scent for a French pharmacy product. Some may like it and some may not. Personally, I loved it. It smells fresh and nice. Strange I know, but it smells a bit like Vetiver and reminds me of Soultree Shower Gel that I used years ago.
My Experience: Well, it's a gentle shampoo. It produces a mild lather when mixed with a bit of water. I took like 30 ml of water and poured the entire sachet and mixed it. After wetting my hair with water, I spread the liquid all over my scalp and massage it gently. That way you won't need a lot of product yet still giving a nice cleaning effect. It rinses off fairly well. Sometimes I do feel a film left behind like those moisturizing gel face washes. The shampoo is meant to not strip your hair of oils and it does that. It's very gentle and don't expect it to give squeaky clean results if you are prone to have dandruff, lots of dirt, or oils on your hair. It's a mild cleanser for sensitive scalp. I would say it is exactly what it claims. So pick this, if its claims are what you need for your hair. It's good for someone who washes their hair quite often and needs a gentle shampoo. To me, it's quite expensive and not easily available, so I might not buy it.
Rating: 3.5/5
Bottom Line
No doubt, Bioderma is a great brand with amazing products. Especially those with sensitive, damaged, and irritated skin types should try out their products. Their sunscreens are known to have high PPD and are highly efficient in protecting the skin. If you are someone with skin issues, I'd say, not to experiment with newer Indie brands and pick this solid french pharmacy brand.
Have you tried any products from Bioderma? Share your favorites and your experience with their products in the comments section below.