Each one of us has different skin types with different skin concerns. But every skincare addict out there is curious to try out diverse beauty products. Particularly with the flourishing beauty market launching newer products every other day, it becomes expensive to invest in each product. And if it fails to suit you, the money you spent goes down the drain. Here comes a unique website/ app that lets you try them without spending a bomb. I'm talking about the Smytten App. You might have heard about the app and if you are skeptical if it's a genuine website, yes it is.  In this post, let me take you through how this app works and how was my experience with them.
About Smytten App

Smytten curates the best of the best, just for you! Finding the right product or service that you can fall in love with, or make for the perfect gift, is a tough job! And that's why Smytten walks the tight line for you and curates truly delightful products that you can get Smytten by, and make your own in a single click.
Smytten App is a reliable Indian Online Platform that helps you discover luxury products at home in a whole new way.
The App Offers 100% Verified original products sourced straight from the brands, with exclusive offers.
Choose your trials, pay a service fee which can be received as 100 % cashback.
How do Free Trials work?
It's really simple.
Open the Smytten App & Request to become a Member.
You can use my Smytten Referral Code: 2NYCU.
As soon as you become a member, 6 Free trial Points are unlocked.
Avail of Your Free Trials and get them delivered to your home by paying shipping charges of Rs.200 which is redeemable.
Make a purchase and get more Free Trials*.
Earlier there was an option only to make a purchase to avail free trails again. But now, they let you choose if you want the shipping charge to be redeemable or if you want to avail yourself of 6 new free trails without making a purchase forgoing the redeemable amount.
They have various payment options including Wallets, UPI, Net Banking, Debit/Credit Cards. They also have a Cash On Delivery Option (with an additional cost of Rs.50)
The App is not limited to just availing trials, you can shop products from reputed brands, just like any other beauty e-commerce website. Smytten does have offers quite often.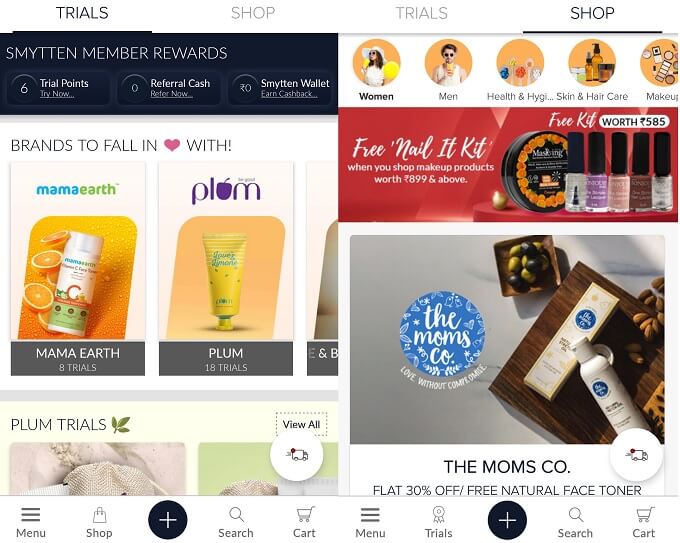 My Experience & Opinion on Smytten App:
I've been a user of the app ever since the early days of its launch. I have bought products as well as availed of free trials many times over the years. And I'm glad to tell you that I never experienced a single bad thing with them. Everything was hassle-free with Smytten. From placing an order to getting them delivered, everything is good.
Well, Over the years the terms have changed a lot. Earlier Smytten was an invite-only app and you couldn't avail trials without making a purchase. The shipping started at just Rs.69 and you could get only 3 trials. But, the brands available were limited as well.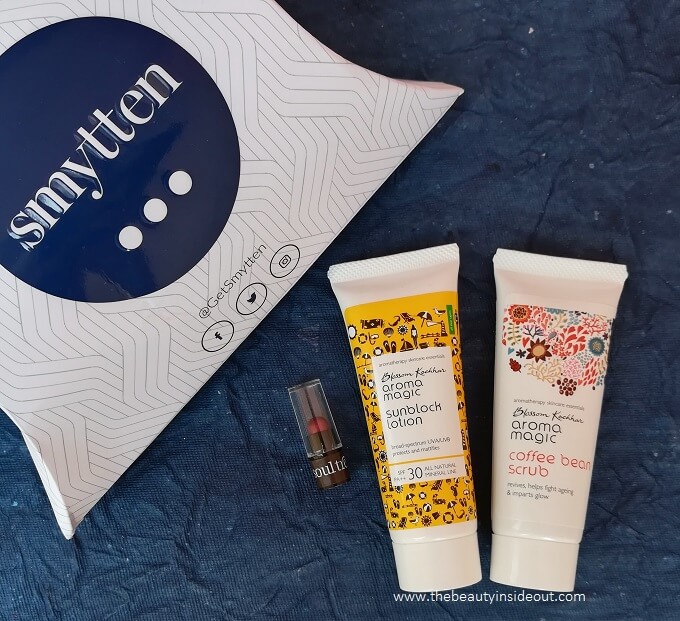 But now they have evolved into a much better platform letting you explore more and more products, not only in the Beauty Category but also in Gentlemen's Grooming, Food and Beverage, Smart Technology, Spas, Salons and much more. Smytten App features 500+ Premium brands including Bvlgari, Calvin Klein, Bioderma, Kama Ayurveda, The Face Shop, Dot & Key, etc, and also affordable brands like VLCC, Mcaffeine, Nivea, Dove, etc.
The App interface is also really easy and seamless to use. No hanging or other issues. It works smoothly and flawlessly. It's easy to move through categories and get whatever you want.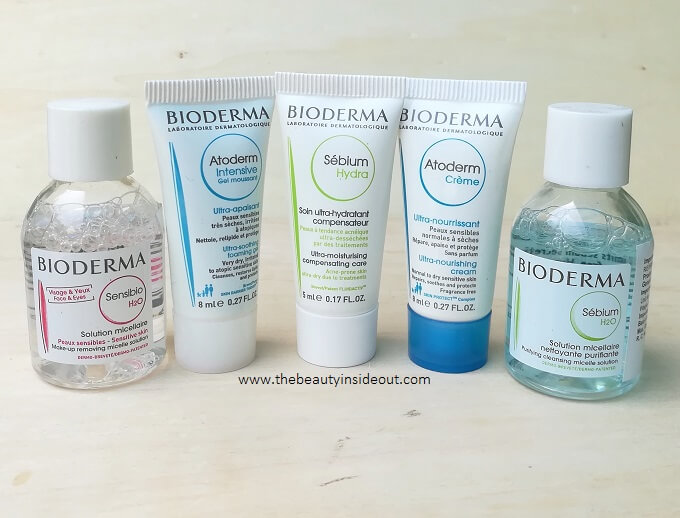 Once an order a placed, the products are usually dispatched fast within 24 to 48 hours. Over the years, I have got them delivered as fast as two days and as late as a week, which mostly happened during the covid times. In my experience, the delivery is usually faster compared to other platforms. You can easily track your products as tracking information is clearly put up on the app. Honestly, everything is good with the app, except maybe, we need them to bring in more brands.
If you haven't tried the Smytten App so far, you are surely missing out on its services.