The K-Beauty tide hit me long back, yes I am no exception to escape like most skincare junkies out there. I have been following double cleansing most of the days and making sure not to miss my sunscreen; my first change to following the K-Beauty Skin Care Routine. Normally I am the kind who simplifies and chooses what suits and what I will be able to follow, you can be the same and not necessarily layer with 10 products. Always feel free to experiment on your own terms. You know what is best for your skin. Getting back to the topic, I always wanted to try Korean sunscreens, cleansers, and sleeping packs. After a little bit of googling and getting some inputs, I stumbled upon Yesstyle.com, an international e-commerce beauty portal that ships worldwide. Before I proceeded to check out their website, I made up my mind to pay customs even if I was charged. More so, to compensate the customs charges I even pledged not to shop and enter a No buy September month. Enough of rants here, I will get back to my shopping experience with Yesstyle.com now. Keep reading to know if I had paid any customs and what all I bought from Yesstyle.com.
1. About Yesstyle.com
Yesstyle is a HongKong Based Online Shopping Portal that majorly stocks Korean, Japanese, and Taiwanese Beauty Products. Their inventory extends to clothing, accessories, footwear, bags, and home & lifestyle products. Yesstyle ships worldwide ensuring customer satisfaction.
2. How is the Website/App User Interface?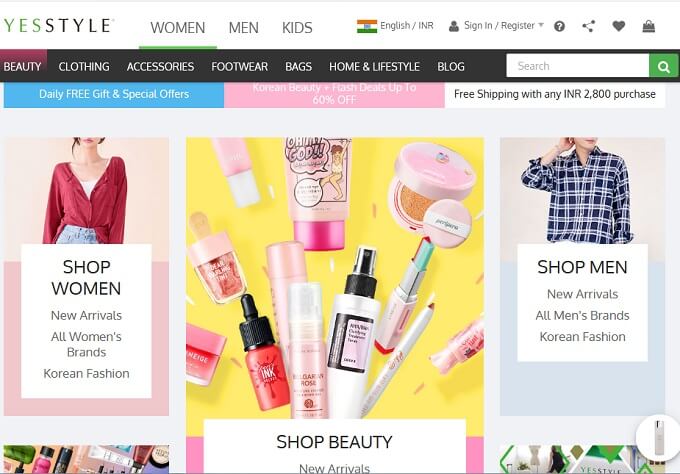 In simple words, it's perfect. It is appealing in its look and has a fast loading interface ensuring a flawless browsing experience. All products are categorized accordingly for ease of selection with prices, product descriptions given on point. The prices are shown depending upon the user location. In my case, all prices were in INR. Even if not, you can still change it the Settings->Preferences and set your preferred location and currency.
3. What are the brands available with Yesstyle?
This post wouldn't be enough to put up the vast number of brands Yesstyle stocks. So here I am putting out some of the popular brands.
Korean – Almost every brand Cosrx, Skin Food, Laneige, Missha, Etude House, Dr.Jart, A'Pieu, Petitfee, Elizavecca, Mizon, Benton, and lot many more.
Japanese – Shiseido, SK II, Kose, Koji, Kao, Kaminomoto, Lululun.
Taiwan – Loveisderma, My Beauty Diary, LSY, Inner Skin, Hanaka, Annie's Way
US Brands – Thayer's, Four Elements, Alba Botanica, InstaNatural

4. What are the payment options?
Payment can be made through Cards and PayPal. I went in for PayPal as it's more secure for international payments. Note that PayPal Mode of Payment will be made available only for those who have set the currency to US Dollars. So don't forget to change your preferences if you were adding products to the cart in INR. PayPal doesn't charge additional fees for purchases that we make. Yesstyle Does Not Offer Cash On Delivery Option though.

5. What are the shipping & delivery charges?
Yesstyle offers Free Shipping For Orders Above $35. In case if you have set it to INR, it is 2800 INR at the moment, when I had placed my order free shipping was for orders above 2600 INR. It varies depending upon the current conversion rate.
For orders below $35, shipping charges can vary depending upon the location. It can be as low as $2 and as high as $100, depends on the type of shipping too. So it is best to place an order that meets free shipping.
6. Is there any Yesstyle Coupon Code?
Yes, for all the first-time customers, i.e, those who make their first purchase on Yesstyle can avail extra 10% OFF while checking out using the code: YESSTYLE. Apart from that, from time to time, you can find various coupon codes on the web, which you can find by doing a quick google search.
7. What were the custom charges?
It purely depends upon luck. You may or may not be charged customs. For this reason, it is not ideal to place a huge order at once. Because there is no way a big parcel will escape customs. But there are tiny chances for small value orders to be not hit by customs. The normal Customs charges for Beauty Products in India is 40.8% of the product's value.
Yesstyle had sent my order in a so-called K-Packet and marked a minimum value to avoid hefty customs. And there I was fortunate and did not have to pay any customs charges. Hurray!
8. How long does it take to receive products once the order is placed?
It depends. You can expect it in a window of 20-30 days. I received it in 20 days of time.
9. Does Yesstyle provide a tracking number?
No. I did receive an order confirmation after placing my order, but no tracking number and information is sent. I could however get details like dispatched, shipped on the App's Tracking Portal.
10. How is the packaging of the products?
Since this was my first international order, I made sure not to order any liquid or glass packaging products. The products that I ordered came securely bubble wrapped and packed in a card box. There was no damage to any of the products that I received.
11. What did I buy from Yesstyle India?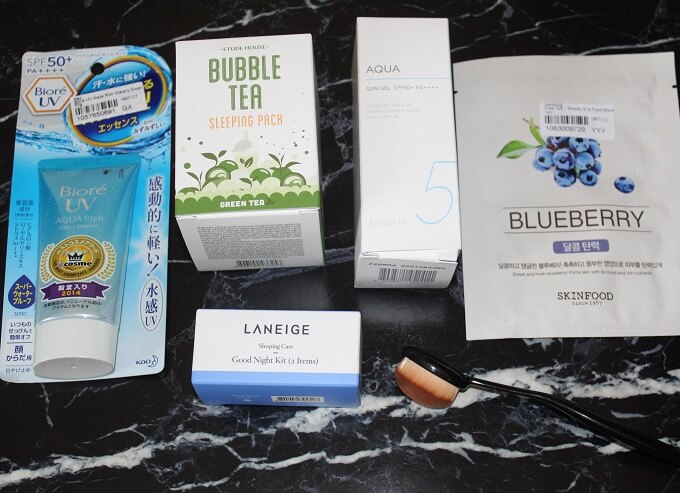 In order to avail of free shipping, I placed an order for around 3k. Here is what I bought.
Etude House Bubble Tea Sleeping Pack  Green Tea 100g  – Rs.850
Missha All around Safe Block Aqua Sun Gel SPF 50+ PA++++ 50ml  – Rs.785
Laneige Sleeping Care Kit: Water Sleeping Mask  15 ml, Lip sleeping Mask 3g – Rs.450
Biore UV Aqua Rich Watery Essence SPF 50+ PA++++ – Rs.650
12. Does Yesstyle give out free samples?
I'm not exactly sure of this. I received a free Beauty in a Food Sheet Mask. Yesstyle gives away one free product for the first 100 shoppers of each day. So I guess the sheet mask was a part of that. But no additional free samples were given.
Summarizing,
Pros:
Hassle-free shopping experience.
Wide range of products in various categories.
Affordable prices and good deals.
Good packaging.
Paypal payment option available.
Timely delivery.
One free product for the first 100 shoppers of the day.
Cons:
No proper tracking information.
No Cash on Delivery.
May be hit by Customs Duty.
My overall thoughts: I felt it was quite a good deal for me because the prices were low compared to Resellers here. Also, I didn't pay any customs, so I am happy with my purchase at Yesstyle.com. My package also reached me safely and promptly.
(Update as of 2021)
13. Do Yesstyle Ship To India?
Yesstyle was shipping to India earlier. That's how I made this purchase. But as of 2020, due to Covid, Yesstyle has currently stopped shipping to India. Hopefully, once the current scenario settles down, we are expecting them to resume deliveries.
You can always get Korean Beauty Products in India from Indian Based Websites Limese Connect, Daisy Skin Fix, BeautyBarn India, or any of these websites without any hassle.
Do share your experience shopping with Yesstyle.com in the comments section below.