Face masks have been used in the Indian beauty regime for generations after generations. I used to see my grandmother using Besan and Milk to make a paste and use it all over her body. It gave her a clean tan-free look every time. Although we have come a long way from kitchen recipes and pseudo nuances, I have to say using a face mask after a hot and tiring day, is still one of the luxuries I endure. Nowadays, face masks come in various types. From Sheet Masks to Peeling Masks, you just have to ask for what you need. They have different purposes from hydration to chemical exfoliation or just for a soothing experience. It can do all. In this post, we are going to talk about a range of the Best Face Masks in India that can do a lot of things.
Benefits of using a Face Mask:
There are different benefits to different face masks. According to their type, the benefits can range from:
Deep hydration and soothing.
Chemical and physical exfoliation.
Redness and Texture reduction.
Removal of excess oil and impurities.
Pore defining.
Reducing the signs of aging and many more.
Let's see what are the Best Face Masks in India.
Best Face Masks in India For Glowing Skin
Best Clay Mask:
Clay Masks are the most traditional type of face mask that has been used for centuries. Kings to Queens from several Kingdoms and generations used to bathe in clay so that they could stay younger. Clay Masks usually contain any of the different types of natural clays available on the Earth such as Kaolin Clay, Multani Mitti, and Bentonite Clay. They majorly help with oil and bad bacteria that are the root cause of acne formation on our skin. Using clay masks once a week can give great results. But don't forget to moisturize after masking, as eventually clays are drying products.
1. Innisfree Super Volcanic Pore Clay Mask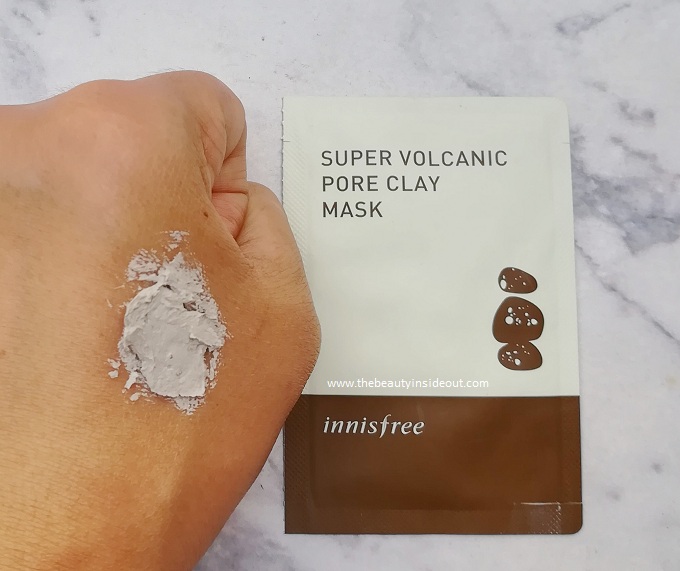 This product from Innisfree is probably "The Only" Clay mask that you'll need. Other than being a best seller worldwide and in Korea for a decade, it may also be the product we heard of when we first tried to capture what the beauty phenomenon actually is. It's one of the gentlest clay masks that pulls out impurities and gives you the clearest skin while also being non-stripping. This mask can be comfortably used by all skin types as it's not very drying.
Pros:
Good for every skin type. Even dry-skinned girls can use this.
Texture and pores look very defined and smaller.
Gives a relaxing and pleasing experience.
Skin looks very clean and sophisticated after masking
Least drying of clay masks.
Cons:
May not work on blackheads.
Price*: ₹935 for 100ml
Where to buy? Amazon.in
*price at the time of publication
2. The Derma Co 2% Salicylic Acid Clay Mask
The Derma Co Face Mask is a powerful clay mask containing 2% Salicylic Acid along with Kaolin Clay and Activated Charcoal. It dramatically reduces whiteheads and milia in just a few uses. The oil soluble Salicylic Acid deeply exfoliates within the skin thereby clearing the pores to give you a smooth clear skin. This mask also removes dullness bringing your skin to life with a healthy glow. This clay mask is particularly great for oily acne-prone skin as it helps with zapping zits and keeping acne at bay.
Pros:
Powerful mask for acne control.
Good for very oily skin as it brings out all the impurities and oil gunks.
Reduces whiteheads and sebaceous filaments.
Dermatologically tested and clinically proven.
Deeply exfoliates to give clearer skin.
Cons:
Quite potent so may not suit sensitive skin
Price*: ₹438 for 50 g
Where to buy? Amazon.in
*price at the time of publication
Best Gel Face Mask:
Soothing masks are mainly maintenance masks that have a bunch of goodness in them. They help with skin barrier, hydration, and moisturization. The main work of soothing masks is to cool off your skin after long days under heat. Unlike others, it doesn't make your skin sun-sensitive. They also help to fix your skin from irritations and inflammations.
3. Conscious Chemist Berry Bright Soothing and Calming Face Mask
This is a Niacinamide-based Face Mask, so it repairs skin barrier function and also brightens the skin. In addition, it also contains Cica Extract and Allantoin to relax the skin and cool it off like no other. The Berry Extract in it has antioxidant properties which are essential if you are trying to reverse sun damage and stress. After usage face looks clear and bright like you have slept for hours. This mask also. beautifully calms down pimple redness.
Pros:
Gel-based soothing mask.
Contains Niacinamide and other great ingredients.
Berry has anti-inflammatory properties.
Does have a great soothing effect that lasts 24 hours.
Helps with painful pustules as it calms down the skin.
Relatively affordable and often comes in sale.
Cons:
Niacinamide may not suit all.
Price*: ₹389 for 50g
Where to buy? Amazon.in
*price at the time of publication
4. I'm From Honey Mask
This is an extraordinary face mask for dry dehydrated skin. Honestly, all I'm From Face Masks are great and they are widely loved all over the world. This Honey Face Mask can make your skin so smooth, plump, and hydrated. The gel-based face mask contains 38% real honey and is so soothing and calming on the skin. It relieves itchiness, soothes inflammations, and calms down angry acne. This is definitely one of the must-have moisturizing face masks if you can get hold of it.
Pros:
Best for dry and dehydrated skin.
Gives a spa-like silky finish in just 15 minutes.
Very hydrating and smoothing.
Has mild exfoliating effects.
Has antioxidants that are good for the skin.
Cons:
Not easily available.
Price*: ₹1499 for 30 g
Where to buy? Amazon.in
*price at the time of publication
Best Ayurvedic Mask:
Ayurveda has been of cultural significance in India since ancient times. From its medicinal practices to skincare abilities, it is one of the reasons Indians are known culturally worldwide. Now when it comes to skincare and haircare, Ayurveda is still one of the most potent forms of use. It really can deliver the magic when used responsibly. Here are some of my favorite products to choose from:
5. Shesha Naturals Ayurveda Kasturi Manjal
This is a traditional, natural face mask for glowing skin. Made with the goodness of organic Turmeric Root this face mask from Sesha Ayurveda gives you an acne-free and pigmentation-free face from the first use. It reduces acne marks, and blemishes and can even be used as a spot treatment for pimples. This face pack when used mixed with curd can give you the softest and smoothest skin. Kasturi Manjal has natural antioxidant, antibacterial, and anti-inflammatory effects, so it's great for all skin types.
Pros:
Made with 100% Natural Ingredients
Turmeric has antibacterial and anti-inflammatory properties.
Makes your skin tan-free and bright visibly.
Doesn't make your skin dry.
Pores look smaller and it revitalizes your skin.
Does not stain yellow, unlike most turmeric face packs.
Great for oily, acne-prone skin.
Cons:
Can sting if your face is sensitive.
Price*: ₹340 for 25g
Where to buy? Amazon.in
*price at the time of publication
6. Kama Ayurveda Suvarna Haldi Chandan Brightening Face Mask
Kama Ayurveda is one of the trusted brands when it comes to natural Ayurvedic skincare. This premium, luxury face mask made with Turmeric, Sandalwood, Multani Mitti, and Oatmeal is a 100% Natural and Vegan Face Mask. It's a clarifying and illuminating face mask that makes your face bright and glowing. It's a finely milled powder so it's very gentle on the skin while also giving a thorough cleansing feel on the skin. If you are up for a splurge, this is worth giving it a shot.
Pros:
100% Natural, Vegan and Cruelty-Free
Haldi and Chandan are great for acne control
Soothes your skin and gives a natural glow.
Skin looks tan-free and glowing like you have done a facial.
Doesn't dry your skin.
Redness is completely gone when you are using this.
Cons:
Expensive
Price*: ₹1095 for 25g
Where to buy? Amazon.in
*price at the time of publication
Best Peeling Solutions:
Peeling Solutions comes in a serum-like texture which can be used before moisturizers and after toner. It should be taken off with clean water after 10 minutes. It works with dead skin cells chemically and makes it go away without hampering the skin like physical exfoliation. It doesn't make tiny scratches on the face and is one of the most recommended procedures by dermatologists and estheticians. Although it has many good pros one has to understand that it will make our skin sensitive to the sun so sunscreen every day is mandatory.
7. The Ordinary 30% AHA 2% BHA Peeling Mask
This is the OG Peeling Solution that caused a huge skincare debate. Some had the time of their lives while some burst out in pain. Needless to say, it's one of the best face masks that shows some actual results. We do have to warn you that this is not at all beginner-friendly. So use it with caution.
The Ordinary Peeling Solution contains a whopping 30% AHA and 2% BHA which is the highest concentration possible. It can save you from your acne problems forever or create the most burning red face with a volatile broken skin barrier, it depends on you and how you use it. Use it sparingly for no more than 5 minutes before your big day to flaunt that bright glowing skin.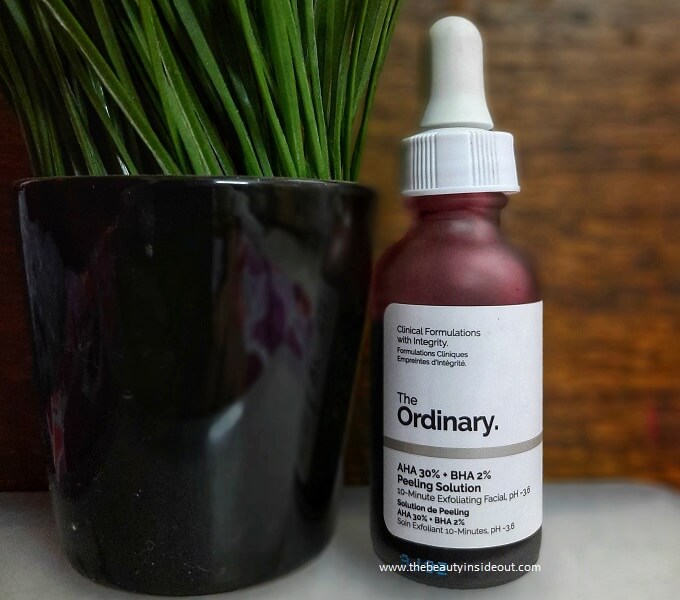 Pros:
Highest Concentration of AHA and BHA possible.
Makes your skin incredibly clean and your pore looks smaller.
Gives your skin a natural glow.
Helps with acne and oil control.
Cons:
It is very easy to overdo with this product leading to sensitized skin
Price*: ₹1099 for 30ml
Where to buy? Amazon.in
*price at the time of publication
8. Minimalist 25% AHA + 2% BHA + 5% PHA Peeling Solution
Our own Ordinary dupe from India came with a much more sophisticated version of the peeling solution. This Minimalist Wash Off Mask doesn't make your skin that dry or vulnerable but still it is one of the most potent Peeling solutions. One should use it with the utmost care and use sunscreen like she's crazy in the day. The mask gives a saloon-like glow and radiant skin like you have done an expensive facial. If you have experience using exfoliating products in your skincare routine, we highly recommend this for instant glow-boosting. Needless one has to understand that continuous hydration and protection is the key to protecting the results and keeping it that way.
Pros:
Affordable version of the Ordinary.
Always available in sales.
Doesn't dry your skin like the ordinary Peeling solution.
Makes your skin glow and radiant.
Works great with texture and pores.
Cons:
Strictly not for sensitive skin and beginners.
Price*: ₹664 for 30ml
Where to buy? Amazon.in
*price at the time of publication
Best Sheet Mask:
Another obsession from K-Beauty. Just wrap it over your face and relax. You get an extra boost of hydration and moisturization in just 15 to 20 minutes. Sometimes it has a bunch of extra properties as well. Depending on the sheet mask, some have vitamins and some have hyaluronic acid to boost up the plumpness. But don't overdo it just yet. Because the sheets are designed to absorb moisture from the surface, so if the sheets get dry and your skin gets moisturized then it will pull out moisture from your skin as well.
9. L'Oreal Paris Revitalift Crystal Micro-Essence Sheet Mask:
This sheet mask from the Loreal Paris Crystal Micro Essence Range can give you the same glowy skin, you would want to get from your expensive highlighter. Available worldwide in most online and offline stores, this sheet mask makes your skin smooth and takes away roughness caused by daily hazards. It also has a lightweight texture so oily skin girls can use it. Loreal's patented formula is supposed to give you 10 layers deep into hydration. Although we as a consumer can not prove that I must say it is a good product to buy when it is on sale.
Pros:
Good for instant plumping.
Great for someone who is looking for lightweight texture.
The face looks naturally glowy.
Suitable for all skin types.
Available everywhere.
Cons:
Fragrance may not be liked by all.
Price*: ₹127 for 25g
Where to buy? Amazon.in
*price at the time of publication
10. Klairs Midnight Blue Calming Sheet Mask
This sheet mask from Dear Klairs is as good as its counterpart "Midnight Blue Calming Cream" when it comes to calming the skin. If you are prone to constant skin irritations or someone who experiments with skincare, this is a great sheet mask to have handy. It's extremely soothing and repairing. It heals irritated, troubled, and sensitized skin. It's formulated with Erythritol that cools down the skin, Dipotassium Glycyrrhizate that has anti-inflammatory and wound healing properties, and of course, the soothing star Centella Asiatica. This mask is excellent for skin sensitivity.
Pros:
Excellent for sensitive skin.
Extremely soothing.
Calms irritations, redness, and inflammations.
Free of artificial fragrance, color, and other synthetics.
Vegan & Cruelty-Free.
Cons:
Availability
Price*: ₹200 for one sheet mask
Where to buy? Limese.com
*price at the time of publication
Best Sleeping Mask:
Sleeping masks are essentially moisturizers that wrap all the goodness you just put in your skin like serums, toners, and treatments. That is why one should wash it off the mask in the morning as your skin needs to breathe as well, otherwise it can lead to some pimples. So eventually if you are looking for some products that can take extra care of your hydration and moisturization all night long without anything extra heavy, then sleeping masks must be your go-to product.
11. Laneige Water Sleeping Mask
The OG KBeauty sleeping mask from Laneige. I think we all deliberately got to know about sleeping masks from this best-selling product. It was and still is one of the most lightweight sleeping masks which gives one a boost of hydration. The texture of the Laneige Sleeping Mask is a dream; the pore looks smaller and the skin looks so smooth and plump. So may I ask what more you need? Toodles!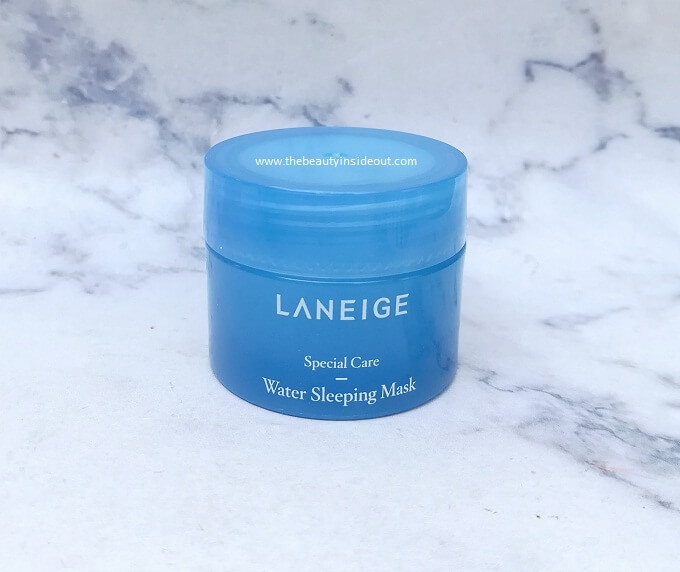 Pros:
Very lightweight texture.
Doesn't feel sticky.
It absorbs into the skin within 5 minutes
Treats uneven and rough texture.
The pore looks smaller when using this.
Cons:
A luxury product, so it's a bit on the pricier side.
Price*: ₹850 for 25ml
Where to buy? Amazon.in
*price at the time of publication
12. Klairs Freshly Juiced Vitamin E Mask
Enriched with vitamin E and Various plant extracts this sleeping mask from Klairs is very popular in the beauty scene. It promotes regeneration and brightening. The bouncy pudding texture is unique to use and blends into the skin completely. It also has a fresh fragrance that calms down your face.
Pros:
Visibly brighten the skin and it looks plump and healthy.
Vitamin E helps with the broken skin barrier.
Very hydrating and moisturizing.
The packaging looks great.
Cons :
Can be heavy for oily skin types.
Price*: ₹1758 for 90ml
Where to buy? Amazon.in | Limese.com (Use Code: TBIO for 10% off)
*price at the time of publication
Best Peel Off Masks:
Peel Off Masks are not really recommended by many skincare experts. While they do give a placebo effect of pulling out impurities from the skin, they are not really good for the skin health to use regularly. Typically peel-off masks stretch and pull out the skin fastening the appearance of wrinkles and fine lines. If you are curious about peel-off masks, there is no harm in trying one. Almost all peel-off masks are more or less similar, you can easily pick one. A few brands that are popular among consumers:
We hope you found the best face masks that suits your needs through this article. Although face masks are not exactly necessary unlike sunscreen and moisturization they give an extra oomph to one's skincare regime. It feels luxurious like you are taking care of your skin to the core. Use once or twice in a week depending on your time and see the glowy results for a while.