Today I will be reviewing the chemical exfoliator that took the skincare market by storm. It is the AHA+BHA peeling solution from The Ordinary. This chemical exfoliator was one of the first few products that was launched by this brand. My journey with this bottle of magic started with my sister. She has oily skin with problems of blackheads and whiteheads and other forms of exfoliations, which we generally know as facial scrubs only made her skin dry and irritated. It was then that we came across this product and since then it has been an essential product in our skincare routine.
Product Description:
The AHA+BHA peeling solution is a 10 minutes powerful exfoliation to revitalise and tone your skin instantly. The 30% AHA (Alpha Hydroxyl Acid) and the 2% BHA (Beta Hydroxyl Salicylic Acid) has a carefully curated pH level for utmost efficiency. It works by deeply penetrating and exfoliating the surface layer of the skin to give it a brighter and clearer complexion. It reduces pore congestion and blemishes. The hyaluronic acid helps in eliminating any sort of dryness or discomfort. Moreover it is free from any from of silicon, alcohol, oil or gluten.
Ingredients

:
Glycolic Acid, Aqua, Aloe Barbadensis Leaf Water, Sodium Hydroxide, Daucus Carota Sativa Extract, Porpanediol, Cocamidopropyl Dimethylamine, Salicylic Acid, Potassium Citrate, Lactic Acid, Tartaric Acid, Citric Acid, Panthenol, Sodium Hyaluronate Crosspolymer, Tasmannia Lanceolata Fruit Extract, Glycerine, Pentylene Glycol, Xantham Gum, Polysorbate 20, Trisodium Ethylenediamine Disuccinate, Potassium Sorbate, Sodium Benzoate, Ethylhexyglycerin, 1,2-Hexanediol, Caprylyl Glycol.
Where to buy?This product is available at lookfantastic.co.in and at Amazon too. The retailing price of the product is Rs.614 for 30ml.
The Ordinary AHA+BHA peeling solution Review:
Packaging: The solution comes is a 30ml sturdy, thick glass bottle with a dropper. The glass bottle is made up of recycled glass and is reusable after the product is over. The packaging is very compact and leak proof. The bottle is quite travel friendly due to its size and sturdiness. The dropper makes it very easy to use and helps in preventing contamination.
Colour & Texture: The Ordinary Peeling Solution has a serum like consistency which makes it very easy for application. No extra brush or spatula is required. The solution is red in colour which reminds me of beetroot juice.
Fragrance: The solution has a little acidic smell which is not drool worthy but not something unbearable too. The smell is very mild and not overwhelming.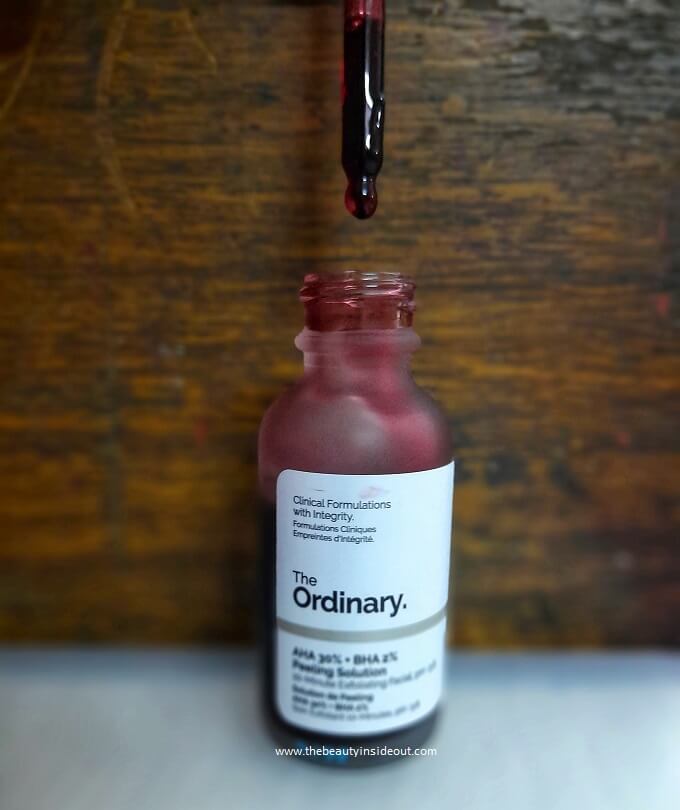 My experience:
Let's start off by saying that I was very sceptical and scared to try this product. But my love for trying this brand encouraged me and I am not disappointed. This is by far the best exfoliator that I have used. The dropper and its serum like texture makes it so much easier for even application. To apply this exfoliator it takes simple preparation of cleaning the face and drying it properly. Application has to be on a dry skin as this solution is comprised of acids and it may lose its efficiency if it comes in contact with water as it may get diluted. It needs to be kept on for 10 minutes by the clock (Do not keep it longer than 10 minutes). Wash it off and you can follow it with your regular skincare regime. Make sure not to apply it on broken skin.
I have a combination type skin and this product just worked wonders for me. It unclogged my pores and gently exfoliated the surface layer of my skin without me having to torture my skin by applying all those harsh face scrubs. My skin was visibly clear and soft after the first use. Unlike most other scrubs and exfoliators it DOES NOT leave my skin dry. I believe the hyaluronic acid present in this product makes my skin soft and supple after use. This product successfully does what exfoliators promise to do and more. Once a week usage of this product in my skincare routine has made a huge difference. It has been 7 months since I have used this product and it has never faltered, be it in summer or winter.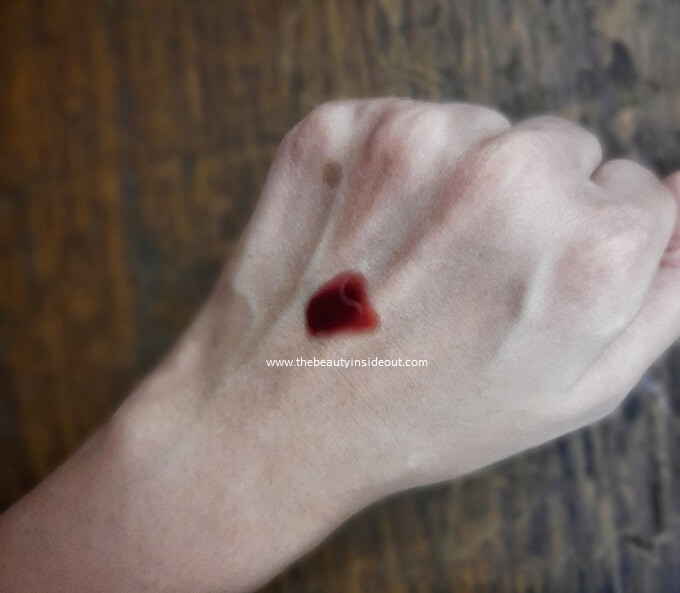 Pros

:
Gentle on the skin, yet very effective.
Very easy to apply.
Hyaluronic acid keeps the hydration in the skin locked.
Visibly clearer and brighter skin.
Vegan.
No silicones, alcohol, oil, gluten.
Cons:
Product is towards the higher end.
Product is less for the price.
Not suitable for sensitive type skin.
Ratings: 4.5/5
Would I recommend?The product just like every other has its flaws but they are almost negligible with comparison to what it does. I would highly recommend this product. It is worth every penny.
Guest Author: Brishti Mondal