L'Oreal Paris has recently extended their hair care range by including Rapid Reviver Deep Conditioner. A very similar deep conditioner was there in L'Oreal's international Elvive range. Now, it is also available here in India. This is a new generation conditioner that required no wait time to enhance the effectiveness. I have always had good relationship with L'Oreal hair care. They are budget-friendly. Plus, the shampoos and conditioners from L'Oreal fare my dry hair really well. I have recently purchased L'Oreal Paris Total Repair 5 Rapid Reviver Deep Conditioner to try out. This is supposed to be used after shampoo, in place of your regular conditioner. I am using it in combination with L'Oreal Total Repair 5 Shampoo and Hair Serum. I wanted to try the whole range together to see if it actually works or not. Here's my take on Total Repair 5 Rapid Reviver Deep Conditioner.
Product Description:
L'Oréal Paris Rapid Reviver range of Deep Conditioners helps revive hair in just seconds! It is the 1st daily conditioner that provides 2X more repair and 2X less breakage to your hair. L'Oréal Paris Total Repair 5 Rapid Reviver is infused with the power of micro-ceramide serum which helps repair damaged hair with 2 times more visible results. It revives dry and damaged strands and leaves the hair feeling renewed.
Ingredients: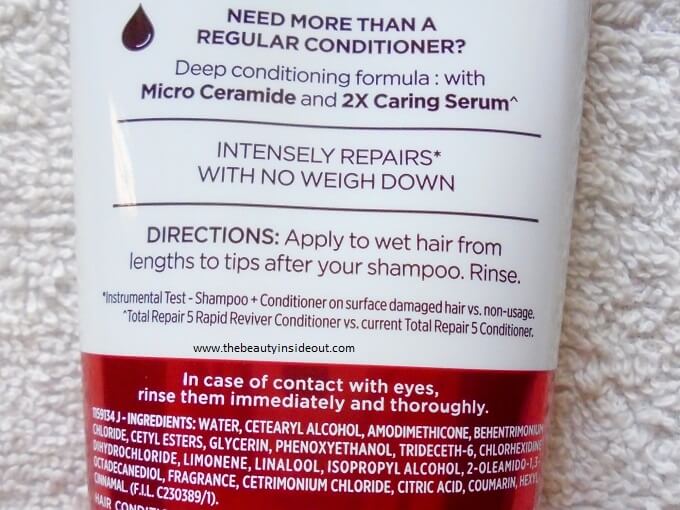 Price: Rs.240 for 180ml
Where to Buy? This conditioner is available both online and offline. For offline purchases, you may visit your nearest departmental store, beauty store or any leading grocery store. You can also get this online from nykaa, amazon, myntra etc. I haven't seen this on discounts offline yet. But L'Oreal is running some good introductory offers on this newly launched deep conditioner.
L'Oreal Paris Total Repair 5 Rapid Reviver Deep Conditioner Review
Packaging: L'Oreal's conditioners generally have inverted bottle packaging. But, L'Oreal's Rapid Reviver deep conditioner comes in a Tall squeeze tube. The new packaging looks quite attractive. It has the same red-white colour combination like any other Total Repair 5 series products. This new conditioner comes in just one size; the 180ml one. This huge tube is not at all fit for travel purpose. However, it's both sturdy and leak-proof.
Color & Texture: The conditioner looks pure white in colour and its consistency is medium. It is a cream conditioner with oily texture. I have used Total Repair 5 range's standard conditioner. This new formula is richer but at the same time lighter in texture. The brands claims, this conditioner does not need leave-in time. It is not silicone free but it's completely free from parabens.
Fragrance: Every hair care range from L'Oreal has an unique fragrance. The Total Repair range products smell sweet and floral. But there's a hint of bubblegum freshness in the fragrance somewhere. The new Rapid Reviver conditioner is far apart from the old scent. This too smells floral but the smell has a warm oriental touch to it. The smell comes strong at first but just a hint of it lasts after application.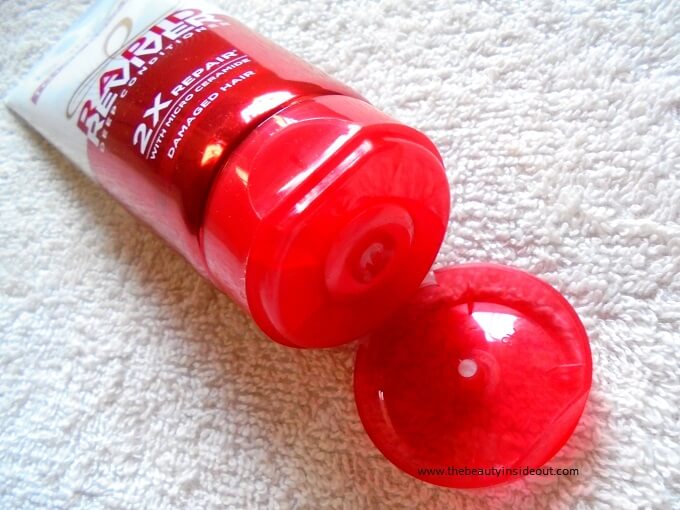 My Experience:
I have already used L'Oreal's Total Repair 5 range shampoo, conditioner and serum quite a few times in the past. I even used the spa Masque from this range. So, I had certain expectations from this conditioner. I thought it would be thicker; like how we usually see spa creams. To my surprise, the formula came out thin and fluffy. The consistency reminds me of whipped creams. While applying it felt very oily. The brand mentions about 'no leave-in time'. So, for the first time I washed it off after 30-40 seconds. As my hair got dry, it became quite frizzy. I applied the serum too but the frizzy-ness did not go away. I thought it was a bummer product.
However, for the next application, I took a little extra product and kept it for 3-4 minutes on my hair. This is my preferred wait time for any regular conditioner. This time my hair felt really nice after drying. The hair was smooth. There was a little frizzy-ness but a few drops of serum took care of it. My hair is inherently frizzy due to its relaxed texture. Even the spa creams can't take care of the unruly hair. Considering this, the effect of this Rapid Reviver seems good. Due to the oily texture, this conditioner works really well as my go-to shaving product. I apply a little bit on the legs; it helps the razor to glide smoothly.
It also helped my curls to form better. Apart from the presence of silicone and false claims about 'no leave-in time', I find this a nice product for my dry hair.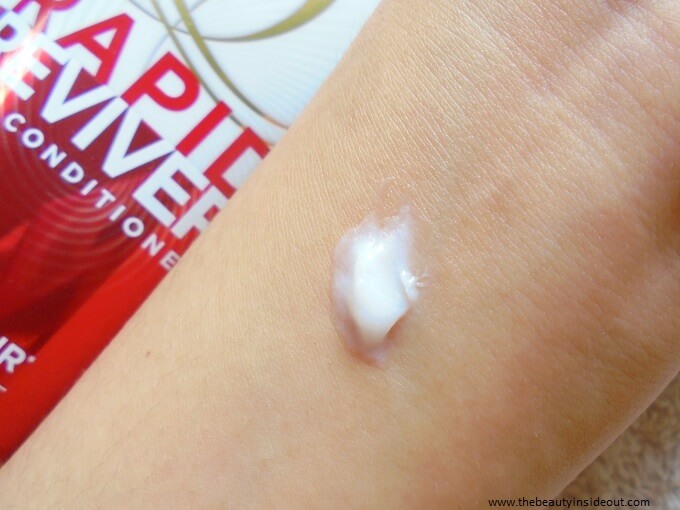 Pros:
Deeply conditions hair within minimum time.
Does not weigh down the hair.
Light formula; easy to wash off.
Works for all hair types.
Makes hair manageable and less frizzy.
Makes hair smell fresh.
Cons:
Not free from silicones.
Could have been more nourishing.
Only one size available; a trial size would have been great.
Rating: 3.75/5
Would I Recommend? L'Oreal Paris Total Repair 5 Rapid Reviver Deep Conditioner is best for those who don't have enough time to wait 5-10 minutes in the shower just to let their conditioner do its job. It manages my unruly hair quite well, reduces tangles and hair breakage while combing. I would recommend this to people with dry and fragile hair.