Today I will be discussing my new-found skincare buddy L'Oreal Revitalift Crystal Micro Essence. I am not used to any light skin liquid other than toner. I was quite curious to try out some essence to see what an essence actually is. Essences are quick absorbing toner liquids prepared to take care of certain skin issues. This Crystal Micro Essence is for accelerating skin renewal. This is basically a salicylic acid-based mild exfoliator with added benefits of Centella and vitamins. Salicylic acid is extremely skin-friendly. It is a gentle chemical exfoliator that peels away dead skin and helps revealing fresh skin from within. It is also a great ingredient to clear out clogged pores. My skin performs well with this ingredient in general. Let's check out how this crystal essence worked on me.
Product Description:
L'Oreal Revitalift Crystal Micro-Essence is the latest skincare innovation enriched with micronized technology to reveal your crystal clear bright skin. Its active ingredients like brightening salicylic acid accelerate skin renewal and mildly exfoliates to refine pores and skin texture. Packed in skin refining droplets Revitalift Micro-Essence penetrates up to 10 skin layers* to reveal your bright, glowing and youthful skin. A few drops of Micro-Essence daily will give you a radiant, hydrated, and glowing look.

L'Oreal Revitalift Crystal Micro Essence Ingredients:
Salicylic Acid: Exfoliating agent which helps to fight acne and regulate excess sebum production. Excellent for oily skin.
Madecassoside: Soothes skin and promotes healing of the skin. Good for repairing damaged skin.
Adenosine: Anti-Aging ingredient that prevents signs of aging such as fine lines, wrinkles, and pigmentation.
Apart from the above good ingredients, the Crystal Micro Essence has Alcohol, Fragrance, and Potential Allergens.
Where to Buy? This essence is available worldwide both online and offline. You will get this in all leading beauty stores and grocery stores. Look for this on Amazon, Nykaa, Flipkart, etc. for online purchase. This new launch product is currently on the introductory offer. Do check out for good discount offers.
L'Oreal Paris Revitalift Crystal Micro Essence Review
Packaging: This essence comes in a transparent colorless bottle of square shape. Most of L'Oreal's serums and essences have this kind of packaging; just the color codes are different. This Crystal Micro-essence comes in 3 sizes; 22ml, 65ml, and standard 120ml. The essence bottle comes packed in a silver cardboard box. Both the outer box and the bottle label mentions all essential details like the ingredients list and usage guide. If you lose the outer pack, you won't lose the expiry date and other details.
Color & Texture: This is a transparent and colorless watery liquid. The consistency is very thin and runny. You won't be able to tell the difference between a drop of water and a drop of this micro-essence. That is the reason, it gets absorbed into the skin quickly. It does not leave a sticky residue behind.
Fragrance: The crystal micro essence has a faint floral fragrance. The fragrance is so light that it wears completely off within seconds of application. I don't like heavy fragrances in toners and serums. So, I really enjoy this almost fragrance-free essence.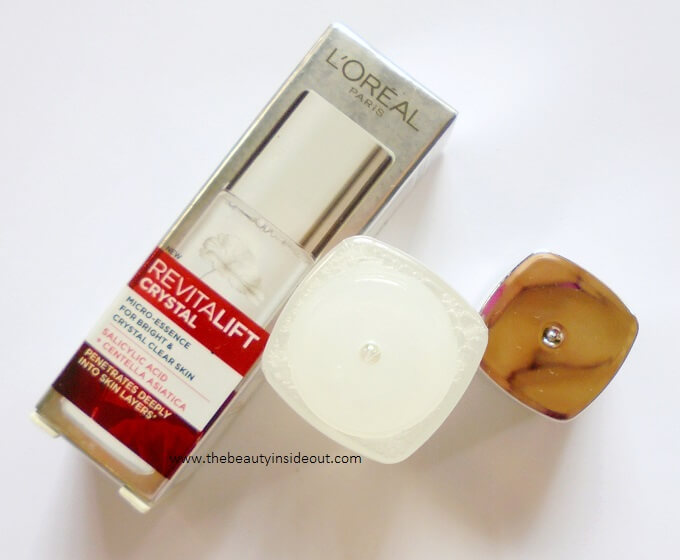 My Experience:
Revitalift range by L'Oreal is slightly on the expensive side for a common drug-store skincare person. Generally, L'Oreal serums come in 120ml size only. But this particular essence has been launched in three sizes. The one I bought is the travel size. I really appreciate L'Oreal's effort in making this small pack. This way budget-beauty lovers like me can try it too.
Before digging deeper into the essence, let me tell you my current skin condition. I have combination skin that stays on the oily side. My skin is also very acne-prone skin but I do not consider it sensitive. I used to use regular scrubs quite frequently. This habit worsened my acne situation. I have shifted completely to the Neutrogena's salicylic acid-based Oil-Free Acne Wash and my skin condition improved a lot. L'Oreal's Crystal Micro Essence is also a salicylic acid-based product. So, I use it once a day through the usage guide mentions two times. I don't want to over-exfoliate my skin.
This essence comes under the Revitalift anti-aging range. But, the formula is suitable for every age group. I am using it continuously for 3 weeks now. I apply it on freshly washed skin, taking only 5 drops of it, and gently pat it into my skin. My skin is familiar with salicylic acid so it does not cause any irritation or redness as such. If you have never used any skincare acid ever, you should start with just 2-3 drops. Then increase the amount as per the skin condition.
Regarding the performance of this serum I would like to say, it does work but very slowly. For the first two weeks, I could see no change in my skin. But, from the third week, my skin feels smoother. I have textured skin due to clogged pores. It has helped to smoothen it out to some extent. I still have plenty of bumps and zits. I'll keep on applying this. I love how gentle the formula is. Salicylic acid products cause flaky dry skin sometimes. I follow it up with a moisturizer to avoid that.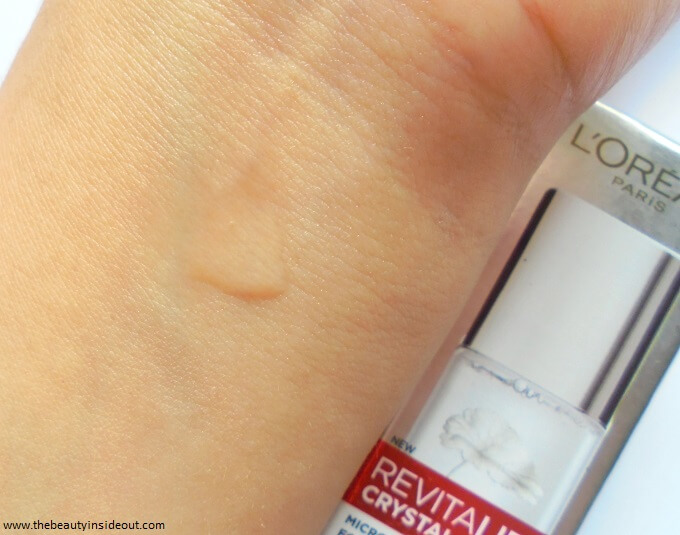 L'Oreal Revitalift Crystal Micro Essence Benefits:
L'Oreal Revitalift Crystal Micro Essence is good for oily skin and those with acne.
The salicylic acid in it gently exfoliates the skin to control acne breakouts.
Gentle formula did not irritate my skin.
It is light on the skin and goes well with other products in my routine.
Unclogs pores and smoothens skin with regular use.
Reduces dullness to some extent.
It is available in various sizes. So you can buy the smaller size for trial and if it suits you can invest in the bigger bottle.
L'Oreal Revitalift Crystal Micro Essence Side Effects:
L'Oreal Revitalift Crystal Micro Essence causes purging in the initial few weeks. Though the skin improves a lot after that, some might be alarmed with the outbreak of pimples on their skin. This is a common trait with salicylic acid or if you are new to exfoliation. You don't have to worry unless it persists even after two weeks.
The Micro Essence contains alcohol which causes dryness and signals the skin to produce excess oil. Alcohol in skincare also disrupts the skin's protective barrier. But then not all people are allergic or avoid alcohol in their products.
My Rating: 4.75/5
Would I Recommend? I would definitely recommend this skin-friendly and budget-friendly salicylic acid-based essence to everyone. People with oily, acne-prone skin will love this even more.
Where to buy it?