Here comes the review for Vaseline Ice Cool Hydration Instant Cooling Gel Lotion. I am a sucker for body lotions. Since I have acne-prone skin, I can't go too wild with face care products. But my body skin is fairly normal. It's a big reason why I take an interest in every budget-friendly body care product. I have tried all sorts of body care items; from the bath, gloves to body gels. Vaseline is everyone's favourite. I am not an exception as well. When I see something new from them, I stay alert for a good deal. Offers and discounts are my things, you know! This summer Vaseline extended their body care range to include two new gel-based body products. One is a gel body cream and the other is this Ice Cool Hydration Instant Cooling Gel Lotion. This lotion promised to provide up to 3 degrees cooling feel. Check out the detailed review to see if it's true or just a fad.
Product Description:
Introducing the Vaseline Ice cool Hydration lotion which rapidly cools the skin by -3 degree C. This gel lotion with non-sticky and lightweight formula is perfect for the summer as it soothes skin from heat and dryness. The lotion helps hydrate, cool, nourish and refresh the skin. This gel lotion is crafted for the hot and humid climate so you can say Hello to cooler and happy skin in summer with the Vaseline Ice Cool Hydration lotion- an escape from discomfort in hot & humid summers.
Ingredients: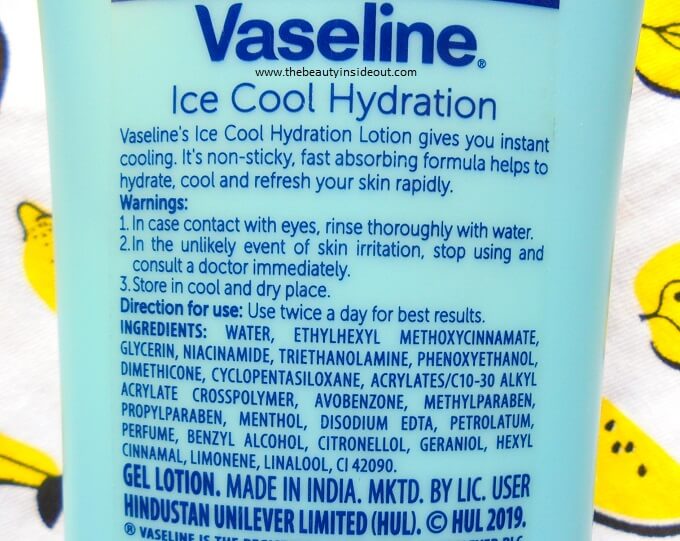 Price: Rs.345 for 400ml
Where to Buy? This body lotion is available both online and offline. For online purchase, you can visit amazon, nykaa etc. Look for this gel lotion in leading grocery stores, local shops, drugstores or beauty shops if you like offline shopping. This is a very recent launch; it came out just a month back. Check out for introductory offers. I bought mine at a 20% discount!
Vaseline Ice Cool Hydration Instant Cooling Gel Lotion Review
Packaging: The gel lotion comes in standard Vaseline lotion packaging. It's the same tall square shape pump bottle with Vaseline's famous logo at the front. The Ice Cool range has been colour coded with pastel blue. So, the bottle's body is opaque blue. I have bought the biggest (400ml) size. It's a family pack; not for travel purpose. This lotion is also available in 100ml and 200ml packs. Only the biggest pack has pump packaging. Others come with flip-top cap. Last year Vaseline improvised the pump. The previous pump was not that sturdy. The new one is not only sturdy but also has a spin-lock to prevent spillage.
Color & Texture: Vaseline's new Ice Cool Hydration Lotion is pure white in colour. Its consistency looks creamy and medium-thick at first. As you start spreading it on the skin, it turns out to be gel-like. Apart from Vaseline's Lavender and Green Tea lotions I have tried all variants. This Ice one is lightest among the whole range. It does not take more than a few seconds to get absorbed into the skin. The texture is non-greasy as well.
Fragrance: Fragrance is definitely a point of importance for me when it comes to body care products. I love light to moderately scented lotions. This one falls in that category. Aqua fragrance is the main note of this lotion. There's a hint of floral in the base note as well but it's not like the typical sweet floral scents. Overall, the scent is quite unique considering other Vaseline body lotions.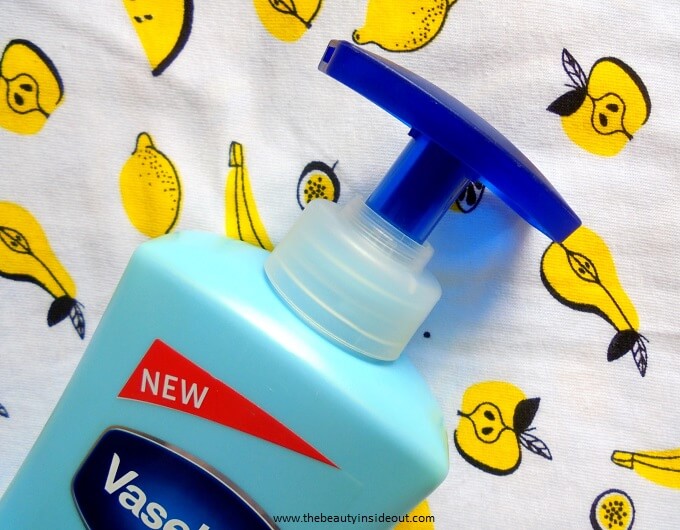 My Experience:
I love using cooling talcs and body washes in summer. That's why I got attracted by the '-3 degrees cooling feel' of this gel lotion. I have been using this lotion for 3-4 weeks now. Let me burst the bubble first. It provides an intense cooling sensation after application. But, the cooling feel starts to wear off after 5-7 minutes. Does that mean it's an ineffective lotion? No, it isn't. I live in an extremely humid place. Sweat is our inevitable buddy during summers. The lotion is very light on my skin. It keeps the skin hydrated all day and that too without greasing up. The fragrance feels really soothing. I have normal body skin but my mom's skin is sensitive. It did not irritate our skin; no redness, no clogged pore bumps or body acne. I can happily conclude by saying, this is one of the finest summer lotions for summer just the cooling feel is short-lived.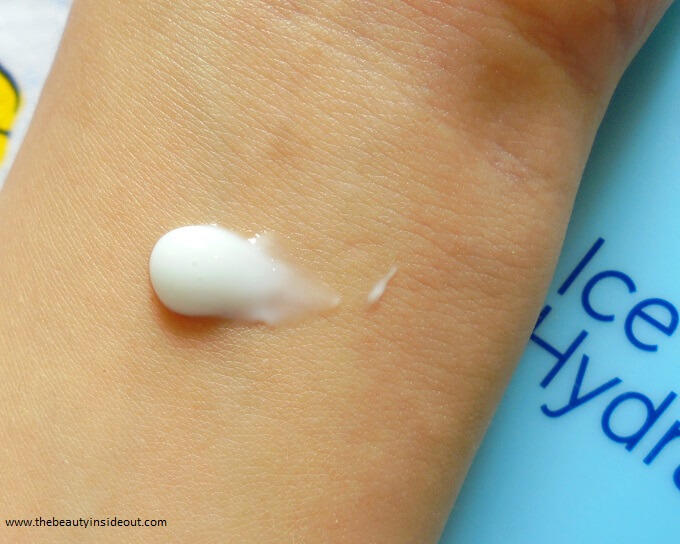 Pros:
Light gel body lotion for all skin types.
Summer lotion with cool aqua fragrance.
Provides intense cooling feel to the skin for the initial 5-7 minutes.
Feels weightless and non-greasy.
Nourishes the skin.
Available everywhere.
Cons:
Contains paraben.
The cooling sensation lasts only for the initial few minutes.
Rating: 4/5
Would I Recommend? If you are looking for a light summer lotion and love aqua fragrance, this lotion is for you. The lotion does not sit on top of your skin and cause stickiness. People with any skin type will find it nice. Don't expect lasting cool feel, you'll be disappointed!