Spring is almost ready to say for this year and summer is approaching day by day. Summer is the most difficult time for our feet. We prefer open footwears to stay sweat-free but these shoes expose our foot skin to environmental damages even more. The result is oftentimes the unpleasant looking rough, scaly, tanned and aged looking feet which nobody desires. Salon pedicures done by professionals can reverse the situation to some extent but these treatments are out of budget for many of us. With just a few products at hand, we can get the same spa effect at home. Just follow the simple DIY steps and see the change yourself!
Why should You Try this DIY Foot Spa?
This foot spa will provide a rejuvenating luxurious spa experience at home. Other than that, it has certain benefits.
Rough Feet No More: If you have rough feet that is on the verge of cracking, this foot spa is a must for you. This spa removes the stubborn callused skin sitting on top and reveals fresh skin from within. You will definitely get the same 'soft feet effect' like a costly chemical foot spa treatment.
Zero Foul Odour: Accumulation of bacteria and fungus is a common problem for the feet. This results in foul smell and inflammatory skin conditions. This foot spa treats the root cause of smelly feet. The foul odour won't come back if you maintain regularity with this.
Get Rid of Tan: This foot spa calms down the sun-damaged skin and helps in clearing out the dullness caused by tanning. The pack of his spa regimen contains soothing ingredients to remove tan gently.
Detoxifying Treatment: Foot soaking is a great way to detoxifying the body in general. This spa uses sodium-rich salt which adds the power of detoxification to this home-spa.
Budget-friendly & Chemical Free: This spa treatment uses only the kitchen ingredients that are of chemical-free food grade. Naturally, this soothing and brightening spa treatment will come way cheaper than any salon spa treatment.
2 DIY Recipes to Make a Foot Spa At Home
Exfoliating Spa Scrub: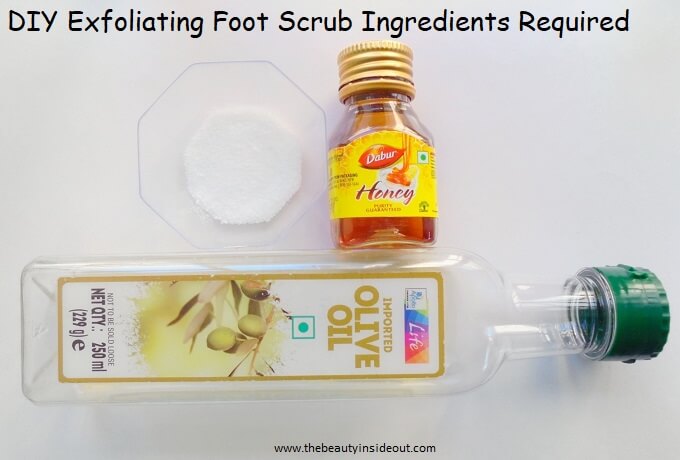 Ingredients & Their Benefits:
Table Salt: The scrubbing action in any exfoliator comes from a granular ingredient. Here we are using salt to create the grittiness. Salt scrubs have maximum scrubbing effect as salt crystals are quite hard and scratchy on their own. The rough and hard skin of our feet needs such heavy-duty scrub granules. Regular walnut, apricot or even coffee granules often fail to scrap off the dead skin from the feet. Table salt is the most common salt and it is readily available in each and every kitchen. Plus, table salt has plenty of sodium content which helps in detoxification and rejuvenation of our body. So, we are using table salt here. You may use Epsom salt, pink salt or any other mineral or sea salt of your choice.
Olive Oil: Scrubs need a moisturizing base to create a slip. Otherwise, the rough scrub granules might hurt and cause microtears in the skin. Fat is the reason we are using olive oil here. Olive oil contains plant-based fatty acids that nourishes the skin, softens the dead cells and creates a protective coating on freshly scrubbed skin. It prevents redness or irritation caused by vigorous scrubbing. You can use any natural oil like coconut or almond oil in place of olive oil.
Honey: Honey is an emollient moisturizer for the skin. It helps in retaining the skin's moisture balance and works as an anti-inflammatory agent for skin. our foot skin gets exposed to environmental damages. Honey soothes the damaged sun-burnt skin. It also prevents bacterial outgrowth and maintains the skin's pH balance.
How to Make the DIY Foot Scrub?
Take 1 tablespoon salt in a container.
Add 3/4 tablespoon olive oil to it. You May add more olive oil later if the scrub feels scratchy on your skin. It will reduce the exfoliating power of the scrub.
Finally add 1/2 teaspoon honey to it and mix everything. The scrub will be ready to use.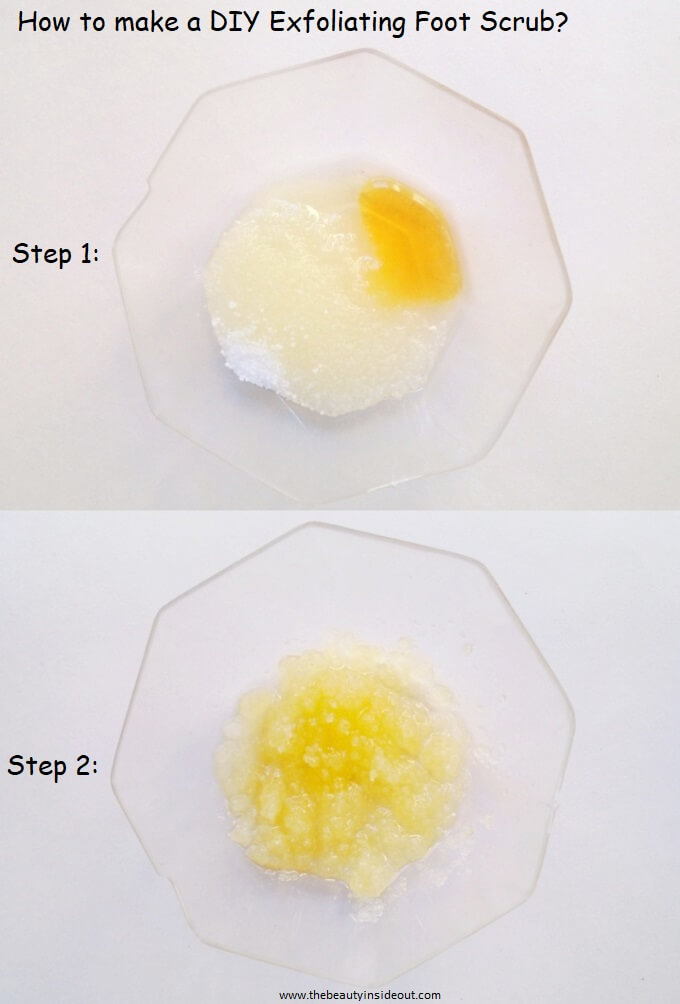 Detan Foot Mask: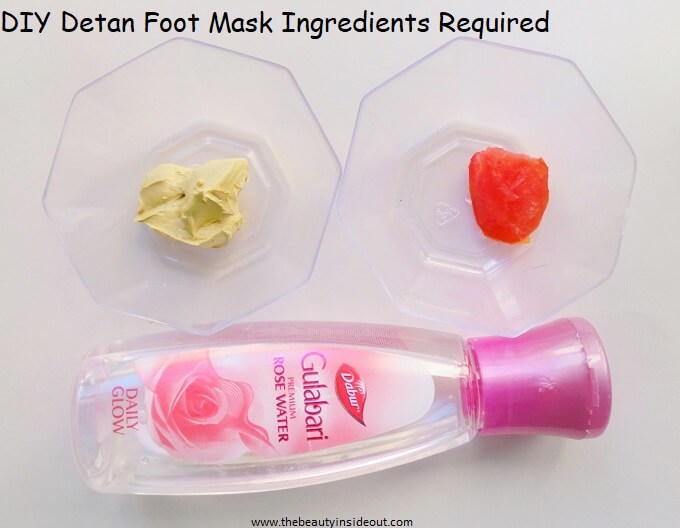 Ingredients & Their Benefits:
Multani Mitti or Clay Mix: Multani Mitti or fuller's earth is one of the best deep cleansing and tan reducing ingredient. It helps in reducing suntan, rashes, pigmentation and other skin issues that our foot skin has. Multani Mitti absorbs excess sebum from the feet and cures smelly feet issue. We are using Multani Mitti in this pack to create a base for our pack. You can also use any readymade face pack or clay mix pack with Multani Mitti for this DIY. The effects will be same as powdered Multani Mitti. I am using a readymade Multani Mitti pack here.
Fresh Tomato Crushed: Red fruits and vegetables like mango and tomato has plenty of vitamins and minerals that provide natural skin lightening and anti-ageing actions. Our feet get exposed to harsh sun and wind more than the rest of our body. That is why badly tanned and wrinkly feet is a common vision these days. In this pack, we are using vitamin A rich fresh red tomato. This powerful kitchen ingredient boosts the moisture balance of the skin and reduces tan.
Rose Water: Rosewater is a rich source of rose oil which lightens the skin and brightens too. Rose water tones the skin and restores the moisture level. It also creates a smooth base for the Multani Mitti and tomato extract. Pure Rose water moistens the skin and increases skin's absorbing power.
How to Make the DIY Foot Mask?
Take 1 tablespoon Multani mitti or clay-mix and add 1/4th crushed tomato to it.
Add 2-3 tablespoon rose water and mix. If you are using a premixed Multani mitti or Multani mitti based ready-made pack then 1-2 tablespoon rose water might be enough. So, adjust accordingly to get the desired consistency.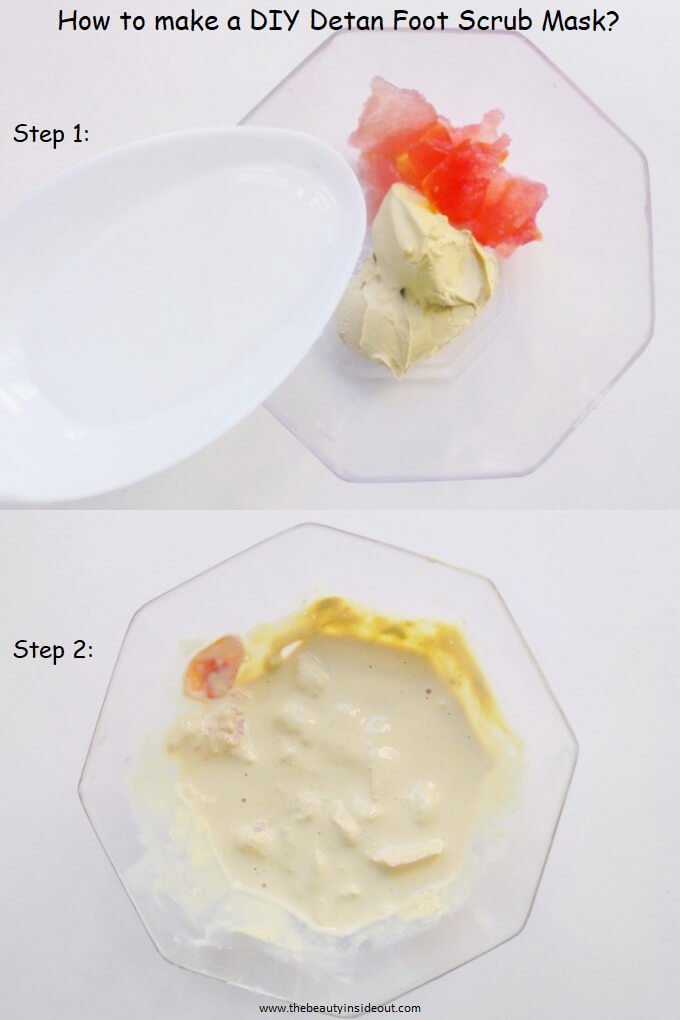 How to Do Foot Spa At Home?
First, prepare the foot soak. Take 3/4 bucket warm water and add 3-4 tablespoon salt, 2 teaspoons olive or almond oil and 1 teaspoon body wash or hair cleanser. Dip your feet in for about 10-15 minutes. If you do this frequently or you do not have extremely hard calluses, 7-8 minutes are enough.
Pat dry your feet after soaking. Scrub the feet with the spa scrub you prepared earlier for about 5-7 minutes. Massage the feet with firm strokes focussing on the pressure points. You may use a nail brush and pumice stone in between. The dead skin will come off easily. Wash the feet with plain water.
At this point, you can do the essential steps of cuticle pushing and nail cleansing. Do not forget to apply cuticle oil immediately after.
Apply the foot pack and let it stay for 10-15 minutes. Gently wash it off and apply a thick foot cream. If you want baby soft feet, cover your feet with socks after moisturizing for 1 hour.
Finish the spa treatment with a nice nail paint or nail hardener polish.
What to Expect?
If you are trying this DIY for the first time, the feet will feel much softer and bright. The tan will fade to a certain extent. If you do this regularly, the effect will be visible even more. If you have extremely hard and rough feet, all the callused skin might not come off in first use, you will have to repeat it once in two weeks or even weekly. The same will happen with heavily tanned feet.
Bonus Tips:
The softening effects will last more if you moisturize your feet regularly.
You may also use this foot spa for doing spa manicure at home. Hand skin is delicate and not as rough as foot skin. So, use sugar or coffee for scrubbing instead of salt.