Himalaya Neem Face Wash is a widely popular face wash. It is also one of the Best Selling Products from Himalaya Herbals. I remember finishing multiple tubes of this cult favorite face wash during my college years. In fact, most of us battling acne would have tried this face wash at least once. I recently picked this up again as I was out of town and I needed a face wash. Since this was a tried and tested face wash, I bought it without any second thoughts. But do you want to know if I still like this much-raved face wash? Read on.
Product Description:
A soap-free, herbal formulation that gently removes impurities and prevents pimples. Neem, well known for its antibacterial properties kills problem-causing bacteria and Turmeric effectively controls acne and pimples. Use regularly for clear, soft, and pimple-free skin.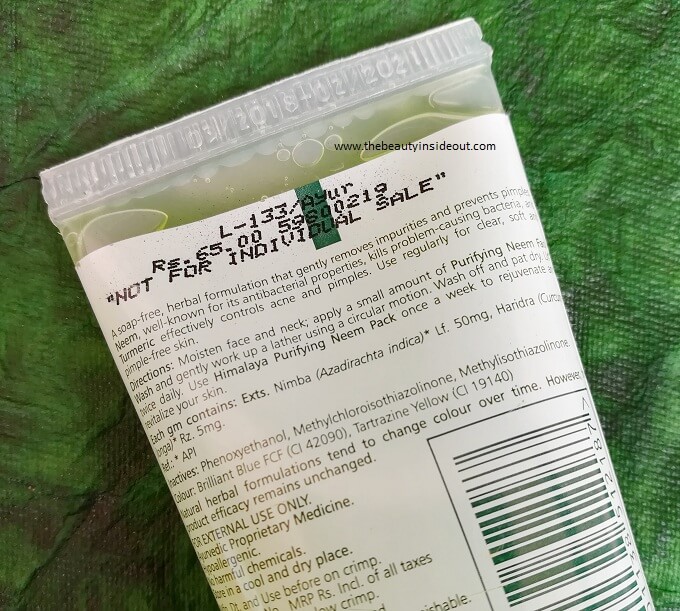 Himalaya Neem Face Wash Ingredients

:

Actives:
Neem – 50 mg
Turmeric – 5 mg
Inactives:
Phenoxyethanol
Methylchloroisothiazolinone
Methylisothiazolinone
Color: Brilliant Blue, Tartrazine Yellow
Himalaya Neem Face Wash does not contain Salicylic Acid and is not an exfoliating face wash. It is a herbal face wash with active natural ingredients and inactive preservatives to keep the product away from getting spoilt.
How to use Himalaya Neem Face Wash?
Moisten your skin with water.
Take a pea-sized amount of the gel face wash and massage it gently in circular motions all over the face.
Rinse with lukewarm water and pat dry.
Himalaya Neem Face Wash Price:
15ml – 15 INR
50ml – 65 INR
100ml – 120 INR
150ml – 155 INR
200ml – 190 INR
300ml – 270 INR
400ml – 350 INR
Himalaya Neem Face Wash Side Effects
There are no side effects reported with this face wash. It has a gentle formulation and is suitable for all skin types. No allergies or sensitivities are experienced
Himalaya Neem Face Wash Review
Packaging: The product comes in a basic tube with a flip cap top. The cap shuts tightly, but then if you plan to travel along with it I suggest taping the cap with cellophane. The tube is see-through, so the amount of product left inside is visible which makes it convenient to repurchase. The back of the tube has relevant details about the face wash. Overall the packaging is pretty decent. There isn't anything fancy about it, at the same time, I don't have any major complaints about it. Himalaya Neem Face Wash comes in various sizes and is also available with a pump dispenser.
Texture: Himalaya Neem Face Wash is a light green-colored gel. The consistency is thick. The gel is not runny at all and one can easily control the product that comes out.
Fragrance: It has the generic Neem fragrance. Almost every neem face wash in the market smell like this. I find the scent nice and refreshing. It's not overwhelming.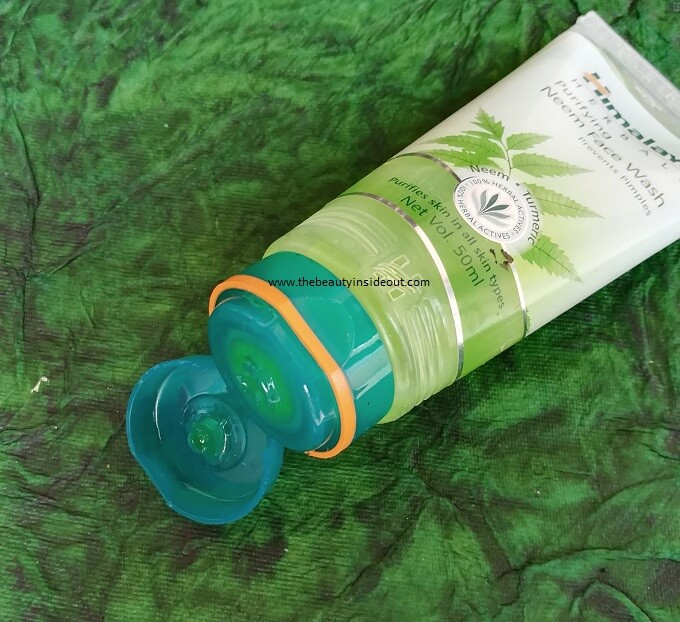 My Experience:
I usually take one dollup of the gel, mix a little bit of water and massage it all over my face. Mixing it with water produces a mild lather and gives a smooth cleansing action. The face wash rinses off quite easily and leaves the skin squeaky clean without leaving behind any slippery residue. It removes skin impurities and oils really well. It is not a moisturizing face wash, at the same time, the face wash does not leave my skin dry or stretchy. It perfectly balances the skin's pH level. If you have the tendency to apply heavy makeup, you can use this face wash as a second cleanser after removing makeup with an oil cleanser. Otherwise, this works really well as a standalone cleanser.
The Himalaya Face Wash has got two of my favorite ingredients Neem and Turmeric, both of which are so underrated in my opinion. In India, we get an ample amount of both the ingredients easily yet we neglect its benefits. As a kid, I used to use a homemade paste of this combo for every other skin problem. Neem has antibacterial effects and Turmeric is an excellent antiseptic. The combination of both is so good for any skin type, particularly those with acne issues.
In my experience, this face wash alone doesn't treat acne. It does aid in healing acne when used in conjunction with other products and a good diet. Overall, this is a great maintenance face wash for acne-prone skin to prevent future breakouts.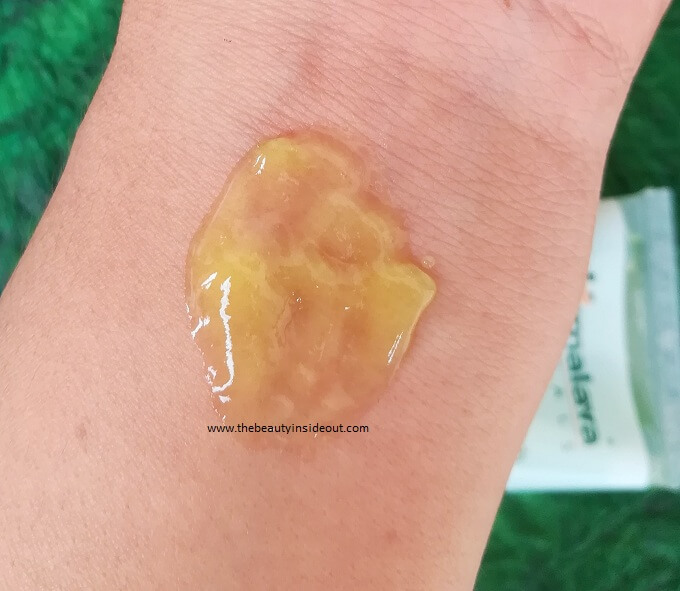 Pros:
Budget-Friendly and Easily Available.
Comes in various sizes.
Trusted Herbal Brand.
Contains potent Neem & Turmeric.
Effectively removes skin impurities.
Aids in preventing acne.
Not overly drying.
Cons:
Does not state the full ingredient list.
Rating: 4.8/5
Would I recommend it? Absolutely. There is no doubt that this is one of the best and most affordable herbal face washes available in the Indian Market.
Some FAQ's on Himalaya Neem Face Wash
Is Himalaya Neem Face Wash is good for Oily Skin?
Yes, it is. In fact, it is best suited for oily skin among other skin types. The purifying Neem and antiseptic Turmeric are a boon for oily skin type.
Is Himalaya Neem Face Wash good for pimples?
Yes, it is good for pimples. The face wash clears pores and helps to heal acne faster due to the presence of Neem and Turmeric in it.
When should we use Himalaya Neem Face Wash?
It is recommended to use twice a day, day and night for effective results. However, if you have dry skin, you can use it once a day during the night as the face wash can be a bit drying if used twice a day on dry skin types.
Does Himalaya Purifying Neem Face Wash work?
Yes, it does work. The face wash removes impurities from the skin, and unclogs pores thereby preventing pimples. It also helps to dry out active acne and reduce redness caused by pimples to a certain extent.
I hope you found this post helpful. Do share your experience and views on this product in the comments section below.