The Ordinary is a revolutionary company that sells clinical formulations at affordable prices. This particular brand is extraordinary in nature because it unveiled the fact that maybe the skincare industry isn't what it seems to be and that products today shouldn't be that pricey. Today I will be reviewing one of its very trusted and effective serums. It is The Ordinary Niacinamide 10 + Zinc 1 Serum. The Ordinary has yet again marvelled us with a brilliant serum that works from within to give you clear and bright skin. A serum is an important step in everybody's skincare regime. Having serum-like niacinamide is not only going to help you battle the present problems that your skin is facing but will also prepare your skin for its future battles.
Product Description:
The Ordinary niacinamide 10% + zinc 1% characterised as a high strength vitamin and mineral blemish formula that, as the name suggests, has a high concentration of niacinamide and zinc in it. Niacinamide is a form of vitamin b3 which is known to help with acne, acne scars, pigmentation, blemishes and wrinkles. The basic science behind this is that niacinamide helps provide with an extra electron to the free radical in our skin cells which are highly reactive and can cause damage to our healthy cells. Niacinamide is also considered to be the father of the two biochemical factors that are responsible for cell repair in our body.  Zinc, on the other hand, is a mineral which helps to reduce the formation of free radicals and in turn, helps to form collagen which forms the skin's basic barrier.
Ingredients:
Aqua (Water), Niacinamide, Pentylene, Glycol, Zinc PCA, Tamarindus Indica Seed Gum, Xantham Gum, Isoceteth-20, Ethoxydiglycol, Phenoxyethanol, Chlorphenesin.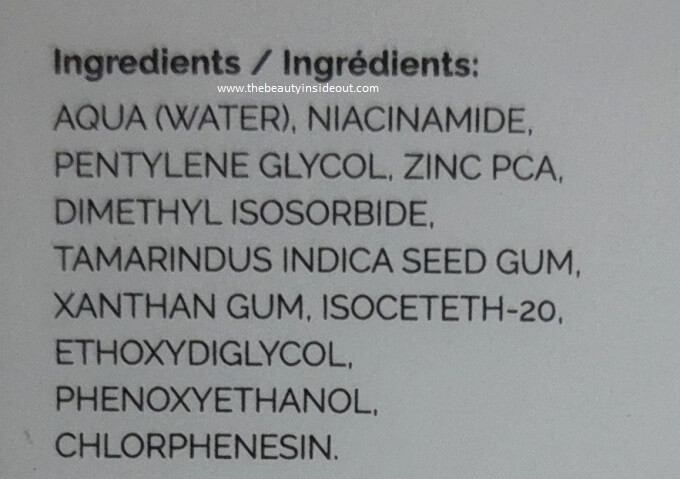 Where To Buy? This product is available at lookfantastic.com and at amazon too. The retailing price of the product is Rs.828 for 60ml.
The Ordinary Niacinamide 10 + Zinc 1 Review
Packaging: The solution comes in a 60ml frosted sturdy glass bottle with a dropper. The bottle is made up of recycled glass and can be used after the serum is over. The packaging is leak-proof but bulky as the product available is for 60ml. Still, the bottle is travel friendly and the dropper makes it easy for application and helps in preventing contamination too.
Colour & Texture: The consistency of the serum is not too thick and not too runny also. It is quite an apt consistency for a serum in my opinion. The serum is transparent.
Fragrance: The serum is odourless.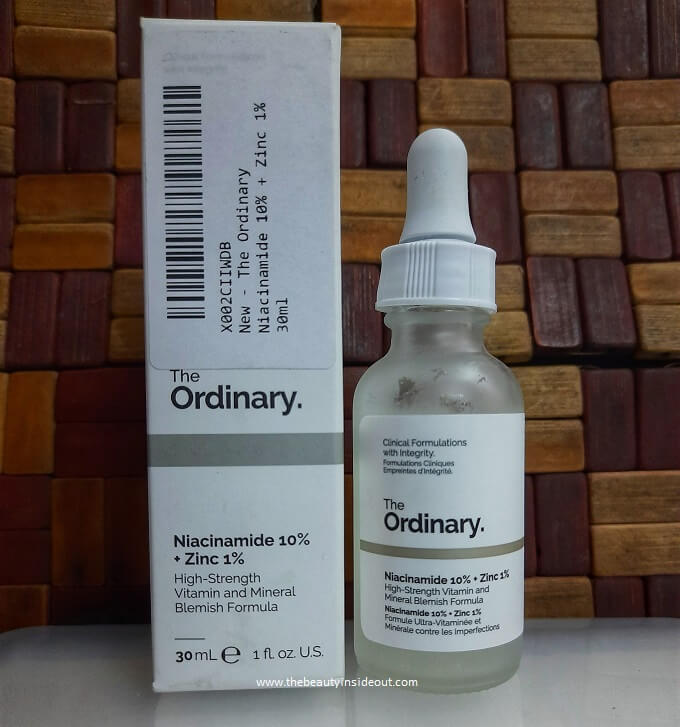 My Experience:
First of all hands down the best serum to fight blemishes and pigmentation that is out there in the market. I have been using this product for 7 months now. For the first 2 weeks, I couldn't notice any difference in my skin. Pigmentation and blemishes on my skin remained as it was on the first day. It was only after the completion of the 3rd week did I notice a stark difference in my skin. There was a natural glow, pigmentation and blemishes had noticeably reduced. I noticed that for the entire 3 weeks of usage I didn't face any issues regarding further pigmentation. (the previous pigmentation was still there but didn't aggrevate further).
I have combination type of skin and this serum has given me marvellous results. I have suggested this serum to my friend who has acne-prone skin and she has noticed results within JUST A WEEK. There was a visible reduction in acne scars.
This product takes a simple preparation of cleansing the skin before application. The dropper makes the process of application very easy and hassle-free. Inclusion of vitamin B3 in our skincare regime is as important as the inclusion of vitamin C., In the long run, this serum has helped to make my skin glow naturally and increased the elasticity of my skin although the results appeared quite late to be honest. Overall, I am absolutely in love with this product as it has turned out to be a great skin food and therefore would highly recommend this, especially to those struggling with pigmentation issues.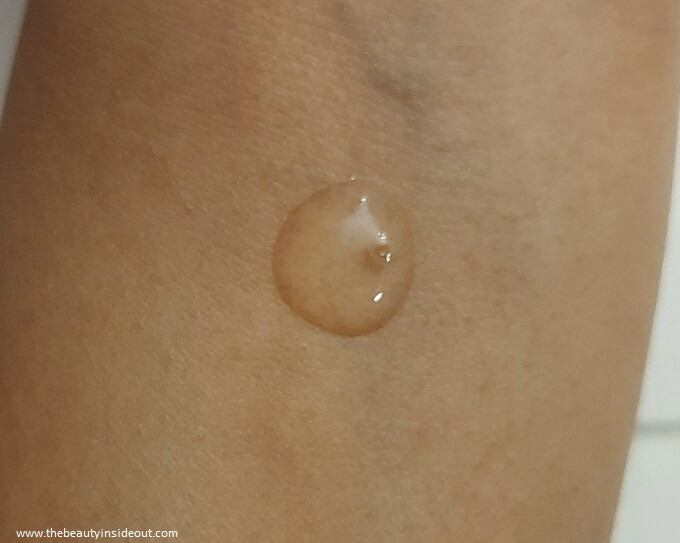 Pros:
Very affordable for a 60ml bottle.
Easy to apply.
Zinc helps in the formation of the natural skin barrier.
Visibly brighter skin and reduction in pigmentation and blemishes.
No silicones, alcohol, oil or gluten.
Vegan.
Cons:
The bottle is bulky.
The appearance of results vary.
Rating: 4/5
Would I recommend it? This serum takes times to show results. But honestly, that was the only flaw that I found. It lived up to all the promises that it claimed. I would highly recommend this product especially for people who have acne scars. It is a product that will make your skin better in the long run too.
Guest Author: Brishti Mondal