Today's ramble is on Miniso Facial Cleansing Brush. Life has been quite hectic these few days. The busy life was taking a toll at my skin. I couldn't concoct my homemade face packs and ubtans for weekly cleanup for some time. Naturally, the skin was getting dull, rough and pimples started appearing. I was thinking about trying something that would save time. I have used facial brushes from Vega and Panache. The experience was not that good. So, I was quite sceptical about getting a new face brush. I was surfing through my favourite online store and that's when this facial brush caught my eye. You know how cute Miniso products are! Yeah, the cuteness made me buy this! I have been using this brush for 3 weeks now. Here's what you should know if you're considering Miniso Facial Cleansing Brush for your next shopping spree.
Product Description:
Boasting over 400,000 synthetic fibre bristles with a diameter of 0.08mm, velvety texture with enhanced cleaning power, Miniso Facial Cleansing Brush brings user experience to the next level. Use 3 times a week, 1-2 minutes each time, or 1 minute each time on sensitive skin; Not for frequent usage.
How to use Miniso Facial Cleansing Brush?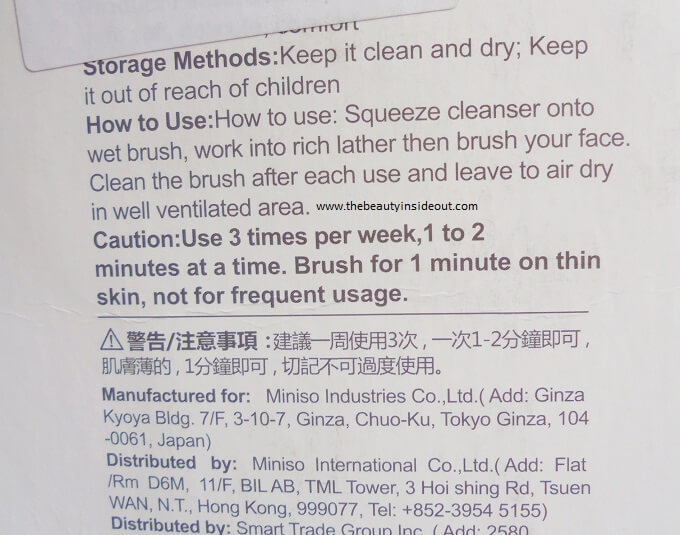 Price: Rs.250 for 1 piece
Where to Buy? Previously Miniso products were sold only at Miniso stores. Now, you can get them online at Amazon, Flipkart etc along with the offline Miniso stores. These days Miniso stores are everywhere. So, the availability is remarkably good. Miniso products are generally not discounted if you buy online. On offline purchases, you may avail seasonal discounts.
Miniso Facial Cleansing Brush Review
Packaging: This face cleansing brush comes in a cardboard flap packaging. Miniso has quite a few designs of face brushes and all of them sells as 'facial cleansing brush'. The see-through cover enables you to get a clear view of what you'll get. The packaging is simple yet good. The usage guide and some other informative details are mentioned on the backside of the pack. I would be great if the brush had a brush cover to secure the bristles.
Color & Texture: Miniso offers colour variety in most of their products. However, this particular design of the facial brush is available only in pastel blue colour. The plastic handle and the brush body has the same colour. The bristles are pure white. It is a synthetic bristle brush. The density of bristle fibres is very high. The pack mentions it has over 4 lacks of bristles. The texture is super soft. The bristles don't poke on my skin. I have used the brush at least 4-5 times. I haven't experienced any bristle fall-out till now.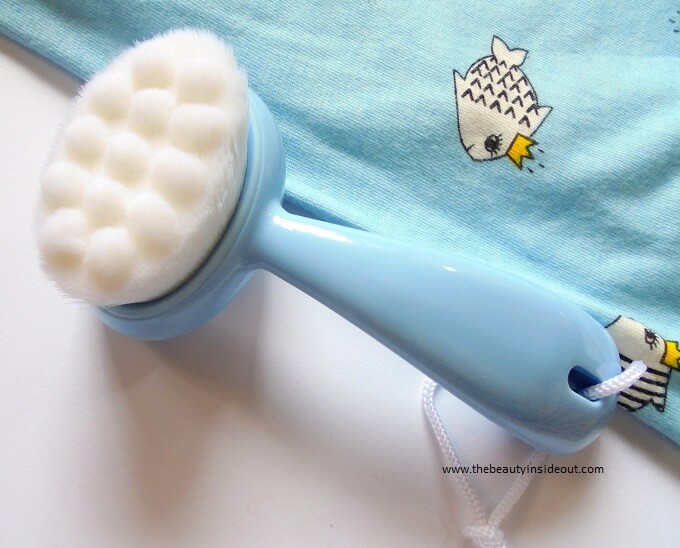 My Experience:
Miniso is gaining the attention of Indian audience at a drastic level since its launch. I live in a small suburb and my nearest Miniso store is far from my reach. Naturally, I had to keep myself satisfied with Miniso shopping vlogs on Youtube. Ever since Miniso landed on online platforms, I was thinking about trying something from them. This Face Cleansing Brush is my first purchase from them.
All my previous face brushes were quite scratchy and harsh on the skin. Surprisingly this brush is so soft and gentle on my skin. I have acne-prone combination skin and always stay extra careful on using anything new for my face. I strictly follow the usage instructions while using this face brush. The instructions are perfectly on point. I have gone beyond them once or twice and the skin felt slightly sensitized.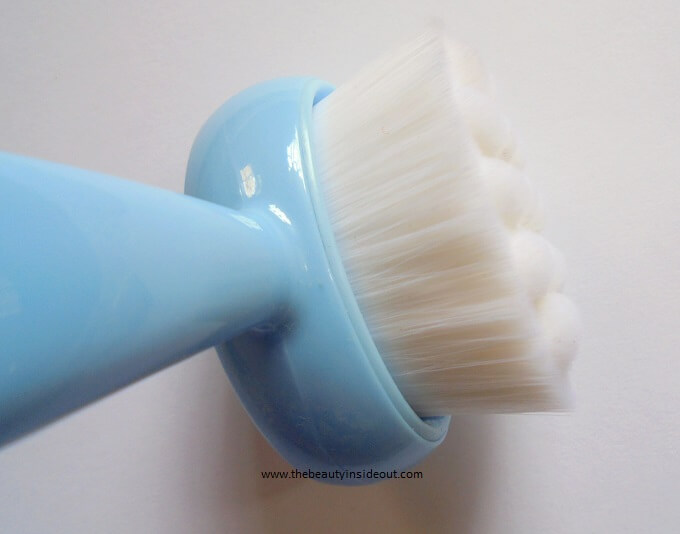 How do I use it? Usually, I take 2 drops of my regular gel face wash on a wet brush. I distribute the product all over the face and start massaging my wet face with it in gentle circular steps. I don't go over one place more than 2-3 times in one go. As I am just starting out with this brush, I massage my skin with this for 1 minute.
The skin feels squeaky clean afterwards. But, there's no stretchy dry feel. It gently exfoliates the skin. My skin feels smoother and softer. I follow this up with toner and moisturizer. It doesn't cause redness or irritation. Just one small glitch, the brush takes a whole day to dry. If you keep it in the shower area, it takes more hours to dry. So, I follow the brand's instruction and hang it in an aerated place. Overall, this is a good product to invest in if you don't like frequent parlour visits for clean up like me.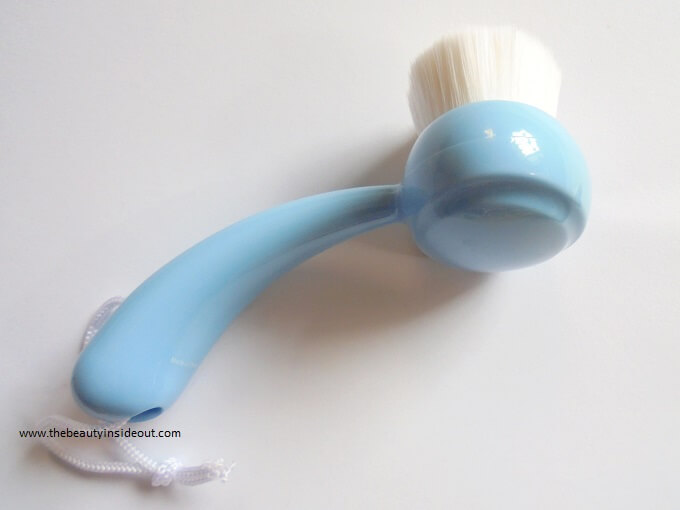 Pros:
Deeply cleanses the skin.
Exfoliates the skin gently.
Gives bright and glowing skin.
Feathery soft bristles.
No bristle fall-out.
Suits all skin types (except sensitive skin).
Budget-friendly.
Cons:
The brush takes time to dry.
No protective cap provided.
Rating: 4.5/5
Would I Recommend? I would definitely recommend Miniso Facial Cleansing Brush to both men and women of all age groups. The brush is super soft, no bristle fall-out and does its job nicely. Unless you have sensitive skin or having breakouts, you'll love the experience.