With many Salicylic Acid Serum in India, it can be really confusing on which one to get. In this post, we'll help you find out the one that would satisfy your skin needs. We curated this list based on reviews from various consumers. Salicylic Acid is a very good chemical exfoliant for those suffering from acne. It's an ingredient that is responsible for deeply cleansing your pores to refine the look of your pores. It also reduces excess oil, blackheads, and whiteheads. Last but not the least, it heals and treats active acne like no other ingredient. It should be noted that Salicylic Acid should not be used daily. Use it as you would use a physical exfoliator, which is weekly once or twice. We highly recommend to DO A PATCH TEST before starting any Salicylic Acid Serum.
Editor's Top Picks:
Best affordable option. Fragrance-Free, Highly effective for Oily, Acne Prone Skin.

Splurge worthy. The Best one for stubborn blackheads. Heals active acne dramatically.

Gentlest of all. Not at all drying. Suitable for beginners, with sensitive and dry skin.

Best Salicylic Acid Serum in India
1. Minimalist Salicylic Acid Serum
If you make a purchase through the links on our site, as an amazon associate, we earn from qualifying purchases at no extra cost to you.
Propagating Transparency, Minimalist is an Indian skincare brand that quickly shot to fame with its effective ingredient focussed products. This Minimalist Salicylic Acid Serum is targeted to ward off acne, blackheads, and excess oil. It not only contains 2% Salicylic Acid to exfoliate the skin but also Oligopeptide-10, which has antimicrobial properties to fight off acne-causing bacteria. The Serum is boosted with antioxidant, EGCG, from Green Tea to soothe inflamed and irritated skin. This is one of the Best Salicylic Acid Serum in India for Controlling Acne and Excess Oil.
| | |
| --- | --- |
| PROS | CONS |
| 1. Ideal pH of 3.2 – 4 for a BHA product to work efficiently. | 1. Not for sensitive skin. |
| 2. Treats fresh acne faster and prevent further breakouts. | |
| 3. Clears pores and thereby reduces excess sebum production and blackheads. | |
| 4. Improves bumpy skin texture. | |
| 5. Suits all skin types but is Highly Recommended for Oily, Combination, and Acne-Prone Skin Types. | |
| 6. Fragrance-free, paraben-free, silicone-free, sulfate-free. | |
2. Paula's Choice Skin Perfecting 2% BHA Liquid Exfoliant
There is a reason why everyone loves this beauty. This is the Best Chemical Exfoliator out there. Highly recommended for blackhead removal, this exfoliant unclogs deep-rooted impurities for cleaner and healthier skin. Paula's Choice BHA works excellently for active acne and acne marks. It is also known to dramatically improve one's skin texture.
| | |
| --- | --- |
| PROS | CONS |
| 1. Science-backed formula with 2% Salicylic Acid and Green Tea Extract. | 1. A bit expensive, but the bottle is huge and lasts for a long time as you need just a few drops for each use. |
| 2. Liquid exfoliant that's quick-absorbing and light on the skin. |   |
| 3. Unclogs pores to reveal fresh skin. |   |
| 4. Prevents new pimples from forming. |   |
| 5. Excellent for blackheads and whiteheads. |   |
| 6. Cruelty-Free and Leaping Bunny Certified. |   |
| 7. Fragrance-free, Paraben Free, Alcohol-Free, Oil-Free, and Silicone Free. |   |
3. Cosrx BHA Blackhead Power Liquid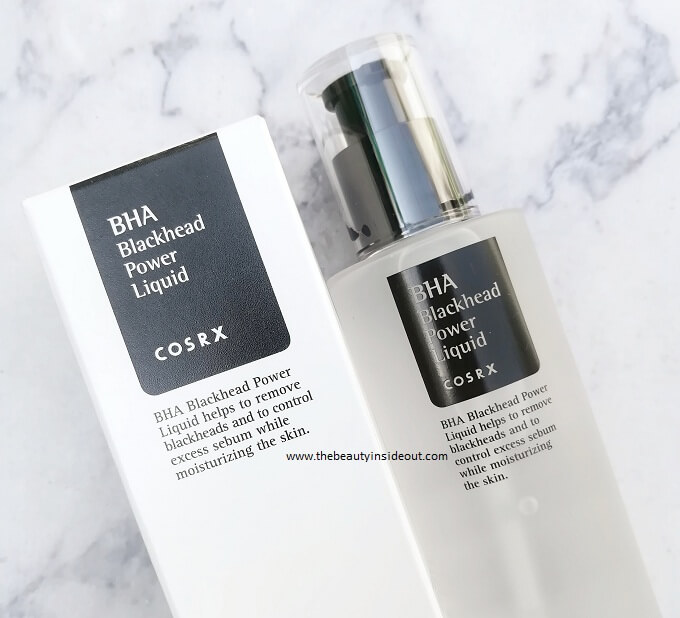 This again is not a serum as such. It has a liquid texture that is similar to toners. But this is one of the Best Korean Chemical Exfoliator out there, so it made it to this list. Also, Cosrx is one of my favorite Korean skincare brands that have some amazing products for acne-prone skin people like me.
This Cosrx BHA contains 4% Betaine Salicylate, a gentler form of Salicylic Acid which is as effective as 2% Salicylic Acid. It also contains 64% Willow Bark Extract to provide gentle exfoliation. This product reduces blackheads by keeping the pores clean and also improves skin texture. This is much gentler than most options on this list making it one of the Best Salicylic Acid Serums For Beginners & Sensitive Skin.
| | |
| --- | --- |
| PROS | CONS |
| 1. Minimal ingredient list. | 1. Results can be slow but it's gentle enough for sensitive skin. |
| 2. Non-drying Salicylic Acid. |   |
| 3. Suitable for Beginners, Dry Skin, and Sensitive Skin. |   |
| 4. Controls excess sebum, blackheads & whiteheads. |   |
| 5. No parabens, alcohol, phthalates, or fragrance. |   |
| 6. One bottle lasts really long. |   |
4. Be Bodywise 2% Salicylic Acid Serum
Be Bodywise 2% Salicylic Acid serum is clinically proven and produces visible results, making it one of India's best SA-based serums. This science-backed face serum for women is created by dermatologists and is the first step in an acne and comedones treatment plan. It works by dissolving the bond that holds the clogged pores' sticky cells together. This 2% Salicylic Acid face serum also contains fermented rice water, which soothes irritated skin. It has anti-inflammatory properties that allow it to penetrate deeply into the pores and unclog them. As a result, dead skin cells and other impurities are removed, reducing the size of the pores.
| | |
| --- | --- |
| PROS | CONS |
| 1. Most potent percentage of Salicylic Acid, giving safe results. | 1. Won't give you instant results |
| 2. Contains Fermented Rice Water which helps soothe inflamed skin |   |
| 3. Suitable for Beginners & All Skin Types( Even Dry Skin, and Sensitive Skin) |   |
| 4. No parabens, alcohol, fragrance, or any other harmful chemicals |   |
| 5. Goes deep into the pores and unclogs them |   |
| 6. Very effective to fight acne breakouts, congestion, and blackheads. |   |
5. L'Oreal Paris Revitalift Crystal Micro Essence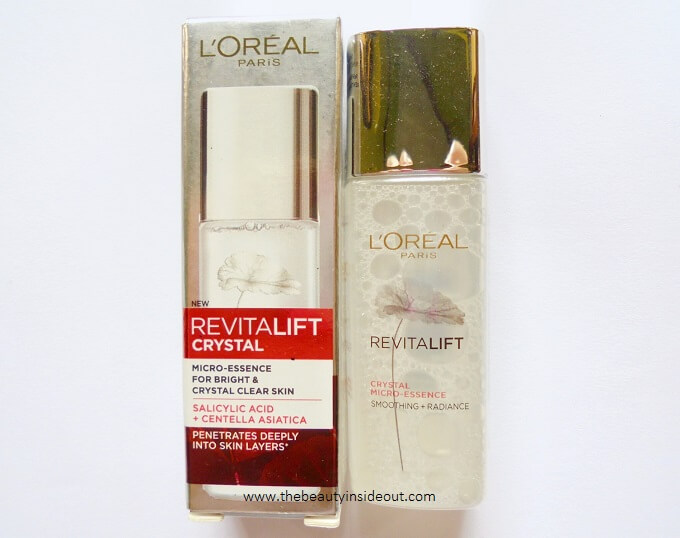 This isn't a serum per se, but this L'Oreal Revitalift Crystal Micro Essence is a good Salicylic Acid-Based Mild Exfoliator For All Skin Types. What makes this unique is it not only contains the deep cleansing Salicylic Acid, but also Adenosine which is an anti-aging ingredient that prevents fine lines, wrinkles, and pigmentation. That makes this product to be one of the Best Salicylic Acid For Aging Skin. It further contains Centella Asiatica Extract to soothe and repair skin. This essence unclogs pores while also smoothening and plumping the skin texture.
| | |
| --- | --- |
| PROS | CONS |
| 1. Lightweight watery liquid that's fast-absorbing. | 1. Percentage of Salicylic Acid is not known. |
| 2. Gentle formula that's not at all irritating. | 2. Slow results, but it's a gentle formula so it's non-irritating. |
| 3. Uses a micro-ionized technology to penetrate deeper into the skin. |   |
| 4. Mild scent that disappears on application. |   |
| 5. Exfoliates the skin to give clean and clear skin. |   |
| 6. Removes dullness and brightens skin. |   |
| 7. Suitable for all, especially for acne-prone, aging, and mature skin. |   |
6. Deconstruct Pore Control Serum
With the motto of providing safe, sensible, and honest skincare, Deconstruct Skincare uses the right proportions of actives in its products to deliver faster results. The brand is often weighed up with Minimalist due to similar values – that is using evidence-based ingredients.
Deconstruct Pore Control Serum is a face serum with Salicylic Acid and Niacinamide to target large pores due to excess sebum production, dullness, and redness. It is enriched with Green Tea Extract, Amla Extract, Cinnamon Extract, and Black Pepper Seed Extract to boost its antioxidant properties.
| | |
| --- | --- |
| PROS | CONS |
| 1. Non-Sticky, lightweight serum that absorbs immediately. | 1. Not for sensitive skin. |
| 2. 2% Salicylic Acid and 3% Niacinamide work effectively on acne, enlarged pores, whiteheads, and blackheads. |   |
| 3. Control oil, tightens skin, and improves the appearance of pores. |   |
| 4. Does not pill and works well with other products. |   |
| 5. Ideal for oily, combination, and normal skin. |   |
| 6. Free from fragrance, parabens, silicones, sulphates, and other harmful chemicals. |   |
7. Suganda BHA Exfoliating Serum
Suganda is a minimalist brand that manufactures scientifically balanced yet naturally nourishing products. Formulated with 2% Salicylic Acid to unplug pores, the exfoliating serum also contains 0.2% Madecassosde, Green Tea, and Glycerin to alleviate irritation and soothe the skin. Its antibacterial property helps in the reduction of cystic and hormonal acne. Use this twice a week to improve overall skin health.
| | |
| --- | --- |
| PROS | CONS |
| 1. Reduces acne and acne scarring and keeps pore health in check. | 1. The natural scent of the ingredients used in this can be a turn-off. |
| 2. Beginners and Sensitive Skin types can use it mixed with moisturizer. |   |
| 3. Fragrance-Free and Essential Oil-Free. |   |
| 4. Comes in a dark amber bottle to preserve its effectiveness. |   |
| 5. Has pH of 3.7 to 3.9 which is ideal for salicylic acid to work. |   |
| 6. Safe for pregnant and lactating women. |   |
8. The Derma Co 2% Salicylic Acid Serum
This 2% Salicylic Acid Face Serum from The Derma Co works synergistically with Witch Hazel and Willow Bark Extract to tackle acne and acne-causing symptoms. That includes clogged pores, excess oil, and underlying pimples. The Derma Co Serum is a water-based Salicylic Acid Face Serum that's safe and effective. It refines the appearance of pores making your skin look smoother and poreless.
| | |
| --- | --- |
| PROS | CONS |
| 1. Affordable price. | 1. It's scented, which may not go well with sensitive skin. But then you don't have to worry about weird chemistry lab scents. |
| 2. Has a beautiful texture that absorbs fast. |   |
| 3. Treats and Heals pimples faster. |   |
| 4. Prevents whiteheads and blackheads. |   |
| 5. Non comedogenic formula. |   |
| 6. Free of parabens, sulphates, mineral oil, and dyes. |   |
These are some of the Best Salicylic Acid Serum in India. Have you tried any of these? Do share your experience with us? Answering some of the frequently asked on Salicylic Acid below.
FAQ's on Salicylic Acid Serums
What does Salicylic Acid Do?
Salicylic Acid helps to exfoliate the skin, unclog pores, refine texture, and treat acne, blackheads, and whiteheads. It is oil soluble so it deeply penetrates the skin to remove debris from within the skin thereby giving you crystal clear skin. Salicylic Acid is best recommended for oily, acne-prone skin types. However, with advanced formulations, some salicylic acid serums are made to suit Dry skin types too with the addition of nourishing & moisturizing ingredients.
How often should I use Salicylic Acid Serum?
While it is ok to use a Salicylic Acid Face Wash on a daily basis, it is not recommended to use a Salicylic Acid Serum every day. As using it daily can lead to over-exfoliation that can eventually damage your skin barrier. This can wreck your skin leading to more breakouts, tingling sensations, and irritations. In some cases, it can even lead to adverse skin reactions. So always use a Salicylic Acid Serum with caution following the brand's usage instructions which are usually available on the packaging.
How to use Salicylic Acid Serum on Face?
Most Salicylic Acid Serum is thin in consistency and comes in dropper bottles. While it may look like you need more, that isn't the case. One would need 3 drops maximum. One for the forehead area, one drop each on each cheek area. Gently spread it so it covers all the targeted areas. If you are targeting stubborn blackheads on the nose, you could use an additional drop of the serum there.
Should I use Salicylic Acid in the morning or at night?
Salicylic Acid is fine to use either in the morning or night. But for best results, it is ideal to use it the nighttime. And since this is an exfoliator, definitely use a good broad-spectrum sunscreen in your morning routine to preserve its results.
Can I Use Salicylic Acid with Vitamin C and other ingredients?
It is not recommended to use Salicylic Acid with Vitamin C, Retinol. You should also refrain from using products with other exfoliating ingredients such as Lactic Acid, Glycolic Acid, and Mandelic Acid along with a Salicylic Acid product. However, it should be fine to use a products where they are formulated to be used together. Say, a face wash with 2% Salicylic Acid and 1% Glycolic Acid.
These are some of the FAQs. If you have any further queries on Salicylic Acid Serums? Do drop them here. We will answer them for you in this post.