Korean Skin Care Products are ruling the world of beauty period, and it doesn't look like we will ever have enough of them, right? Apart from aggressive marketing and taking beautiful Korean actors to model for K-beauty brands, the K beauty "fad" has become a "regime" solely because of their product's effectiveness. The wide variety of face packs, sheet masks, peeling gels, lightweight to heavy-duty moisturizers, sunscreen sticks, lip masks, and much more, call out to our basic instincts. Their products are innovative, backed with solid R&D and great packaging without costing a fortune, which has helped in maintaining their supreme position in sales. Their ingredients like snake venom, bee venom, sheep wool extracts, snail extracts, etc also flame our imaginations and pique our curiosity. With so much variety and options, it is natural to get confused. I believe in trying out new things. Well, that's how you don't let your skincare routine monotonous. But sometimes, when trying something new it is better to go for bestsellers which can be a comparatively safe buy. This post on the Best Selling Korean Skin Care Products has been curated after doing a lot of research and going through a lot of feedback, so when you are set for some K-Beauty shopping online or at the store, keep this post open in your browser tab!! Let us start.
Disclaimer: This post contains affiliate links
10 Best Selling Korean Skin Care Products in Korea
This water will tap all problems out of your skin, unlike tap water!! Ok the joke was long and it sucked but this product doesn't. Say Hallelujah beauty buffs, because this product works as a toner, exfoliation, pre-moisturizer, and rinse-less cleanser!! Say What!! Well you can imagine for all the juicy action it provides the price will be on the higher side, but the quantity is also quite a lot. And again, you don't require a lot of product, while applying on your skin!
Features:
Formulated with both exfoliating (Willow Bark) and hydrating(Lavender & Rose Water) ingredients.
Beauty Water has a pH of 4.5, effectively resetting the skin's natural balance.
Brightens, Even outs skin tone, and smoothens skin roughness.
Removes makeup to a great extent.
Suitable for both oily and dry skin types.
Paraben-free.
Cons:
Contains alcohol & citrus fruit extracts which may not be preferred by all.
Where to buy? Amazon.in | Amazon.com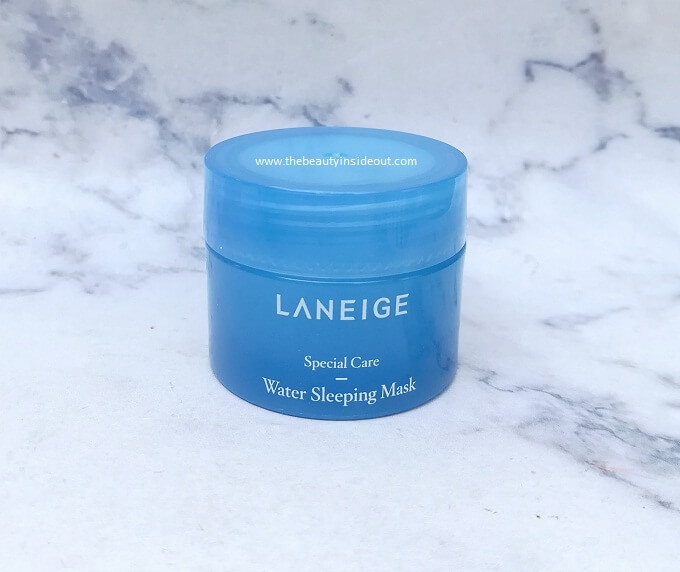 We all know that a good night's sleep is equal to great skin. What if we told you that a night mask is there to perfect your nightly skin repair and renewal? TBIO team gives major thumbs up to this product. This night mask boasts of patented molecules like SLEEP-TOX™ technology that purifies skin during sleep, MOISTURE WRAP™ that helps skin retain moisture throughout the night, and Aromatic SLEEPSCENT™ that shall help you relax. This night mask will surely bring a great turnaround for your skin.
Features:
Fortified with Sodium Hyaluronate (a deep hydrator and skin soother) and Ascorbyl Glucoside (promotes brightening).
Lightweight formulation yet bursts the skin with hydration.
Imparts glow and suppleness to the skin.
Gives a refreshing feel due to its cooling sensation.
Excellent moisturizer for oily skin types.
Cons:
Not free of fragrance, alcohol & silicones.
Where to buy? Amazon.in | Amazon.com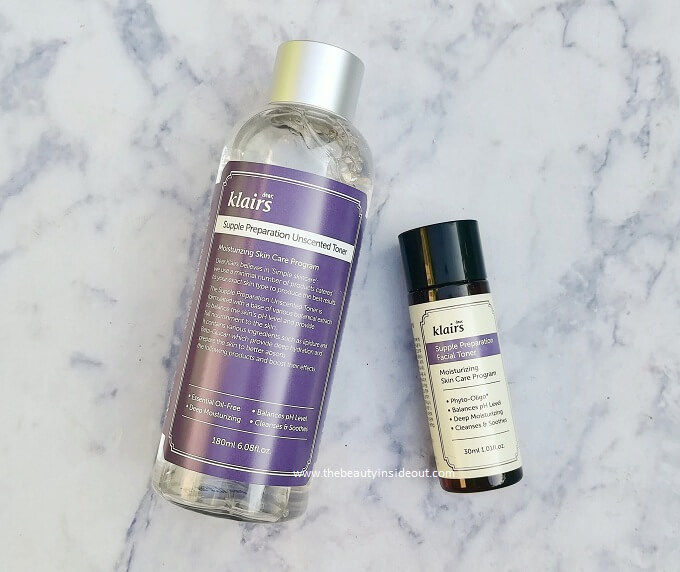 We all love Klairs brand and this beauty find will have you swooning. Have you had toners that make your skin dry or oily at times? Well here is the answer for all those toners you regret buying, just get a Klairs Supple Preparation Facial Toner. This is the Best Korean Toner for all skin types and I'm am sure you'll never regret getting this. The unscented version is a boon for sensitive skin types.
Features:
Has a pH of 5, which balances the skin's pH level.
Enhance the effectiveness of serums and creams that go after.
Soothes irritated skin & Repairs damaged skin barrier.
It plumps up and hydrates the skin like nobody's business.
Free of Alcohol, Paraben, PEG, Artificial Fragrance & Color.
It's Vegan and Cruelty-Free.
Cons:
Honestly, nothing at all.
Where to buy it? Amazon.in | Limese.com Use Code: TBIO for 10% OFF
4. Innisfree Super Volcanic Pore Clay Mask 2X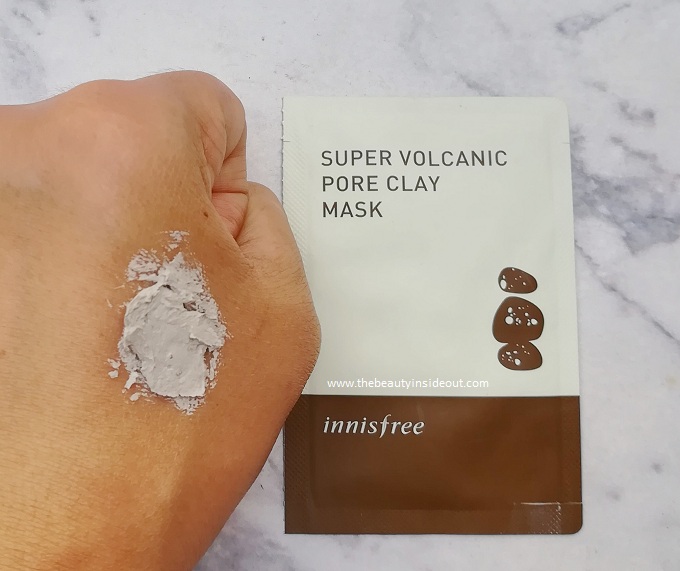 Why the world is obsessed with Innisfree? Because of the Korean God of Handsomeness and style Lee Min Ho, and well also because their products are effective and not so heavy on the pocket. This Volcanic pore clay mask is one of the Best Korean Clay Masks out there. There must be a reason why this is one of the top 3 bestselling products of Innisfree. The product will gently remove dead flaky skin and reveal your new healthy-looking skin. All in just 10 minutes. And who can resist the smile of Lee Min Ho while he tells you to buy Innisfree products? I sure can't and I know you can't too.
Features:
Made with Volcanic capsule particles that exfoliate your skin gently while keeping your skin smooth and supple.
Deeply cleanses the pores, and controls excess sebum production.
Strong cooling sensation and pore tightening effect.
Great for quick, weekend clean up sessions.
Best for oily, normal, and combination skin types.
Cons:
Well, clay masks are not really for very dry skin types.
Where to buy? Amazon.in | Amazon.com
5. COSRX Advanced Snail 96 Mucin Power Essence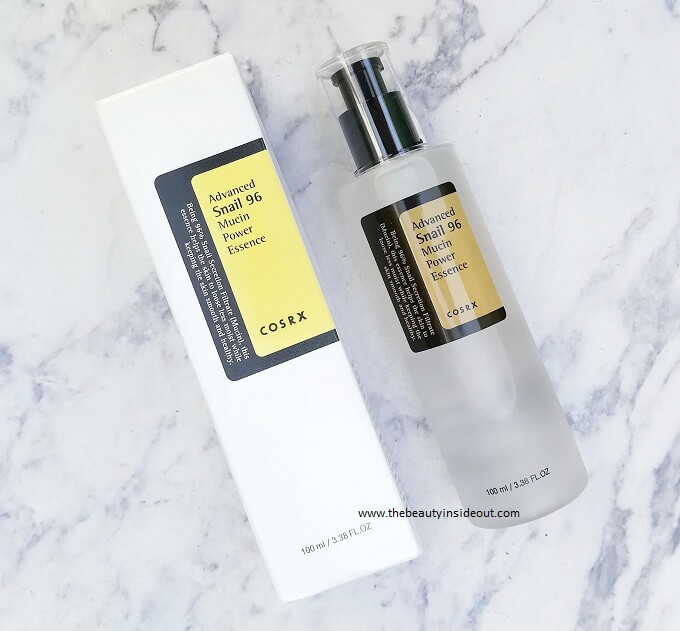 We all thought the French were weird with the snail and oyster eating habits, but Koreans took the weirdness to next level. Snail mucus in skincare?!! But if it's effective then to hell with the weird, we don't mind. This product has 96% snail secretion filtrate that is highly effective at repairing damaged skin. This is a highly raved product among the Asian community. Why wait? Get this weird product and I'm sure you will have great skin.
Features:
Ultra soothing and hydrating, thanks to the Hydrating Hyaluronic Acid & Arginine and skin-soothing Panthenol & Allantoin in them.
Brings softness and evenness to skin texture and tone.
Helps with redness & lights up acne scars.
Improves skin elasticity and protects the skin from moisture loss all day long.
Minimal ingredient used in the making of this product (barely 12 ingredients).
It is fragrance-free & alcohol-free.
Excellent for damaged skin barrier, sensitivity issues, recurrent acne problems, dehydrated skin.
Cosrx is one of the Korean brands that are 100% Cruelty-Free.
Cons:
Has a unique texture which might be odd for beginners
Where to buy it? Amazon.in | Limese.com Use Code: TBIO for 10% OFF
6. The Face Shop White Seed Brightening Serum
Have you had a gander at TheFaceShop's brand Ambassador Bae Suzy? Well google her no make-up face right now and you will fall in love with her skin. She claims that she uses The Face Shop products in her skincare regime and especially swears by this product. These claims may or may not be true, but this product is truly effective in brightening dull skin and correct uneven skin tone.
Features:
Formulated with White Lupin Seed and white daisy flower extract that delivers powerful brightening effects.
Shrinks pores, firms up the skin, and gives a radiant glow.
Nourishing formulation increases the moisture level of the skin.
Excellent for dull and tired skin.
Free of 7 additives – parabens, tar colorant, animal-sourced ingredients, mineral oil, talc, polyacrylamide, and paraffin.
Cons:
Where to buy? Amazon.in | Amazon.com
7. Heimish All Clean Balm
Who doesn't like the feel of using an emulsifying cleansing balm after hours of wearing long-lasting makeup? Well, not me! The Heimish All Clean Balm is the best among them, even better than the Clinique Cleansing Balm. It's a sherbet-type oil cleanser that is in the form of a solid balm, then transforms into a silky oil cleanser on the skin to become milky while rinsing.
Features:
Contains citrus herbs oils to relax & brighten your skin, Shea Butter to moisturize, Coconut Fruit Extract to soften skin, and White Flower Complex to improve skin tone.
Heavy-duty cleansing balm removes stubborn makeup & sunscreen effortlessly.
Comes with a spatula which means no contamination.
A little goes a long way.
Free of Parabens, artificial fragrances, and artificial colorants.
Suitable for all skin types, including sensitive skin.
Cons:
Can irritate eyes for some.
Where to buy? Amazon.in | Amazon.com
8. Etude House Sunprise Mild Airy Finish Sun Milk SPF50
Amidst the controversies on the sun protection factors of the new generation sunscreens, finding a good sunblock can be a bit difficult. Worry not. We have the good old trusted Etude House Sunprise Mild Airy Finish Sun Milk. It's a physical sunscreen, so it is ideal for all skin types including those with sensitive skin.
Features:
100% mineral-based sunscreen with a lightweight, non-sticky formula to give a smooth finish.
In addition to Zinc Oxide, this has 20 kinds of vegetable ingredients (such as Dwarf Ground Sedge Extract, Sunflower Seeds, Acai berry, Acerola, Aloe Vera, and Centella Asiatica)to protect skin from UV perfectly.
For being a mineral sunscreen, this has a very minimal white cast which settles down after a while.
Highly efficient in preventing tan and sunburns.
Has a powdery matte finish which is great for oily skin & a humid climate.
Does not pill or leave streak marks when you sweat.
Cons:
Contains fragrance & alcohol.
Not waterproof.
Where to buy? Amazon.in | Amazon.com
9. Belif Moisturizing Bomb
The name says it all, it's a bomb product! In fact, the moisturizing bomb was one of the Best Selling Skin care Products in Korea. It is a cushiony moisturizing cream that floods the skin with intense hydration of up to 26-hours leaving it supple, smooth, and deeply nourished. The product may pinch your wallets, but little goes long way.
Pros:
Contains a blend of Apothecary Herbs, including Comfrey Leaf which is a powerful hydrating ingredient.
Intensely hydrates the skin and leaves it soft and bouncy.
Tackles skin dryness, loss of firmness and elasticity.
Free of Parabens, Sulfates, Phthalates, Mineral oil, Synthetic Preservatives, Dyes, Fragrances, and Animal Origin Ingredients.
Perfect for normal to dry skin types.
Cons:
Contains natural citrus scent.
Where to buy? Amazon.in | Amazon.com
10. Purito Centella Green Level Buffet Serum
Purito has some of the best performing products in their portfolio and this buffet serum is so great that it can become a class monitor in a class of K-Beauty Products (lame joke, but we hope you will laugh). This product has essentially got everything one would need, which is a great combination of soothing, moisturizing, anti-acne, and anti-aging ingredients. This is a highly recommended recommend Korean skincare product.
Features:
Contains a massive 49% Centella Asiatica extract, along with 3% Niacinamide, ceramide NP, Peptides, Hyaluronic Acid, Glycerin, and much more.
It is a Lightweight clear gel, moisturizing serum that layers well with other products.
Calms skin inflammations, reduces fine lines, acne scarring, and improves overall skin health.
Great for sensitive, sun-damaged and eczema-prone skin.
free of parabens, ethanol, mineral oil, oxybenzone, and PEGs
EWG Certified, Cruelty-Free, and Vegan.
Cons:
Has a subtle herbal scent to it, but then they do have an unscented version of this.
Where to buy? Amazon.in | Amazon.com
We really struggled with what products to include and what not to, because Korean Skin Care Products are amazing. It is finding a pearl in an ocean. Tell us whether you liked our compilation and which products should have been included in the list.
Related posts