Lipstick is one girl's true best friend. I know for sure that even if you don't own any other makeup you have lipstick on your vanity. From asking strangers what shade they are using to mixing five shades to get that perfect color, lipstick brings us closer. I know due to pandemic lipstick seems a bit luxurious but it creates inner confidence so mask or not, we can proudly say we chose to wear this. Like others, I possibly have enough to live the rest of my life but 'Dil Mange More. My best friend raved about this Maybelline Sensational Liquid Matte Lipstick range quite some time back so when I saw this in the sale I purchased it without thinking much. Want to know my opinion? Let's find out in this article.
Product Description:
The Maybelline Sensational Liquid Matte Lipstick comes in 24 shades. Its intense color pays off and the matte finish makes you believe in love again. Lips never feel dry or sticky. Follow the contours of your mouth for prominent application.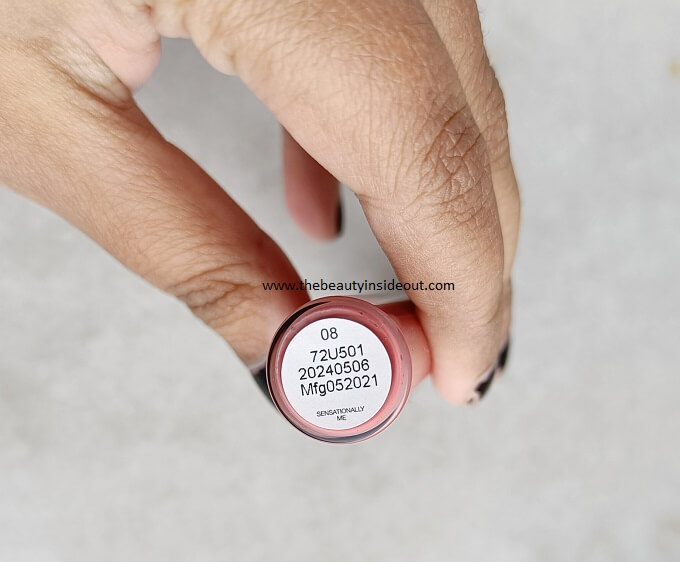 Ingredients:
Not mentioned.
Where to buy it?
Maybelline Sensational Liquid Matte Lipstick Review & Swatches
Packaging: The Maybelline Lipstick comes in a color-coded plastic tube with a black cap. The packaging looks sturdy and the quality is top-notch with this product. I love that it doesn't take a lot of space in my vanity/ bag and I can easily see the color without opening the tube.
Texture: It has a mousse-like texture and decent pigmentation. My upper lip is quite pigmented and it needs two layers to hide that. It never dries my dry lips which are awesome and don't give me pot-hole lips.
Fragrance: It has a floral smell which all the Maybelline products have. It's subtle and doesn't give me a headache. All the sensitive girls out there don't have to worry at all.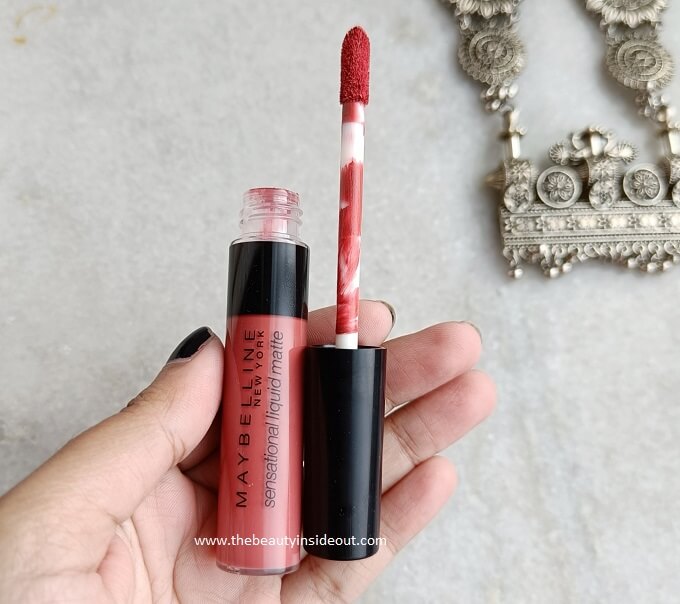 My Experience:
The Maybelline Sensational Liquid Matte Lipstick has a non-drying and non-sticky formula. It has 24 shades specifically curated for Indian skin tones which is great. It dries down within 20 seconds after applying and settles into a true matte finish. But when I use a heavy lip balm before applying, it feels kinda glossy. The applicator is very sturdy and great for contouring your lips. I mean I am no Kareena Kapoor in creating pouty lips but it does the job.
The color fades nicely and leaves the slightest tint. It's not long-lasting like other Maybelline Intense Lipstick. If one eats oily food then it will go away entirely. It's not fully mask-proof as well. It transferred a bit when I used this with an N95 Mask. You need to powder it down to make it transfer-proof. I didn't expect much given its price. I was quite impressed with this lipstick as it didn't bleed like crazy around the mouth even if I was using lib balm underneath. The lipstick goes away with double-cleansing.
Though this particular shade wasn't flattering on me, I'll be sure to pick up other shades from this range. They also have mini's that gives an option to try out many shades at an affordable price.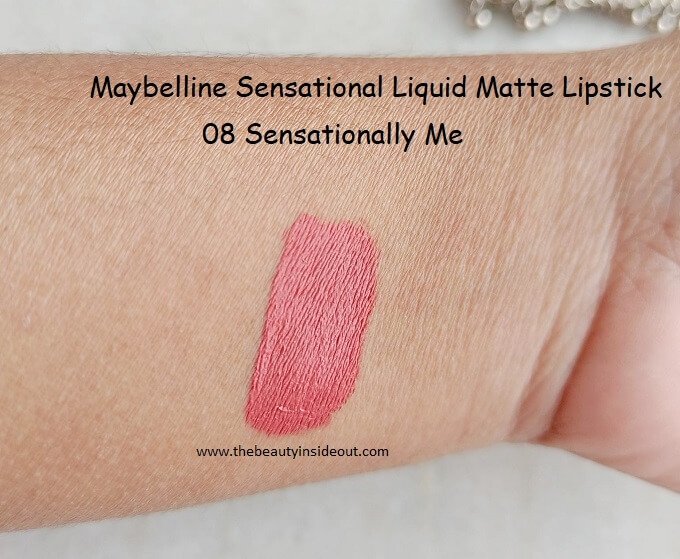 Pros:
Very affordable and easily available.
Great colors for dusky and fair skin tones.
Doesn't dry out your skin at all.
The applicator is great for curving out lips.
Fades nicely.
Cons:
The color I bought was not great for me.
It's not long-lasting like the super-stay matte-ink range.
It has medium pigmentation.
It can feel sticky and glossy if I put it over my lip balm.
Not entirely mask-proof.
Rating: 3.5/5
Would I recommend it? Probably yes. Though it's not the best out there, it has a nice formula. Also, they have mini's that you can try out first.
Have you tried these lipsticks? Share your experience with us.