There has been quite a lot of new launches from Maybelline. Of which my eyes were caught on this jolt lip paint and the intense crayons. I wanted to pick up only one of them but ended up buying both the products in one shade each. Why? Simple, because they were available on sale on Nykaa! Who would not want to miss a chance like that. Moving on, today let's see about the Maybelline Color Jolt Matte Intense Lip Paint in shade 06 Vamp Red.
Product Description:
Amp up the intensity with 8x more pigment in every drop. Maybelline's vibrant lip paint glides on to deliver a jolt of intense color.
How to use/apply:
Apply the flocked tip precision applicator to the center of your upper lip and follow the contours of your mouth.
Glide across the entire bottom lip.
Ingredients: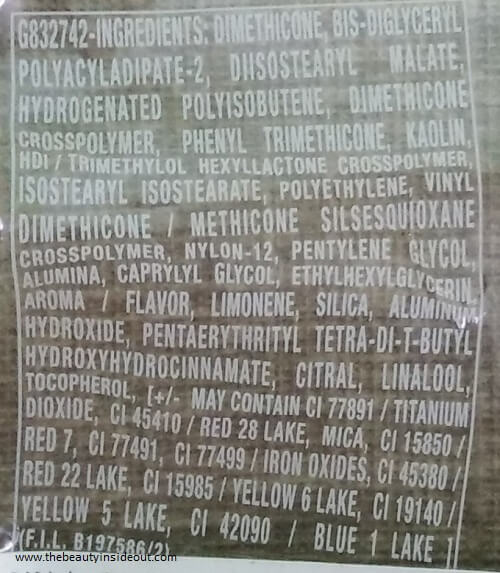 Shades Available: 8
01 Don't Pink With Me
02 Bittersweet Mandarin
03 Baby Mauve
04 Show Off Nude
05 You Red Me
06 Vamp Red
07 Vanity Violet
08 Flaunting My Pink
Price: 450 INR for 5 ml. I got it on sale for 338 INR from Nykaa.com. You can also get it from Amazon.com
My take on Maybelline Color Jolt Matte Intense Lip Paint:
Packaging: Its really cute and adorably tiny. It fits perfectly into my palms of my hands. It so small that it can easily get lost in my pile of lipsticks. The product is packed in a color coded plastic tube with a black cap. The cap is made of a rubberized material which feels soft to touch. Attached to the tube is a sponge felt tip applicator. The felt tip is slanted and aids in giving a precise definite application. Many may not like the applicator as it gets stained post first application and remains stained forever. But I'm loving it as it makes things easier for me. The tube comes covered in a plastic wrapper which holds the ingredient list. So once you uncover it, unless you save it, the ingredient list is gone. Overall, I'm happy with the packaging. Frankly I bought this product after getting hooked to its charming look.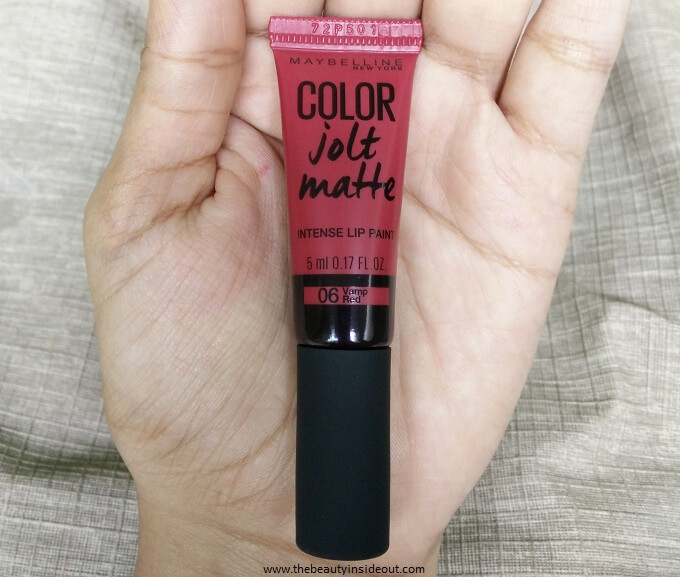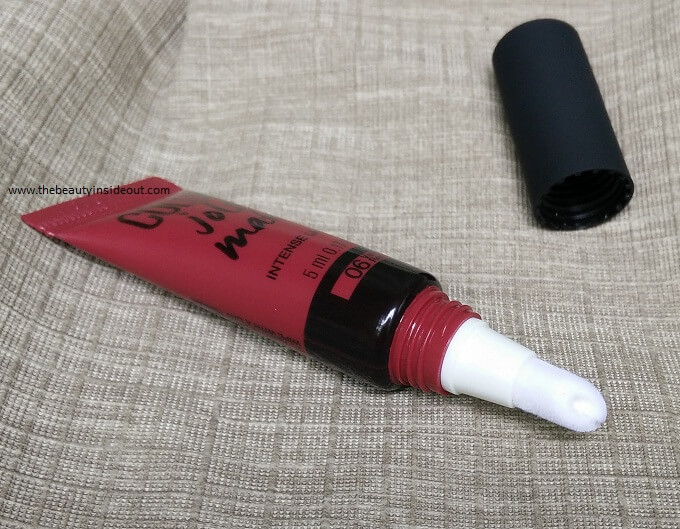 Shade: 06 Vamp Red is a beautiful oxblood shade. In other words, it is a deep red with brownish hue. The shade is bright and striking and would instantly lift up your whole makeup look. It's a shade that would suit universally across all skin tones, so pick this up if you love such dark shades. The shade is perfect for the upcoming wedding season.
Pigmentation: Maybelline Color Jolt Matte Intense Lip Paint in 06 Vamp Red is insanely pigmented. A tiny drop of the product and one swipe is all you need for that intense pop of color. Particularly since this shade is a deeper one, it effortlessly covers highly pigmented lips requiring no multiple swipes. Sometimes I like using this shade as lip stain for an appealing red pout. The lip paint can also be used to give a flush of color to your cheeks.
Formula: Maybelline Color Jolt Matte Intense Lip Paint has a semi-thick mousse like texture. Just like paint, less is more. You require only a teeny tiny amount of the product each time for the color to show up. So this tiny tube is going to last long, even though it has only 5 ml of the product in it.
The formula as such is really nice, it is ultra lightweight and feels so comfortable on the lips. It applies smoothly and evenly without being patchy or tugging my lips. The lip paint is not drying on my lips like those liquid lipsticks. But still if you have very dry and chapped lips, prepping them would do no harm. As it can feel a little bit drying at the 3rd or 4th hour and you would certainly need a layer of lip balm to tackle that.
Fragrance: The lip paint has a mild sweet, candy like fragrance. Unless you bring your nose closer to it, you will hardly notice any scent! Even while wearing it on your lips!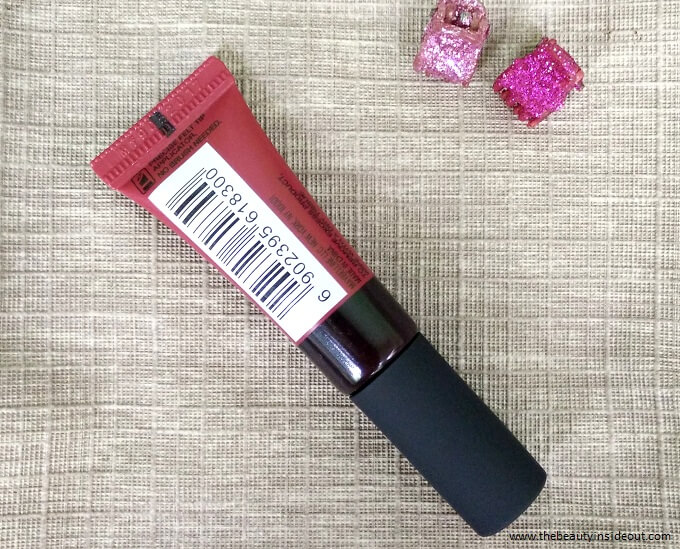 Finish: The immediate finish is matte with a slight sheen to it. After a while, it sets into a soft, velvety matte finish. It does transfer, though very minimally.
Longevity: The staying power is impressive as well. On me, it lasts for 6-7 hours with a little bit of munching. Though the color gets wiped off with heavy meals, there is still some red stain left on my lips. It does not look bad rather I liked the stain that is left behind. At the end of the day, I still require a makeup remover to get rid of that color as it doesn't go on its own or just with water.
Pros:
Attractive packaging.
The applicator is really good, aids in precise application.
Non-bothering fragrance.
Nice formula, glides smoothly and evenly.
Lightweight and comfortable on the lips.
Soft Matte Finish.
Intense color pay-off.
Good staying power.
Vamp Red is perfect for the festive season.
Can be worn as lip stain and cheek stain as well.
Cons:
Prepping the lips is required as it can be drying as time goes on.
Transfers a little bit.
Stains the lips which needs the use of a remover.
Rating : 4.4/5
Would I recommend and repurchase? Yes. If you are looking for a highly pigmented, lightweight, comfortable lip paint, then this would meet your demands. It is not super drying like liquid lipsticks but still provide long lasting color to your lips. Though I would not be repurchasing it again, atleast not in the same shade, I'll have to say that I truly loved using this lip paint and I'm surely going to put into use quite often in the coming days.
Looking for other Maybelline Reviews