MyGlamm is comparatively a newly-launched brand in the market of makeup and skincare and their glittery campaigns and advertisements are hard to miss by anyone. Recently, they launched their all-new K.Play range that apparently had fruit-infused products along-with skin enhancing formula, as claimed by the brand. This range included a bunch of products like flavoured lipstick, flavoured sheet masks, flavoured highlighters, and a lot more. Being a lip gloss lover, I decided to try my hands on the MyGlamm K.Play Flavoured Lip Gloss in Berry Blast variant. I received the product 3 days after placing the order, so the delivery services are pretty impressive. Anyhow, I've been using this flavoured lip gloss for about a month now, and I've got a lot of things to share about it. Read on to find my experience with it so far.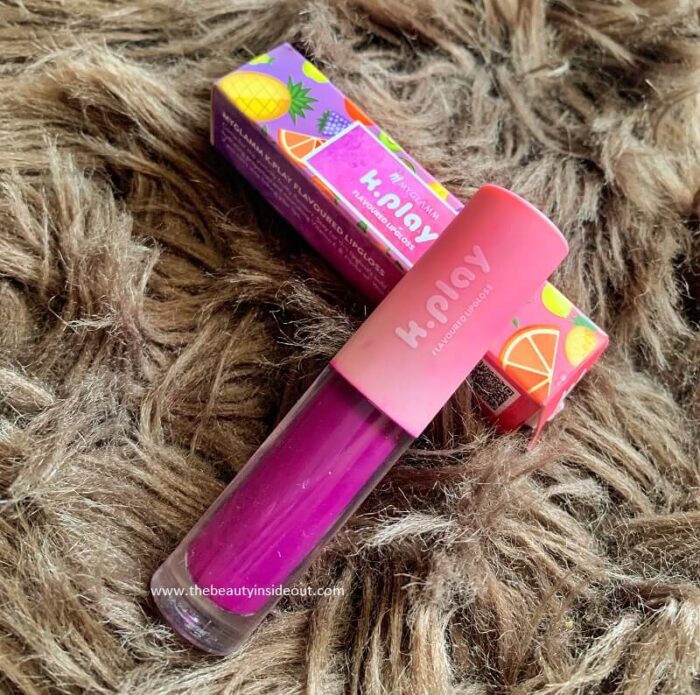 Product Description:
Available in almost a dozen shades, the MyGlamm K.Play Flavoured Lip Gloss comes in yummy fruity flavours. It gives your lips a high-gloss finish and is enriched with jojoba oil and Vitamin E. The quality is tremendous and it glides on your lips like magic. All these glosses by the K.Play range are highly pigmented and make your lips plump and shiny. You can even wear it alone without any prior makeup and you're good to go. This new K.Play range has infused fruit extracts, which results in the heavenly flavour and fragrance of these Lip Glosses. They come in around 12 shades.
MyGlamm K.Play Flavoured Lip Gloss Ingredients:
Castor Oil, Hydrogenated Polyisobutene, Microcrystalline Wax, Light Liquid Paraffin, Caprylic/Capric Triglyceride, Phenyl Trimethicone, C12-15 Alkyl Benzoate, Octyl Palmitate, Octyl Methoxycinnamate, Lanolin Oil, Jojoba Oil, Shea Butter, Tocopheryl Acetate, Phenoxyethanol & Ethylhexylglycerin, Butylated Hydroxytoluene, Flavour, Pearls & Approved Colour.
How to use it?
Start at the centre of your bottom lip only and purse your lips together; this ensures that you get just the right amount of lipgloss.
Avoid applying lip gloss above the natural lip line.
Blot any excess gloss using tissue paper to prevent excess lipstick.
If you want a high shine hit, apply the gloss across your entire bottom lip and smack your lips together.
Price: Rs. 595 for 4.5g
MyGlamm K.Play Flavoured Lip Gloss Review
Packaging: This MyGlamm K.Play Flavoured Lip Gloss comes in a sleek cylindrical tube with the brand name embedded on the lip applicator. It also comes with a quirky pink-coloured outer cardboard box, as shown in the picture, that has all the details mentioned on it, be it the price or ingredients.
Colour & Texture: The shade that I've got is Berry Blast. It's a very poppy magenta-purple colour that gives out major Y2K vibes. With this shade, I can say that a little goes a long way. The texture of the gloss is as soft as a baby's skin and has a fruity taste as well.
Fragrance: As the name suggests, the taste and fragrance of this Lip Gloss by MyGlamm is very fruity, similar to that of a berry and it lasts for quite a long.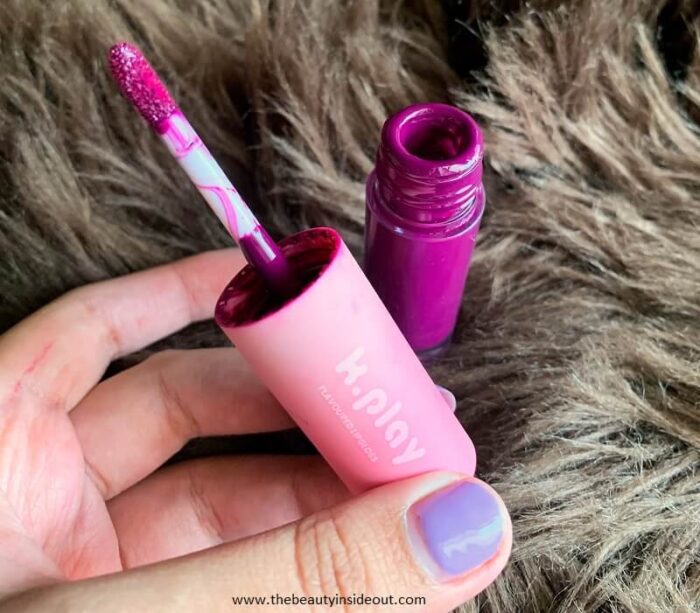 My Experience:
Being a lip-gloss fan, I'm always searching for new brands and products, the ones that don't feel too sticky on my lips and provide the right amount of gloss to them. Thankfully, I landed on this beautiful MyGlamm K.Play Flavoured Lip Gloss in the shade Berry Blast. This was my first purchase by MyGlamm and honestly, I was quite sceptical about the product. But to my surprise, this one turned out to be one of the best lip glosses I've ever tried my hands on.
It gives you the perfect pigmented lips and the right amount of gloss that stays for around 3-4 hours on average depending on several factors like the weather, and your snacking. Apart from that, it has an amazing fruity taste and smell, similar to that of a Berry, thanks to the infused fruit extracts in the product. Talking about the colour, it is so pretty and flattering and works as a perfect alternative on days I don't feel like applying lipstick. It gives your face an instant pop of colour to fade away the dullness. In fact, I even use it as a cheek tint sometimes and it perfectly does the job. It doesn't feel heavy on the lips at all and a little amount goes a long way.
This lip gloss by MyGlamm K.Play range retails for around Rs.600 but you can always get in on some deals and discounts on Nykaa, Amazon, or even MyGlamm's website. I personally really liked this product and looking at how long-lasting it is, this is a good purchase to make.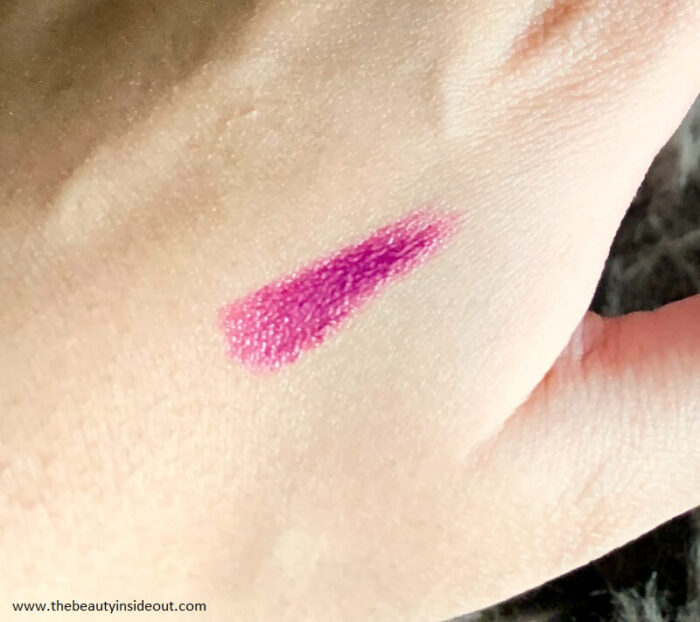 Pros:
Good doe foot lip applicator.
Variety of beautiful shades.
Provides perfect glossy and shiny lips.
Highly pigmented.
Long-lasting formula.
Flavoured and nice smelling glosses.
Cons:
Might wear off soon if you eat frequently.
Rating: 4/5
Would I recommend it? Yes. it honestly depends on you. If you're someone who's a huge lip gloss fan and might wanna invest a few bucks in a good product, you can buy it. This MyGlamm K.Play Flavoured Lip Gloss range is highly pigmented and comes in 12 different variants with ultimate shades and flavours. A single tube can last you up to 5 months if you're a regular user so that justifies the price too.
What do you think about this MyGlamm product? Are you a lip gloss lover? Let us know in the comments below.