A girl never has enough lipstick in her collection. A lipstick is girls second best friend. It can change the whole look of the face in seconds. When I first got into makeup I only knew of Lakme. It was available everywhere and within our middle-class range. Then life happened and I started using other brands. However, Lakme introduced us with their soft matte liquid lipstick which can be used as a cream blush too. So today I am going to review the Lakme 9 to 5 Weightless Mousse Lip and Cheek Color in Plum Feather. If you are lipstick lover like me then keep on reading till the end.
Product Description:
Lakme 9 to 5 Weightless Mousse Lip and Cheek Color are easy to blend and gives a perfect matte finish. It has intense pigmentation which is suitable for long-wear and pigmented lips.
Ingredients: Cyclopentasiloxane, Octyl Dodecanol, Polyethene
Price: 625 INR
Quantity: 9 gm
Availability: Easily available both online & offline.
Lakme 9 to 5 Weightless Mousse Lip and Cheek Color Plum Feather Review
Packaging: Lakme 9 to 5 Weightless Mousse Lip and Cheek Color comes in a blushed pink tube which has a steel coloured lid. When we open the product there is a leaf structured applicator which is precise enough to go into the inner corner of our lips. However, there are two cons when comes to this kind of packaging. You can not really see the product colour beforehand as all the product has the same blushed pink tube. And the product name is written below the tube in a very small font which makes it very problematic to read every time when you have two or more colours from the same range.
Texture: It has a perfect mousse-like texture. It is definitely on the thicker side so a little product is more than enough.
Related:
Fragrance: It has a sweet vanilla gum like fragrance. I personally love the fragrance. It makes me want to eat the lipstick every time I put it on. But people with a sensitive nose can find it disturbing because it lingers for quite some time and doesn't really go away.
Shade: I bought the shade Plum Feather which is a pinkish plum colour. It can be worn for office as well for quick day time events. The shade range is quite decent. There are nudes, reds and one that suits every skin colour.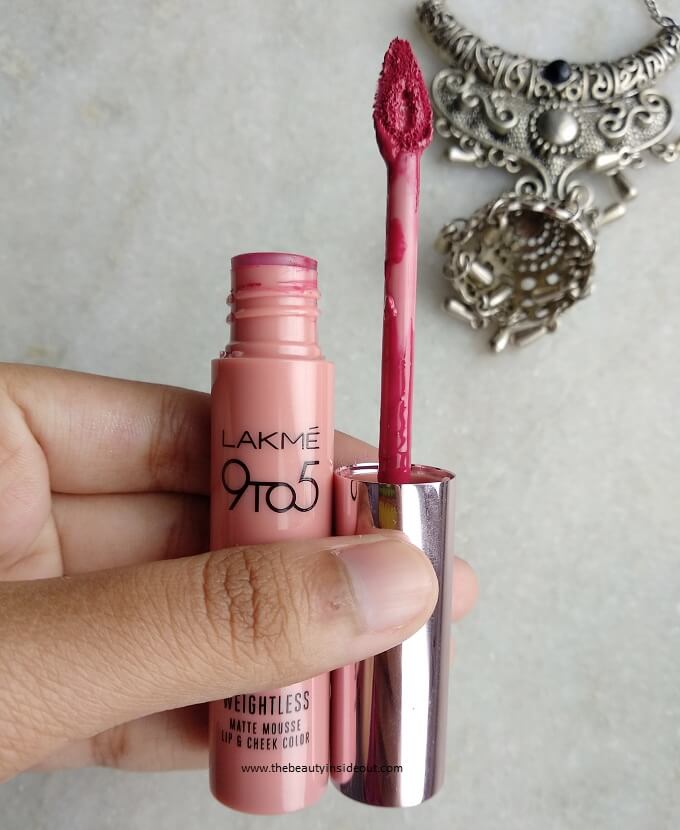 Performance: The Lakme 9 to 5 Weightless Mousse Lip and Cheek Color have good pigmentation and it is fairly comfortable to wear for the first 5 hours then it can be felt a little bit drying. So I use a lip balm before using this product. The mousse-like texture doesn't give any patchy look to my lips. The lip colour is not long wearing as it claims. It wears off after 6-7 hours and gives a subtle tint to the lips after that. I have pigmented upper lip and it covers them perfectly without looking like another colour. It takes around 2 to 3 minutes for it to set onto the lips and after that, it goes on completely matte and does not transfer or bleed. You need to use a good makeup remover to remove this lipstick. It doesn't emphasize any dry patches or cracks on the lips as other normal liquid lipsticks do. This particular shade wears beautifully as a blush. It blends easily and gives a flushed look to the cheeks. It would look flattering all skin tones.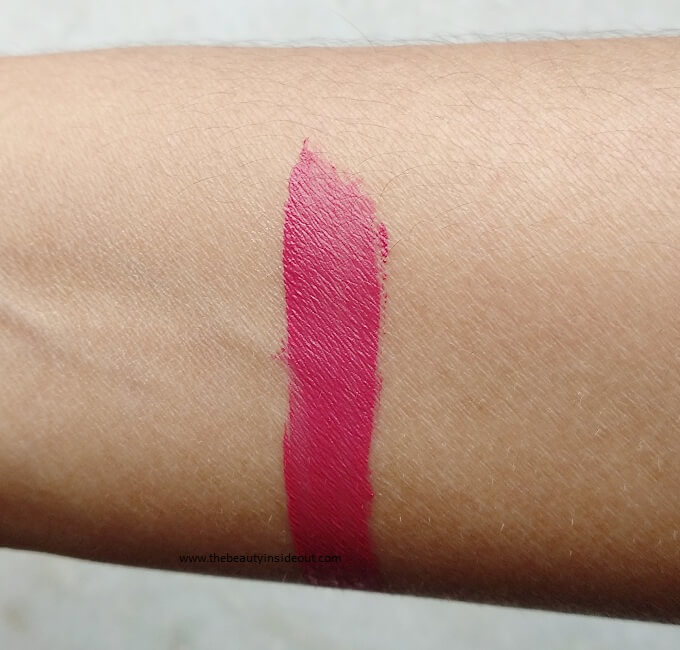 Pros:
Nice Mousse Texture.
Comfortable, non-drying formula.
Doesn't transfer.
Nicely pigmented, hence good for pigmented lips.
Gives complete matte finish once set.
Cons:
Opaque packaging makes it difficult to identify different shades.
Has fragrance which can a problem for sensitive girls.
Rating: 4/5
Would I recommend? Yes I recommend these. These are very comfortable on the lips, compared to other liquid lipsticks that are drying. These are also highly pigmented and lasts quite well on the lips. I am going to repurchase another shade for everyday use.