Wet n Wild is one of the cheapest drugstore cosmetics brand that's available across many countries. A couple of years back, Wet n Wild was officially launched in India through Nykaa.com and it has quickly become everyone's favourite. From beauty bloggers to college girls there is at least one favourite product in everyone's makeup kit from this brand. Last year my sister gifted me this Wet n Wild Eyeliner so that I can master the art of a winged eyeliner. Today's review is going to be about this Wet n Wild H20 Proof Liquid Eyeliner and if you are interested then keep reading till the end.
Product Description:
The Wet n Wild H20 Proof Liquid Eyeliner delivers the most long-lasting formula that won't keep you down. This product doesn't smudge, streak or skip and glides into the eyes smoothly
Price: 399 INR
Quantity: 5 M
Wet n Wild H20 Proof Liquid Eyeliner Review
Packaging: The Wet n Wild H20 Proof Liquid Eyeliner comes in a tiny black triangular tube which is extremely travel-friendly because it's super compact and barely occupies any space in my travel makeup pouch. The applicator wand is small in length which gives a better hold making it easy to use when holding it close to the eye. The tip of the wand is felt tip and is ok in my opinion. It does have a pointed tip but it's thicker than other liquid eyeliner tips I have used. For example, the Lakme Absolute Eyeliners Tip has more pointed tip than this one. So when drawing a sharp winged eyeliner with this, you definitely need more practice.
Texture: Wet n Wild H20 Proof Liquid Eyeliner is not extremely liquidy or extremely thick. It has a perfect medium consistency.
Shade: It comes in 2 Shades – Black Noir and Dark Brown. The one I have is obviously black in color and sets to a matte finish.
Fragrance: I personally didn't notice any fragrance, unlike the other Wet n Wild products. So if you are allergic to fragrances then this is not going to be a problem for you.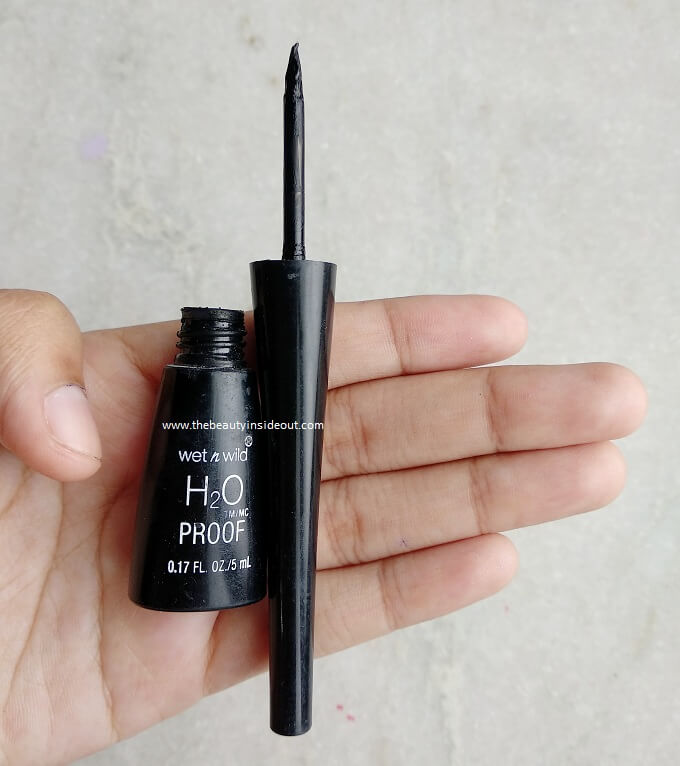 Performance: The Wet n Wild H20 Proof Liquid Eyeliner is a Waterproof and smudge-proof formula. When I say waterproof it means that even if you are drenched in rain, your eyeliner wouldn't budge at all. Which also means that you will need a good waterproof makeup remover to remove it otherwise it will not come off easily. Needless to say, this eyeliner is long-wearing.
You can apply a thin or thick line easily with the applicator. The eyeliner is absolutely shine free. It is so matte that it can look a little bit flaky if you have dry eye lids. Nothing dramatic though. It doesn't glide that smoothly on the skin as it claims. Like you really are not going to experience gel-like soft consistently with this eyeliner.
The product is quite affordable and does last a really long time. One bottle lasted me one and a half year and I wear eyeliner almost every day whenever I am going out. Also, I have worn this for about 15 hours on a summer wedding occasion and it didn't fade at all. I really think this is a great value for money product.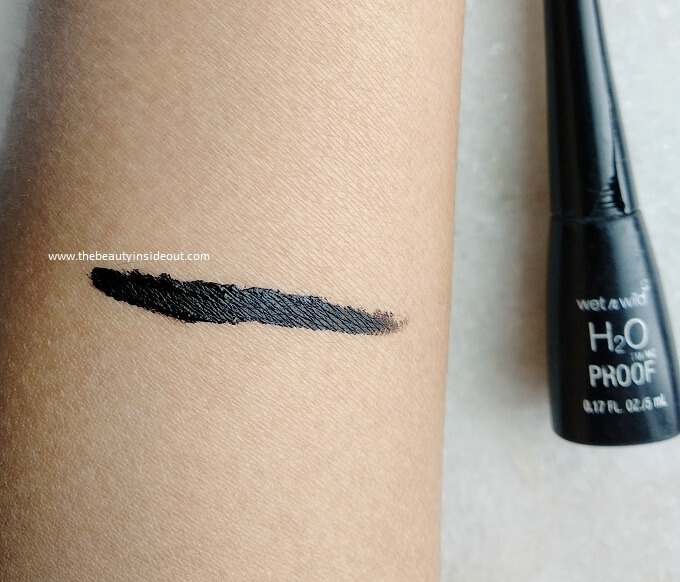 Pros:
Affordable.
Smudge-proof and waterproof.
Doesn't bleed or budge.
Highly pigmented.
Long wearing.
Gives a matte finish.
Cons:
You will need a waterproof makeup remover when cleaning this.
Can look a bit flaky.
The applicator could be sharper for that sharpen wing.
Rating: 4/5
Would I recommend or repurchase? Yes if you are looking for an affordable long wearing eyeliner with a matte finish, then you can definitely go for this product.