The launch of Kay by Katrina took the internet by a storm. Katrina Kaif, actress and model, launched her very own makeup brand in collaboration with Nykaa. Unlike other collaboration deals, this is a long-term brand which is here to stay and roll out multiple products. The brand stands to promote the message of self-love and positivity with the message #ItsKayToBeYou and aims to provide makeup which is long lasting and not harmful for your skin basically #MakeupThatKares. The brand has a wide range of products from foundations, blush, lip colors and eye makeup. Today we'll be reviewing its Kay Beauty Quick Dry Liquid Eyeliner in the shade Chic Emerald. In the recent months, colorful graphic eyeliner is trending all over the internet. A bold eye makes a statement like no other look!
Product Description:
Kay Beauty Quick Dry Liquid Eyeliner is a smudge-proof, transfer proof and water resistant eyeliner that defines your eyes beautifully. It's formulated with cool Chamomile and Eucalyptus Extract to give you a comfortable wear for prolonged periods and let your eyelids stay refrehed and hydrated.
Ingredients: Not mentioned.
Price: Rs.500 for 3ml
Where to buy? Kay Beauty products are exclusively available only on the Nykaa website or at the Nykaa stores since the brand was launched in collaboration with Nykaa. The site usually runs a discount, you might be lucky enough to get it at a 15% discount!
Kay Beauty Quick Dry Liquid Eyeliner Review
Packaging: The eyeliner comes in a slim box cover, once you open it you will find a thin tall bottle. The applicator is much taller than the actual bottle itself, which may be designed so to make it easier to apply thinner strokes. The brush itself is pretty short and thin enough to make precise fine lines. The bottle has a suction sort of opening, which helps in not leaking out too much product on the brush once you pull it out. Although you may have to apply some force when you first pull it out.
Shades: Kay Beauty Quick Dry Liquid Eyeliner is available in total eight shades
HauteViolet (Violet)
SizzlingMocha (Brown)
Grunge Raisin (Brown)
Bespoke Blue (Blue)
ExoticIndigo (Blue)
BlackCanvas (Black)
ShadowPlay (Dark Grey)
Chic Emerald (Green)
Texture: It's a liquid eyeliner, with a matte finish, similar to many others in the market. The formula glides easily without patchiness and dries pretty quickly. It didn't irritate my eyelids as well.
Fragrance: The liner has an almost unnoticeable scent. It does not smell of chemicals, or any other toxins. I am pretty sure the eyeliner won't tingle your sense of smell or provide you with a negative experience because of the faint smell.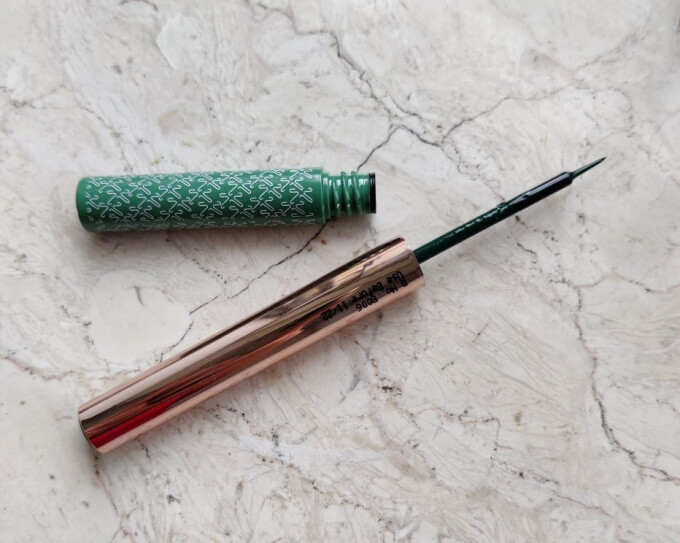 My Experience:
I love a good bold dramatic eye, especially since I have hooded lids. This colorful liner just adds that oomph factor! In terms of exterior looks, the bottle is kind of cute, the golden cap makes it easy to find in my makeup box.
The eyeliner itself is nicely pigmented, usually one stroke is enough on top of my lids to give it a nice dark green color, for my wings, I usually fill it twice to make it more noticeable. The eyeliner doesn't smudge. I have pretty oily lids, but it tends to stay despite that. It does not fully come off with just water. It does come off a little if you rub your eyes but you need oil or makeup remover to completely take it off.
I really like the edgy but cool look it gives me. If you're looking for a long-lasting eyeliner this one should definitely be in your list. It might feel flaky if you have dry lids or tend to scratch your eye.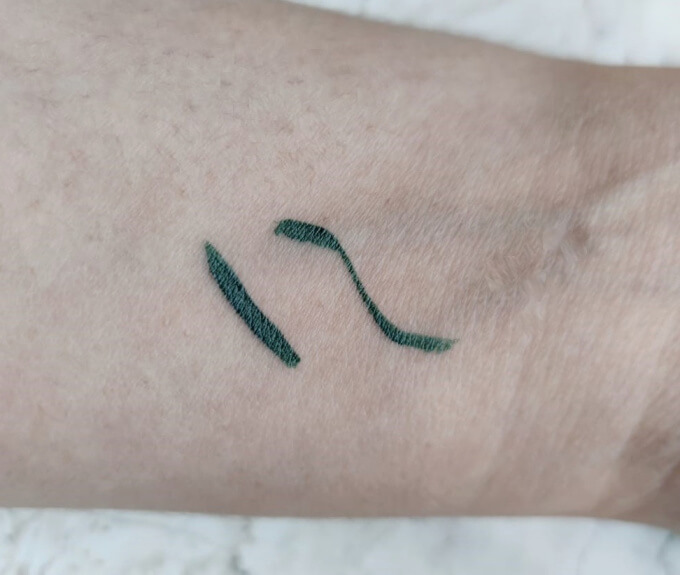 Pros:
Long lasting.
Highly pigmented.
Pretty much odorless.
Won't smudge easily.
Water resistant.
Decent price.
Kay Beauty is Vegan, Cruelty Free & Paraben Free.
Cons:
Might get a bit flaky.
Not really a con, but the brush could have been a felt-tip brush like the Colorbar Waterproof Liquid Eyeliner, it just makes the application process a lot simpler.
Rating: 3.5/5
Would I recommend? The Kay Beauty Quick Dry Liquid Eyeliner is pretty pigmented and is relatively cheaper than other alternatives in the market, like Sugar Cosmetics colorful eyeliner. I think it's #KayToTakeAChance and experiment, channel you inner creativity and go wild!
Guest Author: Saloni