Kajal is an integral part of every Indian girl's makeup journey. Many of us just stick to a dash of kajal on the eyes and a nude lip colour for day to day use. My today's review is about an extremely pocket-friendly kajal from Himalaya with which I started my makeup journey. I have been suffering from pollution induced allergies in my eyes for the past 1-2 years. Most long lasting kajals are causing irritations in my eyes these days. So, I had to return to this old favourite Himalaya Kajal Eye Definer. Here's my take on this Herbal Kajal.
Product Description:
Enriched with Damask Rose and Triphala, Himalaya Kajal Eye Definer combines traditional ingredients like Almond Oil and Castor Oil with Damask Rose to cool and nourish eyes. Triphala, a unique herbal composite of three power-packed berries, adds lustre, making eyes look bright and attractive.
Ingredients:
The complete ingredient list is not mentioned in the kajal. Only the active ingredient names are provided in the outer seal of it. Himalaya Kajal contains Almond Oil, Camphor, Castor Oil, Damask Rose and Triphala.
Himalaya Kajal Price:
Rs.45 for 1gm
Rs.135 for 2.7gm
Where to Buy? This pocket-friendly kajal is widely available. You can buy it at online stores like amazon and nykaa. It is also available in grocery stores, small beauty supply stores to departmental store chains. You may get lucky to buy it at good discount if you are making online purchase.
Himalaya Kajal Eye Definer Review
Packaging: This kajal comes in a bullet stick form like lipsticks. It also has twist-up mechanism to bring the triangular kajal stick upwards for use. The kajal stick is of conical shape. The tip is sharp at first but with use, it gets blunt. The entire packaging is transparent. You can even see through the base of the bullet. The tiny plastic bullet of the kajal is easy to carry in even my smallest purse. The plastic cap gets damaged if it falls on hard surface or gets too much pressure in tightly packed bags. It is not very sturdy but for Rs.45 the quality of the packaging seems good.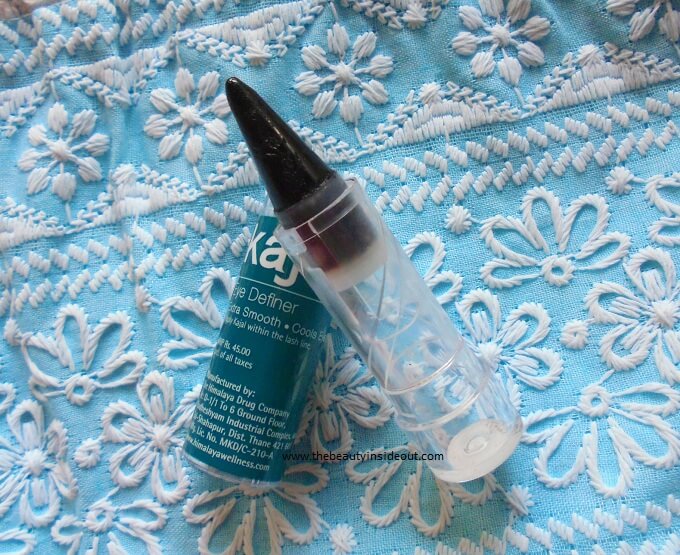 Shade & Texture: This kajal is available in only one shade and that is black. It is a jet black coloured kajal with smooth finish. It is not a matte kajal like Lakme Eyeconic, the formula is shiny. It reminds me of homemade kajals prepared from soot. This is not a smudge-proof kajal, so it spreads in and out the waterline. The formula does not sting or cause irritation.
Fragrance: Himalaya Kajal does not have added fragrance. It has a faint smell of homemade kajal that moms apply on babies and a hint of camphor.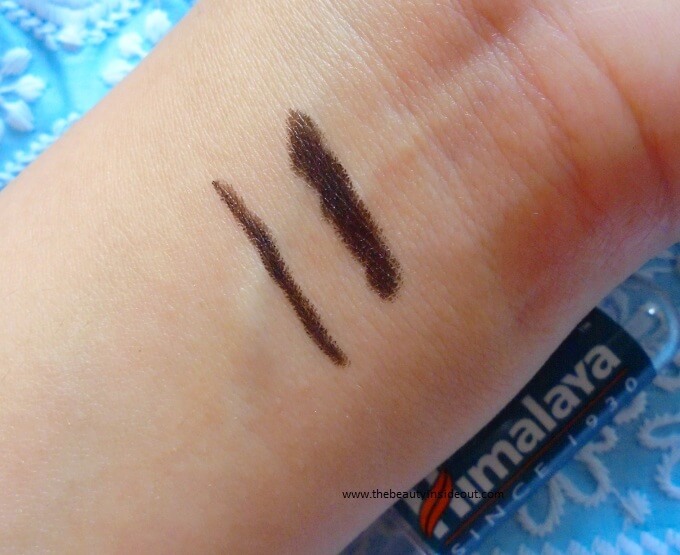 My Experience:
I love makeup but removing those makeup seems hard work to me. So, I invest in makeup products which are either not water-proof or easy to remove. This Himalaya Kajal comes under the second category. It looks deep black when you apply but fades to a great extent within 2-3 hours. The black hue bleeds to the under eye and if your under eyes are oily, you might have panda-eyes in no time! Believe me, I have faced those issues in my college days when I only had this kajal in my collection. Then I moved to twist-up kajals like Lakme Eyeconic etc. Sadly, nothing suits me right now so I have to keep using this.
Apart from the longevity and smudge issue, it is a decent kajal in terms of price. I have used both the small and big size. I found it hard to finish off the entire kajal stick even after using it everyday. So, less is more with this kajal. I have also used it to create base for smokey eyes. Its smooth formula creates an even base for smokey black or brown looks. Now, I have mastered the art of applying it only to the waterline and kajal application lasts for 3-4 hours without causing much smear. Though the brands mentions about 'cooling' the eyes, I haven't experienced anything like that. It does not feel scratchy or irritating to my eyes.The Himalaya Kajal is safe for babies and those with sensitive eyes. I will be using it until I find a better substitute, in terms of longevity and being smudge-proof.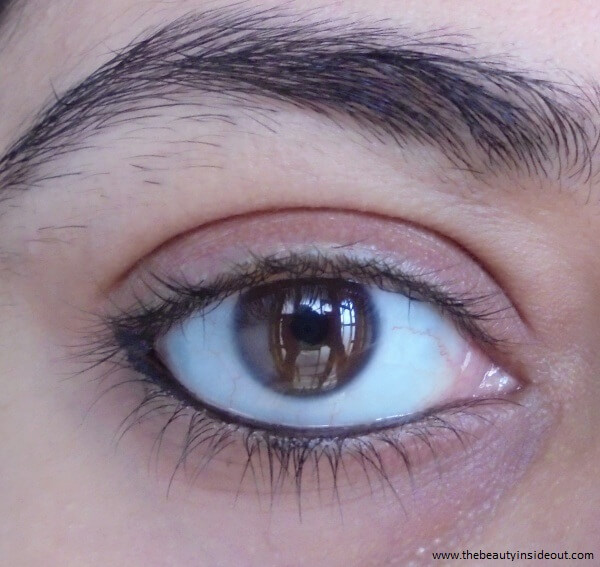 Pros:
Jet black colour
Smooth herbal formula
Does not irritate eyes or cause adverse reactions
Extremely pocket-friendly and easily available
Cons:
Smudges badly if applied out the waterline
Reapplication needed after 3-4 hours due to fading
The claims mention some odd points like 'adding lustre to the eyes'
Rating: 2/5
Would I Recommend? If you wear contact lenses, have sensitive eyes or allergy issues like mine then this kajal is going to save your day. However, If you have oily under eyes do not even think about buying this. This smudges badly if you apply it outside of your waterline and fades fast. Invest in some long lasting kajals such as the Plum NaturStudio All Day Wear Kajal instead.