Not every individual is blessed with flawless features. The power of makeup lies in its ability to hide the flaws and highlight the best feature you possess. I love makeup because it makes me feel confident. Glowing skin is the dream of every makeup lover. Highlighters are mainly used to create an illusion of glow. Now, blinding highlighters are quite heavy duty for everyday use. That's why the concept of strobe creams come into the picture. So, What is a Strobing Cream? Strobing Creams are highlighter like creams that are expected to provide muted and natural glow to the skin. It is ideally a lightweight cream suitable for both everyday makeup and party makeup. Today I am going to share my views on Maybelline Master Strobing Cream Nude.
Product Description:
Maybelline Master Strobing Cream is a illuminating highlighter with micro pearl liquid formula. It adds glow to your skin and creates the radiance from within look.
Ingredients:
The ingredients were mentioned in the outer pack. I have thrown it away so can't show the ingredients.
How to use the Maybelline Master Strobing Cream?
For a subtle effect, apply it underneath your foundation all over the face or on points where you need highlighting.
For a glam effect, apply it like a highlighter after your foundation on high points of your face.
Mix a drop of the strobing cream with your foundation or cream products for a natural glowing effect.
Price: Rs.665 for 18ml
Where to Buy? You can buy this strobe cream offline at any makeup and beauty store that keeps Maybelline product. If you are making offline purchase you can try the testers before buying. If you want to get good deals on it then buy it from online stores like nykaa, amazon etc.
Maybelline Master Strobing Cream Review
Packaging: This Strobing Cream comes in a black squeeze tube. The tube is tiny and very sturdy. It looks almost same as Maybelline's small Fit Me Foundation Tube. The product is very light-weight so be very careful while squeezing. If you put too much pressure, a lot of product will come out. I once made this mistake and that's how I wasted some product. Otherwise it's a good packaging. The size fits easily in most of my purses so I often take it with me for touch-up.
Shade: Maybelline's Master Strobing range has two shades in India. One is pink and the other is nude. I bought the Nude variant as it has warm-neutral undertone which suits my complexion. This particular shade works across many skin tones. It looks equally good on light, medium and dusky Indian skin.
Texture: The texture of this strobe cream is extremely light. It is a cream which sets into a perfect matte finish. It does not have chunky glitter. The illuminating particles are minuscule. That's the reason it creates natural looking glow. Once you learn to apply it in correct amount, you can't even feel there is something on your face.
Fragrance: It is a fragrance free illuminating cream.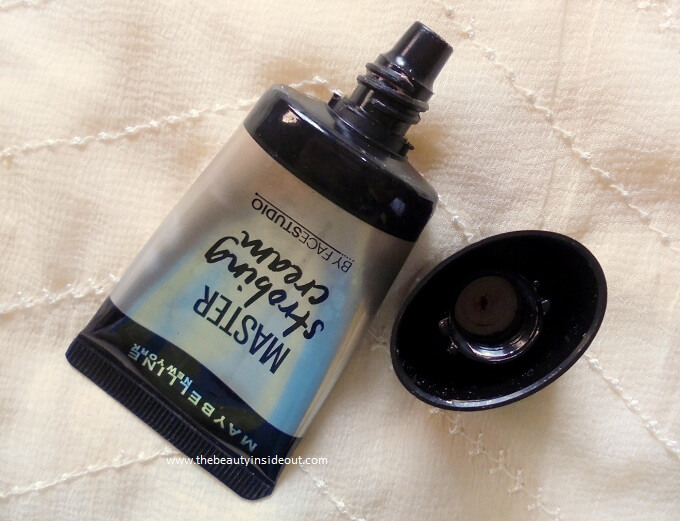 My Experience:
I will begin my review by saying this is one of the jewel products from Maybelline. Specially those, who like 'daily glow' kind of look more than 'it's on your face' kind of looks, this is certainly a must. This strobe cream can be used before or after foundation. I already have oily skin so I don't use it at the time of priming. I use it for highlighting the cheek bone, chin, forehead and nose at the end. This is a creamy product but it sets within 3-5 seconds. After that blending becomes tough so I work with it in small sections. The illuminating particles are very small; you can't even see them with bare eyes. That's why the finish looks extremely even.
For subtle looks, just a drop of product is enough. For a glam look, I go over another time to increase the glow. The best thing with this is, it doesn't highlight the textures of the face. I have large pore issues still my face looks even and natural with this. This subtle highlighter does not create annoying flashback in pictures. So, this is my staple product for evening outs or occasions where lots of flash photos will be taken. I sometimes use it with my regular moisturizer, it gives me a 'glow within' type look.
Related: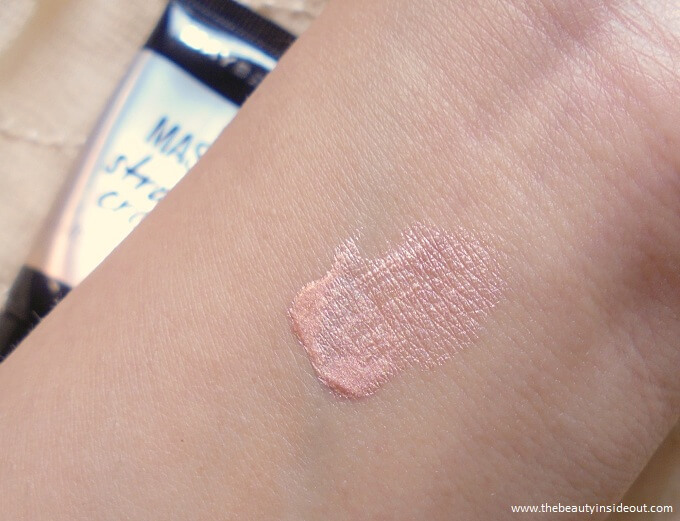 Pros:
Warm-neutral toned illuminating cream for subtle highlighting.
No need to find shades, one shade suits everyone.
Provides natural looking highlights.
Feathery light finish.
Sets on its own; no need to top it with powder.
Can be used before or after base makeup; can be even mixed with moisturizer for a dewy glow.
Cons:
For the price, the quality is awesome so no cons for me.
Rating: 5/5
Would I Recommend? Yes. I will highly recommend this to someone who likes subtle highlighters. If you want a nice illuminating cream to mix with your moisturizer or foundation for a dewy finish, this is the best product to own. Those who are just starting out with makeup and want to try their hands on highlighters, this is a nice product to start with.