Aloe Vera Gel is a must product for everyone's skin care collection. The juice of aloe plant comes with 75 vital nutrients and anti-oxidants. It not only soothes the skin from acne, inflammations, sun damage etc cosmetic conditions but also helps in healing insect bites, minor cuts and burns. Aloe Vera is a common plant in our households but extracting its leaf juice can be time consuming. That's why I always keep ready-made Aloe Vera Gels handy. I use them to moisturize my skin and for preparing various skin and hare care home-remedies. Many local and international brands have come up with their own versions of aloe vera gel. Today I am going to present a comparative view of the VLCC Ayurveda Soothing Aloe Vera Gel vs. Lakme 9 to 5 Naturale Aloe Aqua Gel.
Product Description:
VLCC Ayurveda Soothing Aloe Vera Gel has 90% Aloe Vera Pulp content. It provides maximum nourishment to the skin, heals inflammation, calms acne and rehydrates the skin. The presence of Vitamin E heals scars and softens the skin.
Infused with 100% pure aloe vera extracts Lakme 9 to 5 Naturale Aloe Aqua Gel soothes, hydrates and acts as a barrier between pollution and your skin. This gel is perfect for moisturizing the skin before  work-out, after a shower, before stepping out, and before bed. It is also a good primer for creating smooth base makeup.
Ingredients:
VLCC Ayurveda Soothing Aloe Vera Gel Ingredients: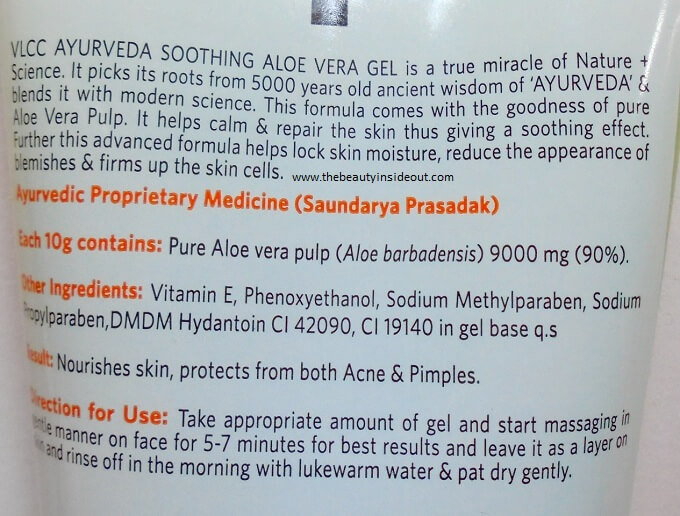 Lakme 9 to 5 Naturale Aloe Aqua Gel Ingredients: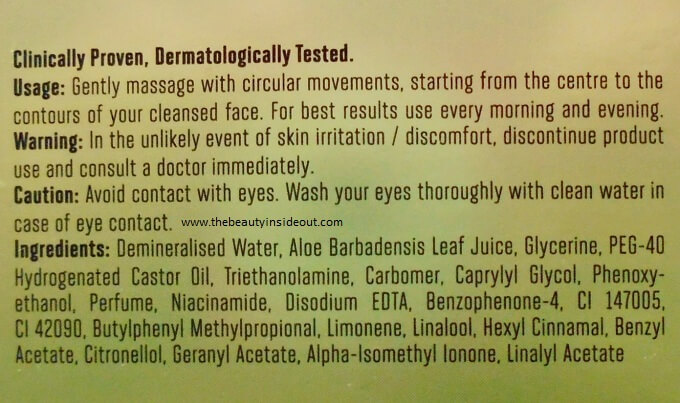 Price: VLCC's Soothing Aloe Vera Gel comes at Rs.85 for 100gm while Lakme 9 to 5 Naturale Aloe Aqua Gel is priced at Rs.200 for 50gm. These have notable price difference. VLCC's aloe gel is far cheaper than the Lakme one.
Where to Buy? Coming to the availability, both the aloe vera gels are easily available online as well as offline. If you are buying it at local beauty stores or departmental stores, you'll get 5-10% discount at the max. Online stores like nykaa and amazon offer them at 20-30% discounts at sale time.
VLCC Ayurveda Soothing Aloe Vera Gel vs. Lakme 9 to 5 Naturale Aloe Aqua Gel
Packaging: VLCC aloe vera gel comes in a transparent tube. The tube mentions all the details regarding the product and ingredients list. The Lakme aloe gel has tub packaging. It comes in a green translucent tub with rose gold colour plastic screw lid. This kind of packaging is not at all hygienic for products like aloe vera gel. Aloe vera gel contains lots of herbal actives in a gel base so it gets contaminated very easily.
VLCC's packaging is more hygienic, user-friendly and travel-safe than Lakme Aloe Aqua Gel. Just a point here, Lakme's aloe gel mentions ingredients in detail while VLCC only mentions its active and inactive ingredients without revealing the core ingredient of the 'gel base'.
Color & Texture: Both VLCC's and Lakme's aloe vera gels have faint green colour. Their gel consistency looks and feels almost same. The reason behind this is, both the brands have used the same medical grade colorant and thickeners. Both the gels feel very light on skin and they get easily absorbed. Both of them do not leave behind sticky residue which Patanjali's aloe gel does. Lakme aloe vera gel is free from parabens but VLCC one contains them.
Fragrance: Both the aloe gels cobtain added fragrance. The Lakme Aloe Aqua Gel has light floral scent mixed with aqua fragrance. VLCC one contains energizing fragrance with hints of citrus, mint and cool marine. Both the gels have very light fragrance and their staying power is about 2-3 minutes.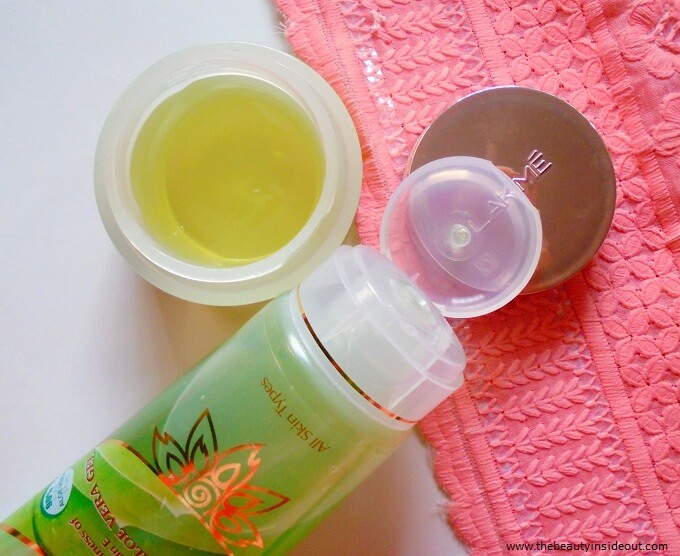 My Experience:
Store-bought Aloe Vera Gels often come with additives like fragrance, thickeners and colourants. I didn't have great expectation when I bought these two aloe vera gels. Both of these come from reputed brands and I found their qualities satisfactory. Both of them are light and comes with 90% pure aloe vera extract. They have been coloured with food grade colorants so I don't have that much issue with the colour part. The consistency of them are very similar though their price difference is notable. I have used them as moisturizer and face primer before makeup. Both of them provided nourishment to my skin and helped in creating flawless base for BB/CC creams and medium coverage foundations. Lakme Aloe Aqua Gel is slightly more nourishing as it contains glycerine. VLCC one comes with added vitamin E and menthol which creates slight cooling effect. I have also used them for my DIY Hair Smoothening Masks. The result and experience were identical. I have acne prone skin. Thankfully, none of them gave me new pimples or skin irritations.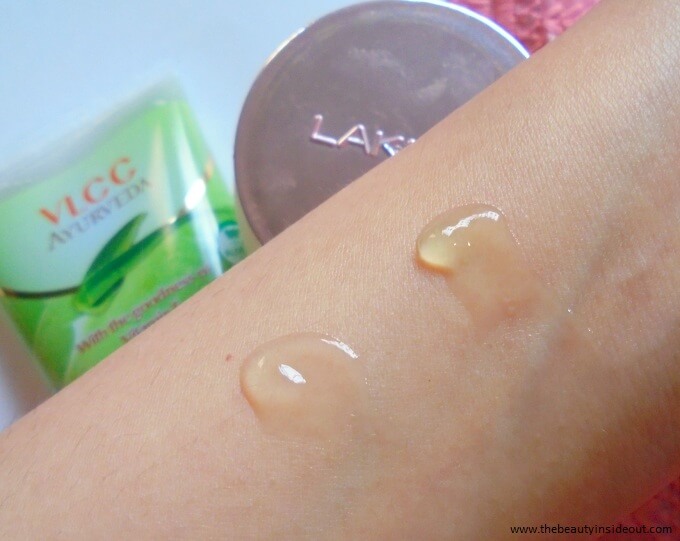 Pros:
90% pure aloe vera gel in ready made packaged form
Light on skin; non-greasy formula
Nourishes the skin; makes skin look smooth temporarily
Great face moisturizer for oily skin
Can be used under makeup to create slightly primed effect
Easily available; suits all skin types
Cons:
Both the gels have added fragrance and gel base creating additives
VLCC aloe gel contains paraben
Lakme aloe gel can be called pricy considering the quality
Rating: 4/5 (Deducting 1 for parabens in VLCC & reducing 1 for price in Lakme)
Would I Recommend? If you are looking for a decent quality readymade aloe vera gel then you may try any one of Lakme and VLCC; the results are almost same. If you don't want to spend more than Rs.100 for an aloe vera gel then VLCC one would be your pick. If you are into clean beauty, paraben-free formula of Lakme aloe aqua gel is what you need.