Ponds is one of the staple beauty brands that are easily available in the market. Not every new launch from Ponds interests me, but this particular product got my interest, mainly because of its claim of being non-greasy. Who doesn't want a lightweight formulation to use in our hot and humid weather? Read on to know my thoughts on this Ponds Light Moisturizer.
Product Description:
Infused with Vitamin E, the Ponds Light Moisturizer moisturizes dry skin locking 24 hours moisture. Its non-oily lightweight feel is suitable for all-year use and all skin types. Leaves your skin incredibly soft and smooth with plumpness.
Ponds Light Moisturizer Ingredients:
Ponds Light Moisturizer has some great ingredients which include,
Niacinamide: Skin Brightening, Anti-Acne.
Sodium Ascorbyl Phosphate: a form of Vitamin C, great for skin lightening.
Tocopherol Acetate: Vitamin E, an anti-oxidant.
Glycerin: humectant, locks hydration into the skin.
Sodium PCA: humectant, retains moisture into the skin.
Allantoin: Skin soothing.
Ethylhexyl Methoxycinnamate & Butyl Methoxydibenzoylmethane: chemical UV filters.
Titanium Dioxide & Zinc Oxide: Mineral sunscreen filters.
Apart from the good ingredients stated above, the Ponds Light Moisturizer has a lot of perfuming agents and comedogenic ingredients that may not be suitable for those with fungal acne.

Ponds Light Moisturizer Price
25ml – 35 INR
75ml – 115 INR
150ml – 199 INR
250ml – 249 INR
Ponds Light Moisturizer Review
Packaging: The Ponds Light Moisturizer comes in a blueish-green plastic tub packaging. The tub looks classy and is sturdy to hold, despite its cheap price tag. The inside of the tub is further protected with aluminum foil. Except for the absence of a spatula, the overall packaging is really good. The backside of the tub has the full ingredients list printed. This moisturizer comes in various sizes and the smallest one (25ml) super travel friendly as well.
Color & Texture: It is a milky white-colored cream that has a texture similar to lotions. It's pretty thin, lightweight, and very smooth.
Fragrance: It has a very mild floral fragrance that is barely noticeable once the product is applied on the skin. I'm sure the scent would not be a trouble for sensitive noses. It's very subtle.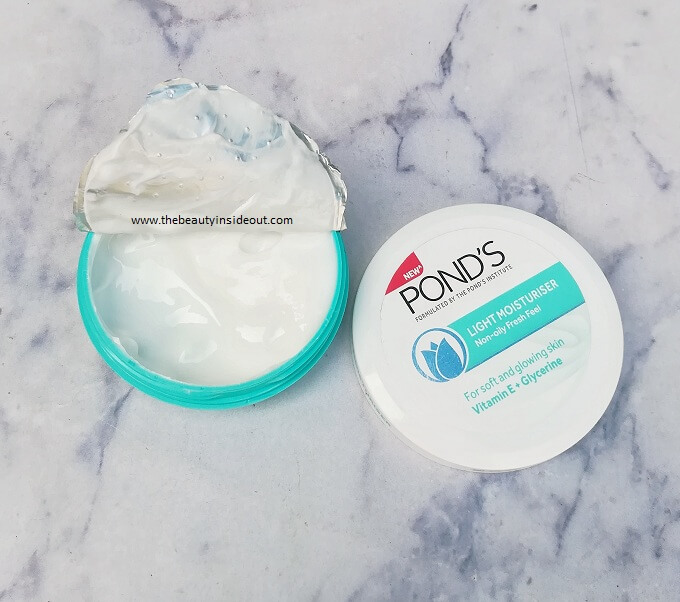 Ponds Light Moisturizer Benefits (My Experience)
I love the texture of this product a lot. It's lightweight yet very hydrating and moisturizing at the same time. The moisturizer is water-based and vanishes into the skin within seconds. It doesn't make my combination skin oilier or drier. I mean it neither feels greasy nor makes the skin stretchy or taut. This moisturizer has a velvety matte finish and leaves the skin soft and radiant looking. Although the product has sunscreen filters, there is no white cast or obvious whiteness on my skin which most day creams/fairness creams tend to leave.
The Ponds Light Moisturizer doesn't impart any brightness as such but moisturizes the skin well keeping it healthy and supple. And for this price, I don't expect more. Except for dry skin types, everyone can use this. I am prone to acne but I didn't encounter acne breakouts with this product. It also goes well under makeup giving a smooth canvas for makeup application.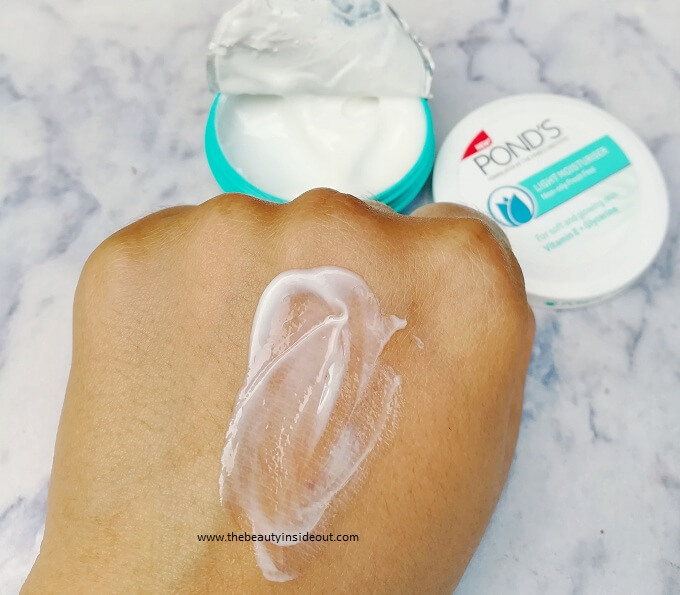 Ponds Light Moisturizer Side Effects
Ponds Light Moisturizer has comedogenic ingredients that can cause acne and pimples in some people. Also, it's fragranced, so it might not suit sensitive skin types. I have mild to moderate acne-prone skin and I did not experience any side effects whilst using the Ponds Light Moisturizer.
The Ponds Light Moisturizer has been compared to various other creams in the market.
Ponds Light Moisturizer VS Nivea Soft Light Moisturizer
While both the Ponds & Nivea moisturizers have a similar texture and skin feel. I personally feel the Ponds to be a tad bit lighter on the skin. While I did not enjoy the Nivea on my facial skin, I like the Ponds for facial use. Both are really good in keeping the skin hydrated and nourished. Ingredient-wise as well, Ponds scores. Ponds Light Moisturizer has excellent skin brightening agents – Niacinamide and Vitamin C along with skin soothing and sun filters, whereas Nivea Soft is simple glycerin-based with paraffin liquid. Since the pricing of both is similar I would recommend the Ponds one any day. Check out the full review of Nivea Soft Light Moisturizer.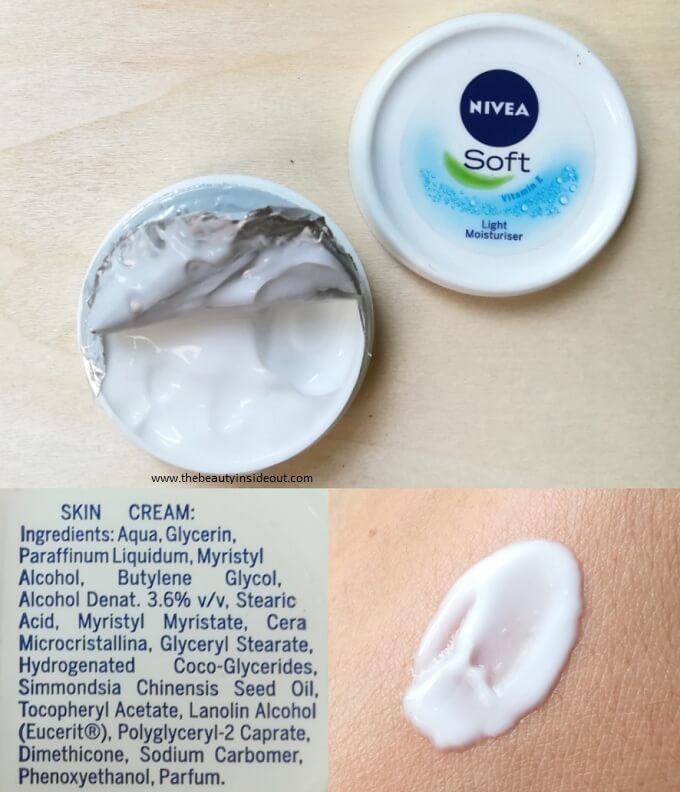 Ponds Light Moisturizer VS Ponds Super Light Gel
The Ponds Light and Super Light Gel are totally different in terms of texture and feel. As you can see, the Light Moisturizer is white lotion-like, and the Super Light Gel is gel-based. Both are hydrating on the skin but the super light gel is Ultra Lightweight making it the ideal choice for very oily skin types and the summer season. The Super Light Gel is a close dupe for the Neutrogena Hydro Boost Water Gel and has Hyaluronic Acid which the Light Moisturizer doesn't have. While both have Niacinamide, the Light Moisturizer has added sunscreen filters, though the brand doesn't explicitly state it has SPF. Having tried both, I like the Super Light Gel more since it's more comfortable and light on the skin. Check out the full review of Ponds Super Light Gel.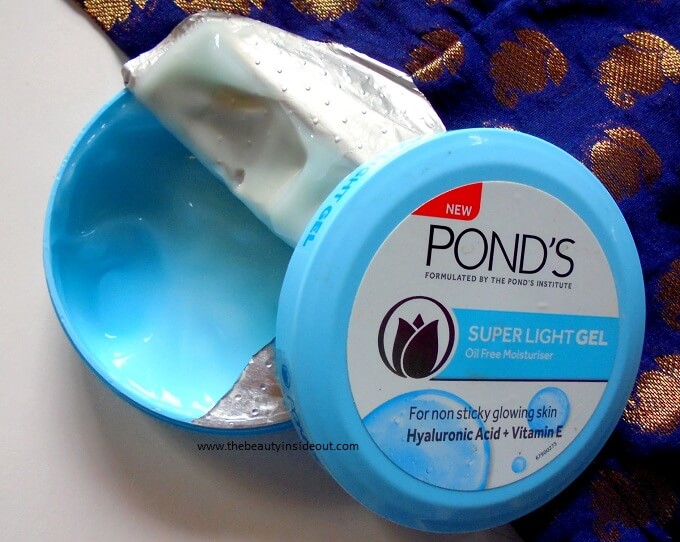 Summarizing the Pros and Cons of Ponds Light Moisturizer,
Pros:
Available in various sizes.
Affordable Price.
Lightweight yet Hydrating.
Fast Absorbing.
Makes skin soft and supple.
No white cast or whiteness.
Perfect for Normal, combination skin types.
Cons:
Not for Very Oily or Very Dry Skin.
Rating: 4.5/5
Would I recommend it? Honestly, I didn't expect this product to be good and I felt this was just another new launch. But we'll it proved me wrong. It's a really nice everyday oil-free moisturizer that will suit all skin types, except dry skin. It's also super affordable making it an ideal choice for those who are on a budget. I don't have a reason to not recommend it, so yes do give it a try.