Hello everyone. I'm very excited and happy to share my very first post on this blog. Today I am going to share my thoughts on Rustic Art Aloe Vera Gel. Rustic Art is an Indian brand known for its organic, natural, handmade, and eco-friendly products. It is a USDA organic certified and cruelty-free brand that is against animal testing. Continue to read to know more.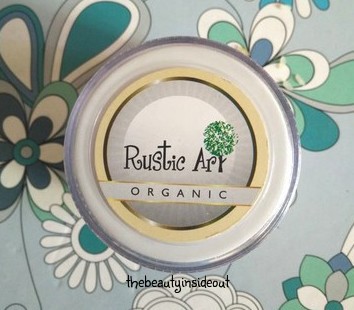 Product Description:
Rustic Art Aloe Vera Gel with Fresh Lemon Extracts is a natural moisturizer. It has natural astringent properties that control acne by balancing excess oil. Its antiseptic properties of it heal skin inflammation, infections, allergies, blisters, and even insect bites. It can be used to heal baby nappy rashes, as an after-shave gel, and as a night gel. No Animal Ingredient or No Animal Testing, Soft on the skin, suitable for all skin types, Completely handmade, and free of chemicals.
How to use Rustic Art Aloe Vera Gel?
On clean skin, apply a small quantity as needed.
Ingredients:
Aloe Vera, Lemon Extracts, Natural Preservative of TCLS.
Rustic Art Aloe Vera Gel Variants:
What I love is that Rustic Art Aloe Vera Gel is available in different variants. Each one targets a different skin concern.
Papaya Gel with Niacinamide – For reducing dark spots and uneven skin tone
Neem Basil Gel – For soothing, calming, reducing redness and acne.
Tea Tree Gel with Neem & Vitamin E– For anti acne, post-shave, and post wax care.
Sandal & Saffron Gel -Enhance complexion, For anti-tan, and UV protection.
Cucumber Mint Gel – For Soothing, hydrating, and puffiness.
Rustic Art Aloe Vera Gel Review
I have tried Aloe Vera gel from different brands like Patanjali Aloe Vera Gel and Aloe Veda Aloe Vera Gel. I have always wondered why these gels are green in color while the original aloe vera plant extract is colorless. So I wanted to try an Aloe Vera gel that is colorless. I know I'm being silly 😉
Rustic Art Aloe Vera Gel comes in a transparent plastic jar with an inner lid and outer screw cap. The packaging is heavy and bulky making it difficult to carry around. A tube packaging would have been better as I find it difficult to take the product out of the jar. I use a spatula in order to avoid contamination as the gel is made of purely natural ingredients.
The texture is very smooth and has a translucent gel consistency that is not too runny. It has no color just like the natural Aloe Vera plant extract. It has a strong lemon scent that lingers for quite some time.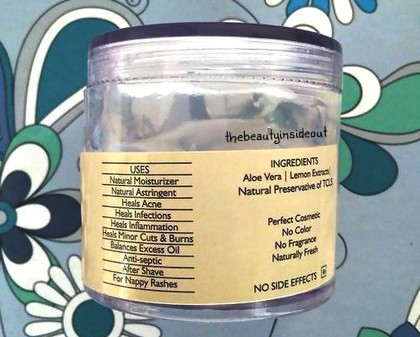 I take a very small quantity and apply it to my skin. The gel applies slightly sticky initially but once you massage it, it gets quickly absorbed into the skin. The gel is quite lightweight on the skin. It gives a cooling sensation and hydrates my skin well leaving it soft and smooth.
I use it as a daily moisturizer and it keeps my skin moisturized and nourished for a long time without making it oily. Dry skin people might night need an extra moisturizer on top for intense moisturization.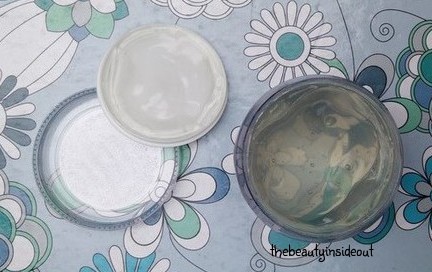 The original Aloe Vera plant extract grown in my home did not suit my skin and caused me severe itching. However, this gel did not cause me any irritation and soothes my sensitive acne-prone skin. Occasionally whenever I have breakouts I dab it on my active acne and it calms and reduces its redness drastically.
It claims to contain the natural preservative of TCLS which is nothing but a natural blend of turmeric oil, clove oil, lemongrass oil, and sesame oil, which is a big plus. Rustic Art Aloe Vera Gel is one of the Best Aloe Vera Gel in India that is pure and natural.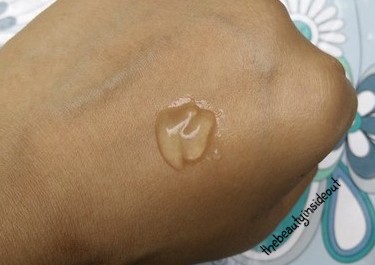 Pros:
Multi-purpose gel.
Cruelty-free and Vegan.
No artificial color.
Moisturizes and Hydrates skin.
Calms and soothes skin.
Completely handmade.
Free of chemicals.
Controls oil to a great extent.
No breakouts.
Suitable for oily and combination skin types.
Cons:
Unhygienic Tub packaging.
Smell.
Availability.
Final Word:
Rustic Art Aloe Vera Gel is a great multi-purpose product. It acts as a natural moisturizer that controls oil, and keeps my skin moisturized and nourished throughout the day. If fragrance is not an issue, I would suggest everyone give it a try.
Rating: 4/5
Have you tried Rustic Art Aloe Vera Gel?
If so share your thoughts in the comments section below.