Now that summers are fast approaching, it's time for our high coverage, heavy foundations to take a back seat and go for lighter BB cream formulations. After all, we don't want to overload our skin during the sweaty summers and clog our pores even more. Cavinkare launched the new Spinz BB Cream sometime back at the end of 2017. I was eyeing them since then. But availability was an issue. As far as I've seen, the Spinz BB Cream is still not available everywhere and only a few offline stores and Amazon have stocked it. The other day I bought it from a nearby store for just 50 bucks. Keep reading to know more about this new Beauty and Brightening Cream.
Product Description: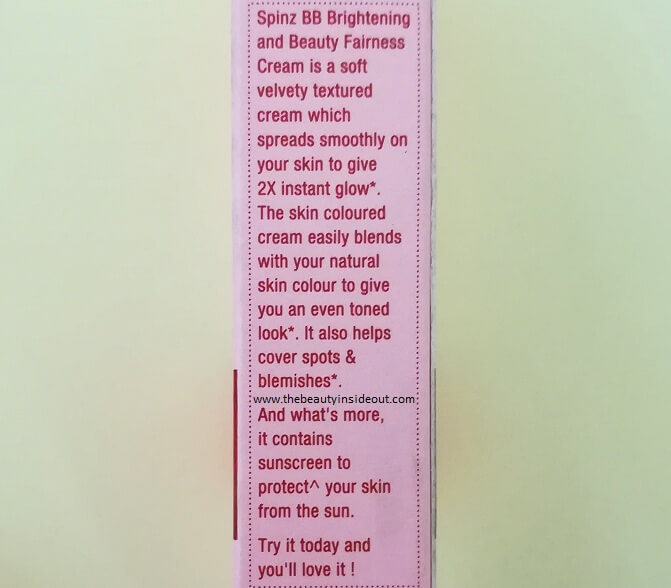 How to use Spinz BB Cream?
Apply the cream by gently massaging on a clean face and neck area using upward circular movements. It is recommended to use only half the quantity of your regular fairness cream. Use twice a day for better results.
Spinz BB Cream Ingredients: 
Cyclopentasiloxane, Titanium Dioxide, Octyl Methoxycinnamate, Butyl Methoxydibenzoyl Methane.
I believe this isn't the full ingredients.
Spinz BB Cream Price
52 INR for 15 gms
95 INR for 29 gms.
Shelf Life: 2 years
Spinz BB Cream

Review

Packaging: The BB Cream comes in a poshed-up rose gold tube with a screw cap. Needless to say, the tube is very compact, handy, and travel-friendly. There is absolutely no mess while carrying or using it. The tube is housed in a pink-colored carton box which makes it even more admirable. They have made the entire packaging look luxurious, in spite of it being the most affordable BB Cream in India.

Fragrance: It has a sweet, floral fragrance that is noticeable while you take the product out of the tube. It is not very bold but it cannot be classified as faint as well. Anyways, the scent is undetectable once you've applied the cream.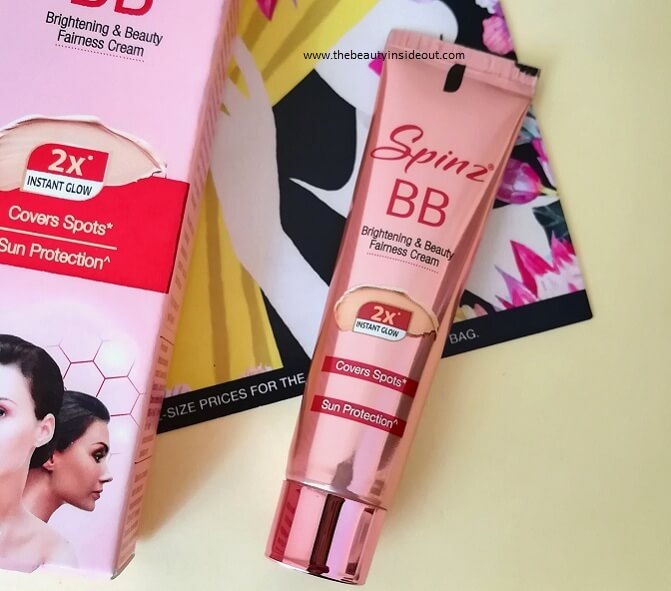 Color: Spinz BB Cream comes in only one shade which is literally yellow in color. It is a con for very fair or dusky skin tones. But for me, it matches my skin tone and doesn't look ashy on me. I love it especially because it's been really hard for me to find yellow-based base makeups. If you have medium to fair yellow-toned skin, this would be a perfect match. (Although it looks too yellow in the swatches, it doesn't appear/make your skin yellow).
Texture: It has a whipped mousse texture. It is thick yet spreads effortlessly and vanishes into the skin in no time. The formula is very very smooth and soft. I'm certain that it has a high amount of silicones as I could sense the slippery silicone trait, even on my fingers which I used for applying the cream.
Silicones have both their pros and cons. Pros are that it forms a hydrating barrier, blurs out pores, and gives a smooth flawless finish, and the major con – it is a synthetic ingredient that is not in the good books of a natural skincare addict and it is also widely known to break out skin. The call is always yours, if this particular ingredient has suited your skin, then this product will suit you as well.
Myself, though I try to avoid silicone-based products, such products suit my skin. In fact, most of my primers are silicone-based and they have suited my skin very well.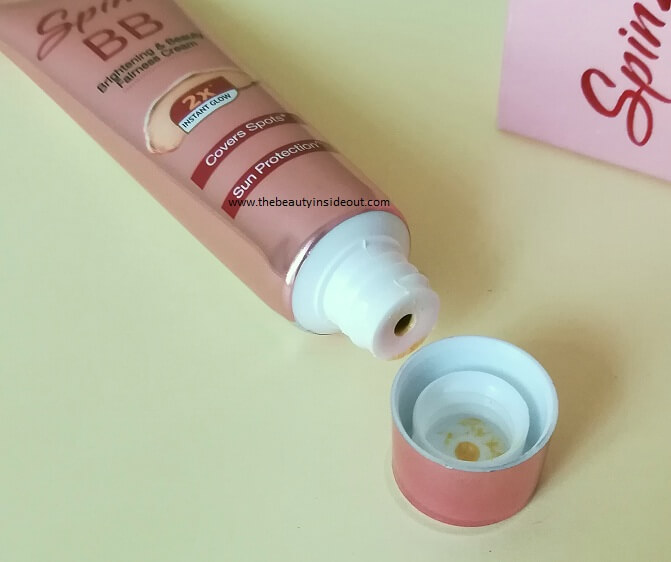 Application/Performance: Coming to its application, I apply the BB Cream to my cleansed and toned skin using my fingers. I recommend the same for everyone, fingers work better than brushes or sponges for this type of formula.
A pea-sized quantity of the cream is more than enough for the whole face. As said, it blends quickly and it hardly takes seconds to give you an even-toned fresh looking skin. The finish is really really nice. It beautifully blurs out pores, evens out the skin tone, and leaves my skin velvety soft and smooth.
The BB Cream is hydrating but is not at all heavy on the skin. Oily skin types can skip a moisturizer and dry skin types can add a layer of it beforehand. Unlike fairness creams, Spinz BB Cream does not give any stretchy, dry, uncomfortable feel or anything of that sort. The skin feels light and breathable post-application.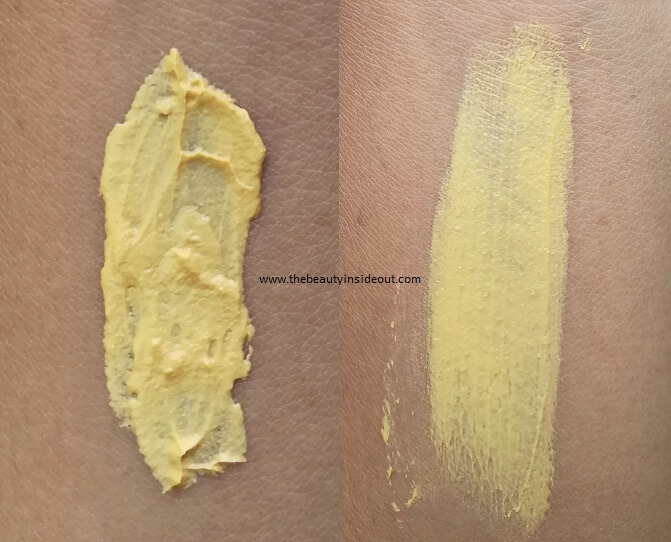 On to its claims to cover spots and blemishes, it doesn't hide them. The coverage is light, but I'm not surprised as I haven't seen any BB creams with full coverage. I love how this cream instantly brightens up my skin and gives a beautiful glow, fulfilling its other claim. The freshness stays for about 3+ hours without setting it with a powder. With a compact on top of it and frequent touch-ups the staying power increases. In any case, it did not make my skin very oily or shine like a disco ball.
Spinz BB Cream claims to provide sun protection and it also has chemical sun protection ingredients in it, but the packaging does not explicitly state its SPF factor. So it is wise to use a good broad-spectrum sunscreen beforehand.
Pros:
Super affordable.
A little goes along.
Mousse-like texture.
Amazing formula blends like a dream.
Does not dry out skin or cause a stretchy feel post-application.
Mildly hydrating.
Gives Instant Glow and Brightness.
Smoothens out the skin by blurring pores.
Velvety satin smooth finish.
No white cast.
Suitable for all skin types.
Great for everyday wear.
Can be used as a primer under foundations too.
Cons:
Only one shade.
Incomplete ingredient list.
May contain high amounts of silicones.
No SPF was mentioned.
Low coverage & False claims of covering spots.
Not widely available as of now.
May or may not cause acne.
Rating: 4.7/5
Would I recommend it? Yes, this is one of the nicest BB creams that I've used in recent times. The formula is really good, giving my skin a natural-looking flawless, younger looking skin. Despite its few cons, I would totally recommend the Spinz BB Cream. It is the cheapest BB Cream in India. Definitely go for it if you are not allergic to silicones.
Have you tried the Spinz BB Cream? Share your experience with us.