Base makeup is like a building brick for facial makeup because every other makeup item sits over it. To make makeup look flawless, one needs to have a perfect base. Every time we do not need base makeup with full coverage. These are the times when we just even out our original complexion to look natural. Complexion Care creams being many-in-one products come in handy in such situations. They give slight coverage, evenness in the complexion, moisturization, and sun protection. Today I am going to share my experience with one such product, the Lakme CC Cream. Let's read on to find out if it fares on my skin or not.
Product Description:
Lakme 9 to 5 CC Complexion Care Cream is an instant skin stylist that brings together all the goodness of regular skin cream with a touch of makeup to give a professionally styled look every day. This cream promises to instantly protect, moisturize, brighten, conceal, freshen and bring evenness to the skin.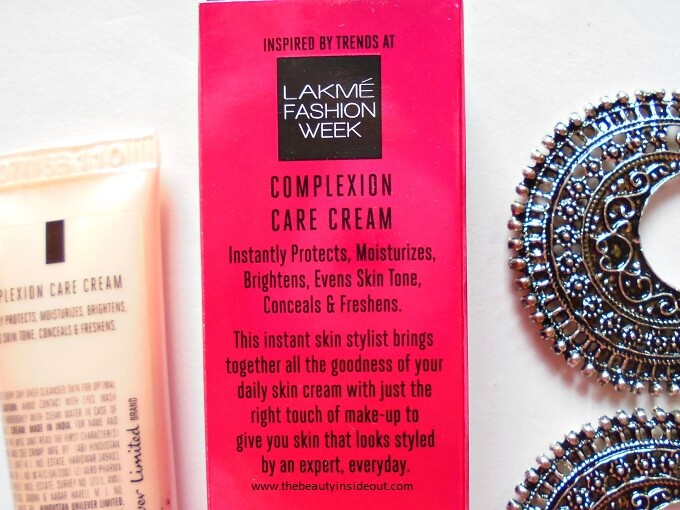 How to use Lakme 9 to 5 CC Complexion Care Cream?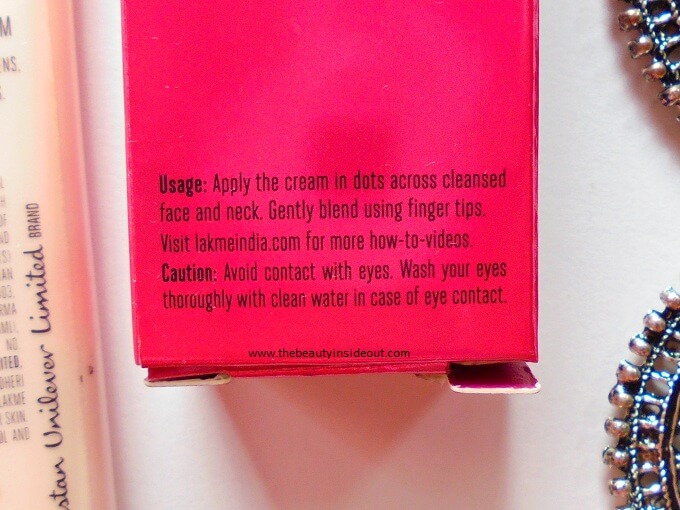 Lakme CC Cream Ingredients:
From the ingredient list mentioned on the packaging, I can see they have a couple of Silicones, Alcohols, and Perfumes in them. It does not have parabens.  They also have some comedogenic ingredients, so those who have moderate to severe acne-prone skin may need to check for suitability.
Some good ingredients that I found:
Skin Beneficial Ingredients: Allantoin, Vitamin E, Ginger Root Extract,
Sunscreen Ingredients: Ethylhexyl Methoxycinnamate (chemical filter), Zinc Oxide and Titanium Dioxide (Physical filter)
Lakme CC Cream Shades:
Beige (For Very Fair to Fair Skin Tone)
Bronze (For Fair to Wheatish Skin Tone)
Honey (For Wheatish to Dusky Skin Tone)
Almond (For Dusky to Dark Skin Tone)
Lakme CC Cream Price:

9 gm – 105 INR

30 gms – 335 INR

Lakme CC Cream Review

Packaging: Lakme CC Cream comes in a rose-gold colored plastic tube with a shiny rose-gold screw cap. This tube resides securely in a gorgeous pink cardboard box. The tube looks simple yet elegant. It contains the product name, shade, and a few important information while the usage details, etc, are mentioned in the outer packaging. The packaging is quite compact, user-friendly, travel-safe, and leak-proof.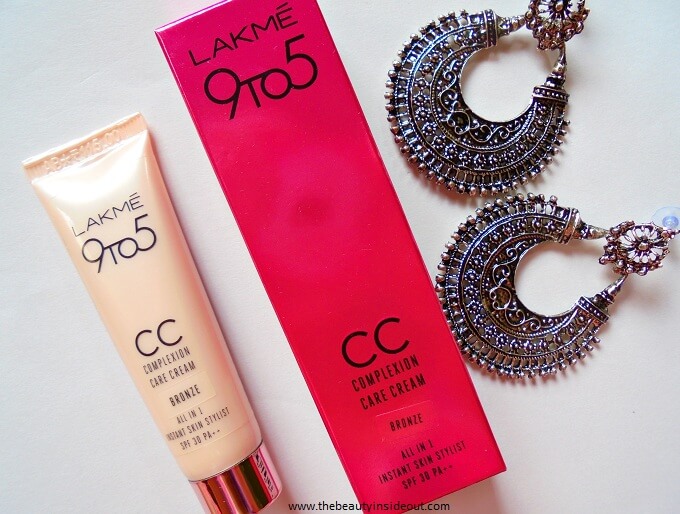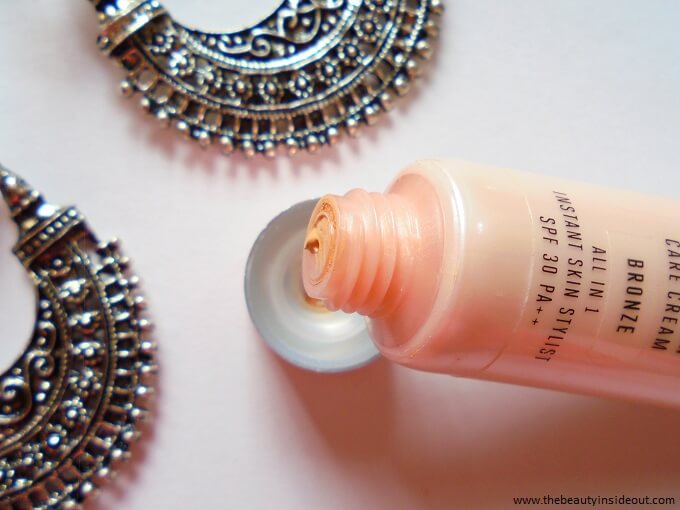 Shade- Bronze: The Lakme CC Cream previously came in two shades; Beige and Bronze. The Beige one was the lightest and the Bronze one used to be the deeper shade. The shade range was quite narrow and the last shade was too light for many Indian complexions. So, Lakme recently widened the shade range to include two new darker shades Honey (next to Bronze) and Almond (the darkest shade). All of the shades have warm tones with various depth in shade to match Indian complexions.
I have bought the shade Bronze. This shade has distinct yellow-orange undertones that will complement fair-to-wheatish skin with warm undertones. This shade is a bit darker than my skin tone now as I have gotten over my tremendous tans. I have to blend it really well to match it to my skin. Next time I will pick the Beige shade which has warm-neutral undertones.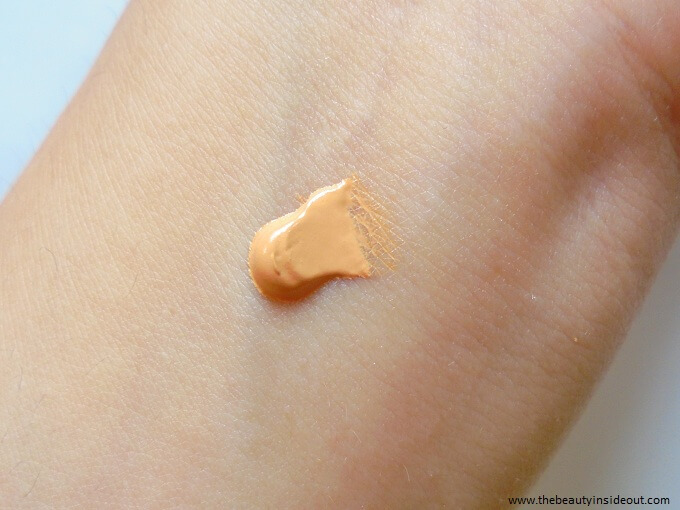 Coverage: This Complexion Care cream gives low to medium coverage which is quite good with such an all-in-one type product. Its yellow undertone blurs out my pimple marks and purplish under-eye darkness to some extent. The rest is taken care of by my concealer. This cc cream is able to give me even-toned skin.
Texture: This cream looks really thick and creamy at first but as I blend it into my skin, it gets completely absorbed. I can feel no oiliness on my combination skin. It has light moisturizing power. In the summer months I top it off with my compact but in winter I let it stay alone.
Fragrance: This product has a mild citrusy smell to it. The fragrance is not overpowering so it would not cause any irritation. The smell of this product is exactly the same as Lakme's Invisible Finish foundation.
Staying Power: This cream has good staying power on my skin. It stays for 5-6 hours at least. The staying power increases in colder months or if I am staying in an air-conditioned environment.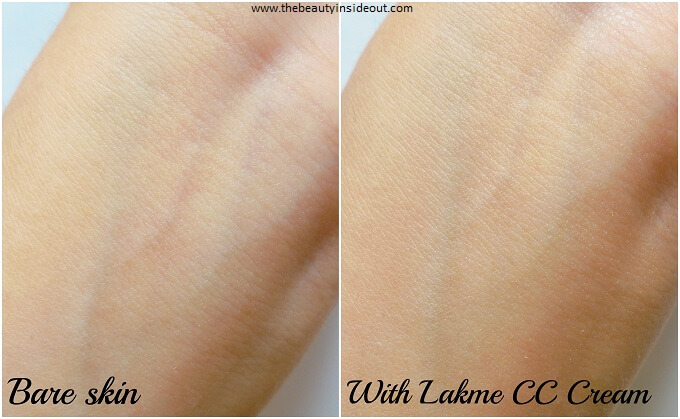 Effectiveness: Lakme's CC cream has been able to give me good results. I generally apply it in the daytime when I am not in need of heavy coverage. It gives me enough coverage, moisturization, and sun protection of SPF30 & PA++. It even out my complexion and helps to hide some percentage of my skin imperfections (acne marks and dark circle). This product gets blended very easily and gives a moist matte finish. It does not emphasize the dry areas of my face or give me acne outbreaks.
Most of the affordable BB creams are available in only one common shade and that shade is often darker for my skin. With this CC cream, I am getting an exact shade match which feels really nice!
Related:
Pros:
Moist matte formula.
Gives good coverage.
Has a high sun protection factor.
Did not break me out.
Warm undertone suits Indian complexions.
Available in 4 shades and 2 sizes.
Pocket-friendly.
Cons:
Does not have the best ingredients.
Rating: 4.5/5
Recommendation: I will recommend Lakme 9 to 5 CC Complexion Care Cream to everyone who is looking for a budget-friendly low to medium coverage all-in-1 base makeup product that moisturizes as well as protects from harsh sun rays.
I hope you find this post helpful. Have you tried the new shades of Lakme 9 to 5 CC Complexion Care Cream? Share your experience with us.