Lakme known for its versatile makeup products is probably every beginner's first encounter with makeup. Their ease of availability and affordability made it one of the best beauty brands for many students and office goers. Growing up with the brand, I've always kept a check on its new launches and if something intrigues me, I don't hesitate to get them. This newly launched Lakme 9 to 5 CC Light Mousse is one such launch that grabbed my attention – mainly because I loved the 9 to 5 Mousse Foundation for everyday wear. This is supposed to be a lighter version from the same range. Read on to know my thoughts on this new Lakme CC Light Mousse.
What does Lakme CC Light Mousse do?
The 9 to 5 CC Light Mousse from Lakme is infused with Vitamin E to brighten your skin while giving you a hint of makeup-like finish, so your skin can look flawless instantly. With its lighter-than-airy texture, it's meant to blur out the pores and even out the skin tone.
Features and Benefits:
Light, airy, mousse texture.
Silky smooth to the touch.
Brightens and evens skin tone.
Blurs out pores.
Acts as a primer.
Gives light coverage for everyday wear.
Oil Free Matte Finish.
Instantly provides a refreshed look.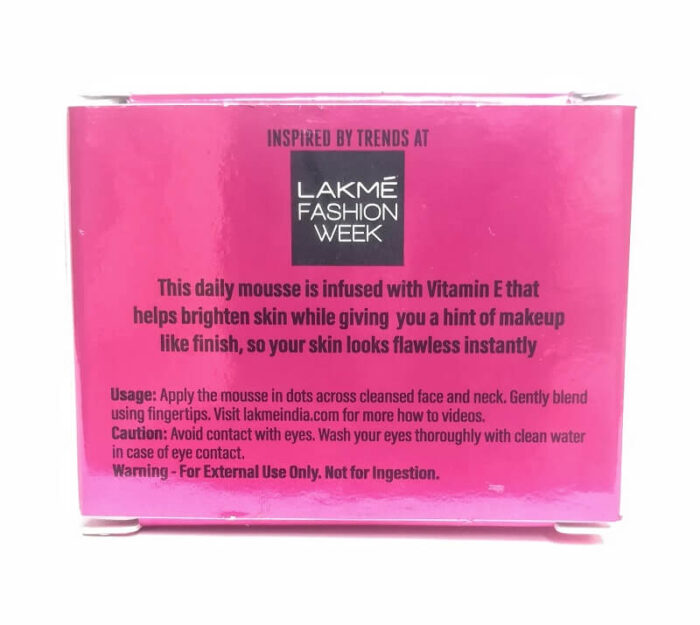 How to use the CC Light Mousse?
Firstly never use a makeup product on unclean skin. So wash your face with face wash, followed by your other skincare products. Prepping the skin is really important for a flawless finish.
Please take a little of the product and apply it all over the face and blend it.
Use your fingers for decent coverage and a brush or blender for natural coverage.
Lakme 9 to 5 CC Light Mousse Shades: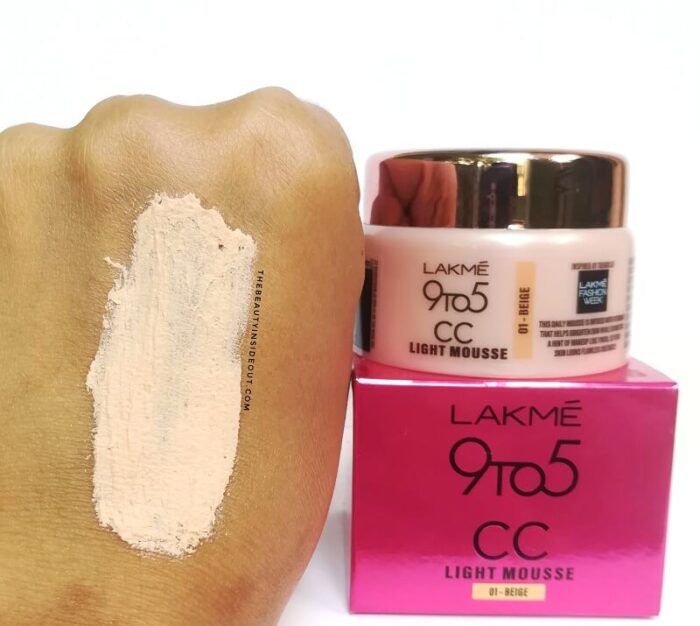 The Lakme CC Light Mousse is available in 4 shades.
01 Beige
The lightest of the lot. It's a true beige shade that will suit fair to medium skin tones. It has subtle yellow undertones.
1A Frappe
Frappe is ideal for those with medium skin tones.
03 Bronze
This is for those with a medium to deep skin tone.
04 Almond
This is the deepest shade in the range that's meant for deep skin tones.
Lakme CC Light Mousse Review
Packaging:
The Lakme 9 to 5 CC Light Mousse comes packed in a small plastic tub with a screw lid. The screw lid opens to another transparent lid – which is kept for safety purposes. The tub is quite light and is color-coded in rose gold and the outer carton box is pink – pretty much similar to the packaging of the entire 9 to 5 range of products. You need to dip your finger inside the tub for each use which I find unhygienic. They could have easily made this product in a tube packaging like the mousse foundation, but I guess they thought otherwise.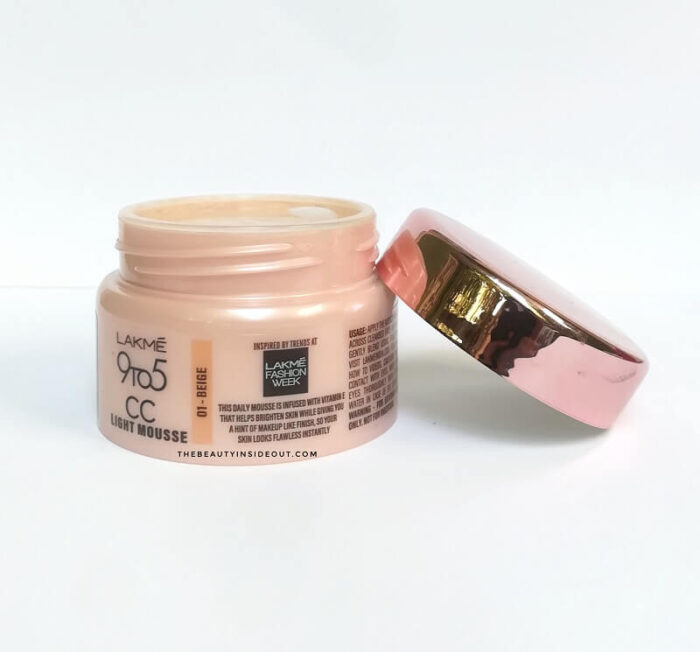 Lakme CC Light Mousse Ingredients:
Despite all the necessary details about the product mentioned on the tub and carton, there is no sight of the ingredient list. It's 2023 already, and it's an era where brands are heavily marketing their products with the Ingredient used in them. But I guess Lakme pays no heed to it and never bothered to let us know the ingredient list; apart from the "Vitamin E infused" statement.
My Experience:
I am in shade Beige Vanilla in 9 to 5 Mousse Foundation. So I went with the shade 01 Beige in the CC Light Mousse. Both are pretty much similar in color with yellow undertones, but the CC Light Mousse is a tad bit lighter. It matches my skin tone by about 80%. However, it looks a bit ashy/grey if I apply more quantity of the product for better coverage.
Texture:
True to its name, it has a mousse texture. It's thick and fluffy yet it spreads easily. It has that silky silicone smoothness to it, so it can act as a primer as well. The texture vaguely reminds me of the Spinz BB Cream. Since it's a mousse, you don't need a lot of product and it applies effortlessly. It's easy to apply with both fingers and a brush.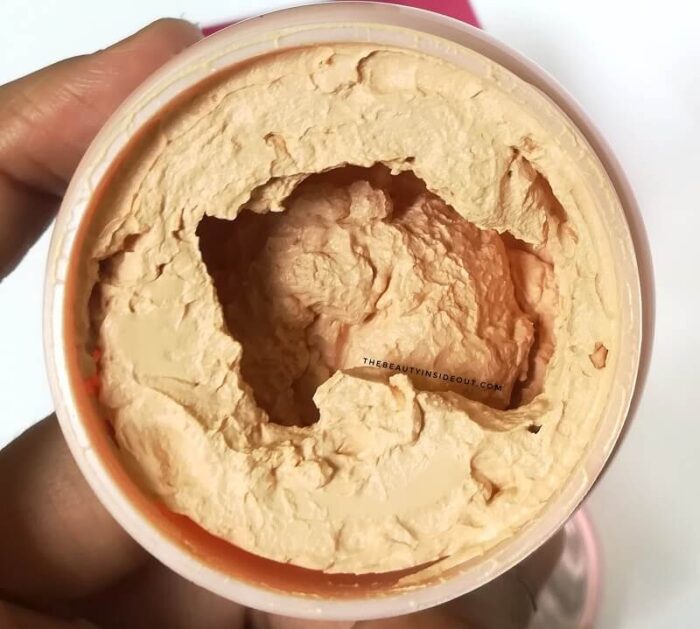 Fragrance:
The scent is the same as that of the 9 to 5 Mousse Foundation. Synthetic, floral, and powder-like scent. It's not too strong and is not much noticeable once applied. It's always known that Lakme Products are fragranced. So it doesn't bother me much nowadays.
Coverage:
The coverage it provides is light, that's slightly buildable. What I love the most is its pore-blurring effect that gives a smooth feeling. The Light Mousse covers mild blemishes and redness easily. But don't expect it to hide your dark circles and dark pigmentation. It overall evens out the skin tone and gives a brightened skin for a polished look.
Finish:
The CC Light Mousse gives a non-sticky, matte finish. I can see that it will be incredible for oily skin types and the summer season.
Efficacy:
On my combination, it clung to my dry patches if my skin wasn't prepped properly. It also flaked a bit if not blended properly. So I always used a hydrating toner and a moisturizing sunscreen before applying this CC Light Mousse. In that way, it didn't accentuate my aging lines. Honestly, I think this product would serve better for younger skin as the dry matte finish can make you look more aged.
Staying Power:
The CC Mousse stays on for 5 hours comfortably after which the coverage starts to fade away. If you set it with a fixing spray or a setting powder the staying power increases a lot. I don't recommend a powder with it as the mousse is already mattifying and can be more drying if you use one.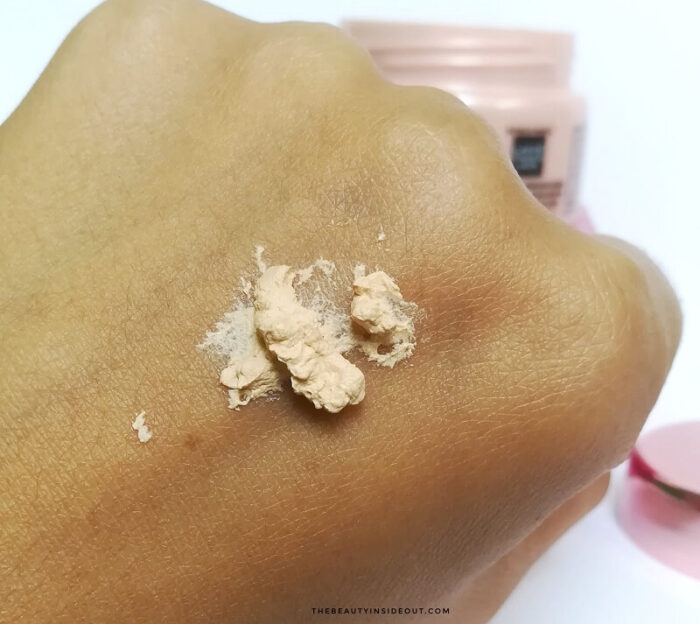 Summarizing the pros and cons,
Pros:
Light fluffy mousse texture.
Spreads and blends easily.
Has a matte finish that's perfect for oily skin.
Feels light on the skin.
Oil-free and shine-free.
Blurs out pores.
Hides minor imperfections such as redness, and light acne marks.
Evens out the skin tone.
Light coverage for everyday wear.
Did not break me out.
Stays for 5+ hours.
A little product goes a long way.
Cons:
Limited shade range.
No mention of the ingredient list.
Accentuates dry patches if the skin is not moisturized well.
My Rating: 3/5
Final Verdict:
I'm over the "matte finish" phase, so I'm not a fan of this product. I like products with a more natural finish. If you have oily skin and are looking for a mattifying base product, this will be for you. But then we do have better alternatives in the market, considering that we don't know what goes into the manufacturing of this product.
Other Alternatives:
Although not a mousse formulation, in recent times, I am liking the Maybelline Fresh Tint for everyday wear. It's cheaper than the CC Mousse but a lot better in terms of performance. If you are particular about a mousse formulation, the Spinz BB Cream is a decent option.
So what do you think of this new Lakme 9 to 5 Light CC Mousse? Do let us know.