Rice flour is nothing but coarsely ground rice grains. This easily available kitchen ingredient has secured an important place in Asian skin care since the ancient times. In traditional medicines of east Asian countries like China and Korea, it is used as a natural face brightening ingredient. While Indian Ancient Ayurveda uses the coarsely ground rice flour for exfoliating, making cleansing and lightening ubtans. Rice flour is rich in vitamin B3 and other anti-ageing minerals. Incorporating rice flour in your weekly skin routine is the best treat you can give your skin. Here we will share two of our all time favorites Rice Face Mask Scrubs. Try these once and you will stop doing expensive salon clean-ups for good!
Why should You Try these Homemade Rice Flour Face Masks?
These rice flour scrub masks come with multiple benefits,
Easy to Make: These two scrub masks are super easy to prepare. They only require 3 ingredients each and you will certainly find those at home. We often shy away from homemade masks because they take too much time in preparation. Fear not, you can make any of these masks in just 1-2 minutes. That's our guarantee!
Pocket-friendly: This homemade mask needs very few kitchen ingredients. You won't have to spend more than Rs.10 to make any of them for 2 times at least. We all know how costly salons have become these days! Even the home use face packs do not come this cheap.
Instant Deep cleansing & Salon like Glow: These packs deep cleanse the skin and scrubs away the dead and dull skin layer from the surface of the skin. You will be able to flaunt glowing fresh skin from first use. The glow will be exactly same as any expensive salon treatment.
Relief from Stubborn Blackheads: If you have stubborn black head issues that come back every few days, these are the best DIYs for you. These packs loosen the roots of stubborn blackheads. First use this pack and then run your black head remover tool through your problem spots with gentle hands. All your blackheads will be out in one go.
No Chemicals: Lastly, this pack is completely free of parabens, sulphates and other nasty chemicals if you use edible grade products or plant based ingredients. Even if you are using 1-2 store-bought ingredients, the amount of harmful chemicals will still be considerably less than ready-made face packs.
DIY Rice Face Mask 1:
Suitable for: This mask is suitable for all skin types but oily to normal skin people will get the maximum benefits out of this.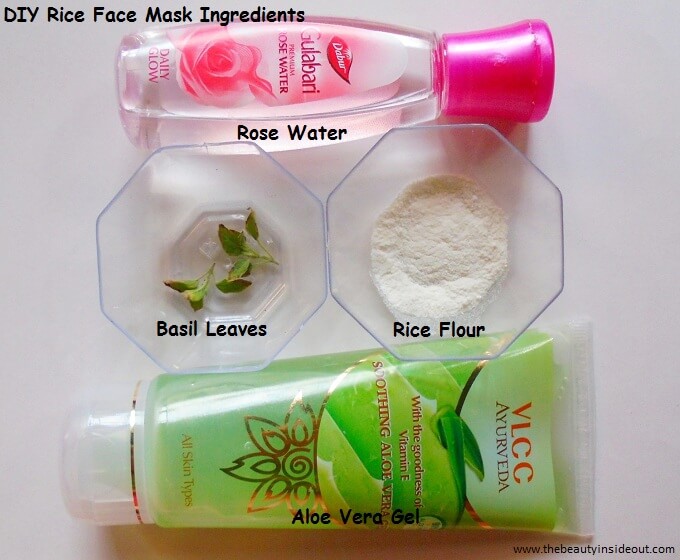 Ingredients:
Rice Flour: Use coarsely ground rice flour for this pack. The grains should not be too big or sharp. Otherwise, your skin might get irritated. You can also use store-bought rice flour but make sure it is preservative free.
Aloe Vera: We need fresh aloe vera plant leaf extract for this pack. Use only the colorless portion of aloe vera extract. Never use the green gel kind of part near the leaf's outer portion. Juice from this part often sensitizes skin. If you do not have access to aloe plant, use plain store-bought aloe gel.
Tulsi (Basil Leaves): Fresh and green leaves from Tulsi plant will enrich this pack. Tulsi or holy basil is a common plant so you will be able to get a few fresh leaves. Otherwise, use store-bought tulsi powder.
Rose Water: Using homemade rose water is best but good quality packaged rose water will also do.
How to Make the DIY Scrub Mask?
Take 1 tablespoon rice flour and add 1/2 tablespoon aloe vera gel to it.
Now squish tulsi leaves and twigs. Add to it.
Mix everything together and add rose water little by little to get the desired consistency.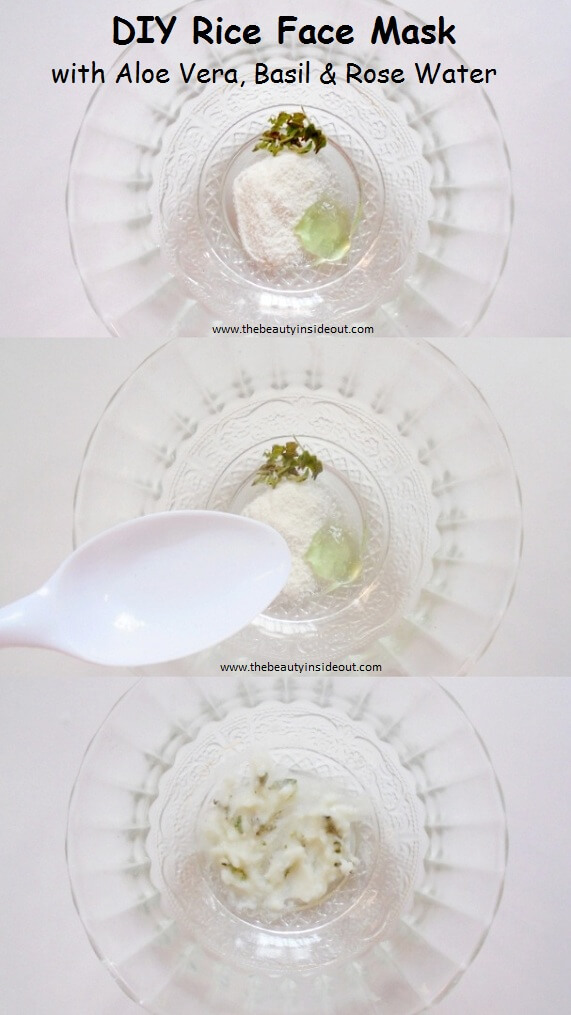 DIY Rice Face Mask 2:
Suitable for: This mask is great for normal to dry skin. This will also give good results to mature skin.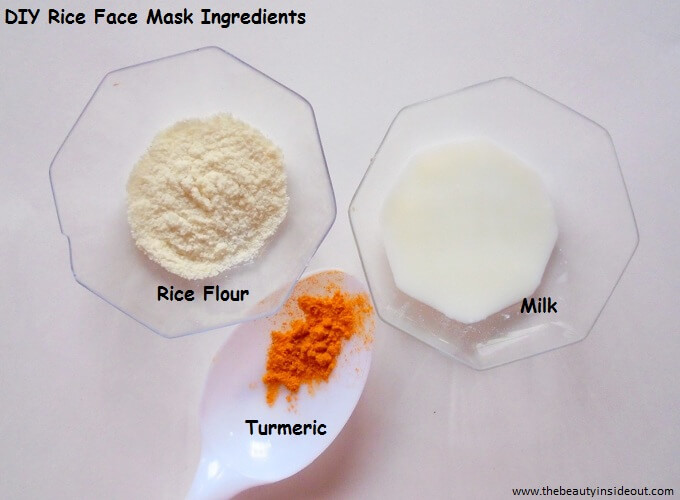 Ingredients:
Rice Flour-Urad Dal Powder: Take rice flour and urad dal powder in 1:1 proportion. You can make this powder mixture at home. This way you can control the grittiness of rice and dal. You might also use instant idli mix powder containing rice-dal mixture. I like using idli mix as it is hassle-free.
Milk: Use full fat cold milk for this pack. If you don't want to put heavy creamy milk on the face, use skimmed milk.
Turmeric: Fresh turmeric root paste works best. If you don't have that like me, you can use edible turmeric powder or Kasturi haldi powder. Just make sure it is preservative or chemical free.
How to Make the DIY Scrub Mask?
Take 1 tablespoon rice flour-urad dal powder mixture and add 2 pinches of turmeric to it.
Add 2 tablespoons of cold milk to it and mix. Adjust the quantity of milk to get the non-drip consistency.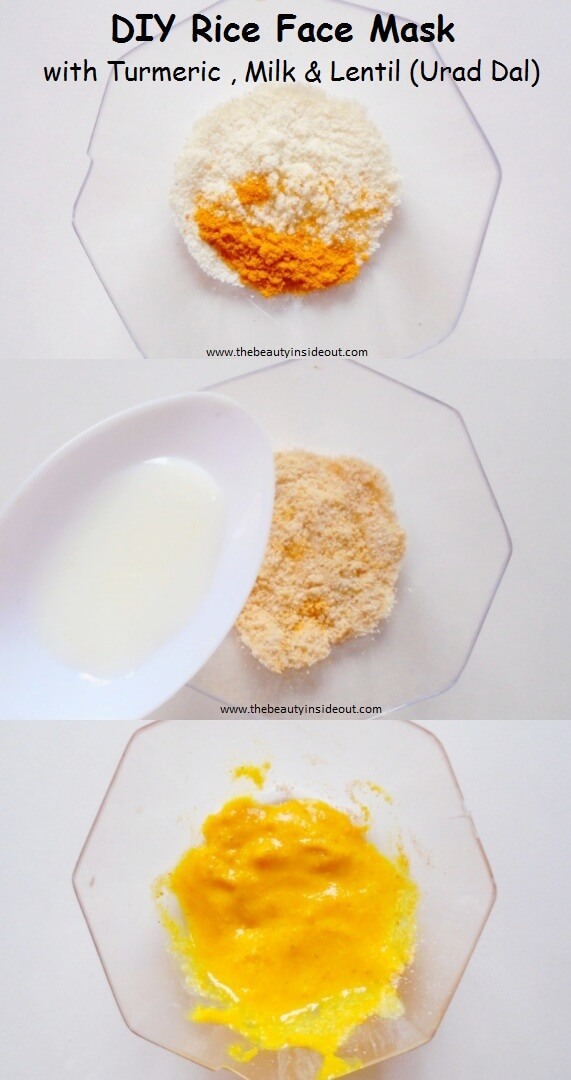 How to Use these Rice Face Masks?
Use this pack once every week or twice a week if you have blackhead issue or textured skin.
First wash your face with plain water and pat dry.
Apply a thick layer of the pack and let it dry for 10-15 minutes.
Wet the face a little with plain water or rose water and scrub the face gently with fingertips.
Rinse it off completely with plain water.
If you have stubborn blackhead then apply little aloe vera gel to the face and gently uproot the blackhead with a sterilized remover tool.
Wash the aloe gel with plain water and moisturize thoroughly.
Ingredient Benefits:
Rice Flour: Packed with vitamin B3 and minerals, rice flower lightens, brightens and tightens the skin. It also exfoliates skin gently to reveal fresh glowing skin from within.
Aloe Vera: Aloe vera leaf juice comes with multiple anti-oxidants and anti-inflammatory compounds that soothes and re hydrates the skin.
Tulsi: Tulsi or holy basil calms the skin and fights against pimple causing bacteria.
Rose Water: Rose water lightly moisturizes and rejuvenates tired and dull skin.
Urad Dal: Urad dal replenishes and nourishes the skin. It makes the skin more elastic and soft.
Milk: Milk contains fatty acids and vitamins. It softens the dry skin layer and supplies nutrients to the skin.
Turmeric: Turmeric comes with powerful anti-inflammatory and skin lightening actions. It helps to balance out the unevenness of skin tone and fights dullness.
What to Expect?
These rice flour scrub masks provide deep exfoliating. They remove the dullness from the face every time you use. After using these masks the skin will feel soft to touch, glowing and supple. Blackhead extraction becomes very easy with these masks. If you use them every week, you won't even need the blackhead extractor after 3-4 weeks.
Bonus Tips:
Rice water can be highly exfoliating. If you have active acne or very sensitive skin, make fine powder of rice grains. Otherwise, it might cause redness, irritation etc.
You might also add a little Multani Mitti or Orange Peel Powder to these packs if you want a thicker mask.
If you don't have rose water, dilute 1 teaspoon honey in 1/2 teacup water and use this honey water.