While most of them find using a toner an unnecessary step in their skincare routine, I beg to differ. Toning is such an underrated step. Personally, I find that my skin has been a lot better once I started using a toner. Toners are available in various types – traditional astringent types, modern hydrating toners, etc. I talked a lot in detail about what does a toner do to one's skin, its benefits, how to use them, and everything in a blog post a couple of months ago. Do check that out if you are starting out your journey with toners. This post will feature some of the Best Toners in India, most of which I have tried, and some of them chosen based on popularity. A majority of these are free of toxic ingredients and Cruelty-Free as well. Let's first talk a little about toners.
What is Toner?
Toner is usually a watery liquid that you swipe across or pat on your skin right after cleansing, before applying your moisturizer.
Types Of Toners
Hydrating Toners: Usually those that contain hydrating ingredients such as hyaluronic acid, and panthenol to provide hydration to the skin.
Astringent Toners: Astringent toners are your traditional alcohol-laden toners that have astringent properties in them.
Exfoliating Toners: Exfoliating Toners are those containing exfoliating ingredients such as AHA(Glycolic Acid, Mandelic Acid, Lactic Acid) and BHA (Salicylic Acid), These exfoliate and increase cell turnover giving you healthy and clear skin.

What Does Toner Do?
Deep Cleansing: Toners help to remove any impurities or residue left behind by your face wash.
Restore pH Balance: Balances the skin's pH which is disrupted by cleansing using harsh cleansers
For Better Absorption: Toners prep your skin for better penetration of products (like your serums & moisturizers) into your skin to provide maximum skin benefits.
Tighten Pores: They help to shrink and tighten your pores thereby preventing clogging of pores which commonly leads to acne & breakouts.
Exfoliate: Not all toner provides exfoliation. Some toners are meant for this purpose alone and are called exfoliating toners as mentioned above in the types of toner.
Soothe Skin: Toners are often formulated with skin-soothing ingredients to calm skin irritations and provide hydration.
Best Hydrating Toners in India For Glowing Skin
1. Bioderma Sensibio Tonique
This Tonique from the reputed french pharmaceutical brand is one of the best toners for sensitive and irritated skin types. It's intensely soothing on the skin and calms down flare-ups like nobody's business. The Bioderma Tonique is a watery, hydrating, super calming, fragrance-free toner that makes your skin supple. It's enriched with Glycerin, Cucumber Extract, and Allantoin and is meant to increase skin comfort. This product is one of the Best Bioderma Products out there. If you are someone who uses chemical exfoliators or retinol in your routine, this would make a great skin soother for you.
Pros:
Reputed International Brand.
Contains D.A.F, a patented complex that increases skin's tolerance threshold.
Alcohol-Free, Fragrance-Free.
Lightweight water-like texture absorbs super quickly.
Insanely soothing and calming on the skin.
Tones, hydrates and refreshes the skin.
Excellent for irritated skin.
Cons:
None.
2. Plum Bulgarian Valley Rose Water Toner
Time and again rose waters have been loved by all not only for their soothing effects but also for their refreshing scent. If you had asked me a decade ago – which is my favorite rose water toner – I would have picked a steam-distilled, pure rose water. But now, the beauty industry has evolved and we have tons of great options. When I can get rose water along with other great ingredients. Why not use them?
This Bulgarian Rose Water from Plum is an excellent toner that has Glycerin, Hyaluronic Acid, and Calendula Extract, apart from Damascena Rose Extract. It's alcohol-free, essential oil-free, and free from artificial fragrances. It is very hydrating, reduces dryness, and plumps up the skin. It's a great option for those who want rose water toners but has better skin benefits than plain rose water. And Plum Products are PETA Approved Cruelty-Free and Vegan.
Pros:
Great Ingredients, including Hyaluronic Acid.
Fragrance-Free, Alcohol-Free.
It Soothes and hydrates the skin.
Relieves skin dryness.
Comes in an easy-to-use spray bottle.
Vegan and Cruelty-Free.
Cons:
It contains Witch Hazel which may not suit sensitive skin types.
3. Minimalist PHA 3% + Biotic Toner
Minimalist is a clean and transparent skincare brand that is popular for being a dupe of The Ordinary. Well, I loved their Niacinamide Serum for treating my acne marks, and here is yet another excellent product from the brand. The Minimalist PHA toner has everything one would look for in a toner. Simply put, Minimalist PHA toner is a fragrance-free, alcohol-free Gentle Exfoliating, pH Balancing, Pore Tightening & Skin Hydrating Toner.
Pros:
PHA gently exfoliates and is milder than AHA, so it doesn't irritate the skin,
PHA used in this formula provides up to 50% protection against UV radiation.
Contains Salicylic Acid that ṭightens pores and helps in reducing excess sebum and reduce acne
Contains super hydrators such as Panthenol, Polyglutamic Acid, and much more for intense hydration.
Alcohol-free, paraben-free, sulfate-free, fragrance-free toner.
Suitable for all skin types, best suited for oily, combination, acne-prone & sensitive skin.
Cons:
None.
4. Klairs Supple Preparation Facial Toner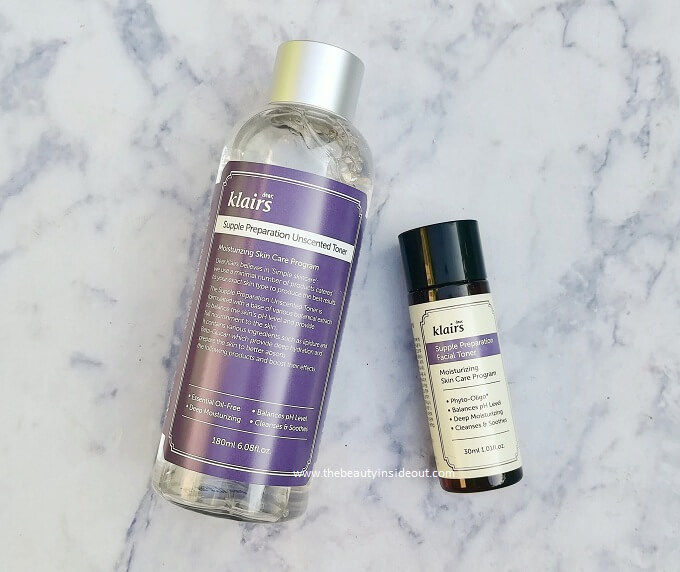 Klairs Supple Preparation Facial Toner is the Best Korean Toner in India. I like how these are much more different in texture & feel than Indian toners. Unlike conventional toners that are drying, the Klairs Toner is a hydrating toner that bursts a splash of hydration into the skin, ultimately making your skin plump and smooth. Klairs Supple Preparation Toner is the best toner for dehydrated skin. The toner is free of alcohol and other toxic ingredients. A must-try if you want to dive into Korean skincare.
Pros:
Contains the star ingredient Hyaluronic Acid which draws moisture into the skin.
Hydrates skin with a non-sticky finish.
Soothes irritated skin.
Plumps up and smoothens skin.
Suitable for all skin types.
Vegan and Cruelty-Free.
Free of Alcohol, Paraben, PEG, Artificial Fragrance & Color.
Cons:
None
BUY NOW (Use Code: TBIO for 10%OFF)
5. TonyMoly Moisturizing Ceramide Mochi Toner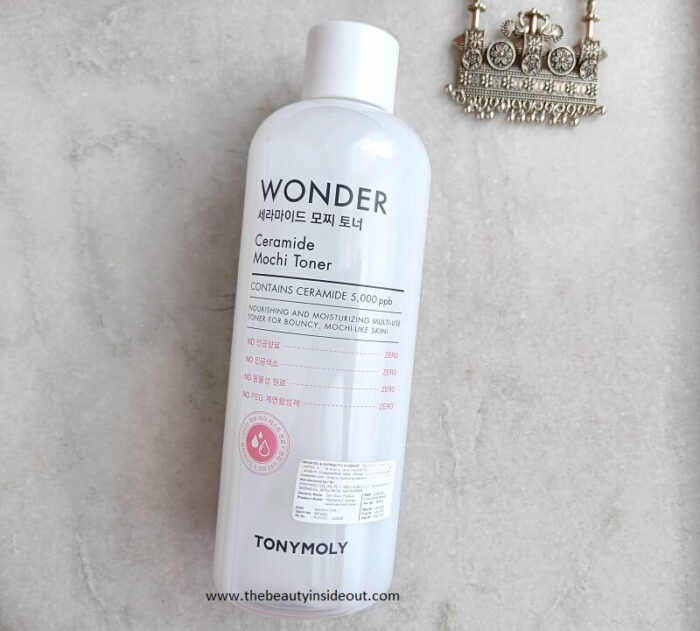 Ceramides are great for irritated, damaged skin barriers. And this toner from TonyMoly contains 500ppb ceramide to repair the skin. It is also enriched with Panthenol, Hyaluronic Acid, and Centella Asiatica to deeply hydrate and soothe the skin. It's a moisturizing toner, so it's great for dry skin types, rather than oily skin. This TonyMoly Ceramide Toner instantly gives a radiant glow upon application, so if you like that dewy glow, this might be your holy grail. The pricing of this might look a bit high, but this is actually one of the most affordable Korean toners since you get a whopping 500 ml of product.
Pros:
Contains 500ppb ceramide to repair the skin barrier.
Enriched with Panthenol and Hyaluronic Acid to provide long-lasting hydration.
Has Centella Asiatica to soothe the skin.
Cost-effective product.
Very nourishing and moisturizing on the skin.
Viscous toner so one doesn't need much when using it.
Excellent for dehydrated skin
Cons:
Can be greasy for oily skin.
Contains fragrances and essential oils that may not suit sensitive skin. 
BUY NOW
6. Cosrx Propolis Synergy Toner
The Cosrx Propolis Synergy Toner is one of the best toners for glowing skin and glass skin. It's formulated with 72.6% Black Bee Extract and 10% Honey Extract. Propolis is known to have immense anti-aging benefits to reduce wrinkles and smoothen out the skin. This toner from Cosrx nourishes the skin for smooth glowing skin. It hydrates, plumps, reduces dullness, and makes your skin alive.
Pros:
Has the highest amount of Propolis Extract (82%) in any skincare product.
Has Hyaluronic Acid, Panthenol, and Glycerin to provide maximum hydration.
Alcohol-Free, Fragrance-Free, and Essential Oil-Free Products.
Gives a very nice glow to the skin.
Has antibacterial anti-inflammatory properties.
It Soothes and calms the skin of irritations.
Excellent for dry to dehydrated skin.
Helps with pore size and brightens skin.
Cons:
Propolis may not suit everyone.
Can be heavy for oily skin
It's not Vegan friendly, since it contains Honey & Bee Extracts.
BUY NOW
7. SNP Prep Peptaronic Toner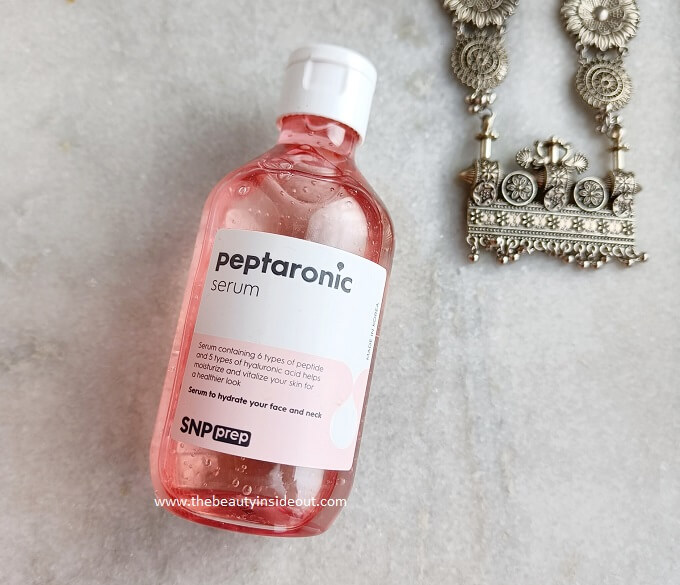 This SNP Toner is quite popular in the skincare community for its price vs quantity factor. Made with 5 different types of Hyaluronic Acid and 5 different types of peptides, it's a very soothing and hydrating toner. It has the Korean toners' viscosity yet it's still light on the skin. It's suitable for all skin types, especially oily skin. The SNP Toner and SNP Serum are both comparable. If you like a thicker texture and want the added benefits of Niacinamide, try the serum. For a lighter feel, this toner is the best.
Pros:
Alcohol-Free Toner.
Contains Hyaluronic Acid and Peptides.
Cost-effective – one bottle lasts very long.
Soothing and hydrating.
Light texture absorbs fast.
Good for Dehydrated, Oily Skin Types.
Cons:
Has a mild flowery scent.
BUY NOW (Use Code: TBIO for 10%OFF)
8. Isntree Green Tea Toner
This is an excellent hydrating toner for oily skin types. It's a watery ultra lightweight toner that sinks right away. It's loaded with Green Tea Extracts that are rich in antioxidants and have other great ingredients for acne. The toner contains Willow Bark Extract that controls excess sebum and prevents future acne breakouts. It's alcohol-free and fragrance-free. If you have been looking for a lightweight Korean toner for your oily, acne-prone, blemish-prone skin, this is highly recommended.
Pros:
Contains 80% Green Tea Extract.
Enriched with Centella Asiatica, Allantoin, Willow Bark, and other great ingredients.
Ultra lightweight.
Feels very refreshing on the skin.
Gently hydrates the skin.
Combats acne and pimples.
Alcohol-Free and Fragrance-Free.
Best for oily, acne-prone skin.
Hypoallergenic & Dermatologically Tested.
Cons:
The toner is dark brown in color, some people find it staining.
9. Rovectin Skin Essentials Treatment Lotion
If you would like to splurge on an all-in-one product, this is the one we'd recommend. It is power packed with 7 layers of Hyaluronic Acid, Niacinamide, Panthenol, Allantoin, Centella Asiatica, Caffeine, and Licorice Extract. This is all you will need for that healthy glowing skin. It repairs and restores the skin's moisture barrier, provides anti-aging benefits, revives dull skin, and adds a beautiful glow to the skin. It's an intensely hydrating toner+essence formula that's great for dry dehydrated skin types.
Pros:
Power-packed ingredients.
Multi-functional – targets acne, aging, dehydration, and pigmentation.
Gel-like consistency yet absorbs pretty fast.
Non-sticky comfortable finish.
Little goes a long way.
Alcohol-Free, Fragrance-Free.
Excellent for dry and dehydrated skin.
Cons:
Expensive.
BUY NOW (Use Code: TBIO for 10%OFF)
These are some of the Best Toners in India. Before buying any toner, I suggest checking the ingredient list thoroughly and going for one that suits your skin type and concerns. Do let us know if you have tried any of these and your favorite toners in the comments section below.