You must be knowing that Klairs Toner is one of the most raved Korean skincare products in the beauty community. In order to know all the hype about this product, I tried both the Original Scented and Unscented Version of this Toner. This post will take you through the differences between both and my experience with them.
Let me first tell you, this is my first proper hydrating toner. I may have unknowingly used one previously. Let's say I wasn't aware of the different types of toners available and that each meant for different purposes. Also, I got to know about this wonderful skin-plumping ingredient – Hyaluronic Acid, just last year. So this review obviously comes from a novice point of view and I can't compare how it works with tons of amazing hyaluronic acid products available out there. Let's move onto the details of the product.
Product Description:
Balances the skin's pH level and improves the effectiveness of your entire skincare regime, helping you to achieve your best skin. Enhance the effectiveness of serums and creams with the Klairs Toner that balances your skin's natural pH levels, creating the perfect canvas for your skincare products.
Klairs Toner Ingredients :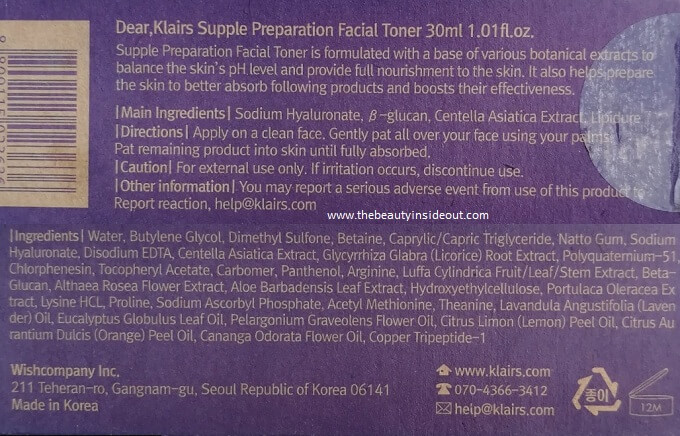 Klairs Toner Unscented Ingredients: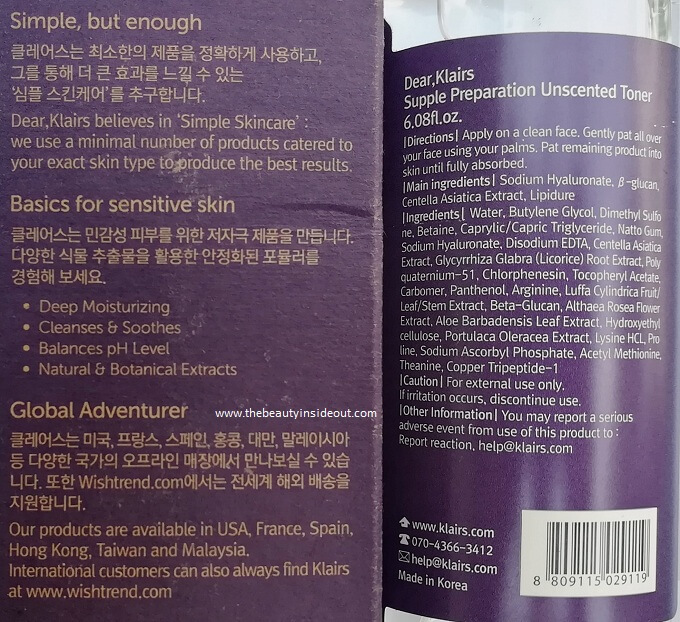 Basically, the Unscented version is free of the essential oils added in the Original Version. Other than that, there is no difference in the ingredient list.
Price: Both are priced the same. Around 22 USD and starting at Rs.1450 in India, depending upon the portal/seller you buy from. I bought mine from BeautyBarn.
Quantity: 180 ml.
Expiry: It should be used 12 months after opening.
My take on the Klairs Toner Unscented vs Scented:
Packaging: The packaging is nothing to boast about but at the same time nothing to complain about. The toner comes in a simple plastic bottle which is handy and travel-friendly. Obviously, I like the unscented packaging more because it's a see-through bottle and I can always see how much product is left; unlike the original which comes in a dark brown opaque bottle. The toner comes with a pinhole dispenser which serves its purpose of dispensing the product out well; there is no unnecessary wastage there. The toners also come with an outer carton that has every little detail about the product printed on it; both in English and Korean.
Fragrance: The Original Klairs Toner has a subtle herbal scent. Personally, I find the scent refreshing and nice. It's not the overwhelming kind like Innisfree Products.
The Unscented one, although doesn't have any added fragrance, has a faint plastic scent (almost negligible while applying). I guess that must the product's natural scent from the ingredients used in it.
Either way, fragrance wise both of them are non-bothering. They are barely detectable once applied to the skin.
Texture: Consistency wise both are exactly similar to my eyes. The Klairs Toner has an essence-like viscosity and is a lot thicker than conventional astringent toners. They aren't very flowy like water, but just perfect to spread easily. For someone new to Korean toners, you will find the texture to be thick. Both the versions get absorbed quickly. When more quantity is used for a single application, the toner takes a bit of time to get absorbed. Nevertheless, it does soak into the skin finally without any problem.
As for the skin feel, the Scented version is a bit more moisturizing and leaves a dewy finish, not sticky though. Whereas the Unscented is light on the skin and has a less dewy finish (not matte). Ideally both the toners can be used by all skin types, but moisture-wise, the Unscented will be loved by oily skin types and Scented by Normal to Dry Skin.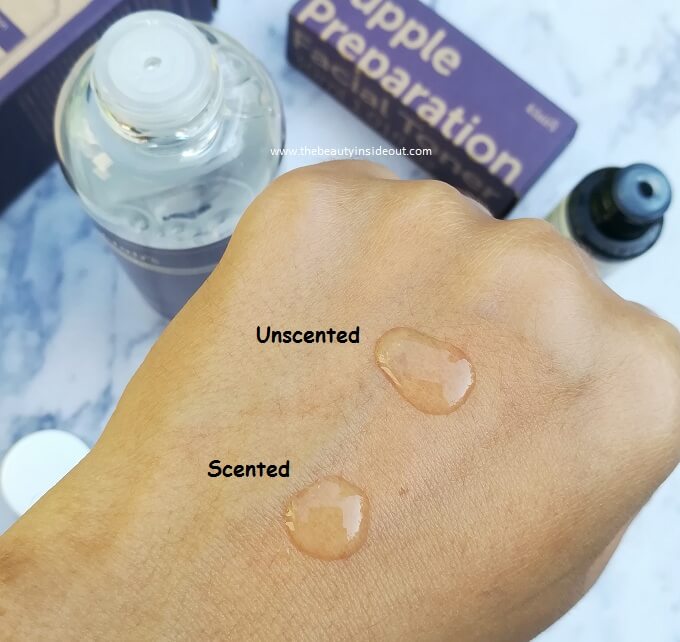 How to use Klairs Toner?
As per the brand – After cleansing face and neck, pour a small amount of toner onto hands or cotton pads and pat gently onto skin. Follow with sheet mask (optional recommended twice a week), essence, serum, eye cream, then a moisturizer.
I don't like to waste my toner, so I apply it directly with my hands. I take the toner in my palm, pat between both my palms, and then pat it or press it on the face.
At times, when I doubt that my Cleanser has cleaned my skin properly, I use this toner with a cotton pad.
My Experience with the Klairs Toner Unscented vs Scented
It's kind of hard to notice a difference with this product in just a few uses. It requires continuous use to see an overall improvement in skin texture. In my case, I noticed a change after two weeks of use. This toner majorly helped to soothe and heal my irritated skin.
I recently learned that not only using exfoliators but also babying the skin with lots of hydration and soothing ingredients will improve acne condition. And this toner really came in handy and worked so well to fasten my acne healing time. It also smoothens out the overall skin texture, particularly it makes my pitted scars look filled a tiny bit, temporarily though. It stands by its name 'Supple' by making skin supple and plump. It hydrates the skin from within without any heaviness. The toner balances and preps the skin and helps the rest of the products to absorb better.
When my skin was at its worst, I had used just two layers of this and finished off my morning skincare routine; as I didn't want to put more products to avoid any more irritations. And this worked so well to calm my skin.
Overall speaking, I have been liking the effects of using this cult-favorite product. Not many hyped products have floored me, but this – is really good for adding a bounce and youthfulness to the skin.
Pros:
It's Vegan and Cruelty-Free.
Free of Alcohol, Paraben, PEG, Artificial Fragrance & Color.
Suitable for all skin types.
Hydrates skin with a non-sticky finish.
Soothes irritated skin.
Helps the next products absorb better.
A bottle will last long.
Cons: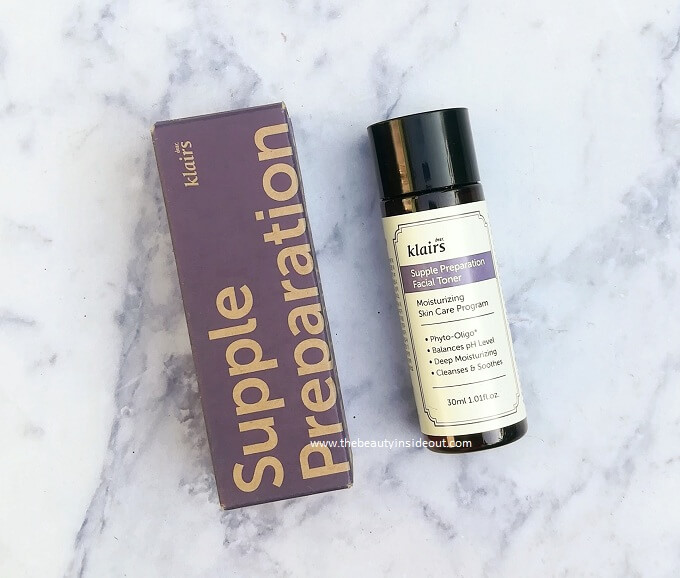 Which Klairs Toner will I recommend?

Both the versions are equally great and would suit all skin types. But if you have sensitive skin and/or allergic to essential oils, then get the Unscented one. My choice would be the Unscented one. I haven't had any irritations or reactions with the Original version, but I have had reactions with some essential oil-based formulations. So to be on the safer side and also to be able to use my toner even when my skin is reactive and irritated, I will go for the Unscented anyday.
Will I repurchase the Klairs Toner?
Yes, as long as I plan to use a hyaluronic-based hydrating toner and/or until I find something more promising with minimal ingredients.
I had intentions of getting the Isntree Hyaluronic Acid Toner which has much lesser ingredients, but from reviews, I see that it's a lot thicker in texture and would make a great choice for dry skin types. Since I have oily skin, I'll have to skip that. Other than this I have tried a sample of Etude House Soon Jung Toner which is very watery, light in texture, and absorbs super quickly. I liked it but did not like it as much as I liked the Klairs one.
The Klairs Supple Preparation Facial Toner is a perfect hydration booster to hydrate the skin without being too light or too heavy. It's balanced to hydrate the skin from within.