A wide range of budget-friendly skin care items are loaded with harmful chemicals. They use parabens as preservatives for long shelf life, detergents like sulphates to provide deep cleansing and skin irritant chemicals for creating lasting fragrance and colour. Using these chemical laden products for prolonged period might cause adverse effects to your overall health. Also, the cruel practice of testing cosmetic products on innocent animals should be kept under check. Sustainable beauty care is a useful mode of taking care of yourself along with mother nature. Today I am going to review the newly launched Love Beauty and Planet Murumuru Butter & Rose Aroma Body Wash. This PETA certified cruelty free brand offers 100% vegan skin and hair care products. Let's read on to find if this body wash could meet my needs or not.
Product Description:
Moisturizing Murumuru Butter and rose body wash is made with no sulphate cleansers, no parabens and is infused with plant based cleansers, leaving you and the planet a little more beautiful. Give your skin a fragrant kiss of nature that lasts with handpicked bulgarian rose, ethically sourced from the rose valley of Bulgaria. This bountiful moisture body wash helps maintain skin moisture
Ingredients: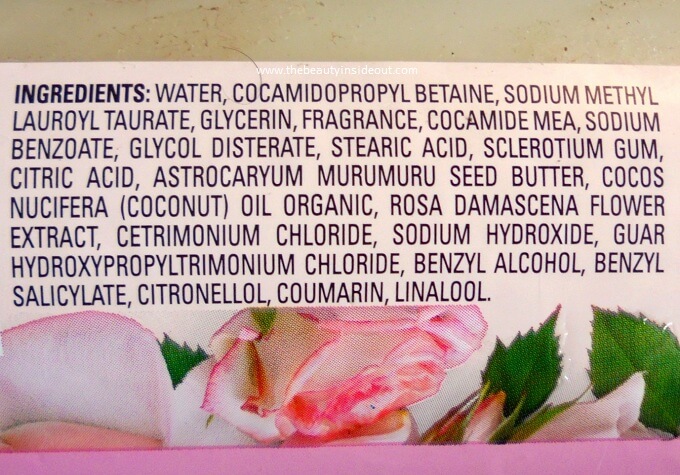 Price: Rs.450 for 400ml
Where to Buy? This is a new brand so it is not yet available at small beauty stores. However, you can buy it from leading departmental stores and online shopping sites. It is often available at alluring discounts at nykaa and amazon.
Love Beauty and Planet Murumuru Butter & Rose Aroma Body Wash Review
Packaging: This body wash comes in a transparent plastic bottle. It has a screw open cum flip-cap. The quality and packaging is quite nice. It is also very sturdy. The only problem is that, this body wash is only available in 400ml size. You don't have the provision of trying out travel size and then buying the full size. The brand has clearly mentioned the complete ingredient list which is very useful to me. I always check the ingredients before buying any makeup and beauty related product .
Color & Texture: It is a completely dye free body wash so it is colourless. Its texture is medium; neither too thick nor runny. It is a sulphate free body cleanser so the lather it creates is not much. This is a body wash targeted to dry skin. So, its consistency is on the creamy side. It doesn't feel dry on the skin. It does not waste too much water while rinsing out.
Fragrance: This is a fragrant body wash so smell is a major factor in this wash. This brand offers 3-4 different fragrances. This Murumuru butter and Rose based variant has exotic rose fragrance mixed with rich coconut oil smell. The fragrance has a natural kind of warmth and elegance to it. The smell is moderate; not too light. It stays for sometime after you wash it off. The smell will last even more if you pair it up with body lotion from the same range.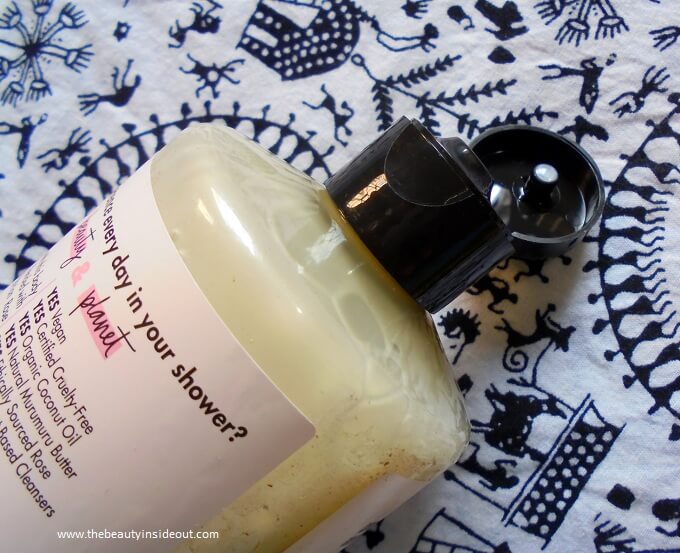 My Experience:
I generally buy a big bottle of a suitable body wash and use it for 5-6 months. This is way more economic than buying a small bottle of body cleanser every 2-3 months. Budget-friendly brands like Palmolive or Liril are my all time favourites but this time I decided to give this new Love Beauty and Nature brand a shot. This wash is claimed to be made from African Murumuru butter, pure coconut oil and Bulgerian Rose extract. Naturally, the formula is very gentle and non-drying on the skin. It is a sulphate free wash, still is cleans my skin deeply. The skin feels soft, moist and the fragrance lingers for sometime. In summer, I can easily skip the body lotion but in winter a moisturizers will be needed after this. The scent is extremely good, it reminds me of expensive fragrant body creams from Marks & Spencer's.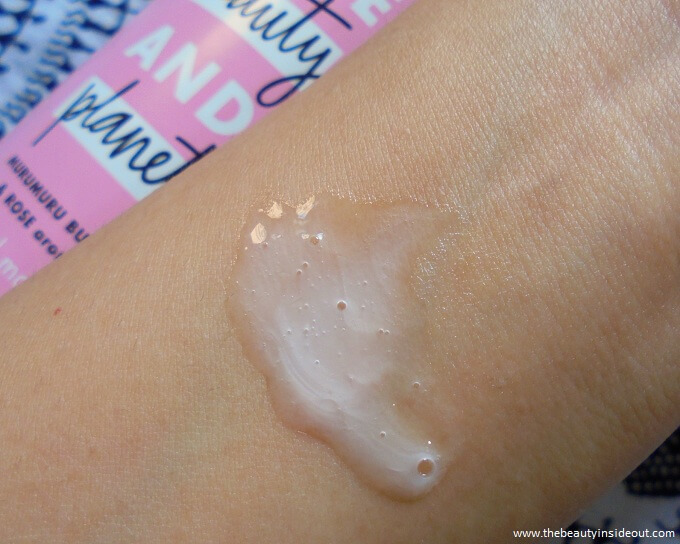 Pros:
Rose, coconut oil and murumuru butter based body wash for dry skin
Deep cleanses without drying the skin
Free from paraben, sulphate, dyes
Vegan and cruelty free
Amazing rose and coconut smell
Makes skin feel soft and smooth
Cons:
Only available in 400ml size; trial size is not available
Rating: 4.5/5
Would I Recommend? If you are into vegan and cruelty free skin care, then this is a must buy for you. I will also recommend this to someone looking for a harmful chemical free soothing body wash for dry skin with relaxing rose smell.