Today I am going to review Venusia Max Intensive Moisturizing Cream. This is a skin cream for very dry skin by Dr. Reddy's Laboratories. This moisturizer contains four types of plant produced butters; Mango Butter, Cocoa Butter, Shea Butter and Aloe Vera Butter. Though this is a medicated moisturizing cream, you can buy this over-the-counter product without any prescription. Sometimes our skin gets extremely dry due to environmental harshness, medical conditions like eczema or even using damaging products like detergents. A rich moisturizer becomes the lifesaver in these situations. I am currently using salicylic acid based cleanser for my acne issue so my skin gets dry easily in winter. This moisturizer has been able to take care of that flaky skin problem. Read along to find more on this moisturizer.
Product Description:
Venusia Max Intensive Moisturizing Cream is designed to provide intense hydration to dry & very dry skin and restore a smooth & supple skin. It has the 3 way action of hydration , moisturization and prevention of moisture loss with help of Glycern, Dimethicone and a combination of 4 butters. Glycerin repairs skin damage while extracting water from within the skin making it deeply hydrated.
Ingredients: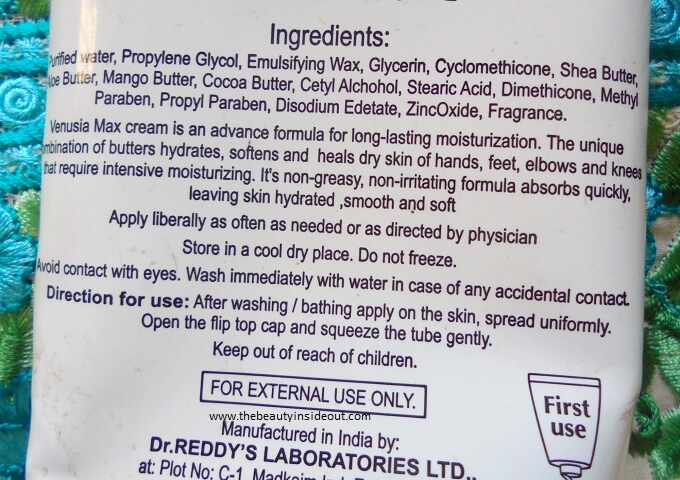 Price: Rs.415 for 150gm
Where to buy? This moisturizing cream is widely available at drugstores all over India. It is also available at online stores like amazon. You can also buy it from Dr. Reddy's clinics or shops selling Dr. Reddy's brand products.
Venusia Max Intensive Moisturizing Cream Review
Packaging: This moisturizer comes in a white squeeze tube with green flip-top cap. The packaging is opaque. Without squeezing to the top, there is no way to find how much product is there in the pack. The packaging is otherwise quite good in terms of quality. It is also very sturdy. This moisturizer comes in one 150gm size only. The chubby tube is not very travel-friendly as it does not fit into my travel skin care pouches.
Color & Texture: This is a colourant free cream, so its colour is pure white. It has a very dense and creamy texture. I need just a drop of cream to cover my entire face and neck. It feels heavy and thick at first. As I massage it into the skin, the creamy feel settles down to some extent. This is a cream for very dry skin.
Fragrance: Though the ingredient list says there is fragrance in it, the moisturizer does not have any fragrance as such. If you sniff very hard or have sensitive nose, you will find a faint floral kind of scent. The smell gets overpowered by the chemical smell of the ingredients.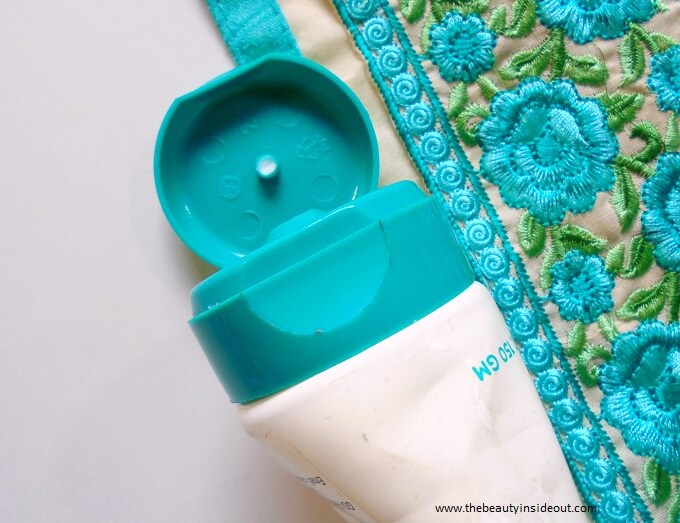 My Experience:
I use this moisturizer only at night. This rich moisturizer feels heavy during the day time. This cream is designed for treating extreme dryness. The formula is thick so I keep adjusting the amount of product depending on my skin's hydration level. It creates a protective layer of moisturization on the skin. It also restores the lost moisture. I wake up with hydrated and plump looking skin. I also use it under my makeup sometimes. It helps the foundation to blend easily and the finish looks very natural this way. This was originally prescribed for my mom. She has rough hand and feet due to prolonged use of detergent. It has helped a lot to soothe her dry skin induced itchiness.
Related: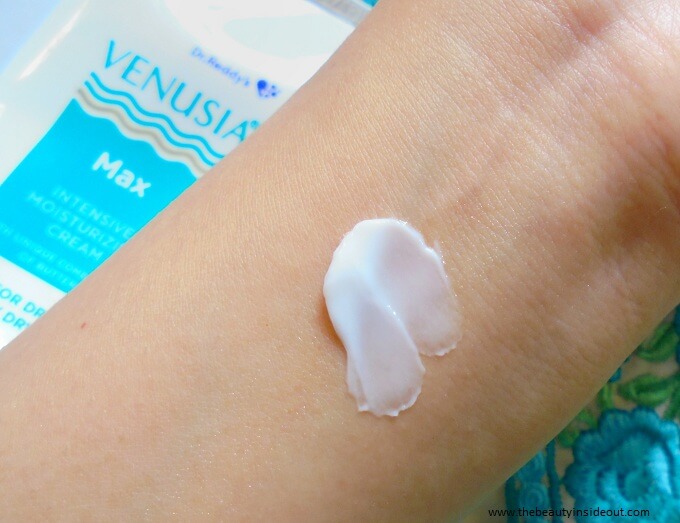 Pros:
Extra nourishing cream for dry to very dry skin.
Contains goodness of Mango Butter, Cocoa Butter, Shea Butter and Aloe Vera Butter.
Deeply nourishes and re-hydrates the skin.
Heals dry patches and flakiness within 2-3 days.
Does not cause pimple.
Great product for dry eczema prone skin, rough skin on elbows, heels, hands and feet.
Cons:
Bulky tube; not travel-friendly.
Contains parabens.
Rating: 4.5/5
Would I Recommend? This is a highly effective skin cream for dry to extra dry skin. If you have serious dryness from prescription medicines or have damaged skin on hands and feet, this is a must have. This cream works great on people suffering from dry skin as a symptom of premature ageing.