A toner is a critical skincare product in one's skincare routine. While some like to use one, some believe it's totally unnecessary. Being a skincare enthusiast, I have found immense benefits in using a toner. I would say it all depends on your skin's concern and what type of toner you choose. Hydrating toners majorly help you to prep and boost the skin with hydration. Conversely, exfoliating toners target specific concerns like acne and blackheads. These types of toners are nothing like the traditional astringent toners and floral waters and are totally worth trying. I've always loved Korean toners and this Cosrx Propolis Synergy Toner caught my eye when it was on sale. My rice toner had just gotten over and I thought it was the right time to experiment with new toner. So I ended up with this new find. Read on to know more about this popular product from Cosrx.
Product Description:
Enriched with the largest amount of Propolis Extract in a skincare product, the Cosrx Propolis Synergy Toner gives you the ultimate hydration and moisturization one's skin needs. To have an intense glow and glass skin, this toner is among the best on market. It revives dull tired skin and gives you a plump looking healthy skin. It also fastens wound healing due to its anti-inflammatory and antibacterial properties.
Cosrx Propolis Synergy Toner Ingredients: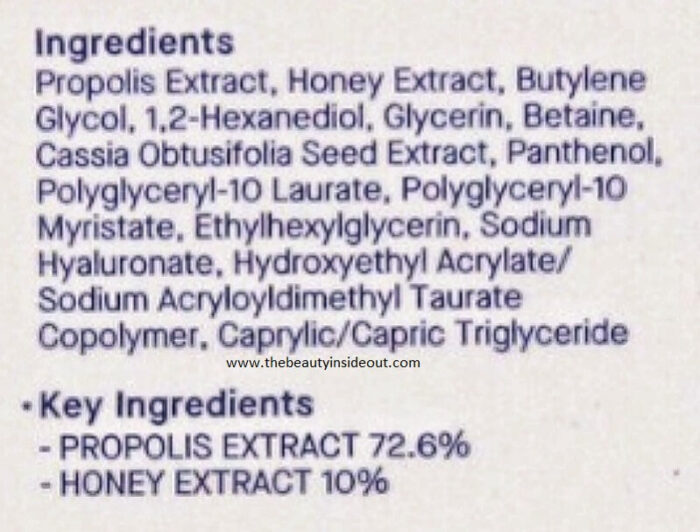 How to use the Cosrx Propolis Synergy Toner?
Right after cleansing, on your clean skin.
Take a few drops of the toner and apply it gently all over the face.
Spread it and pat well for better absorption.
Follow it up with the rest of your routines such as serum or moisturizer.
Cosrx Propolis Synergy Toner Review
Packaging: The toner comes in a transparent bottle with a black cap. It's a basic bottle but serves its purpose without any issues.
I have the mini bottle which is great to take for travel. The full-size bottle looks a bit bulky though. The toner does come with an outer carton where all the details about the product are furnished.
Texture: The texture is very liquid and spreads like a charm. The product looks yellow in color in the bottle but when you take it in your hand it's transparent. It does have some weight to it when applied to the skin and becomes a bit sticky when it is drying. All in all, this is a good feeling for me.
Fragrance: The toner has the raw smell of Honey and Propolis. It doesn't have any artificial fragrance which is great. But, the honey smell comes through the product. It doesn't smell bad or headache-inducing when applied and genuinely feels like a product that has all the ingredients listed on the label.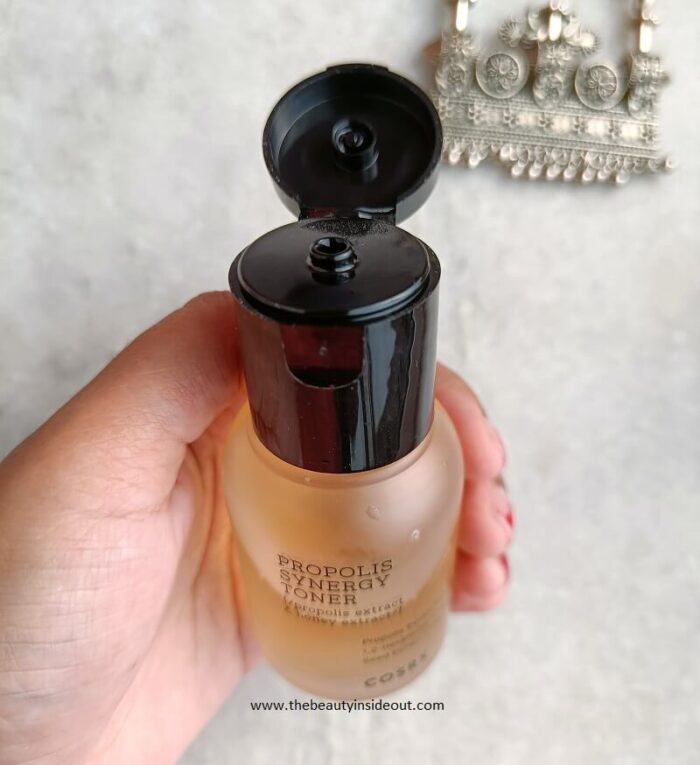 My Experience:
This toner is popular for a reason. If you are not allergic to Honey or Propolis and have dehydration-prone skin, I can say this will be one of the best toners for your skin.
The Cosrx Propolis Toner packs a perfect punch of hydration and moisture to the skin. It gives me plump and supple skin.
I use two layers when I use chemical exfoliators on my skin otherwise one layer of this and good night cream is all I need to be done for my PM routine.
On hot sunny mornings, I felt it to be a tad bit heavy. So I feel like people with oily skin may feel greasy when using this product. Or one needs to use very little and build up as per their preferences.
The toner nourished and repaired my broken skin barrier so well. It also gave me a brightening glow. The toner is great to prep my skin for the next step and also helped to penetrate my night cream better. When I am not using this in my routine I see some changes in my skin.
This truly gives a glass skin-like finish and is definitely one of my favorite products in recent times.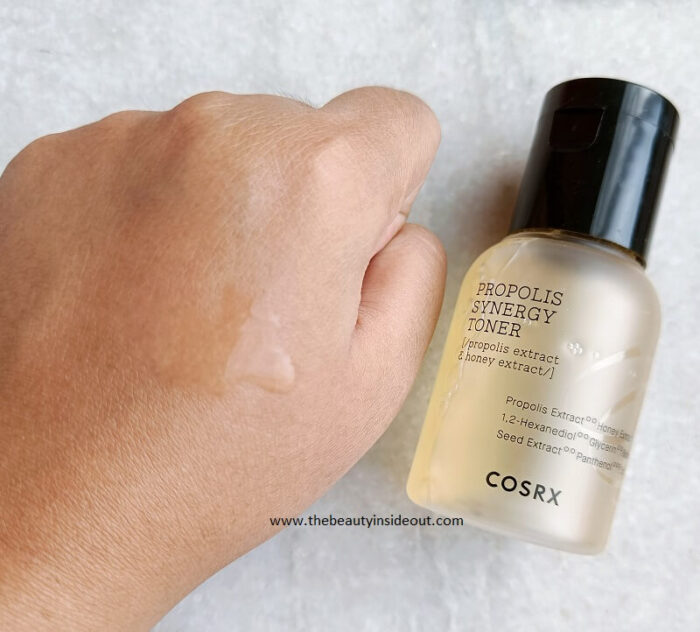 Pros:
One of the propolis products having the highest amount of Propolis Extract (82%).
Boosted with Hyaluronic Acid, Panthenol, and Glycerin for maximum hydration.
Alcohol-Free, Fragrance-Free, and Essential Oil-Free Products.
Gives a very nice glow to the skin.
Has antibacterial anti-inflammatory properties.
Soothes and calms skin of irritations.
Excellent for dry to dehydrated skin.
Helps with pore size and brightens skin.
It pairs well with other skincare products, so layering is easy.
Cons :
Bulky packaging is not travel-friendly.
Propolis Extract may not suit everyone.
Can be greasy for very oily skin types.
Rating: 4/5
Would I recommend it? Yes, I would highly recommend it for dry dehydrated skin types. It's soothing, and calming, and effectively hydrates the skin and gives a plump skin.
What do you think of the Cosrx Propolis Synergy Toner? Have you tried it?