This is one of the most awaited releases from Minimalist. The brand released two sunscreens with impressive UV filters at such a good price. They released its lab tests which intrigued me more to get them. It's been a while since I bought skincare on the launch day. This Minimalist Sunscreen with SPF 60 & Silymarin had everything that I looked for in a sunscreen. So I gave in and bought it immediately. Read on to know my thoughts and experience with the product.
Product Description:
Minimalist Sunscreen SPF 60 Silymarin is an antioxidant-rich SPF with modern UV filters to provide broad-spectrum protection. It's infused with Silymarin which is a radical scavenger that reduces inflammation & photodamage. The sunscreen is free of fragrance, photostable, and suitable for pregnant women.
Minimalist Sunscreen Ingredients: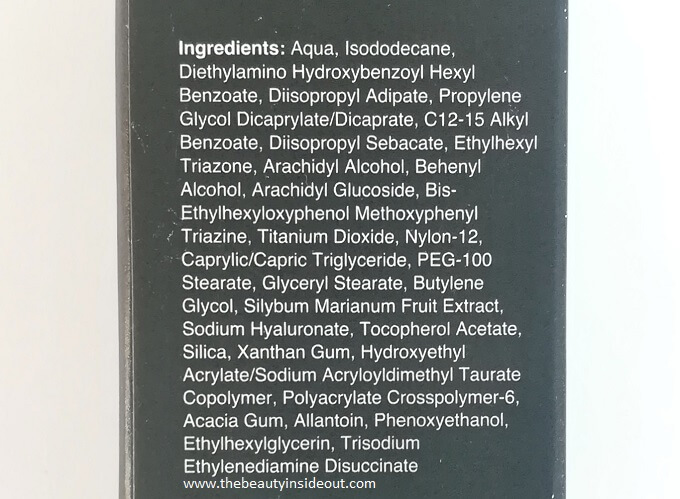 Sunscreen Filters: Tinosorb S, Uvinul A Plus, & Uvinul T 150 & Titanium Dioxide.
Notable Ingredients: Sodium Hyaluronate (hydrates), Vitamin E (anti-aging), Silybum Marianum Fruit Extract (antioxidant).
Price: Rs.599 for 50 gms.
Where to buy it? It's available on their official website as well as popular portals such as Amazon, Nykaa, etc
Minimalist Sunscreen Review With SPF 60
Packaging: The Minimalist Sunscreen comes in an airless pump dispenser bottle. This is my first product with such packaging and it definitely feels like a luxury. The pump has worked smoothly with no problems so far. The bottle itself comes packed in a carton box that has various details about the product furnished on it.
Color & Texture: It's a white, creamy sunscreen. Though the texture is that of a cream, it is a light and fluffy cream that spreads easily.
Fragrance: The sunscreen is fragrance-free and doesn't smell anything at all. Not even the chemical smell.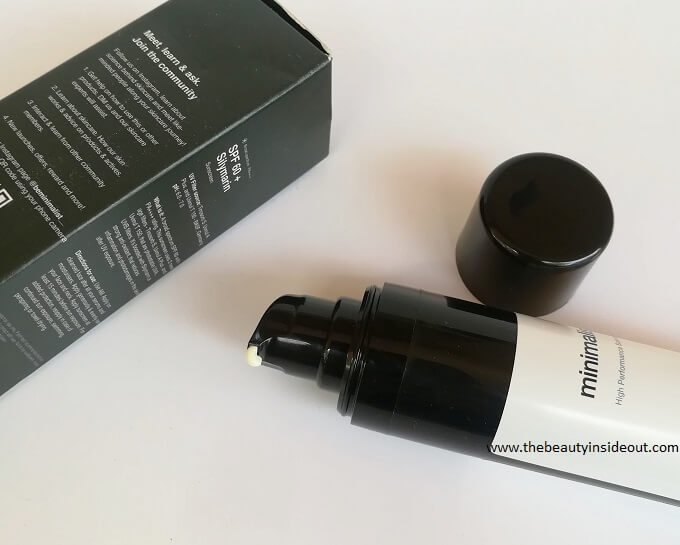 My Experience:
I've been using it for more than 3 weeks now. I can say that it's a nice sunscreen but it's not my favorite. I like moisturizer-like sunscreens and this is surely one among them. It doesn't feel heavy or has a slippery silicone texture that sits on top. It has a soft fluffy texture that spreads well and vanishes into the skin. I use two pumps for the face and one for the neck, which is adequate to form a uniform protective layer. The sunscreen takes a few seconds to blend in completely. But then it gives a nice neutral finish. It is neither matte nor dewy.
Oily & combination skin types can skip a moisturizer while dry skin types will need a moisturizer underneath. There is absolutely no white cast which is great. The sunscreen hasn't pilled on me, but then I don't use many products in my AM routine. It's usually Cleanser->Hydrating toner->Sunscreen or Just Cleanser-> Sunscreen. The sunscreen hasn't broken me out so far.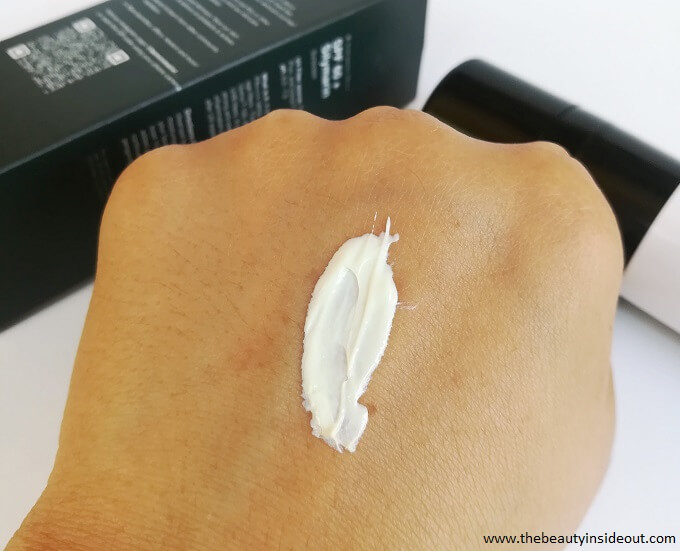 Coming to its cons, it doesn't go well in all climates. There were days when this sunscreen felt like nothing on my skin. But there were also days when it made me sweat a lot, particularly on humid days. The sunscreen melts away with sweat! It's neither sweatproof nor waterproof. I wouldn't suggest this for a hot and humid climate. Also, you need to work a bit to blend in, which I think would not be great for those with active acne. Sometimes the sunscreen can be visible on the hairline.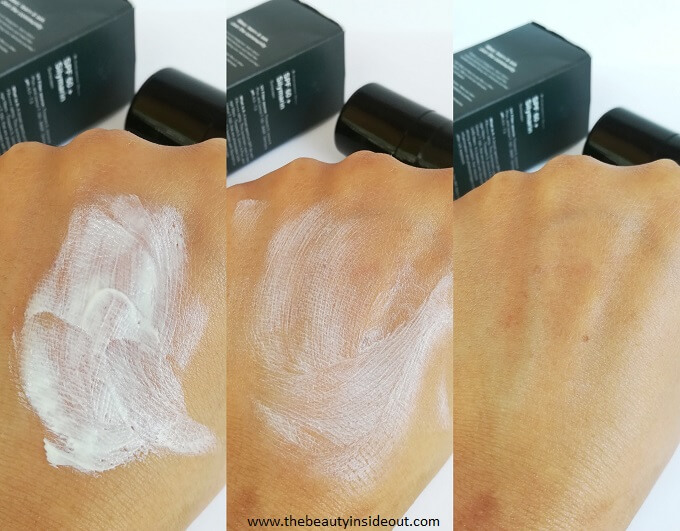 I was super excited to get this sunscreen because it was pregnancy & lactating safe and it was rich in antioxidants. However, I wouldn't classify this sunscreen as my Holy Grail as I couldn't easily wear it on whenever I wanted. At the end of the day, the best sunscreen is the one that you'll wear regularly. And for me, this isn't it!
Pros:
Contains highly effective, photostable, new-age Filters.
Lightweight fluffy texture.
Moisturizer like sunscreen.
Leaves no white cast.
Rich in antioxidants.
Good pricing.
Pregnancy & Lactating safe.
Free of OMC, Oxybenzone & Homosalate.
Free of fragrance, oil, parabens & silicones.
Tested by an independent lab and proved to be SPF 69.65
Cons:
It's not great for hot and humid climates.
It's not sweatproof and/or waterproof.
Rating: 4/5
Would I recommend it? It's an overall nice sunscreen with great features, but it's not good for hot and humid climates. I would still try their SPF 50 sunscreen as that is supposed to be even more lightweight than this.
Have you tried this? What are your thoughts on Minimalist Sunscreen?